If you've never heard of the Wonderlic, it's an exam given to players entering the NFL draft every year.

The Wonderlic is an exam comprised of 50 questions. Players have 12 minutes to complete the test. The average score (out of 50) is a 21.

Vince Young made headlines last year when it was rumored that he scored a 6 (though he earned a 16 on his second attempt). On the other end of the spectrum, Buffalo's Ryan Fitzpatrick scored a 50.

Some sample scores of other players include: Drew Bledsoe - 37; Steve Young - 33; John Elway - 30; Dan Marino - 16; Donovan McNabb - 14; Hakeem Nicks - 11; Sebastian Janikowski - 9.






Below is a set of 12 questions that are like those that might appear on the Wonderlic. I had another test listed before, but our friends at Wonderlic - Go to the offical Wonderlic Learn more about the
Wonderlic Cognitive Abilities Test
- sent us over this great PDF.
If you want to see what you would score on this new Wonderlic test, set a timer to five minutes and answer the questions as quickly as possible.
Write each of the answers down on a sheet of paper so you can compare them with the answer key (link at the bottom.)
Ready? Begin...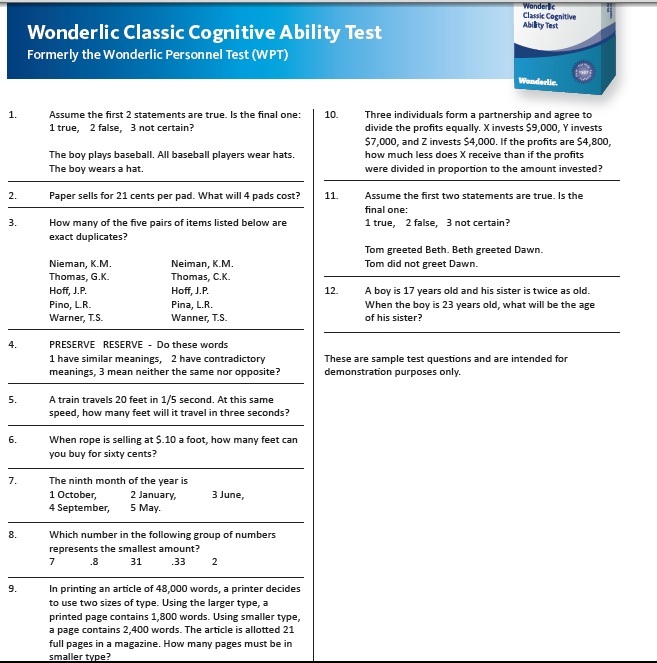 So, how many did you get right? Here's the link to find out:
Wonderlic Sample Test Answer Key
.
2019 NFL Mock Draft
- Sept. 13
Fantasy Football Rankings
- Sept. 5
2019 NBA Mock Draft
- Aug. 13
2020 NFL Mock Draft
- Aug. 1
NFL Power Rankings
- June 3
NFL Picks
- Feb. 4