Monday Morning Draft is back! This is a column that delves into the past weekend's action from an NFL Draft perspective. As the season goes on, the draft picture and slotting will become more clear, but every Sunday will provide a few hints for next April.
By Charlie Campbell.
Send Charlie an e-mail here:
draftcampbell@gmail.com
Follow Charlie on Twitter
@draftcampbell
for updates.
Crap it for Cook/Cardale:

Chicago Bears:
Of all the 0-3 teams in the NFL, the Bears could be the worst. Chicago's defense is inept and going to allow a lot of points this season. The Bears have enough talent on offense to avoid going winless, but they have a lot of injuries ravaging their scoring attack and were just shut out for the first time in 13 years by Seattle. This looks like it will be a long year in the Windy City. If the Bears are picking very early in the 2016 NFL Draft, I would expect John Fox to look for a long-term starter and replace Jay Cutler.

Detroit Lions:
The Lions are 0-3 and don't seem like they have the defense to get them back to the playoffs. If Detroit ends up back in the top 10 of the 2016 NFL Draft, the organization will be seeking to get more defensive talent rather than taking a quarterback to replace Matthew Stafford.

New Orleans Saints:
The Saints lost on the road to Carolina, and now, New Orleans is 0-3 to start 2015. The Saints have to be hitting the panic button. Something was off with the team last year, and it doesn't look like that is different despite big changes in the offseason. If New Orleans is picking early in the first round, the team would have to give consideration to a new franchise quarterback given the age of Drew Brees.
Baltimore Ravens:
The Ravens are 0-3, but they've lost three close games. I don't expect them to be picking in the top five of the 2016 NFL Draft, and I think they will rebound in the weeks to come. If Baltimore did land a high draft pick, the mission would be looking to build around Joe Flacco rather than replace him.
Let's Play Matchmaker:
This section will look at some of the top talent in college football and match those prospects up with teams that have a dire need at the position.

New England Patriots: Tre'Davious White, CB, LSU

The Patriots struggled to defend Antonio Brown in Week 1, and that could set a tone for the season. Allen Hurns and Allen Robinson ripped off good yards per reception versus New England and could have put up big games if Blake Bortles had completed more attempts. If the Patriots don't get a pass rush, their secondary looks very vulnerable in coverage. Adding more talent to defend play-making receivers could be a huge need for New England next offseason.
The 5-foot-11, 191-pound White is a cover corner who showed well in his matchup against Amari Cooper in 2014. White has 16 tackles and two passes broken up in 2015 and a punt return for a touchdown. White could be an instant upgrade for New England's secondary.

Houston Texans: Ezekiel Elliott, RB, Ohio State

The Texans dropped the Bucs with their familiar formula of running the ball and playing good defense. Houston can't rely on Arian Foster to stay healthy, and Alfred Blue is best as a backup. If the Texans can't land a franchise quarterback with their first-round pick in the 2016 NFL Draft, they ought to look for a feature runner to lead their offense.
In 2015, Elliott has averaged 5.9 yards per carry on his way to 455 yards with five touchdowns. He also has eight receptions for 51 yards. Elliott has been tremendous with his burst, vision, balance and ability to rip off yards in chunks. He also has done some nice blocking and receiving that illustrate he can be an every-down player in the NFL. Elliott would be a great addition to the Texans' offense.

Indianapolis Colts: Vadal Alexander, OT/G, LSU

The Colts almost fell to 0-3, but were able to squeak out a two-point win over the Titans. Once again, the interior of the offensive line was a weakness as Jurrell Casey had a big game for Tennessee. Indianapolis general manager Ryan Grigson has done a terrible job of putting together an offensive line that is competent. The line will have to be addressed in the offseason.
Alexander has moved to right tackle as a senior, but he would be more dominant moving back to guard. He is a tough run-blocker who opens holes at the point of attack. In pass protection, Alexander doesn't look like an edge protector, but on the inside, he could be a reliable blocker like he was in previous seasons for the Tigers. Alexander could make sense for the Colts in the first or second round of the 2016 NFL Draft.

Carolina Panthers: Michael Thomas, WR, Ohio State

Quarterback Cam Newton and tight end Greg Olsen led the Panthers to improve to 3-0 with huge games to carry the offense. Carolina obviously is lacking at wide receiver without Kelvin Benjamin. The offensive line and running game also could use injections of talent. However adding another receiver to pair with Benjamin would take the pressure off Olsen and make Newton more dangerous.
Thomas (6-3, 210) possesses a nice skill set with the ability to attack all levels of the defense. He has the size to work in the short portion of the field and move the chains, yet enough quickness to make some vertical plays. In 2015, Thomas has 16 receptions for 238 yards and three scores. The Panthers could look to land Thomas in the early rounds of the 2016 NFL Draft.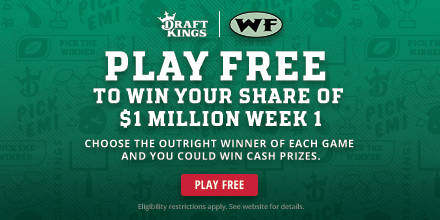 Oakland Raiders: Vernon Hargreaves III, CB, Florida

The Raiders' secondary has shown this season that the unit is still a work in progress. The secondary allowed the Browns to move the ball through the air, and that also happened in Oakland's games against the Bengals and Ravens. The Raiders need to improve both their corners and safeties.
Hargreaves is an excellent cover corner who has the size to handle big receivers, yet the speed and agility to prevent separation while going against fast wideouts. That was evident last year when he did well at covering Amari Cooper. This year so far, Hargreaves has eight tackles and two interceptions. Adding a shutdown corner like Hargreaves would be a huge coup for Oakland.

Atlanta Falcons: Scooby Wright, LB, Arizona

The Falcons came charging back after falling behind the Cowboys. Joseph Randle ran wild for a time before Matt Ryan, Julio Jones and Devonta Freeman started lighting up the scoreboard. Atlanta's defense has been bailed out in all three games by the Falcons' offense, so adding more talent to limit points is necessary for Dan Quinn.
Wright would be a great fit in Quinn's defense. Wright has been held back by a knee injury in 2015, but a year ago, he was a tackling machine in the ground game and also terrorized quarterbacks with 14.5 sacks. Wright would be a perfect match for Quinn to play like Bobby Wagner and Bruce Irvin. Wright and Vic Beasley could form a dynamic pass-rushing duo in Atlanta.

Philadelphia Eagles: Cardale Jones, QB, Ohio State

The Eagles got their first win of the season thanks to a punt return from Darren Sproles and a tough defensive effort that produced three interceptions off of Ryan Fitzpatrick. Philadelphia's offense was carried by Ryan Mathews, while quarterback Sam Bradford completed only half of his passes for less than 120 yards. Chip Kelly needs to get a signal-caller who can be a running and throwing threat.
The Ohio State quarterback needs to be more consistent and improve his decision-making, but his running skills and cannon for an arm could reinvigorate Kelly's offense. In 2015, Jones has completed 57 percent of his passes for 622 yards with four touchdowns and four interceptions. He needs development, but he has a great skill set with a ton of upside.
Team Draft Report:
In this section, we take a deeper look at specific teams and where they stand in regards to the 2016 NFL Draft.

Baltimore Ravens:
Just two years ago, the Ravens were the defending Super Bowl champions. They forced their way back into the playoffs last year, but now they find themselves 0-3 as the only winless team in the AFC North. Baltimore could be in the process of having a down season, but still have the organizational pillars in place to be a playoff team in short order. The Ravens' defense aged, and they lost skill position production on offense. Thus, the organization's needs are easy to identify.
Baltimore's defense took a huge hit when Terrell Suggs went out for the season. While that was painful now, it gives a glimpse of the future because Suggs can't play forever. Haloti Ngata was traded over the offseason, while Elvis Dumervil is also aging and Courtney Upshaw has yet to break out. Thus, Baltimore has to get some pass-rushers for the future, and there are a few draft-eligible candidates who could fit the Ravens, such as Georgia's Leonard Floyd and Michigan State's Shilique Calhoun. Elsewhere on defense, Baltimore has to get a cornerback to pair with Jimmy Smith. However, the team may be better off addressing that position on the second day of the 2016 NFL Draft because it doesn't look like a deep class of pass-rushers.
Offensively, the Ravens need to continue to build up their skill positions for Joe Flacco. Steve Smith had a great game on Sunday, but Baltimore has to get another receiver to pair with Breshad Perriman, assuming he pans out. A receiver like Ohio State's Michael Thomas, Clemson's Mike Williams or Florida's Demarcus Robinson would make sense in the early rounds of the 2016 NFL Draft. If the Ravens are picking near the top of the draft order, a future No. 1 wideout like Ole Miss' Laquon Treadwell or Pittsburgh's Tyler Boyd would be excellent selections to pair with Flacco.
Baltimore also could consider some running back help if Justin Forsett continues to struggle for Marc Trestman. Some good options to consider on the second day of the 2016 NFL Draft include Utah's Devontae Booker, Arkansas' Alex Collins and Arizona State's D.J. Foster. Foster in particular would be a great fit for Trestman.
The Ravens have a great front office, strong coaching staff and a quarterback who has proven he can win a Super Bowl. If Baltimore can improve its pass rush, pass coverage and play-makers on offense, the team could quickly be back in the playoff mix.

New York Giants:
It has been stated regularly that the New York Giants could easily be 3-0 or 2-1 at this point instead of 1-2. The Giants showed that they have some roster talent in the first three weeks of the season, but there still are some flaws that played a role in the team dropping those two winnable games. After focusing on the offense in the first round of the past four NFL drafts, New York needs to bring in more defensive play-makers in the 2016 NFL Draft.
Defensively, the Giants have some questions regarding two players who will determine needs in the future. Defensive end Jason Pierre-Paul has a precarious future with the team after his fireworks accident, while cornerback Prince Amukamara is coming up on the decision to bring him back on a new contract or let him leave in free agency. If Amukamara is brought back, cornerback won't be a pressing need for New York. However, even if Pierre-Paul returns to the field, adding another edge rusher could make sense for New York. In
my latest mock draft
, I have the Giants taking Ole Miss defensive lineman Robert Nkemdiche, and he would make a lot of sense to play in the Justin Tuck role for their defense. Two other options to consider from collegiate pass-rushers are Michigan State's Shilique Calhoun and Oklahoma State's Emmanuel Ogbah.
For years, New York has had a weakness at linebacker. The 2016 NFL Draft could offer some first-round solutions in the form of UCLA's Myles Jack, Arizona's Scooby Wright or Notre Dame's Jaylon Smith. Any of those three would be a big upgrade for the Giants.
On offense, the Giants' needs aren't as pressing, but the team has a few spots to upgrade. New York could use a feature running back with some explosion and speed. David Wilson's career-ending injury has pushed the organization into a running back-by-committee approach with Rashad Jennings and Andre Williams; neither of whom is a special runner. If a good defensive prospect isn't available, New York could consider a running back like Ohio State's Ezekiel Elliott or Alabama's Derrick Henry if they're the best players available.
A minor need to consider is wide receiver. Obviously, Odell Beckham Jr. is a No. 1 receiver for many years to come. However, the Giants need more support around him given the injury issues of Victor Cruz. Taking a mid-round receiver with some size to work underneath Beckham would make sense. A sleeper who has impressed scouting sources is Western Michigan's Corey Davis. He could be a great complement to Beckham.
The Giants have built up enough youth on their offense to let that unit grow together for years to come. If New York can add more defensive talent, the franchise might be able to squeeze out one more run at a Lombardi with Eli Manning at quarterback.
Comment...
NFL Picks
- Sept. 24
2019 NFL Mock Draft
- Sept. 20
Fantasy Football Rankings
- Sept. 5
2019 NBA Mock Draft
- Aug. 13
2020 NFL Mock Draft
- Aug. 1
NFL Power Rankings
- June 3