Westgate SuperContest NFL Picks: Week 2 Analysis
For those of you who don't know what the Westgate Supercontest is, it's the largest NFL handicapping contest in the world (at least that I know of). It requires a $1,500 entry fee, and more than 1,800 people entered last season. There is also a Gold version of the contest, which has a $5,000 entry fee. Each player is required to make five NFL picks against the spread each week, and the player with the most correct picks (pushes count as half of a win) at the end of the season prevails. Grand prize will be about $900,000, and the top 50 are in the money. You have to enter this in Las Vegas at the Westgate sportsbook, and you need a proxy in Vegas to submit your picks, thanks to stupid American gambling laws. If you're interested and need a proxy, let me know; I have a very trustworthy proxy who can help you out.
Anyway, here are the top selections this week: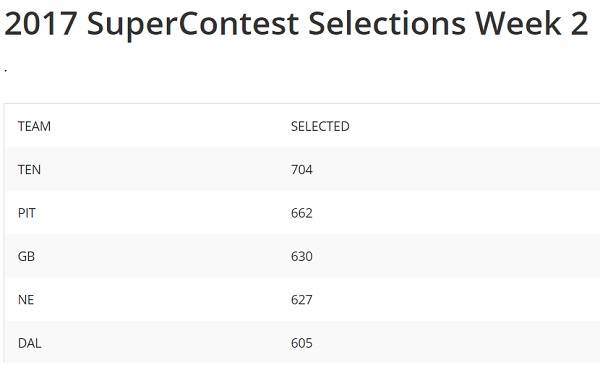 Uh oh. I have the Titans and Steelers are two multi-unit selections, so this is a bad sign. The top five picks in the Supercontest were a whopping 0-5 last week.
Here are my picks for the regular contest:

My entries for the Gold contest aren't much different:

Let's get to some notable selections. I discussed POPS2008, CH BALLERS and Sans Souci last week, as they were three recent winners. They were 3-2, 2-3 and 2-3, respectively.
Here are their picks:
POPS2008: JAX MIN LAR DAL DET
CH BALLERS: IND PHI PIT MIA GB
Sans Souci: JAX NO PHI PIT DEN
Comment...
NFL Picks
- Sept. 22
2018 NFL Mock Draft
- Sept. 21
Fantasy Football Rankings
- Sept. 6
2018 NBA Mock Draft
- Aug. 23
2019 NFL Mock Draft
- June 1
NFL Power Rankings
- May 5