Jeff Simmons, 6-4/301


Defensive Tackle


Mississippi State
Jeff Simmons 2018 Preview
By Charlie Campbell
Career Recap:
Simmons was a top recruit coming out of high school and was a huge get for Dan Mullen at Mississippi State. However, Simmons was fortunate to stay a Bulldog after being involved in a street fight during which he punched a woman numerous times. The incident was caught on video, and that video is as bad or worse than the one of former Oklahoma running back Joe Mixon punching a woman. Simmons was lucky that incident didn't end his football career before it even got started.
As a freshman, Simmons had 40 tackles with two forced fumbles. In his sophomore season, he was one of the best defensive linemen in college football, totaling 60 tackles with 12 tackles for a loss, five sacks, two forced fumbles and one pass batted.
2018 Season Outlook:
As one could expect, Simmons will see a lot of good offensive lines during the 2018 season, including games against Kansas State, Auburn and LSU. Alabama in early November could be the best line that Simmons will take on all season.
Skill-Set Summary:
In the passing-driven NFL, teams are always looking for interior pass-rushers. They are a tough commodity to find, and getting to the quarterback from the inside is the fastest method to put pressure on a signal-caller. Thus, Simmons is going to intrigue a lot of evaluators.
Simmons is a dangerous interior rusher. He is fast at the point of attack and has the speed to fire a gap and charge down the pocket. Simmons possesses a real burst to close with athleticism to redirect and uses his speed to chase down the signal-caller. Simmons puts a lot of quick pressure on quarterbacks to get them off their landmarks and harass them. On top of his speed, Simmons has real power to bull rush through blockers and heavy hands to shed blockers. Due to his strong lower body, Simmons is able to ride blockers straight back into the pocket by putting them on roller skates. With his combination of speed and power, Simmons is a dynamic interior rusher.
As a run defender, Simmons is pretty sound at the point of attack. He gets in trouble when he stands up too high, but he has the strength in his base to anchor when he plays with good leverage. Simmons uses his speed to chase down ball-carriers outside of his gap, and Simmons blows up a lot of run plays by creating havoc in the backfield. He is at his best when he uses his great skill set to get upfield and cause disruption off the snap.
For the NFL, Simmons is very versatile. He could be a three-technique in a 4-3 defense or play some nose tackle. In a 3-4, he could fit as a five-technique defensive end.
2019 NFL Draft Expectations:
Simmons is a first-round talent, but it can't be understated enough that he could be in store for a slide in the draft because of the video. Similar to Joe Mixon, Simmons could have a big fall, since that video is going to have him immediately removed from some teams draft boards. Simmons needs a big junior year to help offset the damage.
Comment...
RELATED LINKS:
2019 NFL Mock Draft
:
Charlie's
|
Walt's
2019 NFL Draft Prospect Rankings
2019 NFL Draft Player Previews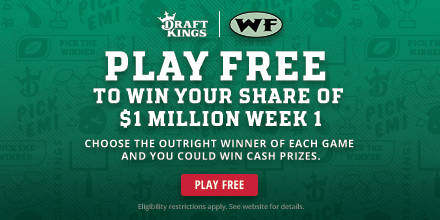 NFL Picks
- Oct. 15
2020 NFL Mock Draft
- Oct. 13
2019 NFL Mock Draft
- Oct. 11
Fantasy Football Rankings
- Sept. 5
2019 NBA Mock Draft
- Aug. 13
NFL Power Rankings
- June 3