Clelin Ferrell, 6-5/265


Defensive End


Clemson
Clelin Ferrell 2018 Preview
By Charlie Campbell
Career Recap:
The 2018 NFL Draft appeared to have the potential to be a very strong draft class at the beginning of the process. However as the 2017 season played out, the 2018 NFL Draft class became just average in talent. One of the reasons why it ended up being moderately disappointing from the early optimism was a number of players deciding to return to college. One prospect who could have been a first-round pick in the 2018 NFL Draft was Clelin Ferrell, as the draft did not contain a lot of good edge rushers and Ferrell was one of the best defensive ends in college football during the 2017 season.
Ferrell put together a big statistical season in 2017, but the redshirt sophomore was even better than the numbers indicate. In 2017, he totaled 66 tackles with 18 tackles for a loss, 9.5 sacks, one pass batted and two forced fumbles. Ferrell put a ton of heat on the quarterback, however, and the pressures that he started led to production for his teammates as quarterbacks ran into them while trying to escape Ferrell. Fellow defensive end Austin Bryant had 8.5 sacks, and a lot of them were from quarterbacks running toward Bryant and away from Ferrell's quick pressures.
In 2016, Ferrell had a strong debut as a redshirt freshman with 44 tackles, 12.5 tackles for a loss, six sacks and two passes batted helping Clemson to win the National Championship.
2018 Season Outlook:
Ferrell could be poised for a huge year in 2018. He has tremendous talent around him in defensive tackle Christian Wilkins and nose tackle Demarcus Lawrence, who are first-round talents. Austin Bryant is a second-day talent as well, so there really is not a weak link on the Clemson defensive line. However, Ferrell is going to see a lot of double teams and plays going away from him. After massive sophomore years, the production for superstar defenders like Jadeveon Clowney, Joey Bosa and Myles Garrett all declined in their junior seasons. That was because of a lot of double teams, teams scheming to go away from them, and some injuries. If Ferrell plays well, it should not have an impact on him if his production declines similar to that trio of former top-three picks.
Skill-Set Summary:
In the passing-driven NFL, edge defenders who can get after the quarterback are always in demand. With his size, speed, athleticism and strength, Ferrell has an excellent skill set to be an impactful defensive end with double-digit-sack potential as a pro. In two seasons at Clemson, Ferrell has illustrated that he has first-round talent and is a well-balanced player who is effective in both phases.
Ferrell is a sound run defender. He has enough size and strength to hold his ground and not get blown off the ball. When runs come straight at him, Ferrell has shown some ability to holds his ground, shed the block, and get in on the tackles. He has nice recognition skills and flows to the ball when runs don't come his direction. While Ferrell is not a dominant run defender, he is solid and contributes.
In the pass rush, Ferrell is a balanced pass-rusher. He has good first-step quickness that he uses to get upfield. Ferrell uses his functional upper body strength to fight off blocks, and he has an impressive left arm rip move to shed left tackles and get underneath them. Once he's free, Ferrell has a burst to close on the quarterback. At times, his speed rush is too fast for offensive tackles and he can burn them off the snap.
Ferrell is entering his redshirt junior season, and there are some areas of improvement for the young defender. It would be good to see Ferrell add more spin moves and rushes to the inside as a junior. Ferrell has some ability to dip and bend underneath blockers. However, he is not an elite bender with rare agility in that there is a little stiffness with him. For the NFL, it would help Ferrell to run the hoops drill and improve his ability to sink his hips.
For the pro game, Ferrell possesses the versatility to fit a 4-3 or 3-4 defense. He has enough size and length to be a base end in a 4-3 defense, and he will probably get heavier with more weight on his frame as he ages. Ferrell also has enough athleticism to stand up as an outside linebacker in a 3-4 defense.
2019 NFL Draft Expectations:
Entering his junior season, Ferrell has high first-round potential. Team sources who have done advance work on the 2019 NFL Draft's class say they expect Ferrell to be a first-round pick.
Comment...
RELATED LINKS:
2019 NFL Mock Draft
:
Charlie's
|
Walt's
2019 NFL Draft Prospect Rankings
2019 NFL Draft Player Previews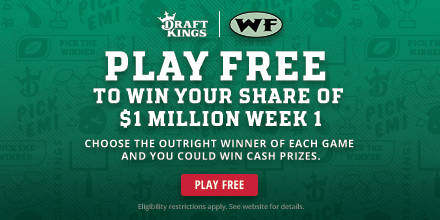 NFL Picks
- Oct. 15
2020 NFL Mock Draft
- Oct. 13
2019 NFL Mock Draft
- Oct. 11
Fantasy Football Rankings
- Sept. 5
2019 NBA Mock Draft
- Aug. 13
NFL Power Rankings
- June 3