*** Note: The write-ups for the non-playoff teams will remain the same throughout the postseason, but playoff teams will continue to be updated. ***

San Francisco 49ers (2-14) - Previously: 30.
Check out my Coach Firing Grades page if you haven't seen grades for the 49ers letting go of Chip Kelly and Trent Baalke, and also hiring John Lynch.

Speaking of Lynch, his 9-year-old daughter said the 49ers are "horrible" and cried when she heard that her father was taking the job. This is an actual, true story. You can't make stuff like this up.

The 49ers, of course, are run by one of the most incompetent men in the history of Western civilization. That would be Jed York, who has once again made a dubious decision: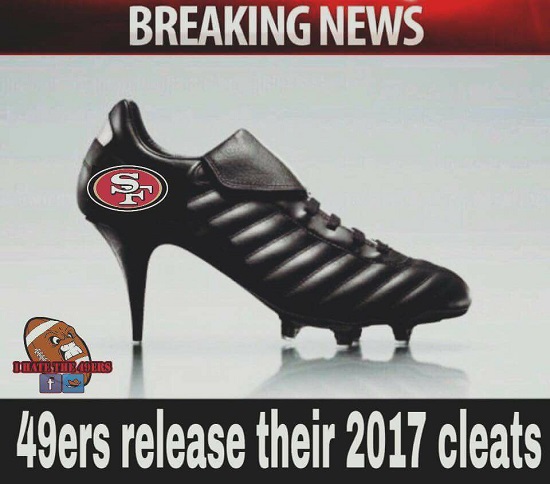 With that in mind, how can I not label the 49ers as the worst team in the NFL?



Los Angeles Rams (4-12) - Previously: 32.
The Rams, with Jared Goof, were the worst team I've ever seen. I'm not exaggerating. In my 17 years of covering the NFL, I've never seen a team be so incompetent. Even the 0-16 Lions looked like the 18-1 Patriots by comparison. The Rams were an absolute train wreck, and Goof doesn't look like he's going to cut it in the pros.

The one piece of good news is that the Rams have a brilliant offensive coaching staff that will get the most out of Goof. Then again, I spotted Goof partying in Houston during Super Bowl weekend when he should've been studying film, as I'm sure Carson Wentz was. Who is Goof to be partying during Super Bowl week, anyway? If I were him, I'd be embarrassed to be seen in public.



Cleveland Browns (1-15) - Previously: 31.
I'll be surprised if the Browns are the worst team in the NFL again next year. They were competitive in the first half of the season when Joel Bitonio was healthy. They weren't able to run the ball at all once he went down, and that prompted their countless blowout losses.

Of course, Joe Haden being healthy would help as well. Haden, however, can't seem to get over simple injuries: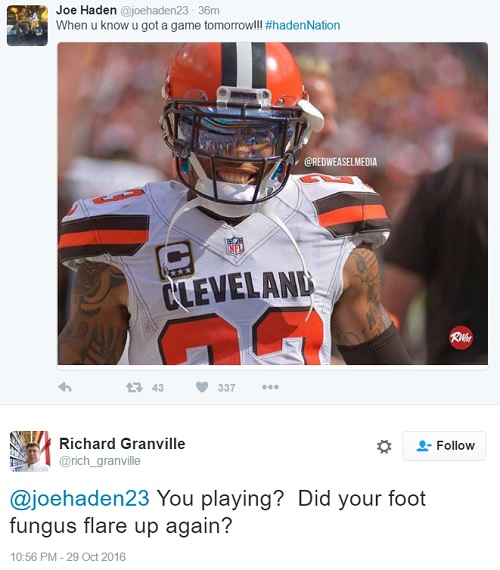 New York Jets (5-11) - Previously: 29.
The Jets' season was over in Week 1 when they lost to the Bengals in what Trent Dilfer called a "must-win game." The Jets had the first must-win game during Week 1 ever in the history of football, so hopefully they avoid a similar fate in 2017.

At any rate, it would surprise me if the Jets selected a quarterback at No. 6 overall. I think they're going to sign a veteran and give Christian Hackenberg a shot. If he struggles, then they can just Suck for Sam and select Sam Darnold, who is the top player in the 2018 NFL Mock Draft.



Buffalo Bills (7-9) - Previously: 26.
The Bills had promise going into 2016. Now, they look like they might be one of the worst teams in the league. Their foolish owner is forcing Tyrod Taylor to leave, while the new head coach is trying to install a new defense that doesn't fit the skills of many players currently on the roster. The Bills might be lucky to win five games next year if this nonsense continues.



Jacksonville Jaguars (3-13) - Previously: 28.
I'm sure most NFL quarterbacks already have their offseason workout regimens prepared. That includes Blake Bortles. Here's his weekly "workout:"

Monday: Odyssey Nightclub
Tuesday: The Cell Block
Wednesday: The Roxbury
Thursday: The Peach Pit After Dark
Friday: The Moulin Rouge
Saturday: Winchester Tavern
Sunday: Mons Venus

Wow, how grueling! I just hope that Bortles doesn't overdo it.

I kid because I love, and I think it's just a shame that the Jaguars just can't seem to be good. If Bortles had a better work ethic, I think Jacksonville would have a chance to compete for the postseason in 2017, but I just can't see it happening.



Indianapolis Colts (8-8) - Previously: 24.
It was originally reported that Ryan Grigson and Chuck Pagano would both stay on, which was just ridiculous. As it turns out, Jim Irsay was simply on a bender and wasn't in a position to make a clear decision. Sure enough, the Colts have fired Grigson, which means Andrew Luck might actually be protected by a quality offensive line going forward.



Cincinnati Bengals (6-9-1) - Previously: 23.
It doesn't sound like the Bengals will re-sign Kevin Zeitler, the top guard in our NFL Free Agent Rankings. Their offensive line was already declining last year, so I can't say I like this decision. A major reason why Cincinnati was so successful earlier this decade was its great blocking. The Bengals won't have that going forward unless they draft well.



Chicago Bears (3-13) - Previously: 27.
Underrated NFL Team: I like the Bears' chances next year. Chances of what? Well, 8-8 or 9-7, I guess. They don't have the quarterback play to be great, but they have a terrific defensive front seven, a very promising running back and one of the best interior offensive lines in the NFL. They were competitive in most games this past season despite suffering countless injuries, so I think it's reasonable to expect them to be much better than 3-13 in 2017.



New Orleans Saints (7-9) - Previously: 12.
The Saints had seven defeats this past year of six or fewer points, so they could have gone much better than 7-9. That's the good news. The bad news is that the defense isn't very good, and Drew Brees could begin to decline next year. Brees turned 38 this offseason, though if Tom Brady can win a Super Bowl at 39, perhaps Brees can lead the team back to the playoffs a year younger than that.



Miami Dolphins (10-6) - Previously: 19.
You'd have to think that this is the final year for Ryan Tannehill if the Dolphins don't advance to the second round of the playoffs. He'll be due $55 million over the three years following 2017, and there's only so long the fans will be able to cope with his inconsistent play. That said, I like the Dolphins' chances of potentially reaching the postseason. They're easily the No. 2 team in the division, and they should have their offensive line healthier next year.



Denver Broncos (9-7) - Previously: 17.
The Broncos figure to continue losing defensive players, as DeMarcus Ware seems to be Dallas-bound. The offensive line still needs to be revamped. And the quarterback situation is still a big question mark. Paxton Lynch figures to be better, but he still needs to be developed and may not be ready in 2017.







New York Giants (10-6) - Previously: 10.
Overrated NFL Team: I listed the Giants as overrated all year, and I was not surprised they were blown out in the playoffs. They won very tight games against bad teams like the Rams, Bengals and Browns. They lucked out in some of their other victories, beating the Lions because a running back fumbled inside the 5-yard line. The Giants couldn't block, and their linebacking corps was horrible. They definitely had some great aspects of their roster, but they had too many holes, including quarterback. I currently have New York picking Deshaun Watson in my 2017 NFL Mock Draft.



Baltimore Ravens (8-8) - Previously: 9.
Underrated NFL Team: The Ravens were the best team not to make the playoffs. They incurred some losses earlier in the year when they were banged up, but they played better when everyone returned from injuries. If they can remain healthy in 2017, they'll have a great chance to return to the postseason.



Carolina Panthers (6-10) - Previously: 25.
It was the season from hell for the Panthers, but it's finally over. Cam Newton and Luke Kuechly will be healthy next year, but the front office better find superior tackles so that Newton's shoulder doesn't explode again in 2017. Going into another year with Michael Oher and Mike Remmers again would be an outright disaster.



Minnesota Vikings (8-8) - Previously: 22.
The Vikings were 3-8 to finish the season, but they endured so many injuries. I have to believe they'll bounce back, especially if they find an upgrade or two for the offensive line this offseason. Unfortunately, Teddy Bridgewater is expected to miss all of 2017, which means Sam Bradford will be poised to set yet another fraudulent record next year.



Houston Texans (9-7) - Previously: 18.
Good news/bad news. The bad news is that the Texans will be stuck paying this guy for one more year: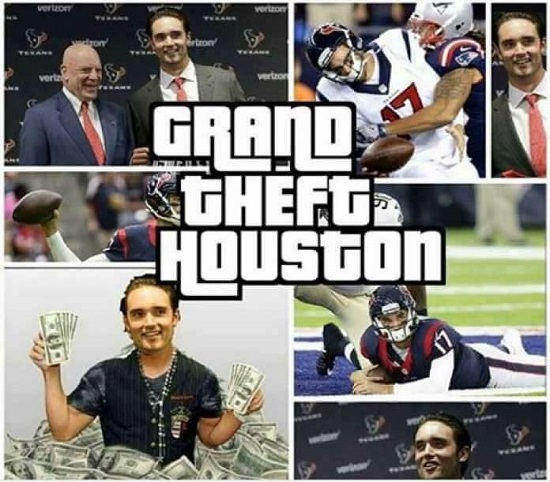 The good news is that the Texans will have an entire offseason to find a new quarterback. I could see them signing a free agent, but my current scenario has them taking Pat Mahomes in my 2017 NFL Mock Draft.



Los Angeles Chargers (5-11) - Previously: 21.
If the Chargers win lots of games next year, and no one is there to see it, will they really make the playoffs? That's the dilemma for the Chargers, who will be better in 2017 when they get Keenan Allen, Danny Woodhead and several others back from injury. Unfortunately, they'll be playing in Los Angeles, which means no one will be going to their games. I get moving out of San Diego, but couldn't they have relocated to a city that actually would've supported them? Oklahoma City, Portland, and even Nuuk, Greenland would've generated more fan support.



Washington Redskins (8-7-1) - Previously: 15.
I feel like this Redskins regime has done well; in the past two years, they've reached the playoffs once and then just fell short by one game on the other occasion. Yet, team president Bruce Allen won't let general manager Scot McCloughan talk to the media because he wants him to concentrate on doing a better job. I don't get this. McCloughan has done well. Allen seems like some overbearing parent who won't let his one daughter go to the prom unless her stuck-up older sister also goes. And yes, my fiancee made me watch 10 Things I Hate About You right before I wrote this.



Arizona Cardinals (7-8-1) - Previously: 14.
Carson Palmer will be back next year, so that's good news. No, really. Palmer struggled last year, but was reportedly dealing with an injury. If he's healthier, and his offensive line can remain intact for a change, Arizona will have a shot at reaching the playoffs once again.



Detroit Lions (9-7) - Previously: 11.
The Lions were 9-4 entering Week 15, but they lost Travis Swanson and Theo Riddick, and they were never the same without those two players. Plus, Matthew Stafford's dislocated finger certainly played a part. The Lions could've done some damage in the playoffs had they stayed healthy, but they didn't really have a chance. They should be able to compete for a playoff spot once again in 2017, provided they don't suffer late-season injuries again.



Tampa Bay Buccaneers (9-7) - Previously: 13.
Tampa Bay is my pick to win the whacky NFC South next year. The Buccaneers have been improving each year, and they had some big wins down the stretch, beating the Seahawks and winning in Kansas City. Jameis Winston will be better in his third year, and Tampa will have every opportunity to repair their secondary and running back group.



Kansas City Chiefs (12-4) - Previously: 6.
I've been saying it for years, and now many of the fans agree: Alex Smith is not the answer, and he needs to be replaced. Unfortunately for the Chiefs, they don't really have a viable alternative, so they may have to stick it out with Smith for another year or two.

Or... maybe the Chiefs can land a franchise quarterback in the first round. Check out this picture: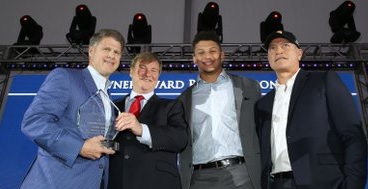 That's Clark Hunt, owner of the Chiefs, on the left, and that's Pat Mahomes, third from the left. The man between them is NFL agent Leigh Steinberg, so it's interesting that he has a strong connection with both men. Kansas City would be lucky to land Mahomes, but the problem is that he could be gone before No. 27, which is what I have happening in my 2017 NFL Mock Draft. The Chiefs will have to make a major move up to land Mahomes, who is considered by some to be the top quarterback prospect in this class.



Tennessee Titans (9-7) - Previously: 16.
The Titans had a disappointing end to their season because of the Marcus Mariota injury, but they have to be considered the favorite to win the AFC South heading into 2017. They have the best defense and running game in the division, and they also have the second-best quarterback behind Andrew Luck. Their secondary sucks, but they have two first-round picks in the upcoming draft, including the No. 5 overall selection. Check out my 2017 NFL Mock Draft for more.







Atlanta Falcons (11-5) - Previously: 4.
What happened? The Falcons led 28-3, yet ran the ball just four times after that. There's only one explanation for this...

The Adventures of Derek Anderson's Magic Flask!

Kyle Shanahan: Wow, we're going to do it! We're up 28-3! We're going to win the Sup... hey, Derek Anderson, what are you doing here? And why are you with Jed York, my future employer?

Derek Anderson: Yoou'reee oonnllyy uppp 28-3 hahahaha whhatat aa gigiiannt ppuuuussseeyyy loooll. Hhaavve a siiipp oofof thiidss anndnd youu'llll bebeee upppp 88-3.

Kyle Shanahan: Wow, that sounds neat. But maybe I shouldn't drink during games.

Derek Anderson: Sttoopp bbeeieingng aa gigiannntt ppuussseey annnndd dririinkkk! Teelll himmmm Jeeeebbbb.

Jed York: Raahhhh! My name is Jed; not Jeb rahhhhhhh!!! Kyle, I want to hang out with the cool people so if you don't drink this I'll fire you raaahhhh!

Kyle Shanahan: Well OK, if you say so.

*** Ten minutes later ***

Kyle Shanahan: Whoaoaoa whahahtt a cattchchc byyy Julliiooo Joonnensss! Llleett's dodo oiitit aggaiaiann! I wannntt toooo seeew mooorree papsssesss!!!

Matt Ryan: Coach Shanahan, maybe we should run the ball and set up a field goal.

Kyle Shanahan: Shuututtu ththehee heelll upppp thhhee coooll guuysss wiill heaarr uussss annd weee'll bebee calllleed giginanant ppuususseeyyss aggaiainnn!!! Nnoow googo papsss toooo jUkllliioo aggainn hic!



Philadelphia Eagles (7-9) - Previously: 7.
Underrated NFL Team: The Eagles finished the year 5-1 with Lane Johnson, and that record would be 6-0 if Ryan Mathews hadn't fumbled at the end of the Detroit game. That's one of many close contests the Eagles have lost last season, as six of their nine defeats have been within a touchdown, and that includes the loss at Dallas in which they were winning in the fourth quarter. With some positive adjustments this upcoming offseason, the Eagles will be in a position to make a run at the NFC East crown in 2017.



Seattle Seahawks (10-5-1) - Previously: 8.
The loss to Atlanta in the divisional round of the playoffs was a pretty brutal one. Russell Wilson was upset, but Baby Wilson was especially distraught: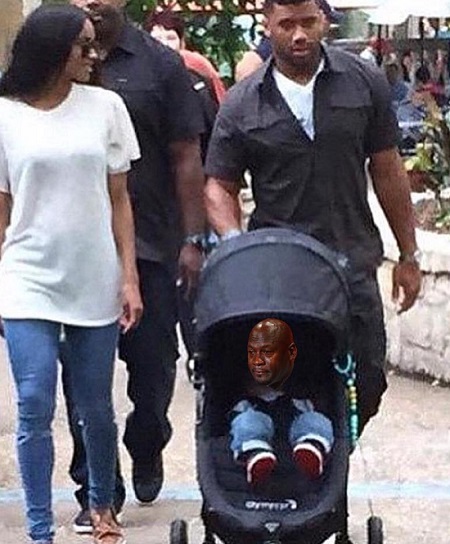 At any rate, the Seahawks are expected to be the overwhelming favorites in the NFC West again, as they'll have Earl Thomas back from injury. The only question is the offensive line, which needs a major overhaul.



Pittsburgh Steelers (11-5) - Previously: 5.
Despite Antonio Brown's antics, the Steelers don't plan to trade him. And rightfully so, given that he's one of the top receivers in the NFL. Besides, Ben Roethlisberger had no one to throw to outside of Brown once Le'Veon Bell got hurt in the AFC Championship. Everyone else kept dropping passes. That'll change if Martavis Bryant can stay clean, but Pittsburgh would be crazy to rely on that happening.



Dallas Cowboys (13-3) - Previously: 3.
The Cowboys were out-coached and thoroughly embarrassed in the playoffs. This picture says it all: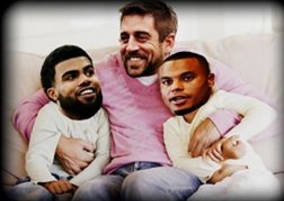 The good news for them is that Dak Prescott will be even better now that he's not a rookie. On top of that, Dallas will have an opportunity to bolster its inconsistent pass rush and find another receiver to play across from Dez Bryant this offseason.



New England Patriots (14-2) - Previously: 1.
It appeared as though the Falcons were going to win the Super Bowl. In fact, it was so evident that this douche bombarded my Facebook wall: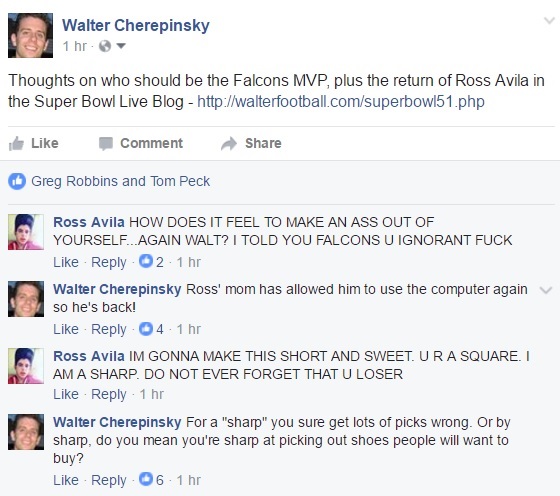 It's a good thing he lost just $7 on the game; otherwise, he'd have to put in some overtime at his glamorous Foot Locker job.

At any rate, Tom Brady is the man, and the Patriots' victory was great. Not only did I win my wager and most of my prop bets, but I went to a bar in Houston after the game, and I got to see this hot Patriots fan chick wear shorts so short that her a** was hanging out. I'll have more in Jerks of the Week in the coming weeks.

You can never count out Brady, but will he have the same time of fire next year? He's gotten his Deflate-gate revenge, and he'll be 40 next year. He could certainly win his sixth, but I don't think the Patriots are considered the favorites right now.



Oakland Raiders (12-4) - Previously: 20.
Considering how the playoffs went down, the Raiders could've done some major damage had Derek Carr stayed healthy. If Carr can remain on the field, I'd say the Raiders are the favorite to reach the Super Bowl. In fact, one e-mailer, who asks for my Super Bowl predictions a year in advance, requested my projection once again a week ago. I told him Packers over Raiders in Super Bowl LII.



Green Bay Packers (10-6) - Previously: 2.
The Packers had the game from hell in the NFC Championship. They missed a field goal, lost a fumble, failed to recover two fumbles, couldn't secure two potential Matt Ryan interceptions, and suffered countless injuries. They would've been more competitive in most permutations, and I'd have to think they'd win most of them, but just sustained a ridiculous amount of bad luck. It happens.

The Packers, however, ended the year on a tear, and I think they probably would've won the Super Bowl in most instances. If they continue to perform like they did to close out the year, they'll be the favorites to represent the NFC in the upcoming Super Bowl.







Comment...








2018 NFL Mock Draft - March 30


2017 NFL Mock Draft - March 29


NFL Picks - Feb. 7


Fantasy Football Rankings - Sept. 7


2017 NBA Mock Draft - June 23


NFL Free Agents