If you've checked out our
NFL Free Agent Rumors
page, or just paid attention to NFL news in general, you may have heard that new 49ers head coach Kyle Shanahan has expressed interest in both Kirk Cousins and Jimmy Garoppolo. The latter could probably be obtained for the No. 34 overall pick in the upcoming NFL Draft, once the Patriots lower their asking price upon realizing that it'll be difficult to net a first-round selection for their young quarterback.
Cousins, however, is a different story. Shanahan worked with Cousins in Washington, so the familiarity he has with his former signal-caller has to make the current Redskin even more appealing. Unfortunately for the 49ers, Cousins will be more difficult to obtain. The Redskins can just apply the franchise tag to Cousins, who could still negotiate with other teams if that were the case. The 49ers could then sign Cousins, but it would cost them two first-round picks.
That may seem like a steep price at first, but I don't think it is upon further inspection. The 49ers would really be dealing one first-round pick for Cousins - their 2018 selection - because they'd be using their 2017 first-rounder on Cousins rather than Alabama defensive lineman Jonathan Allen or one of the rookie quarterbacks. Thus, this trade would only hurt the 49ers if they once again finish with a top-three selections despite having Cousins, prompting them to miss out on blue-chip quarterbacks Sam Darnold and Josh Rosen, or perhaps LSU edge rusher Arden Key or Texas A&M wide receiver Christian Kirk. If, however, San Francisco improves to at least 8-8 with Cousins, all it would be giving up to Washington would be a selection in the 14-17 range next year, and if Cousins turns out to be a franchise quarterback, it would be well worth it, as he could get the 49ers into the playoffs in 2018 and beyond once the roster is rebuilt.
If the 49ers can't get Garoppolo and truly believe Cousins can be their quarterback of the future - he'll turn 29 in August, so he should have at least 5-7 more strong years - they should absolutely pull the trigger on a trade, despite the asking price. There's no guarantee that whichever quarterback the 49ers want to take at No. 2 overall will pan out. That can't even be said about Allen. The Alabama defensive lineman happens to be a great prospect, but how many highly regarded defensive linemen have busted despite being early first-round selections?
There are no guarantees at No. 2 overall in the 2017 NFL Draft, but we've seen Cousins thrive over the past couple of years. He took the Redskins to the playoffs in 2015, and he threw for 4,917 yards this past season, generating 25 touchdowns and only 12 interceptions in the process. He's had some bad games, including the season finale against the Giants, but the loss wasn't completely his fault. Besides, he's light years better than what the 49ers currently have at quarterback. He would unquestionably be a substantial upgrade, and there would be no learning curve from being on a new team because he's familiar with Shanahan's system.
The 49ers strongly need to consider trading for Cousins if they have no other options. They're one of the worst teams in the NFL with no clear future, but that would change if they were to acquire Cousins. Again, this deal would only backfire if Cousins happened to struggle in his new home, but there's no reason to think that'll happen, especially given that he and Shanahan would be reunited. He wouldn't have talented weapons at his disposal, but San Francisco could acquire those via free agency or the second day of the draft; I actually have the 49ers picking two receivers early in my
2017 NFL Mock Draft
.
Let me know what you think! Should the 49ers trade two first-round picks for Cousins if they don't have any other options? I've set up a poll below, and you can comment as well.
In the meantime, I wanted to run through what the 2017 NFL Draft would look like if this trade were to happen. I've used my current
2017 NFL Mock Draft
as a template:
1. Browns: Myles Garrett, DE, Texas A&M
2. Redskins: Jonathan Allen, DE/DT, Alabama
Yes, over a quarterback. Allen is too good to pass up, and he would fill a huge need. Plus, Washington could potentially obtain a signal-caller with its No. 17 overall pick, so let's move on...
3. Bears: Mitch Trubisky, QB, North Carolina
4. Jaguars: Solomon Thomas, DE, Stanford
5. Titans: Jamal Adams, S, LSU
6. Jets: Leonard Fournette, RB, LSU
7. Titans: Malik Hooker, S, Ohio State
8. Panthers: Marshon Lattimore, CB, Ohio State
9. Bengals: Reuben Foster, LB, Alabama
10. Bills: Pat Mahomes, QB, Texas Tech
11. Saints: Derek Barnett, DE, Tennessee
12. Browns: Marlon Humphrey, CB, Alabama
13. Cardinals: Mike Williams, WR, Clemson
14. Colts: Dalvin Cook, RB, Florida State
15. Eagles: Corey Davis, WR, Wyoming
16. Ravens: Cam Robinson, OT, Alabama
17. Redskins: DeShone Kizer, QB, Notre Dame
As promised, the Redskins are getting a quarterback at No. 17 overall. This could be either Kizer or Deshaun Watson, though the latter doesn't seem like a good fit in Jay Gruden's offense. Plus, no team we've spoken to has a first-round grade on Watson, but that's been discussed quite often.
18. Titans: O.J. Howard, TE, Alabama
19. Buccaneers: Christian McCaffrey, RB, Stanford
20. Broncos: Ryan Ramcyzk, OT, Wisconsin
21. Lions: Sidney Jones, CB, Washington
22. Dolphins: Taco Charlton, DE, Michigan
23. Giants: Deshaun Watson, QB, Clemson
24. Raiders: Caleb Brantley, DT, Florida
25. Texans: David Njoku, TE, Miami
26. Seahawks: Garett Bolles, OT, Utah
27. Chiefs: Charles Harris, DE/OLB, Missouri
28. Cowboys: Jabrill Peppers, S, Michigan
29. Packers: Quincy Wilson, CB, Florida
30. Steelers: Takkarist McKinley, DE/OLB, UCLA
31. Falcons: Malik McDowell, DE/DT, Michigan State
32. Patriots: Adoree Jackson, CB, USC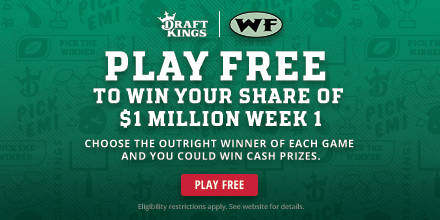 The only change here is that the Chiefs are forced out of a quarterback with Kizer no longer available, so they probably have to make a better choice. Kansas City could always grab a successor for Alex Smith in the 2018 NFL Draft, anyway.
As you can see, this trade boils down to the 49ers obtaining Kirk Cousins for Jonathan Allen and whomever the Redskins obtain in the 2018 NFL Draft. If it's a top-five, blue-chip prospect, then it's a bad deal. But if it's a mid first-rounder, then San Francisco will have won the trade.
Potential Kirk Cousins Trade Poll
What do you guys think? Should the 49ers pull the trigger on this trade if they have no other options at quarterback?
Comment...
NFL Picks
- Nov. 14
2019 NFL Mock Draft
- Nov. 8
2020 NFL Mock Draft
- Nov. 3
Fantasy Football Rankings
- Sept. 5
2019 NBA Mock Draft
- Aug. 13
NFL Power Rankings
- June 3