This new section highlights which players have improved or worsened their 2018 NFL Draft stock as the draft approaches.
By Charlie Campbell.
Send Charlie an e-mail here:
draftcampbell@gmail.com
Follow Charlie on Twitter
@draftcampbell
for updates.
2018 NFL Draft Stock Up

Kerryon Johnson, RB, Auburn
Johnson has carried Auburn to wins over Alabama and Georgia to put his draft stock on the map late in the 2017 season. Versus the Crimson Tide defense loaded with NFL talent, Johnson showed real quickness with good cutting ability, vision, and decisive downhill running. He also played banged up, illustrating his toughness to withstand a heavy work load and some hard hits. Johnson totaled 104 yards on 30 carries and a touchdown against Alabama. This season, he has been the workhorse for the Tigers and the team engine for their second half surge. Johnson has second-day potential if he enters the 2018 NFL Draft.

Dalton Schultz, TE, Stanford
Scouts have told me that they like Schultz and see him as a do-it-all Y tight end similar to Jason Witten. They say that Schultz is a good route-runner, excellent at catching the ball, and a really good blocker. This season, Stanford has used Schultz's blocking skill to help open holes for Bryce Love. Against Notre Dame, Schultz put those well-rounded skills on display as he opened holes in the ground game while also making an athletic touchdown reception in the fourth quarter. Despite the Cardinal's ground-based offense, Schultz has 17 receptions for 181 yards and two touchdowns. The 6-foot-6, 242-pounder is a sleeper prospect who team evaluators really like, and he could end up being a second-day pick in the 2018 NFL Draft.

Chad Thomas, DE, Miami
Sources tell me that the 6-foot-6, 265-pound Thomas is really talented physically and that his draft grade is going to be all over the place. Some scouts and teams will fall in love with Thomas' skill set, while others will knock him for not producing up to it. In 2017, Thomas has 30 tackles with 8.5 tackles for a loss and 3.5 sacks. Scouts say there are flashes of excellence and stretches of doing nothing while looking clueless. They believe that Thomas lacks instincts as well. However because of his great skill set, grades are going to be all over the board on Thomas with some high and some low. Thomas is on the rise and could end up being a pick on Day 2 of the 2018 NFL Draft.

Marcell Frazier, DE, Missouri
In a shutout win over Arkansas, Frazier came through with some big plays to help Missouri's defense give its offense just enough support. Frazier had eight tackles with 3.5 for a loss, one sack and three passes batted. He came close to other sacks, showing good skills off the edge along with impressive instincts and awareness.
This season, Frazier has 36 tackles with 13.5 for a loss, seven sacks, a forced fumble and five passes batted. He is a nice edge rushing prospect for the NFL. Frazier has active hands, speed to close, and shows some instincts with awareness. He doesn't look like he has a first-round skill set like Charles Harris, but Frazier could be a nice value as a second-day or mid-round pick in the 2018 NFL Draft.

Breeland Speaks, DE, Ole Miss
Speaks finished the 2017 season in impressive fashion with a strong performance against Mississippi State. Throughout the Egg Bowl, Speaks was in the backfield, putting heat on the quarterback and playing the run well. The 6-foot-3, 285-pounder is strong at the point of attack and also has some speed with athleticism. This season, Speaks totaled 67 tackles with seven tackle, one forced fumble and one pass batted. The redshirt junior could still return for his senior year, but if he enters the 2018 NFL Draft, he could get consideration on Day 2 as a base end for a 4-3 defense.

Jaylen Dunlap, CB, Illinois
Scouts tell me that Dunlap is an intriguing player. He possesses an excellent skill set with size, speed, and cover ability. The 6-foot-1, 190-pounder has the size to battle big receivers and is fast to run with speedy targets. Dunlap reportedly runs in the 4.4s. He has been in and out of the lineup after getting in the doghouse of Lovie Smith's coaching staff. In 2017, Dunlap has 25 tackles with five passes broken up and an interception. As a junior, he totaled 63 tackles with 11 breakups. Sources say that Dunlap did well in his games against Corey Davis and Simmie Cobbs in the past. Dunlap could end up sneaking into Day 2 during the 2018 NFL Draft, especially after he stars in workouts.

Mike Hughes, CB, Central Florida
In speaking with sources, they told me that Hughes had been getting some second-round grades from scouts. His tape against South Florida is going to help validate him being a top-64 selection if he enters the 2018 NFL Draft.
Late in the second quarter against the Bulls, Hughes was challenged downfield, but he had close coverage on the post route. Hughes made a very nice play to wait until the last second to get his hand in to break up the pass while diving with the receiver. It was perfect technique to prevent the completion and time his contact to avoid a penalty. A few plays later on a slightly overthrown pass, Hughes stretched out to make a superb interception. He made a nice hands catch to reach out and control the Quinton Flowers pass. In the third quarter, Hughes was targeted in the end zone, but he maintained blanket coverage and the ball sailed incomplete. With just about 90 seconds remaining in the game and the score tied at 42, Hughes took a kick return up the middle and weaved through a few tacklers before exploding down the field for the game-winning touchdown.
The tape against South Florida will help Hughes draft grade. He demonstrated blanket coverage all night, showing good quickness and agility to run with receivers while preventing separation. As he illustrated against the Bulls, Hughes is dangerous as a punt and kick returner as well, although he probably will be too valuable on defense to be used much as a returner in the NFL. Still, he brings that added value and could be a returner if he doesn't immediately break in as a top-three corner on the depth chart. Hughes had a great game against a quality opponent and definitely helped his draft grade.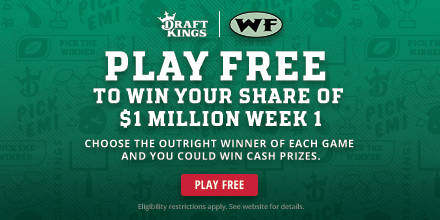 2018 NFL Draft Stock Down

Martez Ivey, OT, Florida
Sources have been really down on Ivey after going through Gainesville this season. Many think that Ivey will have to move back to guard, the position that he played as a sophomore and freshman. They don't think that Ivey can play tackle in the NFL, with one source saying that Ivey's feet are terrible to be an edge protector. He should definitely return for his senior year to improve before going to the NFL.

Luke Falk, QB, Washington State
Falk really struggled against Washington, failing to move the ball until late in the game when his team was already down 34-0. He had three first half turnovers to help put his team in a big hole, and that continued into the third quarter with another interception. For the game, Falk totaled three interceptions and a fumble. He showed some poor field vision, staring down some receivers. Falk didn't manipulate coverage with his eyes and made some terrible decisions with throws into crowds of defenders. The Apple Cup made Falk look more like a game-manager backup and mid-round pick.

Martinas Rankin, OT, Mississippi State
Rankin has good size and athleticism, but he lacks power for the NFL and scouts are dinging him for that. That could be seen against Ole Miss on Thanksgiving night in the Egg Bowl. Throughout the night, Rankin's lack of strength was illustrated in him struggling to sustain blocks in pass protection. In the third quarter, a freshman defensive end was able to shed Rankin and charge to the inside to notch a sack. Rankin was beat for another sack in the fourth quarter as defensive end Breeland Speaks used a swim move to push Rankin to the side and then charged to the inside to get a sack. On the next play, Rankin reacted late to a blitz off the edge and had to hold to prevent a sack. That penalty was called correctly by the officials.
Rankin has nice size, length, and athletic ability, but he must get stronger for the NFL. He can get pushed around and knocked down too much. Thus, Rankin is a second-day talent, although he could end up being a good pro after he works on getting stronger in a professional strength program. NFL team sources tell me that Rankin is a great kid and a hard worker, so it definitely is feasible that he will fix the strength issue through his work ethic. The Egg Bowl tape will hurt Rankin's draft grade. He looks like a third- or fourth-round pick for the 2018 NFL Draft rather than a first- or second-rounder.
Comment...
NFL Picks
- Oct. 15
2020 NFL Mock Draft
- Oct. 13
2019 NFL Mock Draft
- Oct. 11
Fantasy Football Rankings
- Sept. 5
2019 NBA Mock Draft
- Aug. 13
NFL Power Rankings
- June 3