This new section highlights which players have improved or worsened their 2018 NFL Draft stock as the draft approaches.
By Charlie Campbell.
Send Charlie an e-mail here:
draftcampbell@gmail.com
Follow Charlie on Twitter
@draftcampbell
for updates.
2017 NFL Draft Stock Up

Saquon Barkley, RB, Penn State
With Penn State's passing game sputtering against a tough Iowa defense, Barkley took the game over in the second half as he dominated the Hawkeyes. Barkley illustrated why he is a tremendous talent and a game changer for the NFL, running for 211 yards on 28 carries with one touchdown. He also caught 12 passes for 94 yards to lead Penn State in receiving. had 53 return yards on special teams as well. Between all of that, Barkley set a Penn State record for all-purpose yards. On top of it, he embarrassed Iowa linebacker Josey Jewell, juking him out of tackles all night with ease.
This was a tape that illustrates why Barkley is worthy of being a top-five pick in the 2018 NFL Draft. Barkley has devastating quickness to hit the hole and accelerate downfield. Along with great speed, Barkley has tremendous balance, vision, cutting ability, elusiveness and power. He looks like a better prospect than Ezekiel Elliott, and is proving that he is a similar prospect to players like Leonard Fournette and Todd Gurley.

Bradley Chubb, DE, N.C. State
Against a talented Florida State team, Chubb was awesome, dominating from start to finish. He was a force who provided some huge plays to lead his team to a tough road upset. In the first half, Chubb hustled downfield and forced a fumble that was recovered deep in Wolfpack territory to steal a scoring opportunity away from Florida State. Just before the half, Chubb used a rip move and speed around the edge to get a blind-side sack. That forced Florida State to settling for a field goal just before the half. To start the fourth quarter, Chubb had another sack showing good recognition skills and closing speed while slamming James Blackmon to the turf. Aside from those plays, Chubb had a ton of disruption with pressures and hits on the quarterback.
Chubb destroyed the Florida State left tackle throughout the game and laid repeated bone-rattling hits on freshman quarterback James Blackmon. It was a clinic of speed, power and motor to dominate the Seminoles. This tape will help Chubb's draft grade and send his stock upward. He looked like a top-20 pick against the Seminoles.

Terrell Edmunds, S, Virginia Tech
Edmunds hasn't gotten as much attention as his brother Tremaine Edmunds, but NFL sources have told WalterFootball.com that Terrell Edmunds has really impressed them as well. The 6-foot-2, 220-pounder has good size to be a NFL safety while showing coverage skills over the past few seasons. Edmunds is off to a good start in 2017 with 20 tackles, an interception and three passes broken up. As a sophomore, he totaled 89 tackles, four interceptions and three passes broken up. Sources say they see Terrell Edmunds grading out as a second-day prospect.

David Sills V, WR, West Virginia
Sills is enjoying a breakout season that continued with an impressive performance against Kansas. In the second quarter, he ran a post route and used his long frame to haul the pass in. He then dodged a few tackles to race down the field for a 49-yard touchdown. In the fourth quarter, Sills got open on a slant for a seven-yard touchdown. He totaled eight receptions for 130 yards and two touchdowns versus the Jayhawks. This season, Sills has 26 receptions for 396 yards with seven touchdowns. The 6-foot-4, 203-pounder has mismatch size and has enough speed to challenge defenses downfield. Sills is on his way to turning himself into a legit NFL prospect.

Daniel Jones, QB, Duke
Jones has earned some compliments from scouting sources. They think that the redshirt sophomore has real physical talent and also is getting great coaching development from David Cutcliff. This season, Jones has completed 62 percent of his passes for 904 yards with five touchdowns and two interceptions. The 6-foot-5, 215-pounder has good height and a nice skill set. He could be a quarterback who continues to rise over 2018 and 2019.

Austin Bryant, DE, Clemson
Late last week, scouting sources said they felt that Bryant was playing his way into a first-round caliber prospect this season. Bryant has been a dynamic speed rusher who has been a pass-rushing force for one of the best defenses in college football. In 2017, Bryant has five sacks in four games with 17 tackles with six for a loss. He added to his sack total against Boston College and was a key contributor to Clemson limiting Boston College to only seven points. The 6-foot-5, 265-pound Bryant is on his way to a massive junior season that could have his name being called on the opening night of the 2018 NFL Draft.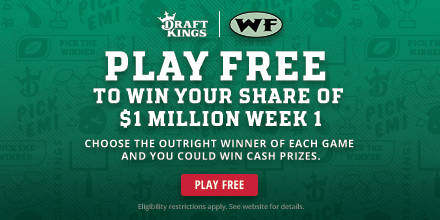 Christian Kirk, WR, Texas A&M
Kirk put his team on his shoulders and led the Aggies to an overtime win over Arkansas. Along with returning a kickoff for a touchdown, Kirk caught five passes for 110 yards and two receibing touchdowns. Kirk could be playing himself into being the top wideout for the 2018 NFL Draft. Some team sources see Alabama's Calvin Ridley as a mid- to late first-rounder, while Notre Dame's poor quarterback play could depress the numbers of Equanimeous St. Brown. Kirk has 19 receptions for 251 yards with four touchdowns after four games. The explosive play-maker is producing despite injuries at quarterback and constant double teams. Kirk could be highly in demand next April.

Dante Pettis, WR, Washington
Pettis has gone under the radar to a degree, but he is having a tremendous senior season. Pettis has 15 receptions for 263 yards with three touchdowns, plus has three punt returns for touchdowns already this year. He has set the Pac-12 career record for punt return touchdowns. He also has an average of 38.3 yards per punt return. Pettis' (6-1, 195) ability to contribute on offense while being a difference-maker on special teams will have him in demand next April.
Honorable Mentions:
Georgia running back Nick Chubb, Georgia linebacker Roquan Smith and Texas A&M safety Armani Watts.
2017 NFL Draft Stock Down

Nick Fitzgerald, QB, Mississippi State
The Georgia defenders had their way with Fitzgerald as he really struggled last Saturday night. The front seven shut down the Mississippi State read-option rushing attack, and Fitzgerald struggled having to rely on his arm to move the ball. His accuracy was off throughout the night, and that led to some painful mistakes. Fitzgerald was only 14-of-29 for 83 yards with two interceptions against Georgia. The Georgia secondary was providing tight coverage, and Fitzgerald couldn't locate his passes well enough to beat the tight coverage. His field vision was unimpressive as he didn't move his eyes consistently enough. Fitzgerald didn't see some defenders and didn't show the ability to manipulate coverage with his eyes or pump fakes. That lack of field vision and ball placement led to his interceptions. This tape illustrated that Fitzgerald needs development as a pocket passer. This performance indicates that Fitzgerald should return to Mississippi State for 2018 to improve his passing skill before going to the NFL.

Trenton Thompson, DT, Georgia
In speaking with scouting sources late last week, they were saying that Thompson is a definite first-round talent, but one who doesn't consistently play up to his skill set. He has the size, speed, strength and athleticism to take games over, yet that hasn't been the case. In Week 4 against Mississippi State, Thompson made three tackles after recording two tackles against Notre Dame in Week 2. Most of his production this season came against Samford and Appalachian State. Thompson has 12 tackles with three for a loss and zero sacks through four games.
Thompson has struggled with consistency this season and has disappeared for stretches against players who have no business blocking him. Some team sources think Thompson could end up falling to Day 2 of the 2018 NFL Draft and actually start receiving second-day grades if he doesn't start producing more.
Comment...
Fantasy Football Rankings
- Aug. 21
2019 NBA Mock Draft
- Aug. 13
2020 NFL Mock Draft
- Aug. 1
2019 NFL Mock Draft
- July 31
NFL Power Rankings
- June 3
NFL Picks
- Feb. 4