This section breaks down many college football games each week and highlights how
2018 NFL Draft Prospects
have performed. Or look at the
2018 NFL Draft Stock
page.
By Charlie Campbell.
Send Charlie an e-mail here:
draftcampbell@gmail.com
Follow Charlie on Twitter
@draftcampbell
for updates.


Stanford 58, UCLA 34
UCLA quarterback Josh Rosen has had an up-and-down early portion of the season. He led a legendary comeback in Week 1 against Texas A&M, but fell to an inferior opponent in Memphis in Week 3. Against Stanford, Rosen had a quality performance and played well enough that he wasn't the reason his team lost.

Rosen had a receiver running wide open to the flat in front of the end zone in the first quarter, but Rosen missed him with an inaccurate throw. On the next possession, Rosen fired a fastball to tight end Caleb Wilson, who couldn't control the ball and tipped it up in the air. Stanford safety Justin Reid was in the right spot to catch the deflection for an interception. Wilson should have caught the ball, but Rosen could have made it more catchable by not throwing it unnecessarily hard.

Rosen came back to hit a receiver on the run and that let him dart downfield for a 48-yard gain. To finish the drive he found a receiver wide open in the end zone for a short touchdown toss. Rosen kept moving the ball hitting Wilson on the run to let him get downfield for a 31-yard gain. Late in the second quarter Rosen was lucky that a deflected pass was dropped by a Stanford defender. He threw the ball too hard on a short pass and that caused the deflection. Rosen was throwing far too many passes that were hard to catch in the first half. In terms of "throwing a catchable ball," Rosen was failing.

Midway through the third quarter, Rosen hesitated in the pocket and didn't feel the rush as he was stripped of the ball. Luckily for the Bruins, an offensive lineman recovered the loose ball. Rosen responded by moving the ball with some precision passes, including a 39-yard touchdown pass to Jordan Lasley. It was an accurate throw that hit Lasley on the run on a crossing route to let the wideout cut upfield and bolt into the end zone. Midway through the fourth quarter, Rosen threw a perfect strike to the far sideline for a 15-yard touchdown.

In a losing effort, Rosen completed 40-of-60 passes for 480 yards with three touchdowns and two interceptions. He showed his live arm and that ability to make amazing passes. Rosen throws a very tight spiral that can beat good coverage. However, he needs to improve throwing the ball with more touch and getting more consistent with his accuracy. Rosen has a great arm, but is capable of getting more out of it. Overall, this tape should help Rosen to be a first-round pick.


The Cardinal has a good defensive back prospect for the NFL in Alijah Holder, but unfortunately, Holder only played one half thanks to a horrible call by the officials. Early in the third quarter, Holder was bounced from the game with a targeting penalty. It was a terrible call as Holder was making a tough tackle, lowering his shoulder on a big ball-carrier along the sideline. The call was so bad that UCLA head coach Jim Mora was seen shaking his head and saying it was horrible. The targeting rule needs some serious revision.




Penn State 21, Iowa 19
Penn State superstar running back Saquon Barkley was going against a salty Iowa defense led by a good trio of college linebackers. Barkley was going to challenge the Hawkeyes interior, and middle linebacker Josey Jewell could be a mid-rounder in the 2018 NFL Draft that would help his draft stock by showing that he was capable of defending a special back like Barkley. With Penn State's passing game sputtering against a tough Iowa defense, Barkley took the game over in the second half as he dominated the Hawkeyes to carry his team.

In the first quarter, Barkley ripped off a impressive run, showing his great burst to accelerate upfield and then dodge a tackler in the open field. On the same drive, he had a few receptions to set up Lions with a first-and-goal situation.

Barkley had a superb run in the third quarter, using his vision and quickness to hit the hole. Two defenders hit him five yards past the line of scrimmage, but they went down and Barkley didn't, as he powered through them to explode downfield for 25 yards. The next play, he juked Jewell at the point of attack and left the linebacker reaching at air. On the next drive, Jewell whiffed again with Barkley on the sideline as Jewell overpursued with Barkley cutting back to the middle of the field for more yards. Shortly later, Barkley was able get into the end zone on a short touchdown run with Jewell too late getting to the sideline and Barkley showing great athleticism to reach the ball inside the pylon before going out of bounds.

In the fourth quarter, he caught a pass in the flat and hurdled a defender to pick up a critical first down for Penn State. On the drive, Barkley did the heavy lifting to move the chains as a runner and receiver while draining time off the clock. Unfortunately for the Nittany Lions, a field goal attempt was blocked. On the final drive of the game, Barkley juked Jewell again for a missed tackle that let Barkley obtain first-down yardage, get out of bounds, and set up a first-and-goal with only a few seconds left. On the final play of the game where Penn State scored a seven-yard touchdown, Barkley had an excellent blitz pickup to let his quarterback get the pass off.

Barkley illustrated why he is a tremendous talent and a game changer. He ran for 211 yards on 28 carries with one touchdown. He also caught 12 passes for 94 yards to lead Penn State in receiving. He had 53 return yards on special teams as well. Between all of that, Barkley set a Penn State record for all-purpose yards. br>
This was a tape that illustrates why Barkley is worthy of being a top-five pick in the 2018 NFL Draft. Barkley has devastating quickness to hit the hole and accelerate downfield. Along with great speed, Barkley has tremendous balance, vision, cutting ability, elusiveness, and power. Barkley looks like a better prospect than Ezekiel Elliott, and he is proving that he is a prospect of similar caliber to players like Leonard Fournette and Todd Gurley.


Jewell played a tough game. He had 15 tackles with three for a loss, one interception, and one fumble recovery. Late in the second quarter, Jewell came through with a big play to stop a Penn State drive. Penn State quarterback Trace McSorley was hit as he threw and that caused the ball to float right to Jewell for an interception just across midfield. Jewell returned the interception almost 40 yards before Barkley tackled him. The next play, Iowa hit a 21-yard touchdown to take a 7-5 lead into the half. At the end of the third quarter, Jewell recovered a fumble to help get some momentum back to Iowa.

Jewell had some huge plays for his defense, but he also had a plethora of missed tackles on Barkley. Jewell was stiff in space, as he couldn't break down to get Barkley to the ground. In the NFL, Jewell see plenty of shifty backs he is going to struggle against. He is a very good college player, but for the NFL he might only be a rotational linebacker.


Barkley wasn't the only running back in this game who will be playing on Sundays. Iowa running back Akrum Wadley is quick slashing back. He had a mixed game against Penn State with one painful mistake and two tremendous plays in crunch time to give his team a lead late in the fourth quarter.

In the third quarter, Wadley was being spun around while getting tackled, and Penn State safety Marcus Allen put his helmet on the ball to knock a fumble loose for Penn State. Wadley then had a pretty run using a spin move at the second level to dodge a safety for more yards, but overall, Wadley wasn't seeing good running lanes, as Penn State's defense was playing very well.

Wadley made a great play early in the fourth quarter. He ran vertically out of the backfield and caught a pass on the run about 10 yards downfield. He showed his speed and quickness accelerating down the field for a huge gain. Wadley weaved around a few tacklers before diving into the end zone with a 70-yard touchdown reception. It was a phenomenal play that shows his receiving talent for the NFL.

In the final minutes of the game, Wadley came through again with a 35-yard touchdown run as he went behind the left side and used his speed to bolt down the field untouched for the score. Wadley finished with 80 yards on 19 carries and four receptions for 75 yards.

Wadley isn't the biggest of backs, but he is a tough runner who also is a natural receiver. He has good speed with elusiveness. Overall, this tape is going to help Wadley, even with the fumble. He could be a second-day pick in the 2018 NFL Draft.













Georgia 31, Mississippi State 3
There were many good draft matchups in this game. Mississippi State is led by dual-threat quarterback Nick Fitzgerald, and he has an NFL tackle protecting his blind side in Martinas Rankin. Trying to limit Fitzgerald was a few future NFL competitors in the Bulldogs front seven. Defensive tackle Trenton Thompson is a first-round talent. Linebacker Roquan Smith is a first- or second-round pick. Linebacker Lorenzo Carter could be a third or fourth-rounder, and linebacker Davin Bellamy could be a day-three pick.

The Georgia defenders had their way with Fitzgerald, as he really struggled to move the ball. The front seven shut down the Mississippi State read option rushing attack, and Fitzgerald struggled having to rely on his arm to move the ball. Fitzgerald's accuracy was off throughout the night, and that led to some painful mistakes.

Fitzgerald made a bad play in the third quarter, as he stared down a receiver and threw into double coverage. That allowed a defensive back to jump the route and pick off the pass. Shortly later, Fitzgerald forced a pass to a well-covered receiver, and it was deflected up in the air. Georgia safety Dominick Sanders ran under the loose ball for the interception. Fitzgerald was only 14-of-29 for 83 yards with two interceptions against Georgia.

The Georgia secondary was providing tight coverage, but Fitzgerald couldn't locate his passes well enough to beat the tight coverage. His field vision was unimpressive, as he didn't move his eyes consistently enough. Fitzgerald didn't see some defenders and didn't show the ability to manipulate coverage with his eyes or pump fakes. This tape illustrated that Fitzgerald needs development as a pocket passer. This performance indicates that Fitzgerald should return to Mississippi State in 2018 to improve his passing skill before going to the NFL.


The most impressive defender in Georgia's excellent defensive performance was Roquan Smith. Once again, he was all over the field using his speed to track down ball carriers and made some excellent open-field tackles.

On the first third down of the game, Smith snuffed out a screen to get his defense off the field. The next possession saw Smith drill Fitzgerald on a delayed blitz to force an incompletion. Late in the second quarter, Smith made an excellent run fill on a third-and-4 inside the 10-yard line to force a field goal for Mississippi State. Smith then made an perfect open-field tackle on a tight end to get his defense off the field.

Some scouting sources absolutely love Smith and think he will at worst be a second-round pick if he continues on his current level of play. They also think he has first round potential. This tape will definitely help Smith to be a first- or second-round pick.


Georgia running back Nick Chubb will be playing in the NFL next year and is likely to go in the first or second round. Chubb had an impressive showing, running for 81 yards on 15 carries with two touchdowns. On his first carry of the game, Chubb showed a burst gashing Mississippi State up the middle for a run of about 12 yards and then scored from seven yards out. He showed excellent balance on the play after getting tripped up, he kept his feet and then darted into the end zone. In the third quarter, Chubb took a run around the left side and bolted down the field with a 28-yard touchdown run.

This game helps Chubb to show that he is getting back the speed and burst that he had before his 2015 knee injury. If Chubb can get all the way back to his pre-injury form, he could be a first-round pick in the 2018 NFL Draft.




Clemson 34, Boston College 7
Boston College defensive end Harold Landry is a consensus first-round prospect who has been overhyped by the media. Sources from multiple NFL teams said they saw Landry as a late first-round or early second-round pick, and Landry was embarrassed last week against Notre Dame. He made no impact in the pass rush and was pushed around in the ground game while the Fighting Irish had two players top 200 rushing yards with seven touchdowns on the ground. Landry looked better against Clemson, winning some reps against Tigers left tackle Mitch Hyatt, who has pro potential.

In the first quarter, Landry pushed through Hyatt to hit quarterback Kelly Bryant as the ball was thrown. That sent the ball up in the air and a defender closed on it to get an interception. On the next Clemson possession, Landry had Bryant scramble towards him. Landry grabbed him and tried to drag the quarterback down, but Bryant broke free from Landry to run for a gain of a few yards in what should have been a sack for Landry. In the fourth quarter, Landry had a tackle for a loss on a quarterback zone read run where Landry was unblocked. A running back then ran by Landry, but he peeled off his blocker to tackle the back from behind after a gain of about five. Later, there were a few plays where Landry didn't give an effort in pursuit, including a 50-yard touchdown run by Clemson that put the game away.

Overall, this was a much better tape for Landry compared to a week ago. He was tougher in run defense and also made his presence felt in the pass rush. This tape should help to stabilize Landry's draft stock.


Landry wasn't the only first-round edge rusher in this game. Clemson defensive ends Austin Bryant and Clelin Ferrell have been excellent this season with both of them showing early-round potential. Bryant in particular has played himself in first round contention for the 2018 NFL Draft. With defensive tackle Christian Wilkins, they won the point of attack to keep Boston College from moving the ball.

In the first quarter, Bryant had a good tackle for no gain. Bryant used speed and leverage to work into the middle for another run tackle. Bryant later blew by the right tackle to almost get a sack with Ferrell and Wilkins closely behind. Wilkins showed his speed and effort flying to the sideline to get a tackle on a receiver.

Bryant and Wilkins look like first-rounders for the 2018 NFL Draft. They both are very athletic with NFL size and speed. Ferrell is close as well, and as a younger player, he might benefit from returning to Clemson before going pro.


Clemson quarterback Kelly Bryant put himself on the map this season with big performances to lead the Tigers to wins over Auburn and Louisville. After a huge game last week against the Cardinals, Bryant had an underwhelming game against Boston College. That was surprising considering how badly Boston College was run over by Notre Dame last week. This tape would suggest that Bryant should return to school next season rather than enter the 2018 NFL Draft.

Midway through the first half, Bryant had a short touchdown run on a quarterback draw, but otherwise was having issues passing the ball downfield. Entering the fourth quarter, Bryant had only 90 yards passing. Bryant had some issues with ball security in this contest, throwing two interceptions. Bryant finished with 106 yards on 22 carries with two touchdowns on the ground. He completed 17-of-26 passes for 140 yards and two interceptions.

The 2018 draft class could be deep and talented at quarterback. Bryant might be better off returning to Clemson next year to be one of the top quarterback prospects for the 2019 NFL Draft. Walt has him atop his updated 2019 NFL Mock Draft.




Alabama 59, Vanderbilt 0
There was backfield talent on display for the NFL in this game with Vanderbilt's Ralph Webb, and Alabama's Damien Harris and Bo Scarbrough. However, Webb didn't get a chance to show his talent that well as Alabama dominated this game. Harris and Scarbrough both had nice performances running over Vanderbilt's inferior defense.

Harris broke off a 61-yard run and pounded the ball between the tackles for a lot of big gains. He totaled 151 yards on 12 carries with three touchdowns. Scarbrough looked better against Vanderbilt than he has in other games this season, running for 79 yards on 11 carries with two touchdowns. Harris looks like a mid-round talent who could be a solid backup running back in the NFL. Scarbrough has a better skill set, but needs to play up to it to be an early-rounder.

Webb totaled 20 yards on six carries with one reception for three yards. In the first quarter, he had an impressive nine-yard run while running through big Alabama safety Ronnie Harrison. Aside from that play, Webb had no running lanes, as the Alabama defense dominated Vanderbilt's offensive line. Webb could be a mid-rounder in the 2018 NFL Draft.


Harrison is a first-round talent who is a big safety with serious speed. He has some man coverage limitations for the pros, but he looks like a future starting strong safety in the NFL. In the first quarter, Harrison caught a deflected pass for an interception. On the next drive, Harrison didn't wrap up Webb as he bounced off the safety for more yards. After that, it was cruise control from Harrison, as he flew around the field and got in on tackles. Overall, this tape will help his draft grade.


Alabama wide receiver Calvin Ridley is a first-round talent for the 2018 NFL Draft. Some sources have said that there are times from sophomore tape and in practice observations that they had concerns about Ridley's hands. They said he looked better in practice and early game tape of this season, but Ridley hurt that improved view in the early going against Vanderbilt.

In the first quarter, Ridley dropped a touchdown that was a little behind him but hit him right in the hands. He drew a pass interference on the next play, as he had the cornerback beaten on a slant. Ridley ended up catching five passes for 43 yards. He is a thinner-framed receiver and needs to add some weight for the NFL. Ridley needs to show sure hands to avoid having that concern stick to his scouting report.








N.C. State 27, Florida State 21
There was a lot of NFL talent on the field in this game as North Carolina State's defensive line has a real buzz in the scouting community. Against a talented Florida State team, defensive end Bradley Chubb was awesome, as he dominated from start to finish. Chubb was a force that provided some huge plays to lead his team to a tough road upset.

In the second quarter, Chubb had a good run fill to get a tackle for no gain near the goal line. He then used a swim move to the inside to deliver a jarring hit on Blackmon just after the ball was released. Chubb showed good hustle to chase down the quarterback downfield after a chunk run after that. He pounded the ball out for a fumble that was recovered by North Carolina State a few yards in front of the end zone. Just before the half, Chubb used a rip move and speed around the edge to get a blind-side sack. That forced Florida State to settling for a field goal just before the half.

Early in the third quarter, Chubb had a hard hit on the quarterback and made a tackle inside the five. Chubb then had another sack, showing good recognition skills and closing speed while slamming Blackmon to the turf.

Throughout the game, Chubb was destroying the Florida State left tackle. Chubb had repeated bone-rattling hits on freshman quarterback James Blackmon. It was a clinic of speed, power, and motor to dominate the Seminoles. This tape will help Chubb's draft grade and send his stock up. He looked like a top-20 pick against the Seminoles.


The top draft prospect who will probably get drafted first from either of these teams is Florida State safety Derwin James. Seminoles cornerback Tarvarus McFadden is also a potential first-rounder, and they were seeing a tough receiving test in North Carolina State's Jaylen Samuels. Samuels (5-11, 223) doesn't get a lot of media attention, but sources at multiple teams have told me that he's impressed them, and they think he could be a nice receiving running back in a passing offense in the NFL. All three were impressive on Saturday.

James had a hard tackle along the sideline to save a touchdown in the first quarter. He then made a superb third-down tackle on Samuels near the line of scrimmage to get the Florida State defense off the field. On the next drive, James showed excellent recognition skills to snuff out a screen to Samuels for a loss. It wasn't all good for James, as he was juked by wide receiver Jakobi Myers downfield and that let Myers race down the field for a 71-yard touchdown. James was the last line of defense and when he missed the tackle, there was no Seminole that could stop Myers.

After halftime, James had tight pass coverage to knock a pass away on a third down to get his defense off the field. Midway through the third quarter, James skied high in the air to catch a deflected pass for an interception. A pass interference took the pick away, however. In the fourth quarter, James took a post safety punt return back for a big gain to set up the Florida State offense just past midfield.


McFadden had a positive day as well. On the second play from scrimmage for the Seminoles defense, McFadden drove hard on a receiver to break a pass up. In the third quarter, McFadden tipped another pass up in the air that was intercepted, but a Florida State penalty took the turnover away. McFadden prevented separation, and this was a good tape showing his coverage skills.


Samuels has been excellent this season, and he showed his special skills against Florida State. Samuels was superb, showing his versatility and play-making skills. On the first drive of the game, Samuels gashed the Florida State defense on a screen to convert a third-and-long. He ripped off 27 yards on the play, and that set up a field goal for the first score of the game.

Samuels took a stretch carry and then threw the ball downfield for a 30-yard completion on the next possession. To finish the drive, Samuels took a fourth-down goal-line carry with a diving reach to get the ball over the goal line for a touchdown. In the fourth quarter, Samuels lined up as a tight end with his hand in the ground next to the right tackle. Samuels looped behind the line off the snap to catch a shovel pass. He darted down the field for a 14-yard touchdown.

Samuels caught 11 passes for 67 yards with a touchdown. He also had five carries for 11 yards and a score. Samuels is a dynamic receiving back with excellent route-running ability, soft hands, quickness, shifty moves and good vision. He could be a dangerous weapon as a receiving back in the NFL. This tape will help him to be a second-day pick.


Unfortunately, two early-round talents for Florida State were injured in this game. Linebacker Matthew Thomas went out in the early going, followed by giant wide receiver Auden Tate. In the second quarter, Tate got open in the back of the end zone for a short touchdown reception. Tate hauled in a long 50-yard reception after getting separation running a post route after halftime. However, Tate was injured on the play, landing hard on his left arm. Tate left the game with a shoulder injury and didn't return.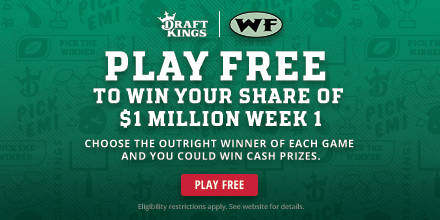 West Virginia 56, Kansas 34
Kansas defensive end Dorance Armstrong is one of the top edge-rushing prospects for the 2018 NFL Draft. In the early going of the 2017 season, Armstrong has played well without huge numbers as he is seeing constant double teams this season. That was the case against against West Virginia, but Armstrong still found a way to make his presence felt.

On his second play, Armstrong shed the block from a tight end and almost got to Will Grier for a sack. Armstrong then got upfield and tipped a third-down pass incomplete. Shortly later, he came free on a stunt to get a pressure, but fell down short of a sack. Armstrong showed his speed to get across the field and keep a running back from turning the corner on a stretch run. In the fourth quarter, Armstrong had a critical mistake jumping offsides on a field goal attempt that gave West Virginia a first down which they turned into a touchdown.

On the majority of passing plays, Armstrong saw double-team help rushing against the right tackle. There were also a number of plays where Armstrong was being held terribly and no flag was thrown. Armstrong also needs to get stronger to shed blocks in the ground game and break free of offensive linemen holding him in pass protection.

For the NFL, Armstrong is a dangerous speed rusher off the edge. He has an excellent get off with impressive acceleration to close. Armstrong is agile and can bend around the line. Armstrong is light for defensive end in a 4-3 NFL defense, and he would need to add weight to remain in that scheme. He could be a great fit as a 3-4 outside linebacker, given his impressive speed and agility.


West Virginia quarterback Will Grier is draft eligible, and he has gotten his season off to a good start for the Mountaineers. Grier entered the week with the second-most touchdown passes in the nation behind only UCLA's Josh Rosen. Grier continued to lead his team to points, as he took advantage of a weak Kansas defense.

Grier showed his live arm to fire the ball down the field on a number of drives. In the second quarter, Grier threw a pretty touch pass down the middle of the field to hit his receiver between a few defenders and get a 49-yard touchdown for West Virginia. He had an interception on a jump ball that the defensive back made a good play on. In the fourth quarter, Grier had a good run to get the Mountaineers in position for more points. To cap that drive, Grier threw a critical touchdown, throwing a dart on a slant. With minutes remaining, he added two touchdown runs to ice the game away. Grier completed 25-of-39 passes for 347 yards with two touchdowns and one interception.

Grier could turn himself into a prospect for the NFL. He has a strong arm, sees the field pretty well for a shorter quarterback, throws fastballs or touch passes, and can place the ball well. If Grier were bigger and didn't have off-the-field concerns, he could be rated higher. The 2018 class could be talented and deep at quarterback, so returning to West Virginia could be the best move for Grier.


West Virginia junior wide receiver David Sills V is enjoying a breakout season that continued with an impressive performance against Kansas. In the second quarter, Sills scored his sixth touchdown of the season. He ran a post route and Sill used his long frame to haul the pass in. He dodged a few tackles to race down the field for a 49-yard touchdown. In the fourth quarter, Sills got open on a slant for a 7-yard touchdown. Sills totaled eight receptions for 130 yards and two touchdowns. The 6-foot-4, 203-pounder has mismatch size and has enough speed to challenge defenses downfield. Sills is on his way to turning himself into a legit NFL prospect.












Comment...









2019 NFL Mock Draft - Sept. 13


Fantasy Football Rankings - Sept. 5


2019 NBA Mock Draft - Aug. 13


2020 NFL Mock Draft - Aug. 1


NFL Power Rankings - June 3


NFL Picks - Feb. 4