Monday Morning Draft is back! This is a column that delves into the past weekend's action from an NFL Draft perspective. As the season goes on, the draft picture and slotting will become more clear, but every Sunday will provide a few hints for next April.
By Charlie Campbell.
Send Charlie an e-mail here:
draftcampbell@gmail.com
Follow Charlie on Twitter
@draftcampbell
for updates.
Race for the No. 1 Pick:

Tennessee Titans:
The Titans fell to the Texans and are now 3-12 on the season. Despite the rough year, Tennessee has some young talent to build around led by quarterback Marcus Mariota. If the Titans land the No. 1-overall pick of the 2016 NFL Draft, it would make sense to select Ole Miss left tackle Laremy Tunsil. The Titans have allowed 50 sacks, the most in the NFL, and they have to keep Mariota healthy to make strides as a franchise.
If the Titans draft Tunsil, they could move Taylor Lewan to right tackle and Jeremiah Poutasi inside to guard. With right guard Chance Warmack, that group could make a huge difference for Mariota. The Titans also need help at cornerback, safety and running back, but there isn't a prospect of Tunsil's caliber at any of those positions.

Cleveland Browns:
The Browns lost by four on the road in Kansas City. Two weeks ago, Cleveland snapped a seven-game losing streak by beating the 49ers at home. Quarterback Johnny Manziel had a quality performance for the Browns' third win of the season, and he followed it up with a decent performance against the Seahawks. However, quarterback is still an option for Cleveland's first-round pick and moving on from the troubled Manziel is very much in play.
The Browns lack a pass rush, have had a beat-up secondary and lack play-makers at wide receiver on offense. Considering Cleveland's recent drafts, one has to wonder if the franchise has the right leadership in place.
Let's Play Matchmaker:
This section will look at some of the top talent in college football and match those prospects up with teams that have a dire need at the position.

Detroit Lions: Ronnie Stanley, OT, Notre Dame

The offensive line has been a weakness throughout the season for the Lions, and they allowed multiple sacks to the 49ers on Sunday. Detroit doesn't have the luxury of a strong class of offensive tackles, but Stanley could be there for the team's first-round selection. Drafting Stanley in Round 1 would allow the Lions to move Riley Reiff to the right side and upgrade their line at two spots.
Stanley has good athleticism, quickness and length to match up against speed rushers. He has the feet and burst to get depth in his drop to prevent rushers from turning the corner. In the ground game, Stanley would be a better fit for a zone-blocking scheme as he needs to get stronger for the NFL. Stanley doesn't have much of a mean streak or physicality to his game, but he has the skill set to be a good pass protector as a pro.

Indianapolis Colts: Jack Conklin, OT, Michigan State

The Colts' offensive line has allowed two quarterbacks to take an absolute pounding this season. General manager Ryan Grigson may get fired after this season, and the terrible line he has put together is justification alone. Adding in a defense that lacks young talent, and it is hard to argue that Grigson should stay. The Colts need multiple upgrades on their offensive front, and Conklin should be an upgrade somewhere.
Conklin is a solid and reliable blocker. He is well-balanced with the ability to open holes in the ground game and protect his quarterback. Sources say that Conklin would be better fit at right tackle or guard in the NFL. The Colts could use help all over up front, so taking a safe offensive lineman like Conklin would make a lot of sense.

Washington Redskins: Laquon Treadwell, WR, Ole Miss

Washington dropped the Eagles on the road thanks to a huge game from tight end Jordan Reed. The Redskins could have some turnover at wide receiver after the season, so taking Treadwell in the first round of the 2016 NFL Draft could make a lot of sense. He could be the physical Z receiver in Jay Gruden's offense with DeSean Jackson playing the X.
Washington wants to have a physical team that beats up on the opposition. Treadwell would fit that as he is a big possession receiver to work the middle of the field. He also is a tremendous blocker who would help the ground game. Treadwell has 76 receptions for 1,082 yards and eight touchdowns in 2015 entering the bowl game against Oklahoma State. The 6-foot-2, 229-pounder would be a good fit in Gruden's offense to work across from the speedy Jackson.

Buffalo Bills: Carl Nassib, DE, Penn State

The Bills' defense has had a disappointing season under Rex Ryan, and it looks like it could be poised for some big changes this offseason. Among them is moving on from aging, expensive, and disgruntled, veteran Mario Williams. Nassib would be a good choice as he could upgrade the Buffalo run defense that saw Darren McFadden run for 99 yards on only 19 carries on Sunday.
At the end of the regular season, Nassib led the nation with 15.5 sacks. He had been on fire in 2015 before an injury cost him virtually the final two games. Nassib has a nice combination of strength and closing speed. The senior also recorded 46 tackles with 19.5 tackles for a loss and six forced fumbles during the regular season.
Even though Nassib's production is a 1-year wonder, former head coach Bill O'Brien and current head coach James Franklin have been profuse in their praise for his work ethic and practice effort. The Bills could be inclined to go for that kind of player given how things have gone with Williams this year.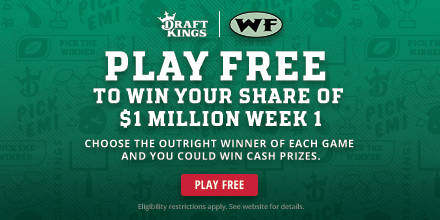 Chicago Bears: Jaylon Smith, OLB, Notre Dame

Chicago kept Doug Martin (17-49-1) in check, but Bucs running back Charles Sims hurt the Bears with four carries for 45 yards and three receptions for 72 yards. Throughout the season, Chicago's linebackers have been a weakness, and this kind of game provided further proof that the Bears need to upgrade the middle of their defense.
Smith would be a perfect fit as an inside linebacker in Chicago's 3-4 defense. He is a good run defender who also is skilled at covering backs out of the backfield. In 2015, Smith has totaled 113 tackles, nine for a loss, one sack, four passes broken up and one forced fumble (he was robbed of one by the official scorer). He's been an impact defender to lead a tough Fighting Irish defense. Smith could add to the Bears' great tradition of linebacker play.

Baltimore Ravens: Michael Thomas, WR, Ohio State

The Ravens played spoiler on Sunday as they may have knocked rival Pittsburgh out of the playoffs. To see Baltimore have Ryan Mallett out-duel Ben Roethlisberger in an essential game for the Steelers was a shocking site. The Ravens' leading receiver was Kamar Aiken, (8-66) and throughout the season, Baltimore has been weak at wideout. Steve Smith may not come back, and Breshad Perriman didn't play this season, so he is unproven for Joe Flacco. At the top of the second round of the 2016 NFL Draft, Thomas could be a great value for the Ravens.
In 2015, Thomas has 49 receptions for 709 yards and eight touchdowns while playing with two quarterbacks in a running offense. The 6-foot-3, 212-pounder has good combination of size and speed that could produce a lot more if he played in a passing offense. As a sophomore, Thomas caught 54 passes for 799 yards and nine touchdowns. If Thomas makes it to the Ravens' second-round pick, he would be tough for them to pass on.

Oakland Raiders: Jalen Ramsey, DB, Florida State

The Raiders put together a comeback win over the Chargers, but their secondary had some struggles covering San Diego's targets. Oakland will have to replace Charles Woodson this offseason and could use a corner upgrade across from D.J. Hayden. The Raiders' secondary has been a weakness all year, so taking a defender in the first round of the 2016 NFL Draft would make a lot of sense.
In 2015, Ramsey has 43 tackles with 10 passes broken up while playing cornerback. As a sophomore, he totaled 79 stops, 9.5 tackles for a loss, 12 passes broken up, two interceptions and two forced fumbles while playing safety. In the NFL, Ramsey could be a press-man corner or a play-making free safety to patrol the middle of the field. Plugging him in at either spot would be an upgrade for Oakland.
Team Draft Reports:
In this section, we take a deeper look at specific teams and where they stand in regards to the 2016 NFL Draft.

Seattle Seahawks:
The Seahawks lost to the Rams in a game that won't have much of an impact on the Seahawks' season, and Seattle definitely has a shot at getting back to the Super Bowl this year. The organization has a Super Bowl window that should extend for many years to come as the franchise has an excellent quarterback to go along with elite talent on the defensive side of the ball. In order for the Seahawks to win another Lombardi Trophy, there are a few areas they could stand to improve.
This offseason could see Seattle move on from Marshawn Lynch, and the team has a talented young running back in Thomas Rawls ready to take over. Adding another running back capable of dominating defenses like Alabama's Derrick Henry would be tempting late in the first round of the 2016 NFL Draft, but adding more talent to the offensive line could make more sense. In the early rounds of the 2016 NFL Draft, some good options include for power run blockers to improve the right side of their offensive line would be LSU's Vadal Alexander, Ohio State's Taylor Decker, Arkansas' Sebastian Tretola and Denver Kirkland. Alexander and Decker could be first-round options with the Razorbacks' duo being candidates for Day 2. Some mid-round running backs to consider include Illinois' Josh Ferguson, Arkansas' Alex Collins, UCLA's Paul Perkins, Florida's Kelvin Taylor and TCU's Alex Green.
Defensively, Seattle has talent and depth at a number of positions. One spot that could use an infusion of young talent would be on the inside of the defensive line. Brandon Mebane is aging, and he was really missed in the Super Bowl last year when Tom Brady constantly climbed the pocket to avoid edge rushers before hitting receivers underneath. This draft could provide a few solutions for Seattle.
Ole Miss' Robert Nkemdiche could slide to Seattle because he has lots of off-the-field problems to go along with little production despite a great skill set. The Seahawks could have the coaching staff in place to get the most out of Nkemdiche. Ohio State defensive tackle Adolphus Washington would be a great fit in the first round. He is fast, strong and athletic to get after the quarterback from the inside.
Other players to consider on the second day of the 2016 NFL Draft would include Nebraska's Maliek Collins, Notre Dame's Sheldon Day, Louisville's Sheldon Rankins, Louisiana Tech's Vernon Butler and Texas' Hassan Ridgeway. This is a talented tackle draft that Seattle could really take advantage of with one or two tackles to improve the middle of the defensive line.
Seattle has plenty of years to get another Lombardi with Russell Wilson at the helm. A good 2016 NFL Draft could help make that happen.

Pittsburgh Steelers:
The Steelers suffered a shocking loss to the Ravens led by journeyman quarterback Ryan Mallett, and that looks likely to knock Pittsburgh out of the postseason. The Steelers don't deserve to make the playoffs with a Week 16 loss to a Baltimore squad that already had lost 10 games on the season and was starting Mallett at quarterback. This is a critical offseason for the Steelers as their Super Bowl window with Ben Roethlisberger is getting smaller. There have been very few quarterbacks to win a Super Bowl in their mid- to late 30s in NFL history. Tom Brady proved last year that it is possible, but the Steelers need to give Roethlisberger more help to make that happen for Pittsburgh.
General manager Kevin Colbertt has used a lot of recent first-round picks on linebackers, but the secondary has been a problem for years. The Steelers drafted Senquez Golson in the second round last year, but he was quickly lost for the year to injury. The undersized Golson is more of a nickelback anyway, and the team still needs a No. 1 corner. Pittsburgh won't be picking high enough to land Florida's Vernon Hargreaves or Florida States' Jalen Ramsey, but Virginia Tech's Kendall Fuller might fall to the Steelers because of a knee injury, and he would be a steal. Some teams have a higher grade on Fuller than either Ramsey or Hargreaves. Other corner options in the first round include LSU's Tre'Davious White. He could improve the Steelers' ability to defend speed receivers.
On the second day of the 2016 NFL Draft, some options to consider would include Samford's James Bradberry, a size-speed freak. Other players to consider who could give the Steelers some size and length to play on the outside include Virginia's Maurice Canady, Houston's William Jackson and Notre Dame's KeiVarae Russell.
On the offensive side of the ball, Pittsburgh could use a young tight end to groom as a potential replacement for Heath Miller. Arkansas' Hunter Henry would be perfect. He may not get to the Steelers' second-round pick and could be too rich for their first-rounder. Another option to consider would be Alabama's O.J. Howard.
The Steelers also could think of a running back in the mid-rounds as a replacement for DeAngelo Williams. Obviously, Pittsburgh is set at starter with Le'Veon Bell, but the team could use a good No. 2 back in case Bell gets injured again. Some players to consider include Illinois' Josh Ferguson, Arkansas' Alex Collins, UCLA's Paul Perkins, Florida's Kelvin Taylor and TCU's Alex Green. Of course, Pittsburgh also could use offensive line depth in the mid-rounds.
If the Steelers can stay healthy next season, they have the offense to make another run to the Super Bowl. Thus, upgrading the defense has to be the priority this offseason.
Comment...
NFL Picks
- Sept. 22
2019 NFL Mock Draft
- Sept. 20
Fantasy Football Rankings
- Sept. 5
2019 NBA Mock Draft
- Aug. 13
2020 NFL Mock Draft
- Aug. 1
NFL Power Rankings
- June 3