Monday Morning Draft is back! This is a column that delves into the past weekend's action from an NFL Draft perspective. As the season goes on, the draft picture and slotting will become more clear, but every Sunday will provide a few hints for next April.
By Charlie Campbell.
Send Charlie an e-mail here:
draftcampbell@gmail.com
Follow Charlie on Twitter
@draftcampbell
for updates.
Race for the No. 1 Pick:

Cleveland Browns:
After losing seven straight games, Cleveland dropped the 49ers at home with quarterback Johnny Manziel having a quality performance for the Browns' third win of the season. Despite the win to improve to 3-10, Cleveland has been at a disadvantage at the quarterback position while the offensive line and defense haven't played as well as expected.
The Browns lack a pass rush, have had a beat-up secondary and lack play-makers at wide receiver on offense. Considering Cleveland's recent drafts, one has to wonder if the franchise has the right leadership in place. This win doesn't change the potential for Cleveland taking a quarterback early in the 2016 NFL Draft and moving on from the troubled Manziel.

Tennessee Titans:
The Titans fell to the Jets and are now 3-10 on the season. Despite the rough year, Tennessee has some young talent to build around led by quarterback Marcus Mariota. If the Titans land the No. 1-overall pick, it would make sense to draft Ole Miss left tackle Laremy Tunsil. They could move Taylor Lewan to right tackle and Jeremiah Poutasi inside to guard. With right guard Chance Warmack, that group could make a huge difference for Mariota. The Titans also need help at cornerback, safety and running back, but there isn't a prospect of Tunsil's caliber at any of those positions.

San Diego Chargers:
The Chargers fell to 3-10 after losing 10-3 to Kansas City. If the Chargers land the No. 1-overall pick, they could go a number of directions, but Tunsil would be tough to pass on considering the injuries and the play of their offensive line this season. Philip Rivers is aging, so San Diego could give some consideration to trading Rivers for a package of picks to jump-start a rebuilding process around a young quarterback like Memphis' Paxton Lynch.
Let's Play Matchmaker:
This section will look at some of the top talent in college football and match those prospects up with teams that have a dire need at the position.

Jacksonville Jaguars: Ronnie Stanley, OT, Notre Dame

The Jaguars dropped 51 points on the Colts with 42 of those coming in the second half via five offensive touchdowns and one from special teams. Jacksonville offensive coordinator Greg Olson has to be one of the top assistants in the NFL this year with the massive improvement from Blake Bortles. The consistent issue holding the Jaguars back this year has been spotty play from the offensive line. Once again, that could be seen against the Colts as well as Luke Joeckel was beateb for a strip-sack. Jacksonville could use a better left tackle with Joeckel being moved inside to guard.
The Jaguars won't be picking high enough in the 2016 NFL Draft to land Laremy Tunsil, but Stanley could be in play for their first-round pick. Stanley doesn't pack much of a punch in the ground game, but he is an athletic blocker with quickness and length to protect the blind side. He could improve his strength and run blocking in the NFL. Taking Stanley would make sense for Jacksonville's first-rounder.

Philadelphia Eagles: Vernon Hargreaves, CB, Florida

The Eagles were fortunate the Bills weren't able to get the ball to Sammy Watkins more. Watkins had a 47-yard score, and Philadelphia was lucky that Tyrod Taylor only completed 53 percent of his passes. The cornerback position has been a weakness for years in Philadelphia. It would make sense to try and resolve it with the organization's first-round pick in the 2016 NFL Draft.
Hargreaves is likely to be selected in the top 20, so Philadelphia could have a shot at him. Over the past three seasons, he has illustrated that he is a smooth cover corner who is adept at running with receivers and preventing separation. Hargreaves also has shown ball skills to create turnovers. He would be an immediate upgrade for Philadelphia.

Washington Redskins: Laquon Treadwell, WR, Ole Miss

The Redskins were led in receiving against Chicago by tight end Jordan Reed, and Washington's wide receiver position looks like it is primed for an overhaul. Andre Roberts hasn't lived up to his contract, Pierre Garcon is aging with a significant deal, and DeSean Jackson is aging with injury issues. It wouldn't be surprising if two of that trio is gone after the season.
Washington wants to have a physical team that beats up on the opposition. Treadwell would fit that as he is a big possession receiver to work the middle of the field. He also is a tremendous blocker. Treadwell has 76 receptions for 1,082 yards and eight touchdowns in 2015 entering the bowl game against Oklahoma State. The 6-foot-2, 229-pounder would be a good fit in Jay Gruden's offense as the Z receiver.

St. Louis Rams: Jared Goff, QB, California

The Rams probably won't be picking high enough to land the top quarterback prospect in the 2016 NFL Draft, but clearly St. Louis has a hole at the position. The Rams won with Case Keenum on Sunday thanks to Todd Gurley and their defense overwhelming Detroit. St. Louis could use an accurate quarterback like Goff to take over next season.
In 2015, Goff has completed 64 percent of his passes for 4,252 yards with 37 touchdowns and 13 interceptions. He has shown a quality, accurate arm with developed field vision. Goff also has functional mobility to avoid rushers and pick up some yards on the ground. The 6-foot-4, 215-pounder is lanky and could use more weight. He also could have some issues with getting rattled and handling the rush in the NFL, but the Rams won't be in position to land a perfect quarterback prospect. They have to take someone with some flaws and work with them. Goff would be a good choice.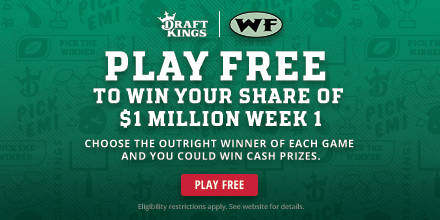 Kansas City Chiefs: Michael Thomas, WR, Ohio State

The Chiefs won despite scoring only 10 points on the lowly Chargers. Kansas City has the team capable of getting to the postseason, but the chances to advance don't look good with a limited scoring attack. Picking late in the first round of the 2016 NFL Draft probably won't yield an upgrade over Alex Smith, so the Chiefs need to add more weapons to their offense to help compensate for him.
Thomas would be a good fit in Kansas City's offense. In 2015, he has 49 receptions for 709 yards and eight touchdowns despite inconsistent quarterback play from Ohio State. The 6-foot-3, 212-pounder has the size to play the X or Z receiver roles and the speed to make plays vertically. He could form a nice duo with Jeremy Maclin and could available when Kansas City picks in the first round.

Pittsburgh Steelers: Kendall Fuller, CB, Virginia Tech

The Steelers were able to defeat the Bengals despite continuing to struggle in coverage against A.J. Green. Pittsburgh was fortunate that Andy Dalton was injured and A.J. McCarron came into the game. Over the past few years, the cornerback position has been a crushing weakness for Pittsburgh, and that could be a problem for the Steelers in making, or advancing in, the playoffs.
Some sources feel that Fuller is the best cornerback prospect in the 2016 NFL Draft based off his tremendous sophomore year. He barely played this year before a knee injury ended his season early. Fuller is viewed as a potential shutdown corner, and his knee injury could cause him to slide into range for Pittsburgh in the first round of the 2016 NFL Draft.

Oakland Raiders: LeRaven Clark, OT, Texas Tech

Despite Derek Carr completing only 12-of-29 passes, the Raiders were able to pull out a 15-12 victory over Denver. One of the issues for Oakland's offense was the steady pass rush that Carr was under. The Broncos had three sacks and came close to a number of others. The Raiders made a good signing in Donald Penn a couple years ago, but they need a long-term left tackle to protect Carr.
Oakland isn't picking high enough to land Laremy Tunsil and could also miss out on Ronnie Stanley. Michigan State's Jack Conklin and Ohio State's Taylor Decker are better fits at right tackle in the NFL. Oakland could target Clark in the second round, and he could stick at left tackle in the NFL. Clark has quickness and athleticism for the pro game. If he doesn't work out at left tackle, he could upgrade the Raiders' offensive line at guard or right tackle.
Team Draft Reports:
In this section, we take a deeper look at specific teams and where they stand in regards to the 2016 NFL Draft.

Cincinnati Bengals:
Cincinnati seemed to be cruising to the AFC North title, but the injury to Andy Dalton combined with a loss to Pittsburgh made things closer in the final three games of the season. Even though the Bengals could be backing into the playoffs, they have one of the deepest and most talented rosters in the NFL. Even with a lot of good players, there are a few areas of depth that Cincinnati could address in the offseason.
Perhaps the top need on the team is for an edge rusher. The Bengals have gotten a lot of pass rush out of play-making defensive tackle Geno Atkins and defensive end Carlos Dunlap. However, on the other side is veteran Michael Johnson, and this marks the third straight season where he has put up a disappointing sack total. Cincinnati could use another edge rusher, and if Atkins or Dunlap were to get injured, the Bengals would be in a bad situation to get heat on the quarterback. Late in the first round of the 2016 NFL Draft, there could be a few edge rushers to consider like Michigan State's Shilique Calhoun or Penn State's Carl Nassib. Either one could be an upgrade for Cincinnati.
On the inside of the defensive line, the Bengals could use more depth and competition. Domata Peko is aging, while Brandon Thompson is entering free agency. A defensive tackle like Notre Dame's Sheldon Day would make sense on the second day of the 2016 NFL Draft. If the Bengals decided to take an interior defender in the first round, they could consider the likes of UCLA's Kenny Clark or Baylor's Andrew Billings.
Offensively, the Bengals could be in the market for wide receiver help, because Marvin Jones and Mohamed Sanu are entering free agency. After spending on A.J. Green's huge extension, Cincinnati may not want to commit the salary cap room to bring back Jones and/or Sanu. If either one is let go, the Bengals could use another wideout. Baylor's Corey Coleman or TCU's Josh Doctson could make sense on the second day of the 2016 NFL Draft for Cincinnati. If the Bengals decide to use their first-round pick on a receiver, some good options would include Ole Miss' Laquon Treadwell and Ohio State's Michael Thomas.
The Bengals have a strong roster, so they could consider going with the best player available. The organization also could consider some luxury picks like a situational pass-rusher such as Oklahoma's Eric Striker or Virginia Tech's Dadi Nicolas. Cincinnati has a Super Bowl window, and some more strong drafts will give the team a better shot at playing for a Lombardi Trophy.

New England Patriots:
The Patriots will enter the postseason as a favorite to get back to the Super Bowl despite a rash of injuries throughout their roster. New England still has Tom Brady playing at a high level, so the organization's Super Bowl window should remain open in 2016, and possibly 2017, while Brady is still playing well. With that in mind, the Patriots have to go all out to try to win more Lombardi Trophies with Brady.
The Patriots' defensive front seven has been stacked with a lot of early-round picks, and New England doesn't have a lot of needs on the defensive side of the ball. The one exception is cornerback. Between injuries and free agency, the Patriots have been hit hard at corner. That has forced even newly signed players like Leonard Johnson to see the field immediately. In the first round of the 2016 NFL Draft, New England could consider a cover corner like LSU's Tre'Davious White. Another interesting option would be Samford's James Bradberry. He is a big corner with speed who needs coaching up for the NFL, and the Patriots would be a good staff to work with the gifted athlete.
Offensively, what Brady has done with his group of receivers is tremendous. New England really hasn't put a lot resources in the position. Aaron Dobson was a second-round pick and is the highest selection of a receiver in recent years. The team's veterans have contributed well for the Patriots, but they really don't have a mismatch or play-maker. In the first round of the 2016 NFL Draft, New England could target some receivers like Ohio State's Michael Thomas. On the second day of the 2016 NFL Draft, Baylor's Corey Coleman, TCU's Josh Doctson or Florida's Demarcus Robinson would be interesting choices.
A perfect fit for the Patriots in the 2016 NFL Draft would be Arizona State's D.J. Foster. He was a tough running back in 2014 yet also a tremendous receiver. He was moved to wideout for 2015 and not as productive there, but he would be a great fit in the Shane Vereen role of the Patriots' offense. He would give them another receiving target and running back depth. Foster would be perfect for New England.
The Patriots also could consider some offensive line depth and competition in the mid-rounds. Taking multiple receivers and cornerback help could make a lot of sense for this organization. The 2016 NFL Draft could offer some interesting options for New England to get better for next season.
Comment...
NFL Picks
- Oct. 21
2020 NFL Mock Draft
- Oct. 20
2019 NFL Mock Draft
- Oct. 18
Fantasy Football Rankings
- Sept. 5
2019 NBA Mock Draft
- Aug. 13
NFL Power Rankings
- June 3