Missing Include for PHPIncludeFailed_dropdowndraftrecap2012.php
This new section breaks down many college football games each week and highlights how
2012 NFL Draft Prospects
have performed.
By Charlie Campbell.
Send Charlie an e-mail here:
draftcampbell@gmail.com
Follow Charlie on Twitter
@draftcampbell
for updates.


Oregon 41, Arizona State 27
It would have been a fun draft matchup to watch Arizona State middle linebacker Vontaze Burfict go against Oregon running back LaMichael James. They are both fast players, and it would be interesting to see if Burfict could shut down the nation's leading rusher. The matchup didn't happen as James sat the game out because of a dislocated elbow.
Without James in the game, Burfict's job was easier but Oregon still was able to move the ball with its spread offense. He had some good tackles in following to ball carriers downfield. Burfict's speed could be seen by his turning and running to make tackles down along the sideline. On one of those stops, he had a good open field tackle on a wide receiver who was running along the sideline.
Two sideline plays did not go well for Burfict as he was flagged twice for late hits. His reputation for late hits and unsportsmanlike conducts seemed to work against him. On a pass to Oregon tight end David Paulson, Burfict grabbed the tight end just as the whistle was being blown because Paulson had stepped out of bounds. Burfict tackled him hard, drawing the flag.
The second penalty was a suspect call. A defender was hugging the ballcarrier and pushing him towards the sideline. Burfict came in to clean out the pile and force it out of bounds. He was flagged for the penalty and it looked like a bad call because the play was still going and Burfict hit them on the edge of the sideline. That penalty seemed to deflate him for a time, but he rebounded to make some nice tackles. Burfict drew an unsportsmanlike penalty from doing a bit of an acting job when he got shoved after the whistle was blown.
For the game, Burfict finished with seven tackles including .5 tackle for a loss. It wasn't a bad game for him although ABC/ESPN commentator Kirk Herbstreit was critical of Burfict and his performance this season. After all, Burfict's tackle total is down, only 36 tackles in seven games, since he seems to be holding back some of his reckless abandon from past season. Still, the 6-foot-3, 250-pounder has special skills and could be a top 16 pick next April if he enters the
2012 NFL Draft
.
It has been a quiet year for the senior Paulson as he has totaled only 10 receptions for 89 yards and two touchdowns. Paulson had his best game of the season against Arizona State, when he made a nice touchdown catch with only seconds remaining in the first half. On a high pass, the 6-foot-4, 241-pounder leapt and made an excellent hands catch over the outstretched hand of a safety.
Paulson finished the game with three receptions for 41 yards and the score. He looks like a fourth or fifth-round pick right now.
Oregon cornerback Cliff Harris had a breakout game for the Ducks. The 5-foot-11, 180-pounder has had a very quiet season thus far. He was suspended the first game, and saw his playing time reduced dramatically following his return. Against Arizona State, the Ducks put their playmaking corner back on the field for more snaps and he turned in a quality performance.
Harris recorded his first interception of the season late in the second quarter. The ball was overthrown, and he intercepted the ball around the goal line. Harris returned the ball to midfield before taking a hard hit and fumbling the ball out of bounds.
Last season, Harris was one of the best punt returners in the nation with four punts taken back for touchdowns. Thus far in 2011, Oregon has only had him return five punts, all in the last two games. Against the Sun Devils, he returned three punts for 26 yards including one return of 23 yards.
At the beginning of the season, Harris looked like a first-round pick because his man cover skills. Not getting the playing time has pushed him into round two, but the game against Arizona State could help him start to push his stock back up.
A sleeper prospect to keep an eye on is Arizona State center Garth Gerhart. He is the younger brother of Vikings running back Toby Gerhart. Garth Gerhart is a good athlete who pulls well. He is physical and plays through the whistle. Right now, Gerhart is a better run blocker than pass protector. He holds up well on bull rushes but his awareness is lacking. Gerhart has started games at guard in his career and some teams could consider him at guard in the NFL, although he should probably add some bulk to handle bull rushes from NFL defensive tackles.
Gerhart needs to improve his awareness in pass protection. There were plays where his quarterback was hit with him standing in front of the pocket and not blocking anybody. Had Gerhart turned his head more, he could have seen defenders to try and block. The 6-foot-2, 302-pounder has to get his head on a swivel.
Gerhart looks like a third-day draft pick who could be a good developmental center.


Washington 52, Colorado 24
In the game between Colorado and Washington, there was the potential for a very good prospect matchup for next April. Huskies defensive tackle Alameda Ta'amu and Buffaloes guard Ryan Miller both look like future NFL starters. Ta'amu is looking like the top senior defensive tackle in the draft class, while Miller entered the game as a potential second-day pick.
It would have been interesting to see them battle each other on every snap all game, but they hardly matched up one-on-one in the game. Typically, Ta'amu was lining up over the center and shading to the left guard, away from Miller, who plays right guard. There really were less than a handful of plays where they had something close to a one-on-one. However, in one of their rare pass rushing one-on-ones, Miller stood up a Ta'amu bull rush.
When Miller did go against Ta'amu it was largely on double teams. On those plays, Miller was effective at preventing Ta'amu from getting in on tackles, while Ta'amu did a good job of holding his ground and not getting blasted out of his gap. At the same time, the best block of the game on Ta'amu actually came off a double team from Miller where they pushed him to the side. However, Ta'amu got some revenge later by fighting off a Miller block and flowing down the line to get in on a tackle.
By not matching up on each other that much, both players were more effective. Miller was constantly winning his matchups. He opened up running lanes and did not have issues in pass protection. Miller did show good quickness in getting to Ta'amu on a few blocks. Ta'amu was very effective against the center and left guard.
Miller's quickness was very impressive. On a few plays, he fired out of his stance and flew to the second level of the defense to hit blocks on linebackers. Miller is also agile with quick feet that allow him to shuffle well. As a run blocker, he was a force, blasting linebackers and turning defensive linemen to open up holes for his running back.
Overall, the 6-foot-8, 310-pound Miller had no issues in pass protection with the exception of one play that was arguably not his fault. On the play, he basically gave Washington a sack. His quarterback had happy feet and was running all over the pocket. Miller broke off a double team of Ta'amu to try and block another defender that was closing on his signal caller. Miller went running to the defender, but the quarterback was zig-zagging all over the place and ran straight into Miller's chest. The quarterback was knocked down for an eight-yard loss immediately on contact.
Other than that play, Miller had an excellent game. It should help his stock and make the case for him to be a second-round pick. He is a good enough athlete and quick enough that some teams could consider playing him at right tackle.
Ta'amu had a strong game as well. He was a load at the line of scrimmage who had to be double teamed in order to be neutralized. Even then the center and left guard were not effective going against him. Ta'amu had five tackles with 1.5 tackles for a loss and .5 sacks.
He showed an impressive motor in the game. Ta'amu ran hard and pursued downfield on plays away from him, and did not take plays off. The 6-foot-3, 337-pounder ran over the center to get on a sack in the second quarter. He flattened the center and closed on the quarterback quickly.
For being such a big man, Ta'amu is surprisingly fast and athletic. He looks like he would be a fabulous nose tackle in a 3-4 defense. Ta'amu could also be a run-stuffing nose tackle in a 4-3 defense. Right now, he looks like a potential top-25 pick.
Another early-round pick at Washington is running back Chris Polk, who had a strong game for the Huskies and churned out some tough yards against Colorado. In the game, he ran for 117 yards on 18 carries.
Polk showed his versatility with a nice touchdown catch in the second quarter. He ran a wheel route out of the backfield and beat a linebacker and safety to get open in the end zone. Polk made a nice catch over his head for the 14-yard score. He also did a good job staying in as a blocker, and showed some skill at picking up blitzers.
Polk runs with good balance, power, and hits the hole quickly. He is a patient runner who picks up good yardage after contact. Polk is listed at 5-foot-11, 222-pounds so he has the size to be a bell-cow back in the NFL. As a pro, Polk could be even more effective in a downhill rushing attack as opposed to his college offense that runs more laterally and attempts to stretch the field. Polk is a second-day pick, but he could rise and challenge to be the second-rated running back next April. If Polk does that could send him toward the top of the second round.
Senior wide receiver Jermaine Kearse had a good game for the Huskies. He caught five passes for 84 yards and a touchdown. All game Kearse ran good slant routes that hurt the Buffaloes' defense, including one for a touchdown early in the first quarter. He caught two deep slants just before halftime to set up another score.
Kearse (6-2, 208) did a good job of finding a soft spot in zone coverage for another good reception. Thus far in 2011, he has 23 receptions for 284 yards and six touchdowns. Kearse looks like a solid mid-round pick.
Washington junior cornerback Desmond Trufant had a good game against Colorado. He recorded three tackles with one pass broken up and .5 sacks. Trufant blitzed the quarterback on a few plays and did a good job of getting home to the signal caller. He had good coverage for most of the game.
Trufant was beat on the sideline for a good gain in the second quarter, but that was the only significant reception that he allowed. He rebounded with a nice breakup. If Trufant returns to school, he could be one of the best senior cornerbacks in the nation next year. If the 6-foot, 184-pounder enters the 2012 NFL Draft, he would probably be an early second-round pick, and could get consideration late in the first round.


Auburn 17, Florida 6
The game between Florida and Auburn featured two running backs who are playmakers: Chris Rainey and Michael Dyer. Gator senior Rainey started the season on fire but has had a rough couple of games against Alabama and LSU. Meanwhile, Auburn sophomore Dyer is one of the best running backs in college football. Gators senior running back Jeff Demps was held out of the game because of injury.
Rainey had another rough game for Florida. He has been a dangerous special teams player but muffed three punts in this outing. Fortunately for him, the Gators recovered a couple of them. On one of them, he was bumped by his own teammate, and the ball was recovered by Auburn, leading to a touchdown. The Florida coaching staff was livid because an Auburn player interfered with Rainey making the catch, but officials did not call a penalty. That muffed punt led to the decisive score in the game.
Throughout the game, the Tigers' defense was keying on Rainey and daring Florida to find another way to beat them. Auburn often sent nine men in the box, so Rainey was unable to find any running room. He totaled only 34 yards on 17 carries. Rainey has the skills to be a mid-round pick, but an aggravated stalking charge from 2010 is going to be scrutinized and it is unclear how much that could knock him down in the draft.
Dyer had a strong game running the ball for Auburn. Like Auburn, the Gators loaded up the box with defenders, making it tough for him to produce a big game. He ran for 73 yards on 23 carries. Dyer looks like a potential first-rounder in the 2013 or 2014 NFL Draft.
Florida senior defensive tackle Jaye Howard entered the season as a potential mid-round pick, but he has been very quiet and has not had much of an impact this season for Florida. Howard was playing much better against the weak competition early in the season, but in the last three games against Alabama, LSU and Auburn he has been a non-factor.
Auburn safety/cornerback Neiko Thorpe had a quiet game. Florida's offense struggled to pass the ball, and he showed good coverage and run support. Thorpe is a potential mid-round pick next April.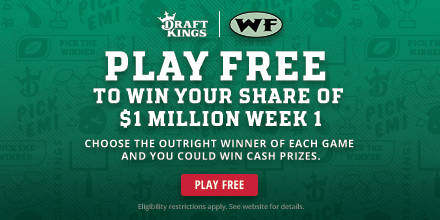 Wisconsin 59, Indiana 7
It was a dominant game for Wisconsin as their NFL-caliber running game bulldozed Indiana. Additionally, The Badgers' offensive line was unstoppable against Indiana. They had a significant size advantage on the Indiana defense and physically overpowered them. Junior left tackle Ricky Wagner, sophomore left guard Travis Fredrick, junior center Peter Konz, senior right guard Kevin Zeitler and senior right tackle Josh Oglesby all had easy games. On average, the Wisconsin offensive linemen outweighed the Hoosiers' defensive linemen by 45 pounds and used that power to own the line of scrimmage.
Zeitler had a fabulous game opening up holes on the ground. He is powerful and an underrated athlete with the way that he attacks the second level of the defense. Zeitler looks like a solid, second-round pick, and a player who could play quickly in the NFL.
Oglesby has battled injuries in his career but has stayed reasonably healthy this season. He was called for a holding penalty for taking a defender to the ground in pass protection. Oglesby looks like a late-round pick. He is a better pass blocker than one might think, and, of course, he is a powerful run blocker. If Oglesby passes teams' medical exams, he could be a third-day pick next April.
Everybody knows that the Badgers have a star running back in junior Montee Ball. He has been one of the nation's leaders in scoring, entering the game with 14 touchdowns on the season.
To get the game started, Ball was running the ball well. He was hitting the holes quickly and accelerating into the second level of the defense. Ball caught a pass in the flat and broke it down the sideline for a 46-yard gain before getting pushed out of bounds at the five-yard line. He followed that up with a five-yard touchdown run.
Later, the 5-foot-11, 210-pound Ball found another way to get points on the board for the Badgers. He caught a pitch from quarterback Russell Wilson and took a few steps to the side. Ball stopped and threw a pass to the backside of the field for Wilson, who was running down field. It was a duck of a pass but a catchable ball and Wilson coasted in with a 25-yard touchdown catch.
On the next Wisconsin possession, Ball got in the end zone via his traditional route with a 35-yard touchdown run. He ran up the middle behind a great block by Zeitler that took out two Indiana defenders. Zeitler pushed a linebacker out of the play and used the linebacker to run over a cornerback.
To cap off the game, Ball took a sweep around the edge and turned upfield. He raced by the Indiana defense and ran for his third touchdown of the game, this time from 54 yards out. That was his final carry of the game, so Ball finished the game with 142 yards rushing on 14 carries with three touchdowns. He also had one reception for 46 yards and threw a 25-yard touchdown pass.
All game Ball had great running room. He runs with excellent pad level and has good vision. Many running backs have been successful for Wisconsin, but Ball has a burst that other Badger running backs have lacked. Players like Rob Dayne or John Clay are two of that plodding variety. If Ball declares for the 2012 draft, he could be in the running to be the second running back selected behind only Alabama's Trent Richardson. Ball looks like a potential late first-round or early second-round pick.
Indiana senior wide receiver Demarlo Belcher entered the game with 23 receptions for 265 yards and one touchdown thus far in 2011. It has been a quiet year for him and it didn't get better against Wisconsin. His first catch went for no gain. His second reception was a 21-yarder, but that was his last catch of the game. Belcher (6-5, 213) looks like a third-day pick.
Badgers senior wide receiver Nick Toon was out of the game with a foot injury. He had injuries last season that really hurt his draft status. Toon will need to get back on the field and stay in the lineup, while being productive, in order to keep his draft stock stable. His strong play thus far in 2011 had him rising into the second day of the draft.

Missing Include for PHPIncludeFailed_adsdaq47.php



Oklahoma State 38, Texas 26
Oklahoma State and Texas had a few good pro prospects on display on Saturday. The Cowboys' offense against the Longhorns' defense featured a number of future NFL players. Quarterback Brandon Weeden and wide receiver Justin Blackmon have been a tough tandem to defend the past two seasons, and that has vaulted Blackmon to be in the running as the first receiver selected next April. The 28-year old Weeden will be knocked because of his age and that should make him a third-day draft pick. He and Blackmon did not explode against Texas, but they made big plays that allowed Oklahoma State to stay undefeated.
Early in the game, Weeden threw a strike on a deep cross to Blackmon for a 17-yard gain. The 6-foot-1, 215-pounder caught an eight-yard slant and dove into the end zone for a 15-yard touchdown. He pushed his way through a defender and kept his feet to dive into the end zone. At halftime, Weeden had completed 14-of-23 passes for 176 yards and a score. Blackmon had six receptions for 71 yards and a score.
In the second half, the duo was quiet, but the Cowboys' ground game and special teams produced points. In the fourth quarter Weeden had a lucky mistake. Dropping back to pass in his own end zone, he was pressured while drifting back, and stepped out of bounds. Weeden threw a pass a second later which was intercepted and returned for a touchdown. However, the safety came first and bailed him out of the pick-six.
For the game, Weeden completed 23-of-41 passes for 218 yards with a touchdown and zero interceptions. Blackmon finished with seven receptions for 74 yards. Blackmon's stock is stable at the top of the first round, while it could be tough for Weeden to rise higher than the fourth or fifth round given his age.
Oklahoma State left tackle Levy Adcock had a decent game for the Cowboys. He allowed some pressure on Weeden, but generally did okay in pass protection. The 6-foot-6, 322-pound Adcock does not have quick feet and that leads to him having to reach in pass protection. In the NFL, he could have problems with speed rushers if he stayed at left tackle.
Adcock did a good job in run blocking against Texas, and has some ability as a drive blocker. He pulled pretty well and was able to get some blocks on the second level of the defense. Entering the NFL, Adcock looks further along as a run blocker than as a pass protector.
Adcock would be better off moving to right tackle in the NFL. He also could be a candidate to move inside to guard. The class of offensive tackles is not especially strong and it just got weaker with Florida State's Andrew Datko going down for the rest of the season. Adcock benefits from the weaker class so he could be a second-round pick, though is likely to be at worst a second-day pick right now.
For the second straight game, Texas defensive tackle Kheeston Randle was quiet. He wasn't collapsing the pocket or getting much pass pressure on Weeden. Randle was better in run defense, but even then he was not making his presence felt at the point of attack as Oklahoma State was able to run the ball effectively.
Texas linebackers Emmanuel Acho and Keenan Robinson were quiet and did not standout well in run defense against Oklahoma State. They have been in the running to be second-day picks, and this game doesn't help their cause.
Cowboys safety Markelle Martin was quiet in the game and did not hurt or help his draft stock.


Ohio State 17, Illinois 7
There were some good draft prospets battling in the trenches between Illinois and Ohio State. The Buckeyes feature the top senior center in the nation in Mike Brewster and an offensive tackle prospect in Mike Adams. Illinois features one of the nation's leading pass-rushing tandems in junior defensive ends Whitney Mercilus and Michael Buchanan.
Early in the game, Mercilus had a nice pass rush to the interior that beat Adams for a sack-fumble. The fumble was recovered by Brewster. The 6-foot-6, 320-pound Adams can have some struggles with speed rushers and Mercilus was too quick in shooting by him. It gave Mercilus 9.5 sacks this season.
After that sack-fumble combined with extremely windy conditions, Ohio State quarterback Braxton Miller hardly threw the ball the rest of the game. His first completion of the game came in the fourth quarter and it went for a touchdown. Adams and Brewster both did a good job in run blocking. Adams was fortunate that the Buckeyes went heavy with the run because he seemed to be struggling with Mercilus' speed. Miller had only four pass attempts in the entire game.
Brewster had another good game run blocking and pass blocking. Adams had a solid game in run blocking. Ohio State ran for 211 yards on 51 carries for an average of 4.1 yards per carry. Brewster looks like a potential first-round pick, while Adams is probably better in the second round.
Mercilus is having a breakout season. It is hard to estimate his draft stock right now because he's played well in seven games in his collegiate career, but Mercilus (6-4, 265) has the size and speed to be a special player. Buchanan is just a couple notches below.
Illinois senior wide receiver A.J. Jenkins entered the game as one of the most productive receivers in the nation. He had 46 receptions for 815 yards and seven touchdowns. The wind hurt Illinois' passing game, and Ohio State was focused on containing him. He did cause a timely pass interference penalty. For the game, Jenkins caught eight passes for 80 yards. He looks like a solid mid-round pick right now.


Texas A&M 55, Baylor 28
The game between Baylor and Texas A&M featured two intriguing quarterback prospects with the Bears' Robert Griffin III and the Aggies' Ryan Tannehill. Thus far in 2011, the junior Griffin has done a lot to improve his draft stock, and is one of college football's best players this season.
Griffin made a very nice run on a third-and-short to get a first down to start the game. He had the opportunity for a big play to top receiver Kendall Wright. The speedy Wright was going against Aggies top cornerback Coryell Judie, a potential second-day pick. Wright had Judie beat on a go route, but the pass was overthrown by Griffin and fell incomplete. Later in the first quarter, the duo connected for a touchdown on a short slant pass. The pass from Griffin was a bullet between two defenders.
Throughout the first half, Griffin was making plays to move the ball well with his arm and legs, but his offensive line was struggling to give him good time when he would drop back to pass. Specifically his right tackle was getting whipped by defensive end/outside linebacker Damontre Moore.
After a long touchdown pass from the Aggies, Griffin took the first play at his own 23-yard line and threw a strike down the sideline to wide receiver Terrence Williams who got a step on Judie. Williams caught the ball about 20 yards downfield. Judie dived and grabbed Williams around the hips. The wideout broke the tackle with Judie falling to the ground. Williams sprinted down the field for a 77-yard touchdown.
Judie has been banged up with a hamstring injury after coming off a shoulder malady. The announcers said that Judie is not healthy, and that may be the case, but he definitely hurt his draft stock with his game against Baylor.
Early in the third quarter, Griffin went downfield with a 43-yard touchdown pass to Tevin Reese. He ran straight down the field through busted coverage.
Wright got leveled by linebacker Sean Porter on a short catch over the middle. Wright returned to the game and made a clutch catch in the third quarter. He caught a 19-yard pass on third-and-16 to extend the drive. On the last play of the third quarter, Griffin threw a strike for 50 yards to Reese.
Griffin threw his second interception of the season on a jump ball in the fourth quarter. It looked like a frustration throw. He finished the game 28-of-40 for 430 yards with three touchdowns and one interception. It sounds like Griffin is more inclined to return to Baylor for his senior season. Right now he looks like a fringe first- or second-round pick if he were to enter the
2012 NFL Draft
.
Wright finished the game with 67 yards on seven receptions with a touchdown. Wright looks like an early pick on the third day of the 2012 NFL Draft. Judie's coverage lapses against Baylor should send his stock down into the lower portion of the second round or possibly into the third round.
Baylor senior running back Terrence Ganaway was bottled up throughout the first half with 23 yards on 12 carries. In the third quarter, Ganaway ran up the middle from four yards out for a touchdown. However, Baylor was not able to run the ball much as the Aggies put up a lot of points. Gannaway finished with 34 yards on 16 carries with a touchdown. He also looks like an early-round pick on the third day of the 2012 NFL Draft.
Tannehill had a massive game against Baylor. He made some nice throws on the run to move the ball early, but had a pass intercepted to end the first Aggies drive. Tannehill tried to make a short dump off pass to a back that was between a few defenders. One lineman reached out and batted the ball into the air where it fell into the arms of defensive linemen Tevin Elliot. In the second quarter, Tannehill bounced back to throw a 68-yard touchdown pass on busted coverage. He hit wide receiver Ryan Swope running wide open down the field for the score. On the next possession, he hit running back Christine Michael on a shovel pass for a seven-yard touchdown.
Just before halftime Tannehill threw his third touchdown of the half on a short out to Swope. He then hit Swope right after halftime on another short out for a five-yard touchdown pass.
The duo was on fire as they hooked up for a 68-yard touchdown. Tannehill threw about a 15-yard slant to Swope in the middle of the field. He broke two tackles and ran down the field to set a school record with his fourth touchdown reception of the game.
Tannehill kept putting the ball into the end zone with a deep touchdown pass to Uzoma Nwachukwu. He ran wide open down the middle of the field for a 47-yard touchdown pass. Tannehill lofted in a perfect pass to hit Nwachukwu in stride. Tannehill finished the game with 25 completions on 37 attempts for 415 yards with six touchdowns and one interception. Swope finished with 206 yards on 11 receptions with four scores.
The former wide receiver turned quarterback took off on a 34-yard run to get the Aggies a first-and-goal late in the fourth quarter. Tannehill's massive game should help bolster his stock as a second-day pick. The junior Swope could also be a second-day pick if he decides to forego his senior season.
Texas A&M wide receiver Jeff Fuller returned to the lineup. They said he had a head injury last week, but a week ago it was said to be a potential concussion. Fuller has dealt with a lot of injuries this season with a hamstring pull in particular. He had a dropped pass in the second quarter.
The 6-foot-4, 220-pound Fuller had a nice 19-yard catch. Here he caught a 12-yard out and fought off a few defenders to get downfield for extra yards. Fuller went up for about a 10-yard catch inside the Baylor 25-yard line. In the second half Fuller started with a drop and followed that with a 15-yard catch on a deep crossing route. Fuller finished with 71 yards on five catches. Fuller looks like a third-round pick right now.
Aggies running backs Cyrus Gray and Christine Michael were able to find some running room against Baylor's porous defense. Michael in particular had a strong game as he powered his way for good yardage. Michael had a nice 16-yard run where he spun out of a tackle to set up the Aggies at the seven-yard line. He caught a shovel pass and spun out of a tackle before being tackled. As he went down he reached the ball out over the goal line.
The junior Michael totaled 105 yards on 21 carries with one touchdown. He caught a score with two receptions for eight yards. Gray had 42 yards on 12 carries.


Michigan State 28, Michigan 14
There were a few pro prospects on display in the rivalry game between Michigan and Michigan State. The highest rated among them is Spartans defensive tackle Jerel Worthy. A weak defensive tackle class helps Worthy to be one of the top tackle prospects in the 2012 NFL Draft class.
For the majority of the game, Worthy was quiet and failed to making any impact. He jumped offsides the first play of the game, and again later in the second quarter. Not only was he getting penalized, Worthy wasn't doing much at the line of scrimmage and was getting blocked well on just about every play. He was seeing some double teams, but he wasn't doing very much.
Late in the game, Worthy started to become visable. Worthy came in a little late on a tackle for a loss. Midway through the fourth quarter, he got penetration in the pocket and joined in on a sack as Denard Robinson stepped up in the pocket and right into Worthy. Overall this wasn't a good game for Worthy as he did not have a presence against the Wolverines.
Spartans quarterback Kirk Cousins also had an unspectacular performance against Michigan. Cousins wasn't helped by some early drops by his receivers. When pressured, Cousins had problems completing passes and that led to a few incompletions on third down.
In the third quarter, Cousins completed a short pass to Keshawn Martin for a 10-yard touchdown. They hooked up again on a play where Cousins rolled out and threw a short pass to Martin that he ran into the end zone for a 13-yard score. Cousins finished the game completing 13-of-24 passes for 120 yards and two touchdowns. Cousins looks like a late second-day pick.
The star of the game for the Spartans was senior running back Edwin Baker. He started with some good runs to move the ball for the Spartans. Baker plunged into the end zone from a yard out to tie the game at seven in the first quarter. The Spartans were able to move the ball well through Baker, but had a number of drives stall.
In the third quarter, Baker fumbled the ball away after being stripped from behind by a Michigan defender. After that, Baker got back to his tough running between the tackles. He was finishing his runs well and did a good job of powering through defenders to not go down on first contact. Baker finished with 167 yards on 26 carries. He looks like a solid mid-round pick.
Spartans junior cornerback Johnny Adams had an excellent game for the Spartans. He made a big sack on a fourth down to take away a scoring opportunity. Michigan State senior wide receiver B.J. Cunningham had a quiet game with four receptions for 39 yards.
Michigan senior defensive tackle Mike Martin was held in check by the Michigan State offensive line. Commentator Urban Meyer said, "Martin is tough, with a low center of gravity and disrupts the offensive line." While that may be the case he was not disruptive against the Spartans, and Baker was able to run up the middle of the Spartans defense. He looks like a third day pick.
Missing Include for PHPIncludeFailed_dropdowndraftrecap2012.php
NFL Picks
- Sept. 20
2019 NFL Mock Draft
- Sept. 20
Fantasy Football Rankings
- Sept. 5
2019 NBA Mock Draft
- Aug. 13
2020 NFL Mock Draft
- Aug. 1
NFL Power Rankings
- June 3