This new section highlights which players have improved or worsened their 2019 NFL Draft stock as the draft approaches.
By Charlie Campbell.
Send Charlie an e-mail here:
draftcampbell@gmail.com
Follow Charlie on Twitter
@draftcampbell
for updates.
2019 NFL Draft Stock Up

Derrick Brown, DT, Auburn
In speaking with one scout who covers the Southeast, he said that Brown was the top interior defensive lineman he's seen thus far. That scout likes Brown more than Alabama's Raekwon Davis and the Clemson duo of Dexter Lawrence and Christian Wilkins. The source feel that not only Brown is already a really good player, but he has a ton of upside to get better as he gains experience. He faced a ton of double teams during the Week 1 win over Washington but still found a way to cause disruption. Brown may not produce a huge stat line this year because of the double teams, but he still could be a high draft pick next April due to talent evaluators being very high on him.

Ed Oliver, DT, Houston
Over the first two weeks of the season, Oliver has been as good as advertised. He dominated Rice and Arizona in successive weeks despite facing double and triple teams. For the next level, Oliver is the real deal. There is so much about him that is extremely impressive. Off the snap, Oliver is extremely fast with special first-step quickness. His great get-off lets him fire into his gap and achieve quick penetration into the backfield. On top of the speed, Oliver plays with great leverage that allows him to push his way into the backfield or hold up against double teams.
While Oliver needs to gain more weight for the NFL, he has functional strength to shed blocks. Oliver is a good run defender despite being undersized for an interior defensive lineman. From the inside of a line, Oliver has the potential to be a dynamic pass-rusher. Beyond his great skill set, Oliver has a non-stop motor and gives a great effort every snap. His 2018 tape is on track to help him to grade out as one of the top prospects for the 2019 NFL Draft. Oliver looked worthy of a top-five selection against Rice and Arizona.
Bennie Snell, RB, Kentucky
Snell is a hard-nosed runner who could be a second-day pick in the 2019 NFL Draft. He had an excellent game rolling over the Florida defense and moving the chains on the ground. Snell started strong with a run of about 20 yards on the first drive of the game. Late in the second quarter, he made a great move at the second level to dodge a safety and a linebacker to break downfield for a 44-yard gain. Against the Gators, Snell totaled 175 yards on 27 carries. He showed natural running ability with excellent vision, quickness to hit the hole, power to get yards after contact, balance, and a hard-nosed decisive style. He has good feel as a runner and reminds me of Ray Rice prior to Rice's decline. This tape will help Snell to be a second-day pick.
Josh Allen, OLB, Kentucky
The SEC's active career sack leader is Kentucky linebacker Josh Allen, and he put on a clinic against Florida to help end the Wildcats' 31-game losing streak to the Gators. Beyond showing as a pass-rusher, Allen made some huge plays in pass coverage to lead Kentucky. In the third quarter, he had blanket coverage on a tight end downfield to break up a back-shoulder throw. It was excellent coverage from Allen that will really impress evaluators. Late in the fourth quarter, Allen came up with a huge clutch play. On a two-point conversion attempt, he made a great read to cover a tight end in the back of the end zone, using his athleticism to make a leaping tip of the ball to result in an incompletion. It was a superb play from Allen. On the final play of the game for the Gators' offense with less than 10 seconds remaining, Allen beat Martez Ivey with a speed rush for a strip-sack that was returned by Kentucky for a game-clinching touchdown.
Allen was superb versus Florida. At will, he could burn by Ivey with speed rushes. Allen is a legit late first-round or early second-round pick who would be a superb defender as an outside linebacker in a 3-4 defense.

Clelin Ferrell, DE, Clemson
Ferrell came up with some huge plays to help the Tigers get a tough road win against Texas A&M in College Station, which is a difficult place to play. Ferrell had two sacks and a tackle for a loss at critical times in Clemson's two-point win. Midway through the third quarter with the Aggies driving, Ferrell made a game-changing play with an outside move and cut back to the inside to sack the quarterback and force a fumble that was caught in air by a Tigers teammate. It was a huge play to end a Texas A&M scoring chance. Through two games, Ferrell has three sacks with four tackles for a loss. Not only is he an impactful pass-rusher, but he is stronger and tougher in the ground game this year. Against Texas A&M, Ferrell showed why he is an elite prospect for the 2019 NFL Draft. He made some good plays in run defense and showed he is more than just a pass-rusher. This tape will help Ferrell to go in the top-20 pick next April.

Amani Oruwariye, CB, Penn State
Last week
in the Hot Press
, we surveyed team scouts on who impressed them during fall training camp, and Oruwariye was one of players mentioned. Oruwariye has taken that strong practice performance to the field so far in 2018, recording interceptions in back-to-back games. To go along with the picks, Oruwariye has broken up two passes and notched 10 tackles. The 6-foot-1, 203-pounder also has excellent size for the NFL. With his hot start to the season, Oruwariye could end up being one of the top corner prospects for the 2019 NFL Draft.

Bryce Love, RB, Stanford
Love had a rough start to the season in Week 1, but he bounced back with an impressive performance against USC. While taking on a defense with some good NFL talent, Love ran for 136 yards on 22 caries with a touchdown. He showed his speed on a 59-yard run and averaged 6.2 yards per carry. With his speed and more toughness than he is given credit, Love could be a dynamic addition to any NFL offense.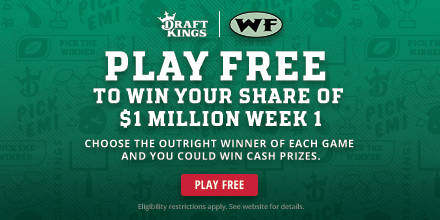 2019 NFL Draft Stock Down

Brian Burns, DE, Florida State
Team sources say they like the potential of Burns, but he needs more development at the college level. Evaluators who have scouted Burns in person this year say that he is too light for the NFL and is going to get pushed around by NFL offensive tackles. Burns has good speed, athleticism, and pass-rush potential. However, sources feel he has to gain more weight and get stronger to hold up. They think that Burns should return to Florida State for his senior year to get stronger in 2019, and another year in Tallahassee could give Burns a higher grade for the 2020 NFL Draft.

Nick Fitzgerald, QB, Mississippi State
Fitzgerald has earned the notorious accomplishment of making the stock down list two weeks in a row. He missed Week 1 with a suspension, and then in Week 2, he had a poor performance against Kansas State in which he really struggled as a passer. Fitzgerald was very inaccurate and missed open receivers with wild throws. Even some short, routine throws were badly off the mark. He completed only 11-of-27 passes for 154 yards with two touchdowns and an interception. Fitzgerald did not look like an early-round quarterback prospect because of his inaccuracy. He looks like a third-day prospect, and it isn't out of the question for him to be a late-round pick or undrafted free agent.

Martez Ivey, OT, Florida
Some sources graded Ivey as a late-round undrafted free agent last year before he decided to return to the Gators, but other scouts like Ivey more and he was included on team's watch lists for players to keep an eye on. However, Ivey was helpless to block Kentucky's Josh Allen, an NFL-caliber edge rusher. Ivey allowed the strip-sack that ended the game, and Allen was blowing by him constantly. This tape will really hurt Ivey's grade and makes him look like a late-round prospect.
Comment...
NFL Picks
- Nov. 13
2019 NFL Mock Draft
- Nov. 8
2020 NFL Mock Draft
- Nov. 3
Fantasy Football Rankings
- Sept. 5
2019 NBA Mock Draft
- Aug. 13
NFL Power Rankings
- June 3