Here is the 16th edition of the Monday Morning Draft - a column that delves into the past weekend's action from an NFL Draft perspective. As the season goes on, the draft picture and slotting will become more clear, but every Sunday will provide a few hints for next April.
By Charlie Campbell.
Send Charlie an e-mail here:
draftcampbell@gmail.com
Follow Charlie on Twitter
@draftcampbell
for updates.
Suck For Luck:
Here are the standings for the race for the No. 1 overall pick to have the first shot at Stanford quarterback Andrew Luck.

Indianapolis Colts:
After winning their second straight game, the Colts are in danger of blowing their shot at Luck. It looked like Indianapolis had locked up first place in the "Suck for Luck" standings until its wins over Tennessee and Houston.
While the Colts are the favorites to select first, there is the real possibility that they won't land the No. 1 pick. Indianapolis could get its third win of the season in its finale in Jacksonville. If the Colts win that game there is a good chance that the Rams will move ahead of them. If Indianapolis loses to Jacksonville, the Colts will have the first pick. If they, the Vikings and the Rams all finish with the same win total, Indianapolis would have the tie-break advantage.

St. Louis Rams:
St. Louis fell to 2-13 on the season geting blanked by Pittsburgh. If the Colts beat the Jaguars next week, the Rams could land the top pick in the
2012 NFL Draft
. St. Louis plays the 49ers next week and that smells like 2-14. If the Colts win and the Rams lose, St. Louis would look to trade the pick for a king's ransom and would stick with Sam Bradford as their franchise quarterback. That information is based on speaking with sources, plus it has been reported by others in the media.

Minnesota Vikings:
The Vikings beat the Redskins 33-26, and are now 3-12 on the season. Throughout 2011, Minnesota has lost a lot of games late and played a lot of teams tough. With Chicago reeling, the Vikings could win their season finale as well. Minnesota is pretty much a lock for a top-five pick next April, but after beating Washington, the Vikings are a long shot to land the first-overall pick. They would have to have the Rams and Colts win next week while losing to the Bears. That is rather unlikely, so the prospects of Minnesota landing the top pick are extremely slim.
Let's Play Matchmaker:
This section will look at some of the top talent in college football and match those prospects up with teams that have a dire need at the position.

St. Louis Rams: Brandon Thompson, DT, Clemson

St. Louis needs help on the inside of its defensive line. The Steelers were able to run straight at the Rams, and they could use a run plugger who can keep blockers off their linebackers and defensive ends. Thompson is a tough run defender who has helped defensive ends Andre Branch and Da'Quan Bowers produce big sack totals the past two seasons. Thompson has recorded 45 tackles with 6.5 tackles for a loss and 2.5 sacks this year. St. Louis could hope that Thompson falls to to their second-round pick.

Tampa Bay Buccaneers: Kendall Wright, RB, Baylor

The Buccaneers lack explosion in their offense and don't have any receivers that can burn a secondary downfield. Their receivers as a unit struggle to get separation, and Mike Williams has been a major disappointment with how he has struggled to get open this season. Against a weak Carolina secondary that has been torched this year, Tampa Bay's receivers were ineffective.
This season, Wright has been a big-play machine for Baylor. He has caught 101 passes for 1,572 yards with 13 touchdowns. Wright has the speed to stretch the field, and is able to work well in the short part of the field. Over four seasons, he has never missed a game for the Bears and is a tough receiver. Wright would bring much needed speed to the Buccaneers' offense. He could be targeted at the top of the second round.

Arizona Cardinals: Casey Hayward, CB, Vanderbilt

The Cardinals' secondary had no answer for Andy Dalton, especially with Patrick Peterson injured. Arizona could use another cornerback to pair with Peterson in the long term. Hayward would give the Cardinals a ball hawk. Over the past two seasons, he has totaled 11 interceptions. It would help Arizona to have a corner like Hayward who can execute in man and zone. If the Cardinals can land Hayward with their third-round pick, he would make a good duo with Peterson for years to come.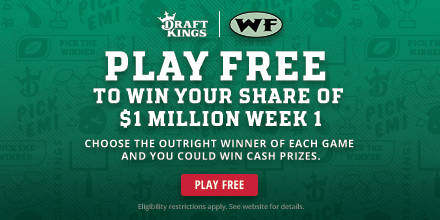 San Diego Chargers: Jayron Hosley, CB, Virginia Tech

The Chargers' secondary was incapable of covering the Lions' passing attack. San Diego was getting caught out of position in zone coverage and being beaten in man-to-man. Hosley is a good zone and man corner who can run with receivers downfield. This year, he has recorded three interceptions and teams avoided throwing his way after he grabbed nine picks in 2010. Hosley executes well in zone coverage. He has the speed and athleticism to run with receivers in man-to-man. The Chargers might have to trade up in the second round to get Hosley.

New England Patriots: Mark Barron, S, Alabama

The Patriots' defense was gashed again; this time by Dolphins running back Reggie Bush and wide receiver Brandon Marshall. New England desperately needs to upgrade its defensive backs. A safety who can be a force in the back end of the passing game while helping out in run defense would be a welcome addition.
With USC safety T.J. McDonald returning to school in 2012, Barron is now the top-rated safety in the draft. Barron is experienced and has been an instinctive playmaker for the Crimson Tide. He is a hard hitter and good tackler who has ball skills. This season, Barron has totaled 66 tackles with two interceptions. He had seven interceptions in 2009 and three in 2010. If the Patriots want Barron, they will probably have to use a first-rounder to get him.

New York Jets: Michael Floyd, WR, Notre Dame

The Jets' receivers had Mark Sanchez make 59 pass attempts, yet none of them could outproduce the tight end or catch more than four passes. Plaxico Burress is a short-term option and New York could use another receiving threat.
Floyd looks like a true No.1 receiver in the NFL. Not only does he have strong hands, but gets open by running quality routes. Floyd has good size and speed along with the ability to create big plays downfield. In his senior season, he has totaled 95 receptions for 1,106 yards with eight touchdowns.

Tennessee Titans: Frank Alexander, DE, Oklahoma

The Titans made Blaine Gabbert look good early in their game against the Jaguars when they couldn't get any pass rush. This offseason, defensive end Jason Jones is a free agent, while Tennessee could use another end to pair with their promising young defensive tackles.
Alexander would be a good fit on the other side from Derrick Morgan. This year, Alexander has had solid production with 51 tackles, 18 tackles for a loss, 8.5 sacks and three forced fumbles. He played well against Florida State left tackle Andrew Datko and had a monster game against Texas. Alexander is a good athlete with speed who put forth relentless effort. The Titans could target him on the second-day of the draft.

Dallas Cowboys: Alfonzo Dennard, CB, Nebraska

The Dallas secondary did not perform well against Michael Vick, and it could be ugly for them against Eli Manning, Hakeem Nicks and Victor Cruz this week. This offseason, the Cowboys have to upgrade their cornerback position. If they land Dennard with their first-round pick, Dallas will have a good cover corner. Dennard is excellent with jamming receivers at the line and re-routing them. He also runs well with receivers and is excellent in man coverage. Additionally, Dennard operates well in zone. He looks NFL ready and is a gritty corner who limits the opposition's passing attack.
Team Draft Report:
In this section we take a deeper look at specific teams and where they stand in regards to the 2012 NFL Draft.

Detroit Lions:
The Lions are a good draft or two away from having a perennial playoff contender and a potential championship team. The two position groups that hold Detroit back against elite competition are their offensive line and their defensive backs. Next April, the Lions could make a concerted effort to upgrade one of those while addressing the other in free agency.
Detroit could target a few offensive linemen with its early-round picks and that could quickly make the Lions' line a potential strength. If they could land a tackle like Alabama's Barrett Jones or Iowa's Riley Reiff in the first round that would be a huge cornerstone, as left tackle Jeff Backus is at the end of his underrated career. Veteran center Dominic Raiola is also needing to be replaced. Landing a center like Mike Brewster or Ben Jones in the second round would be a good value for Detroit. The Lions could do better than guard Stephen Peterman and might be able to replace him in the third round with a player like Pitt's Lucas Nix or Texas Tech's Lonnie Edwards.
Detroit could address its secondary in free agency with Tennessee cornerback Cortland Finnegan. The Lions made a habit of targeting Titans defenders who played under head coach Jim Schwartz when he was the defensive coordinator there. Detroit could also look at defensive end Jason Jones as well if it can't re-sign Cliff Avril.
Perhaps the Lions will decide to use high picks on both sides of the ball, but where they will be picking in the draft could be prime position to acquire some solid offensive linemen. A young core group of offensive linemen could be the final piece of a prolific offense.

Cincinnati Bengals:
Another team that is a good draft or two away from having the potential to be a perennial playoff contender is Cincinnati. The Bengals have one of the NFL's biggest surprises in 2011, and if they win next week, they will have a 10-win season and a wild-card berth. Rookies Andy Dalton and A.J. Green have shown real potential, while Cincinnati has a lot of quality young defenders on defense.
The Bengals head into the offseason with only two clear needs: running back and cornerback. If Cincinnati can find help at those two positions, the team should have a young core group on both sides of the ball to make them competitive annually with the aging division leaders- Baltimore and Pittsburgh. The trade of Carson Palmer for the Raiders first-round pick makes it easier for the Bengals to load up in 2012.
Cincinnati could consider trading their first-round picks to get into the top 10 to have a shot at running back Trent Richardson. He would be a perfect fit in Jay Gruden's offense and would definitely take a lot of heat off of Dalton. Richardson is a special running back prospect who can beat teams with his speed, power and intelligence. The Bengals could look to select Miami running back Lamar Miller if they don't want to trade up, or they might be able to get a quality back in the second round like Washington's Chris Polk or Wisconsin's Montee Ball if either comes out.
The other position of need is cornerback. Arizona quarterback John Skelton showed that in the second half of Saturday's game. Cincinnati made a mistake not re-signing Jonathan Joseph. That move became a bigger regret since Leon Hall blew out a knee this season. He will still be working his way back from reconstructive knee surgery in 2012, so getting a cornerback or two early on draft day would be a necessary addition. If the Bengals hit on another good draft or two, they could be poised to replace the Ravens and Steelers as the top team in the division.
NFL Picks
- Nov. 16
2019 NFL Mock Draft
- Nov. 15
2020 NFL Mock Draft
- Nov. 3
Fantasy Football Rankings
- Sept. 5
2019 NBA Mock Draft
- Aug. 13
NFL Power Rankings
- June 3