By Charlie Campbell,
@draftcampbell
Three years ago, we started a series of articles on why certain prospects went undrafted. In that series, I reach out to sources with NFL teams to find out why their organizations passed on drafting a given player, and/or, what were the reasons for other teams to pass on that prospect. We got a lot of positive reader feedback about the series, so we decided to expand in the genre to investigate why some prospects slid in the draft. A year later, we started the Why Slide? series, and this year, it is back. Feel free to email me requests for "Why the Slide?" and "Why Undrafted?" at
draftcampbell@gmail.com
. I can't promise to get to all of them, but I will do my best and definitely respond.
Over the past three seasons, Bucky Hodges was one of college football's most well-known tight ends. He broke out as a redshirt freshman in 2014, hauling in 45 catches for 526 yards and six touchdowns. It was the best season for receiving production by a freshman tight end in Virginia Tech history. Hodges stayed consistent with that production as a sophomore (40-530-6) and junior (48-681-7) before deciding to skip his senior year to enter the 2017 NFL Draft. While Hodges was a well-known prospect, the 2017 class was loaded at tight end, and Hodges slid all the way to the sixth round before he was selected.
Sources say the reason why Hodges slid was because he was never graded very high to being with. Based off his tape, sources from three different teams said they had Hodges as a fourth- or fifth-round pick. Some team sources say that Hodges is very linear and lacks suddenness. They have concerns about Hodges having enough speed to separate from NFL defenders, and he was never seen as a good blocker. One team scout said Hodges would flash some blocking skill occasionally, but one of the biggest issues with Hodges as a blocker was a lack of "want to."
The Minnesota Vikings ended Hodges fall when they took him in the sixth round of the 2017 NFL Draft. Minnesota was a quality landing spot for Hodges as the team is in need of more receiving talent for its offense. Starting tight end Kyle Rudolph, however, is coming off a very good season where he caught 83 passes for 840 yards with seven touchdowns. Hodges could compete to be the second tight end in double-tight end sets as Minnesota's other tight ends are nothing special. In double-tight end sets, Rudolph could be the Y - blocking - tight end with Hodges being the F - receiving - tight end. Rudolph and Hodges could yield some nice mismatches when paired together. Hodges stands a good shot of making the 53-man roster as there are a lot of other young tight ends competing against him like David Morgan, Josiah Price and Kyle Carter. Hodges has more receiving upside than any member of that trio. As a backup receiving tight end, Hodges could end up being a good late-round pick for the Vikings who contributes to their passing offense.
Comment...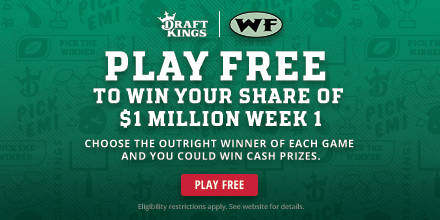 NFL Picks
- Oct. 21
2020 NFL Mock Draft
- Oct. 20
2019 NFL Mock Draft
- Oct. 18
Fantasy Football Rankings
- Sept. 5
2019 NBA Mock Draft
- Aug. 13
NFL Power Rankings
- June 3