What is this?
Welcome to my sixth-annual Super Bowl Live Blog. I'll be posting comments like this throughout the evening about every three minutes. Keep refreshing this page if you want to check out what I think about the game, announcers, commercials, etc. I'll post my first comment around 5:30ish.
I might have some guest stars, including Matt Millen and others. I'll also be getting live feedback from people watching the game with me.
You can also discuss Super Bowl XLVI in the
Live In-Game Thread
.
Follow
@walterfootball
for updates.
5:47:
The Live Super Bowl Blog has commenced! I'm expecting about 15 people here. A couple of people have already arrived. My sister asked me, "Walt, do you know how to boil water?"
I answered, "Uhh... microwave?"
Football is on. I can't answer complicated questions.
5:50:
My sister's hot friend Abby won't be here, unfortunately, because a family member of hers is having a Super Bowl party. The nerve. Abby's always great for predictions because three years ago (Cardinals-Steelers Super Bowl), she thought that the Carolina Panthers were playing the Pittsburgh Penguins.
A year ago, the following text exchange took place...
Me:
Who are you rooting for in the Super Bowl?
Abby:
pitts cuz they r part of pa lol
Me:
OK so you want the Steelers to win, but who do you think will actually win?
Abby:
idk i dont watch football, i think if anything the steelers will win because they were just in the super bowl like a couple yrs back
5:53:
I just texted Abby to get her pick:
"Ummm the giants cuz they r closer then new england..."
And there you have it. Bet heavily on New York.
5:59:
I hate these Play 60 commercials. Ugh. What are those people yelling in the background? It sounds like alien gibberish. I think these Play 60 ads are a ploy by aliens to take over the world. You may laugh, but when Martians are enslaving us, you'll know where you heard it first.
6:01:
Ugh. I just went on GameCenter, and all of the comments are spam. How am I supposed to make fun of stupid people with spam clogging the discussion board?
6:07:
Luckily, Migelini just made some posts. Here they are: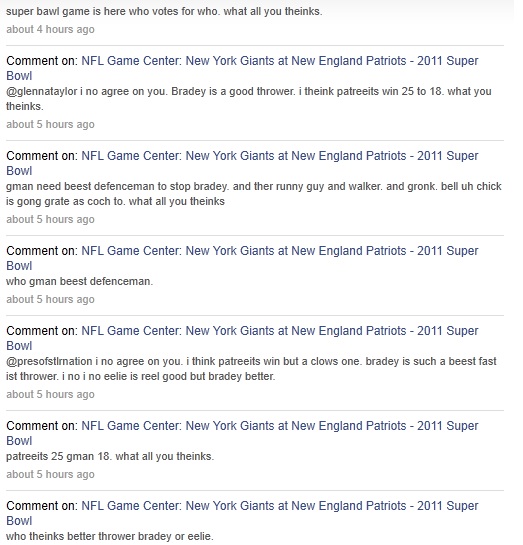 6:11:
I just impressed everyone by naming almost every player's college in the announcements. I am so cool.
6:14:
Pizza Hut has the worst commercials. No one wants to hear loser musicians rap or play the guitar. And is it just me, or has Pizza Hut declined in quality? It used to be so good, but it's tasted like vomit the last three times I've had it.
6:16:
Oh, I saved some of the funnier GameCenter comments from over the years:
COLTS PLEASE USED CRUSH BUG PLAY ON SAINTS

COME ON COLTON AND THE SAINTS!

JERAMY SHOCKEY LOOKS LIKE A FEMAIL

IF U LIK DA SAINTS SAY YEA

COLTS REALLY SUCK A** HAHA MY GRANDMOTHER PLAYS BETTER THEN THAT AND SHE AINT GOT NO ARMS OR LEGS LOL F*** THEM COLTS

Stief I hate you

you wont be running your inbred louisiana mouths at the end

WALTER UR SO SEXY PLEASE MARRY ME GARLIC I WILL LOVE U ALWAYS PLEASE FORGIVE ME

WORSET HALF TIME SHOW I HAVE EVRE SEEN!

BLACK EYUE PEAS ARE NOTHING WITH OUT FERGIE

YEeh YEeh Yeeh oh ohogho oh yeh yeah yeah oh oh oh check it out check it out yeha yeah yeah oh oh oh oh oh oh check it ou tout check it out

The Rapistburger likes Fergie

PROSTER MUSIC IS LIKE LIFES BLOOD TO ME! IF THEY CONTINUE I MAY BLEED OUT!
6:18:
Ugh, who is this fat guy singing the national anthem?
6:20:
When I was a kid, I thought the lyrics were, "the Bob-ombs bursting in air." True story.
6:21:
Can't wait for
The Dictator
. I nearly just peed my pants watching that commercial.
6:23:
Some hot chicks walk in. Trying my hardest not to be distracted. If I stop blogging, you know what I'm doing.
6:24:
One of the girls here just asked, "So this is the Stanley Cup, right?" True story.
6:25:
If Tom Brady looks like a serial killer on the opening drive, we know that the Patriots will win this game.
6:26:
Body Burners just sat down next to me and said, "I want to nuzzle Walt's neck." Sexy time!
6:27:
My Asian friend Not Asian Guy just won $100 on the coin toss. He's Asian, so this should not be a surprise.
6:29:
Clovdyx commented below, "You've already used that joke about Kelly, Walt. Last time it led to a five page discussion on her former hotness in the gamethread."
Joke? What joke? I just wanted to know who the fat guy was.
6:32:
Kickoff! No touchback. Lots of people just lost money because of that. My condolences.
6:33:
Cruuuuuuuuuuuuuuuz. Giants convert their first third down. Not a good sign. My $100 is in dire jeopardy.
6:35:
No surprise that Eli is torching this secondary, though he was almost picked. The key will be how the Patriots do in the red zone.
6:36:
Eli sacked! Third-and-long coming up.
6:38:
Eli sacked again! He's losing his grip on his seat at the adults' table in the Manning household.
6:39:
Bud Light Platinum commercial boring. Must be disgusting.
6:40:
Wait, why did the car light kill the vampires? Are vampires afraid of light or something?
6:41:
The camera just captured one of the hot supermodels Tom Brady will bang after the game.
6:42:
SAFETY!!! Holy crap.
Giants 2, Patriots 0
6:43:
What the hell was that Pepsi commercial? Who was the heterosexually challenged king? Who was the songstress? Who was the black guy, and why was he in a dungeon? What a racist commercial.
6:44:
My friend/Giants fan/hot girl Emilysh just texted me:
"I'm at your party :) AHH SAFETY YES :) I'm already yelling and people think I'm crazy."
There's nothing crazy about a hot girl football fan. Just awesomeness.
6:45:
Cousin Sal just hit his Henry Hynoski prop!
6:50:
Big third down... and the Patriots have 12 men on the field. And here I thought they'd have the coaching edge.
6:52:
Cruuuuuuuuuuuuuuz. Touchdown. Game over. Giants win.
Giants 9, Patriots 0
6:53:
Not Asian Guy just suggested that Vegas was responsible for there being 12 men on the field. I'm glad that there are degenerate gamblers other than myself here.
6:55:
The downside to having mostly girls here - it's loud during the game and quiet during the commercials.
6:57:
Emilysh with another text:
"GREAT START! Now it's time to kill Tom Brady."
Like I said, pure awesomeness.
6:58:
And that's why you use the running backs you drafted early 10 months ago.
6:59:
Eating buffalo wings and Bagel Bites NOM NOM NOM NOM.
7:03:
Wow, so when I was playing Battleship all of those years, that's what was really happening? Holy crap.
7:05:
Batted ball by Jason Pierre-Paul. Patriots have to try a field goal.
Giants 9, Patriots 3
7:10:
I must be high. Did I just see Tim Riggins take down a giant polar bear with some sort of morning star? Was he drunk while doing so? Either way, I am definitely going to see that movie.
7:12:
Wow, Brandon Jacobs just bulldozed his way for 11 yards on 2nd-and-10. New England's defense did not come to play.
7:13:
Travis Beckum is injured. Not Asian Guy, who is betting the Patriots, just went, "YEEEAAAHHH... AWWW THAT GUY SUCKS!"
7:15:
The homeless woman from two weeks ago somehow snuck into Robert Kraft's booth. That sly whore!
7:17:
Eight more Giant penalties until Tom Coughlin's head bursts into flames.
7:18:
Giants should go for it here. Nope, punting.
7:21:
Another bad reason for having mostly girls here - they all went "woooo" during that David Beckam commercial. Yet, if I stripped down to my boxer-briefs, they would all shriek in disgust or run away. I hate double standards.
7:22:
Another great call by Not Asian Guy: "Those polar bears are going to be dead soon because of global warming anyway."
7:24:
Go for it!
7:25:
Torn right ACL, Travis Beckum. That's pretty rough.
7:29:
It's so weird that this score is only 9-3. The Giants seem to be completely dominating.
7:31:
The two girls sitting next to me are amazed by how I update my Web site. The first girl then said, "The Patriots need to stop dillydallying." The second then asked, "Who's the cutest Manning of all time?" This is a great party.
7:33:
Ugh,
Star Wars Episode I
in 3D? Can I kill myself now?
Body Burners just commented, "They should make an Episode I.5, all from Jar Jar's perspective."
I think Star Wars fans would commit suicide if this happened.
7:35:
The Gronk with a 20-yard gain! I was just about to give up on my Over 76.5 Yards bet.
7:37:
Wow, who was that Valentine's Day chick? I think I'm in love.
7:38:
I think I'm going to have nightmares after watching that Cars.com commercial.
7:41:
Big third-down conversion there. I can't believe the Patriots can take the lead on this drive.
7:43:
I hate all baby commercials. And not because I hate all kids and want them to die, or anything. I just think it's such a cheap gimmick.
7:45:
My friend Andrew just had a disgusted look on his face. I asked what's wrong. He said, "They just talked about jamming the tight end." Not that there's anything wrong with that.
7:46:
Patriots down to the 2!
7:48:
Touchdown Danny Woodhead! Tom Brady looks like he wants to eat his young. No way the Patriots lose this game.
Patriots 10, Giants 9
7:49:
We've had "jamming the tight end" and Woodhead in the span of a few minutes. Matt Millen is shoving kielbasa into his backside as you're reading this.
7:51:
The senior editor of this Web site just told me that the hot chick from the Valentine's Day commercial was Adriana Lima. My future wife.
7:52:
Body Burner's girlfriend Jamie just said to Body Burners, "You keep molesting Walt."
Body Burners: "He's hot."
Oh yeah.
7:59:
I just learned that Madonna is from Jersey. No wonder she has such a long mustache.
8:01:
I guess those who bet on Wes Welker over Madonna for Longest Mustache just pocketed some money.
8:03:
The black guy with the harp... Yeah, not that there's anything wrong with that.
8:04:
I think this Madonna performance might set the record for "not that there's anything wrong with that" comments from me.
8:06:
Not that there's anything wrong with that. Not that there's anything wrong with that. Not that there's anything wrong with that. Not that there's anything wrong with that. Not that there's anything wrong with that. Not that there's anything wrong with that. Not that there's anything wrong with that. Not that there's anything wrong with that. Not that there's anything wrong with that. Not that there's anything wrong with that. Not that there's anything wrong with that. Not that there's anything wrong with that. Not that there's anything wrong with that. Not that there's anything wrong with that. Not that there's anything wrong with that. Not that there's anything wrong with that. Not that there's anything wrong with that.
8:10:
Why is Jamie Dukes singing on stage?
8:12:
Not only can Jamie Dukes sing; he can make Madonna change clothes in mere seconds. This man is a wizard. A meatball-eating wizard.
8:14:
Ron Artest was part of the halftime show. Cool.
8:16:
Who was that Gale player? He looked like a possible upgrade for New England's defense.
8:17:
Great. First, Madonna. Then, Jamie Dukes. And now douchey Bob Costas. FML.
8:19:
Some GameCenter comments about the halftime show:
Madonna doing cartwheels. disgusting. no one wants to see her old, loose crotch

She can surround herself with as many blacks as she wants... Madonna is NASTY.

Please lord get that skankkk of the field

She is old and beat down. Maybe she should take some more pictures with the dog again what a pig

yeah brady a mirror image of hannah montana, q...u...e...e...r. Never compare that tool Brady to Montana again, thats an insult to Joe Cool!!
8:22:
Remember the two girls who were sitting next to me? One just told me, "We're going to have sex on top of you, and Not Asian Guy is going to watch." Just a typical party here at the WalterFootball.com house.
8:23:
I had to ask:
Me:
Why does Not Asian Guy get to watch? Can I watch you two have sex?
Jess:
Well, we'll be on top of you, so it'll be hard for you not to watch.
Score!
8:24:
Chad Ochostinko sighting!
8:28:
Touchdown Aaron Hernandez! And that's why Bill Belichick always kicks off at the beginning of the game. Genius.
Patriots 17, Giants 9
8:30:
OMG OMG OM G GOMG OMG OMG I CANTWAIT FOR SMASH TOERMOEEOROOWW OMG OMG OMG OMG OGM OMG!!!
8:33:
That's a cool shot of Tom Brady pointing to MHK and then looking up. That's one of the reasons I'm betting my life savings on the Patriots.
8:37:
A big hit on New York Nicks (I'm copyrighting that nickname) and now a big third down coming up...
8:38:
Giants are stopped five yards short of the first down. Field goal coming up.
8:39:
Field goal good by New York Tynes. I'm awesome at these nicknames.
Patriots 17, Giants 12
8:42:
Looks like Eli Manning will be banging hot supermodels after this game too. These quarterbacks are so lucky.
8:43:
Uncle Jesse just got his a** kicked. Best commercial ever.
8:48:
I feel like Tom Brady could have run for the first down there. Now the Giants are at midfield and they're going to score, meaning I will lose all my life savings. FML.
8:51:
People are going to play beer pong downstairs. Damn it, can we pause the Super Bowl so I can play?
8:52:
Not only did Henry Hynoski beat Cousin Sal's prop; he also recovered a fumble. He should be the MVP if the Giants win.
8:56:
Eli sacked. Please miss this Tynes! I won't call you New York Tynes anymore if you do!
8:57:
New York a**hole Tynes makes the field goal.
Patriots 17, Giants 15
8:58:
NOOOOOO I JUST REALIZED THAT I LOST MY FG PROP BETTTT AHHHHHHHHHHHHHHHHHHHH!!!!!!!!!!!!!!!!!!!!
9:00:
It's OK, people. I was confused. I thought it was under 33 yards instead of over. Everyone can calm down now! No worries!

Missing Include

9:03:
The Soup Nazi the first time was epic. The second time? Not so much.
9:04:
Tom Brady is intercepted! It looked like he'd pull an Eli Manning to David Tyree, but his hot supermodel isn't as hot as Eli's.
9:05:
Ugh!!! I just realized that would have won my Gronkowski yardage bet. FML indeed.
9:06:
The Giants are so lucky. They're recovering all of the fumbles.
9:09:
Ugh. Offsides. The officials are clearly fixing this game.
9:12:
Not Asian Guy is laughing at the Jake Ballard injury because he was complaining about the wrong Giant tight end being injured earlier.
9:13:
Wow, what a throw by Eli Manning.
9:16:
For future reference, the Giants should refrain from hiring Andy Reid as a timeout consultant.
9:17:
Not Asian Guy upon seeing Ballard fall: "HAAHAAHAAHAAHAAHAA!!!"
9:18:
How do you have a false start off a timeout?
9:19:
Close non-call. Should have been pass interference. Tom Coughlin's face is about to spontaneously combust.
9:22:
What happened to Tom Brady's pass protection after that second touchdown? It's almost like the offensive line doesn't want to cover the spread.
9:24:
How stupid do the Jets feel about cutting Danny Woodcock? They'd be in the Super Bowl right now if they had him.
9:28:
The Patriots really need to score on this drive. All my money is on the line.
9:30:
Big conversion. The cover is on the line. No one cares who's going to win this game, but the Patriots need to win by more than three.
9:31:
Wes Welker and Deion Branch just blew the cover. Ugh. Vegas' fault for setting such a stupid, one-sided line.
9:32:
Actually, I'd like to blame Brady for those. He's the one banging hot supermodels. His throws should be better.
9:34:
Stupid challenge by Bill Belichick. The Patriots may need this timeout.
9:36:
DUM DUM DUM DUM (I said "dumb dumb dumb dumb" but one of the girls thought I said "NOM NOM NOM NOM.")
9:38:
Two-minute warning. Lawrence New York a**hole Tynes has such an easy kick coming up FML UGH!!!
9:40:
I'm with GoDaddy, and this type of stuff doesn't happen to me. Where's my naked Danica Patrick?
9:42:
I think you almost want to let the Giants score here if you're the Patriots. Of course, that wouldn't be a decision if Belichick didn't use that stupid challenge.
9:44:
Good call by the Patriots. Letting him score was the right move.
Giants 21, Patriots 17
9:46:
I agree with going for two. If they got it, New England would have to kick the extra point. That's usually a given, but you never know - there could be a botched snap or something.
9:47:
If Tom Brady gets this, you have to make the case that...
9:48:
Wow. Brady had Deion Branch for 25 yards or more.
9:50:
Sacked! I thought Brady was supposed to be clutch. He can't even get a stinking yard.
9:51:
I don't want to say this... OK, maybe I do, but Brady has been a big choke artist since he started banging supermodels. He used to drive an old truck, and he used to be clutch. Just saying.
9:52:
Brady clutch to Branch!
9:52:
How do you have 12 men on the field?
9:54:
Hail Mary NO GOOD!!!
9:55:
The truck-driving Brady would have completed the Hail Mary. This supermodel-banging Brady is terrible.
9:57:
Well, that's $100 down the drain. I'll be updating my site from a cardboard box in the next few weeks, in case you're wondering.
9:59:
Thanks for reading my incoherent thoughts. I'm depressed. On the bright side, I can now play beer pong and drink myself into oblivion.
2018 NBA Mock Draft
- June 21
Fantasy Football Rankings
- June 20
2019 NFL Mock Draft
- June 12
NFL Power Rankings
- June 3
2020 NFL Mock Draft
- May 10
NFL Picks
- Feb. 4