TOP STORIES


NFL Draft: Day 1 Review


Draft Blog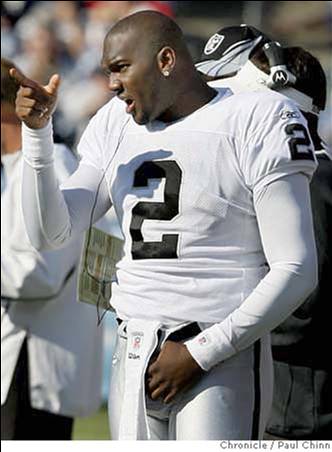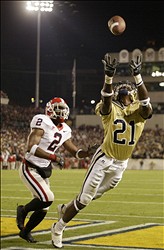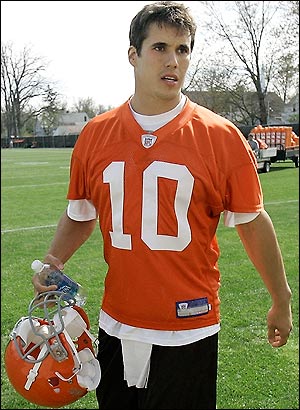 This is my third-annual running draft blog. Updates will be made about every five minutes throughout Saturday.

11:59: Welcome to my third-annual live draft blog. We still don't know who the Raiders will take, where Calvin Johnson will go or how long Matt Millen will continue to blackmail Lions owner William Clay Ford so he can hold onto his job.

12:02: Sal Pal -- I'm not even going to try to spell his last name -- says there is no deal coming between the Lions and Buccaneers. I don't know how much I believe that. You can't trust anyone on Draft Day. That said, I could see Atlanta moving up. Falcons owner Arthur Blank instructed general manager Rich McKay to get Calvin Johnson no matter what -- even if it means risking his own life.

12:04: I'm glad ESPN got rid of the French modeling guy who was announcing all of the top players last year. That gave me nightmares for months.

12:05: Oh, and I'm also upset to see Michael Irvin go. How will ESPN replace a guy who said last April, "Defense doesn't wins championships, points wins championships."

12:07: Commercial time. Let's see what else is on. Last year, I had the pleasure of watching Chupke Chupke on TVAsia, which was a confusing story about a woman with icing on her face and a guy with an ugly moustache. That was compelling TV. The Soap channel has some show called Falcon Beach. Let's hope there aren't any mistreated dogs laying in the sand.

12:10: The 2007 NFL Draft is now open. Each team has 15 minutes in this round. Not 20, Minnesota.

12:12: Wow, Art Shell talked Al Davis out of drafting Matt Leinart? So, not only does Shell not have the ability to open his mouth, he also makes poor personnel decisions? No wonder he was fired.

12:14: Mort, shut up! Oakland having the top pick isn't good! How are we supposed to compile accurate mock drafts with a 160-year-old owner sitting at the top of the board?

12:16: I'm not impressed by the 64-yard, throwing-from-the-knee thing. Want another quarterback who was an expert at throwing from his knees? Kyle Boller. And we all know how he turned out.

12:18: Can't we give the Texans the first-overall pick? They'd take Mario Williams in a heartbeat.

12:20: Keyshawn Johnson sees Calvin Johnson as a combination between Randy Moss and himself. So, Johnson's a guy who yells at teammates and coaches, and sucks at the same time? Johnson just slipped to sixth-round consideration.

12:21: The Oakland Raiders select QB JaMarcus Russell, LSU. No surprise here. A good pick, but I would have traded down if I were Al Davis. Then again, if I were Davis, I'd be looking for a goat right now so I could suck its blood.

12:25: I love the draft. Prior to Oakland's pick, everyone was talking about how JaMarcus Russell was the greatest thing since chocolate-glazed donuts. Right after he was chosen, Mort said, "He'll have to sit out a year! Russell sucks!!!" OK, maybe not that last part.

12:27: Calvin Johnson looks happy. Looks like my mock is going 2-for-2. I'll be happy if that happens.

12:28: I agree with Mort. If you draft NBA guards and three of them flop, do you pass on Michael Jordan? The Lions need to take Johnson or trade him for a king's ransom.

12:30: The Buccaneers are upset they have to give up both second-round picks? Oh no! What were they planning to trade, a rubber chicken with a pulley in the middle? (I'll give anyone props if they know where I got that from). If Tampa Bay wants the top player on the board, they'll have to deal something good.

12:32: The Detroit Lions select WR Calvin Johnson, Georgia Tech. Great move. If Matt Millen trades him for something worthwile, I'm fine with that. If Millen keeps him, I'm fine with that. The Lions made the right move.

12:35: I like the comparison of Johnson being a Terrell Owens with a great personality. Much better than a mixture between Randy Moss and Keyshawn Johnson. Now, if we can only get Keyshawn to say, "Calvin Johnson doesn't wins championships, Keyshawn Johnson wins championships!"

12:37: Pro Football Talk reported that the Browns' owner has instructed his people to take Brady Quinn. Let's hope Art Shell doesn't convince him to take Andrew Walter and Aaron Brooks.

12:40: I love when people say someone's the "safest pick." That's what Robert Gallery was noted as. There is no such thing as a "safe" pick.

12:42: The Cleveland Browns select OT Joe Thomas, Wisconsin. I guess they're going with the quarterback rotation of Charlie Frye, Derek Anderson and Brevin Knight. Good luck keeping your job, Phil Savage and Romeo Crennel.

12:46: The Buccaneers are interested in Brady Quinn and Adrian Peterson? Ummm... have they cut Jeff Garcia, Chris Simms, Jake Plummer, Cadillac Williams and Michael Pittman? Let me check the depth chart... Hmmm... Guess they haven't updated it yet.

12:48: More on the Cleveland pick: I think it was the right move for the Browns. Not the right move for Savage and Crennel. You can't win with bums like Frye and Anderson under center. Cleveland will have the third selection in the 2008 Draft. At least they'll have the option of taking Brian Brohm or Darren McFadden. Oh, and when I say "they'll," I don't mean Savage and Crennel. They'll both be fired.

12:51: Ummm... what team was Keyshawn Johnson on last year? I'm serious -- I'm drawing a blank here. I'm not trying to be funny; I honestly can't remember.

12:54: The Tampa Bay Buccaneers select DE Gaines Adams, Clemson. Looks like there could be a deal done between Tampa Bay and Detroit. "No" Gaines Adams! Zing!

12:56: I could see the Cardinals trading down to No. 9, allowing Miami to move up and to get Quinn. Remember a few years ago when Arizona passed on Terrell Suggs and chose to move down to Nos. 17 and 18? Instead of Suggs, they wound up with Calvin Pace and Bryant Johnson. I love having crappy teams like Arizona in the NFL.

1:00: This just in: Arizona traded its No. 5 pick to an undisclosed team for a bag with a dollar sign on it and the No. 545,402 selection.

1:04: The Arizona Cardinals select OT Levi Brown, Penn State. A little high for Levi Brown, but it was the right move if the Cardinals couldn't trade down.

1:07: Was it just me or did Brady Quinn smile after the Cardinals pick? His thoughts? "Phew, I don't have to go Arizona and have my career ruined!"

1:09: The Redskins are up. They need to trade down, even if they get ripped off via the NFL Draft Value Chart. How dumb can you be to only have one pick in the first four rounds?

1:10: Mike Tirico just said Quinn is showing poise in the Green Room. What's Quinn supposed to do, pull out a knife, start randomly stabbing people and paint his face blue? He'd slip to the second round if he did that.

1:14: Looks like Mr. Landry's going to Washington. I wonder what his agent was yelling... "Daniel Snyder's gonna overpay our guy! We're getting billions! Billions!!!"

1:19: The Washington Redskins select S LaRon Landry, LSU. Getting the top defender at No. 6 is like robbing a bank. Washington is very lucky. By the way, did anyone else hear Roger Goodell say "LeBron Landry?" I like Goodell as a commissioner so far. As a draft announcer? He's no Paul Tagliabue.

1:20: How can the Vikings justify taking Brady Quinn? They just spent a high pick on Tarvaris Jackson. This has to be Adrian Peterson.

1:25: Just got a call from my friend Chris who forgot the draft was on. I told him the Browns took Joe Thomas instead of Brady Quinn, and I seriously heard a plate crash in the background, followed by a scream you'd hear from a horror movie. I'm serious. Nah, actually I'm just kidding. He was just confused and called the Browns "idiots."

1:27: Minnesota should turn its card in with one second left just to tease everyone. But to be fair, the Vikings got the right player (Kevin Williams), while Jacksonville could be parting ways with Byron Leftwich soon.

1:28: The Minnesota Vikings select RB Adrian Peterson, Oklahoma. Good job, Minnesota. Adrian Peterson should be able to run for 1,500 yards behind that powerful left side of the line.

1:31: Wouldn't it be funny if Atlanta took Brady Quinn, and Michael Vick forced his way onto the stage and attacked Roger Goodell with one of his sick dogs? That would be the funniest moment in the history of anything.

1:38: The Atlanta Falcons select DE Jamaal Anderson, Arkansas. I was hoping for Amobi Okoye for my mock draft's sake. Jamaal Anderson at No. 8? Isn't that a bit of a reach? The Dolphins wouldn't have taken him. The Texans wouldn't have. The 49ers and Bills wouldn't have. Shouldn't Atlanta have dealt down to Nos. 10, 11 or 12 with a team looking to take Patrick Willis?

1:44: What's taking Miami so long? This is the first draft under the Cam Cameron's regime, so let's hope he's not studying film of Minnesota's drafting strategy.

1:48: The Dolphins have traded this pick for Trent Green, and a stack of Herm Edwards motivational and coaching tapes! Just kidding. Sorry to any Dolphins fans I may have given a heart attack to.

1:52 The Miami Dolphins select WR Ted Ginn, Ohio State. Ted????????? Ginn?????????? Actually, now that I think about it, this kind of makes sense because the Dolphins have been stupid enough to attempt to trade for the fossilized Trent Green. The Dolphins are dumb. Dumb dumb dumb dumb dumb dumb dumb dumb dumb dumb. Dumb.

1:56: Fred Cimino from Endless Banter just IMed me and plans to say something funny about the Dolphins. He's been typing for six minutes now. Stay tuned.

2:00: Where will Quinn fall? If the Packers trade Aaron Rodgers for Randy Moss, he could go No. 16 but I doubt it. The Eagles will be interested, as they thought about taking Matt Leinart last year. Baltimore and Chicago may trade up.

2:03: Jacksonville seems like a realistic possibility. Thank you, idiot Dolphins, for throwing the whole draft off.

2:04: Oh, by the way, the Texans are drafting. Could be Leon Hall or Darrelle Revis.

2:05: The Houston Texans select DT Amobi Okoye. I forgot about Amobi Okoye. Great pick. In my opinion, the second-best defensive player in the draft.

2:08: Fred Cimino on the Dolphins' pick: Miami may be the only team that has Ted Ginn Jr. in the top ten on their board. And this raises questions as to where they have Quinn rated. How can you draft an injured player who hasn't proven that he can be dominant at his position even at the college level. A great returner, yes, but not a great wide receiver. Speed alone, and Ginn is definitely a track-type guy, has not even come close to guaranteeing success at the pro level. It's just way too early to take a player like Ginn.

2:09: I feel the need to remind people that the Dolphins are trying to trade for Trent Green, a never-has-been -- he has no playoff victories -- who is old and coming off an injury. The Dolphins will be picking in the Top 10 again next April.

2:13: Texans fans, don't worry. I know Mark May just said that Amobi Okoye was a bad pick. May doesn't know anything. He has no clue. The fact that he hates your pick means that Okoye will be a Pro Bowler.

2:18: The San Francisco 49ers select ILB Patrick Willis. Great choice. It was either Willis or Adam Carriker, and I'd be fine with both.

2:21: Buffalo is up. Let's hope Marv Levy's not at the Country Kitchen Buffet. If he is, look for the Bills to take Paul Posluszny at No. 27. If he's getting ready to go, he still may take Posluszny here. Leon Hall and Darrelle Revis are also options. Marshawn Lynch and Brady Quinn? Doubtful.

2:25: Note to Brady Quinn: Don't listen to what Sean Salisbury is saying about your average accuracy. Salisbury has repeatedly called Vince Young a bust. No wonder Mark May and Salisbury are sitting in the middle. If either one of them was on the outside, the whole set would topple over because their brains are so miniscule compared to Trey and Michael Smith.

2:28: The Buffalo Bills select RB Marshawn Lynch. Not the worst pick in the world. But there are tons of running backs to be had in the second round. Did they panic when Patrick Willis was taken off the board? Why didn't the Bills trade up? They have no linebackers!

2:31: Steve Young: "Buffalo can steal this division." Young forgot to say: "steal this division and get the top draft pick out of it." Uh, Steve? The Patriots are in the AFC East. Did you forget? I know you've had a number of concussions, but forgetting about the Pats is inexcusable.

2:36: Quinn shouldn't have moved into Roger Goodell's private suite. He should have said, "Thanks, but I'll stick it out here. Aaron Rodgers did it. Matt Leinart did it. Ben Roethlisberger did it. I'm not ashamed I'm dropping." That would have showed me a lot of character.

2:40: The St. Louis Rams select DE Adam Carriker. Lucky Rams. The fact that the 49ers passed on Carriker and the Bills are dumb allowed them to take a player who can play any position on the defensive line.

2:44: Did anyone see how confused Mort looked when the crowd cheered? This will be either Leon Hall or Darrelle Revis. Word is it could be the latter.

2:46: The Jets just robbed the Panthers. They moved up 11 spots for just a second-round pick? Maybe Steve Young will include the Jets in his next race-for-the-AFC East rant.

2:51: I know New York just made this trade, but why's it taking them so long to pick? Wouldn't it be funny if they ran out of time? I think Mel Kiper's hair would fly off of his head and attack Roger Goodell if that were to happen.

2:54: The New York Jets select CB Darrelle Revis. Nice move by Eric Mangini. He really needed a corner and moved up for nothing to get his guy. I must point out that I had Revis going as my first corner. Just four spots earlier. Oops.

2:57: The Packers are up after Pittsburgh. They should take Brady Quinn and stock up on quarterbacks. Definitely a recipe for success.

2:59: The Pittsburgh Steelers select LB Lawrence Timmons. I thought it would be either Lawrence Timmons or Paul Posluszny. I had the latter in my mock but I thought of swapping the two. It makes sense, as the Steelers are moving to a 4-3. Posluszny will be a better player, so I wouldn't give this pick an A.

3:05: I wasn't really paying attention. Did Mort actually suggest for the Packers to take Quinn? Hey, Mort! Stop stealing ideas from my blog. And Mort, I was just kidding.

3:11: Let's get away from the Brady Quinn Sympathy Hour for a second. I just ran the Jets-Panthers trade through the NFL Draft Value Chart. New York received 1,115 points; Carolina 1,056. The Jets ripped the Panthers off by 59 points. No wonder the fans cheered.

3:13: The Green Bay Packers select DT Justin Harrell. Huh? Justin Harrell? Didn't Michael Smith say they were taking the best available player? Maybe at No. 25, Harrell would have been the right pick. If the Packers really wanted Harrell, they could have traded down to No. 20 or 21. That would have been fine. You don't take the 25th best player at No. 16. Have fun watching the playoffs on TV, Green Bay.

3:21: Bodog has a thing where you can bet on whom is going to get drafted next. Fred just bet $3 on Paul Posluszny to get picked at No. 18 at +920 odds. Big spender! Although I shouldn't say anything because I only bet $4. I count pennies, what can I say?

3:24: The Broncos have moved up to No. 17. I don't get it. Who's going to be here that won't be at No. 21?

3:26: Leon Hall is the only player I can think of who fits that description.

3:29: The Denver Broncos select DE Jarvis Moss. Great player, horrible trade. Hey Mike Shanahan, Jarvis Moss would have been available at No. 21. If you weren't such a great coach, I'd make fun of you right now. So, let me make fun of Charley Casserly instead. How dumb is Casserly? He traded the 21st, 86th and 198th selections for the 17th, getting a guy who would have been there at the original pick. Dumb dumb dumb dumb dumb dumb dumb. Dumb.

3:31: How stupid is this McDonald's commercial? This lady is telling us that if we get a job at McDonald's and spit in people's food, we can be President of a division. Right. Why didn't she list the millions of kids who end up being bums on the street with at least eight kids?

3:34: According to the Trade Value Chart, Mike Shanahan got ripped off by 26 points.

3:35: The Bengals will probably take Leon Hall, but don't rule out Paul Posluszny. He's a good-character guy who will immediately decrease the number of arrests on Cincinnati's roster.

3:37: The Cincinnati Bengals select CB Leon Hall. I had Hall going here in my mock, but he shouldn't have fallen this far. Cincinnati should send the Packers and Dolphins a suitcase full of money for being stupid.

3:44: I love that Roger Goodell is suspending players without convictions. Let's hope he does something to Michael Vick. If Vick knew about what his "family" was doing, it's a thousand times worse than smoking weed, throwing $50,000 at strippers or worshiping William Shatner.

3:46: By the way, I'm shocked Vick didn't blame his family for his getting booed at the draft. I was expecting him to say, "I didn't know I got booed at the draft. It was my family. It's all their fault."

3:48: Robert Meachem? Dwayne Jarrett?

3:52: The Tennessee Titans select S Michael Griffin. Robert Meachem? Dwayne Jarrett? What in the world are the Titans doing? First of all, there's no need for a safety. Secondly, whom is Vince Young going to throw to? Thirdly, they could have traded down if they really wanted Griffin. Tennessee just doesn't get it. This is, without a doubt, Stupid Move No. 3 (see Miami and Green Bay for the first two).

3:56: I guess Vince Young had nude photos of Floyd Reese and forced Jeff Fisher to take his former teammate. I know Reese is no longer with the team. Just think about it. Fisher would turn into stone if he saw a nude photo of Reese.

3:58: The New York Giants select CB Aaron Ross. Well, what do you know? A team actually filled one of its needs, took a good player and matched a pick in my mock draft. Great job, Giants.

4:01: See what I mean about Mark May? He just said the Cowboys will take Brady Quinn because they have a need at quarterback. I guess May has nude photos of Floyd Reese too.

4:04: The Jacksonville Jaguars select S Reggie Nelson. Wow, two smart teams in a row. The Jaguars traded down, acquired an extra third-round pick and still managed to obtain the player they wanted. Hey, Green Bay, Tennessee and Miami: That's how you draft. When's the last time the Packers, Titans and Dolphins have been in the playoffs? Coincidence?

4:07: "That's another sign that something's going on with Brady Quinn." -- Steve Young. Steve, he's dropped 20 picks. How many signs do you need?

4:17: Trade. Cleveland's on the board.

4:18: The Cleveland Browns select QB Brady Quinn. Wow. Quinn and Joe Thomas. How did they get both guys? Unbelievable. Cleveland should also send Miami a suitcase full of cash. I'm happy for Quinn; he gets to play for the team he loved growing up. The Browns have a winner.

4:20: I still can't get over this. The Browns were thinking about getting this guy at No. 3. They took him with the 22nd pick. Once again, the Dolphins are dumb dumb dumb dumb... etc.

4:21: Wait a second! Dallas gets Cleveland's first-round pick in 2008? How smart is Jerry Jones? The Browns will be something like 6-10 or 7-9. He'll have a top-15 pick in addition to his own. Incredible. Bad news for Eagles, Giants and Redskins fans.

4:32: Chiefs taking forever to draft. This has to be Joseph Staley or Ben Grubbs.

4:33: The Kansas City Chiefs select WR Dwayne Bowe. Look, Dwayne Bowe will help a horrible receiving corps. But think about this: There are tons of great wide-out prospects in Round 2. Joseph Staley and Ben Grubbs would have helped a woeful offensive line that just lost Will Shields. The Chiefs couldn't block the Colts' front four in the playoffs. Well, at least we know they won't have that problem again; Herm won't be making an appearance in the postseason this year.

4:42: I'm eating chicken fingers right now, and all the food just fell out of my mouth when Mike Ditka stuttered in that Coors Light commercial. Almost as funny as Michael Vick attacking Roger Goodell with one of his starving dogs.

4:47: The New England Patriots select S Brandon Meriweather. Solid pick. I had Brandon Meriweather going No. 28, but because he was the only safety left on the board, New England had to pull the trigger. They can get David Harris or Paul Posluszny in a bit.

4:48: I have some Eagles fans reading this. They're screwed. They needed a safety and there are none left. They should take Paul Posluszny but they won't. Chris Houston is an option. Andy Reid should probably trade down.

4:52: If the Patriots implode against the Colts again, they'll be able to unleash their secret weapon this time. Brandon Meriweather can stomp on some Indy players and LEGALLY pull out a gun and scare some heads. No one's stopping New England in 2007.

4:56: The Carolina Panthers select OLB Jon Beason. Nice pick. I guess they're going after Zach Miller in the second round. Carolina needed a lot of help at linebacker.

4:59: Dallas and Philadelphia just made a trade. Hell has frozen over and Sally Struthers has just gone on a diet.

5:02: Philadelphia gets Dallas' second- third- and fifth-round picks. ESPN didn't say whether the second was the Cowboys' or the Browns' second. If it's the latter, a good deal for the Birds.

5:07: The Dallas Cowboys select DE Anthony Spencer. I've never seen fans look so disappointed. How many outside linebackers are the Cowboys going to take? This doesn't fill a need. At least Dallas commandeered Cleveland's No. 1 in 2008.

5:15: "He already resurgenst his career." -- Steve Young. Resurgenst? I'm telling you, one too many concussions. Maybe Young can have a concussionest and forgetest that he said that.

5:19: Get a mop! Jaws is slobbering all over his John Beck videos.

5:21: The New Orleans Saints select WR Robert Meachem. The rich get richer. How potent are the Saints going to be on offense with Marques Colston, Devery Henderson, Reggie Bush, Deuce McAllister, Drew Brees and now Meachem? With Justin Harrell gone way too early, this pick makes a lot of sense.

5:26: Where did Tony Kornheiser go, by the way? I guess he's not used to an 11-hour program. Maybe he drowned in Jaws' saliva. Who knows?

5:32: New England trades its pick to San Francisco. The 49ers somehow picked their guy in just five seconds. Good job.

5:36: The San Francisco 49ers select OT Joseph Staley. Good move by the 49ers. Staley shouldn't have fallen this far, but thanks to the idiotic Chiefs, San Francisco was able to obtain him.

5:39: I imagine the Ravens are going after Ben Grubbs, Joseph Staley or Kyle Boller. Oops, sorry, Brian Billick started typing on this computer when I went to the bathroom.

5:41: Just kidding. If Billick really took over my laptop, he would have written something like, "The Ravens will draft a house of mirrors so everyone can look at Brian Billick and realize how absolutely fantasteriffic he is. They'd go, 'Holy crap, Brian Billick is so cool and awesome and super-duper smart.'"

5:44: New England got San Francisco's top pick in 2008? What if the 49ers are 6-10? The Patriots are going to win 5,000 Super Bowls in a row.

5:46: The Baltimore Ravens select G Ben Grubbs. Nice move. Ben Grubs was the best player available at a position of need.

5:58: The San Diego Chargers select WR Craig Davis. Whoa, way too early for Craig Davis. Not sure what the Chargers are thinking here. Did they panic with Dwayne Bowe and Robert Meachem off the board? Why didn't they take David Harris? They need an inside linebacker.

6:02: Someone, shoot off a flare so Steve Young can see that something is happening with Alan Branch! Where will Branch fall? The Colts like smaller players, so that's not an option. Detroit will probably take a quarterback. Arizona is a possibility; they need a big nose tackle for their new 3-4 defense.

6:04: I guess Greg Olsen's going to the Bears. That, or Brian Urlacher just gave him an autographed jersey.

6:12: The Chicago Bears select TE Greg Olsen. Once again, the rich get richer. Thanks to inept teams like the Packers, the Bears got the best tight end in the draft. I guess Green Bay has no desire to win its division.

6:14: I keep losing my train of... who?

6:20: The Indianapolis Colts select WR Anthony Gonzalez. Sure, lose your entire defense, draft offense. Makes sense. I think. I don't know. I'm losing my train of... who?

6:22: We've just endured the longest first round in NFL history. The good thing about running these blogs is that I can look at what happened at what time last year. In 2006, the first round was over at 5:01 EST. It's 6:22 now. How was this year's first round 81 minutes longer than last year's?

6:25: Trade. Oakland and Arizona swap. Because ESPN doesn't care about anything but Round 1, we'll never find out what happened. This could be Alan Branch.

6:27: The Arizona Cardinals select NT Alan Branch. The stock of restaurants in Arizona have just skyrocketed.

6:30: Bills trade up. Paul Posluszny's as good as gone.

6:31: The Buffalo Bills select OLB Paul Posluszny. Incredible move by the Bills to counter a questionable one in Round 1.

6:38: The Bucs should take a look at Ryan Kalil. He could improve that weak offensive line.

6:40: The Tampa Bay Buccaneers select G/OT Aaron Sears. Close, I guess. I think Ryan Kalil was a better prospect, while Justin Blalock is a superior guard. Not a good pick, but not a horrendous one.

6:42: Philadelphia is up. I can see Andy Reid going Chris Houston, moving Sheldon Brown to safety.

6:43: Ugh, it's the McDonald's lady again. She should have an alternate story: "Mike worked at McDonald's. He earned $5 an hour. He used half of his paycheck to buy crack. He dropped out of high school and then went to jail. He had nine kids a year later. Now they're buying crack."

6:48: The Philadelphia Eagles select QB Kevin Kolb. HUUUUUUUUUUUUUUUUHHHHHHHHHH!?!?!?!

6:50: This says a lot about Donovan McNabb's health. By drafting Kevin Kolb and trading for Kelly Holcomb, I don't think McNabb's making it back until November or December. The Eagles have no chance of finishing ahead of the Cowboys or Giants next year. None.

6:51: Let's see what a competent organization does. The Chargers just moved up to No. 37. I have a strong feeling it's going to be David Harris.

6:54: The San Diego Chargers select S Eric Weddle. Ummm... David Harris? No? OK...? The Chargers didn't need to trade up this high for Weddle.

6:57: Oakland should take Dwayne Jarrett, Tony Ugoh or Ryan Kalil. Period.

7:00: Eric Weddle wins the prize for Goofiest Smile. The Bears received this year's second-, third-, fifth- and next year's third-round picks. Fred's obviously happy. I don't get why the Chargers did this. I guess they didn't like this draft class.

7:04 The Oakland Raiders select TE Zach Miller. Should be a nice weapon for JaMarcus Russell. The Raiders won't have the league's worst offense in 2007.

7:06 The Atlanta Falcons select G Justin Blalock. Great move for the Falcons, as they're transitioning out of the zone-blocking scheme.

7:07 The Miami Dolphins select QB John Beck. Nice move, but it won't make amends for taking Ted Ginn way too early.

7:10: My mom just called me to complain about her niece's new boyfriend. I didn't see him, but apparently he has no teeth and dresses like a bum. She had the following to say: "He was the scariest dude I've ever seen." If my mom pulls out the "dude" card, you know it's super duper serial.

7:14: The Falcons just traded up for Chris Houston. Great move; there's no way he should have made it this far. This will allow Bobby Petrino to move Jimmy Williams to safety.

7:15 The Atlanta Falcons select Chris Houston. Didn't I just say the Falcons drafted Houston? What am I doing here? I'm losing it.

7:19: Indianapolis just traded up. This better be David Harris, Marcus McCauley or Eric Wright. I can't stand another bad trade.

7:22: The Indianapolis Colts select OT Tony Ugoh. Hey, uhhh... Bill Polian...? You do know you lost all of those defensive players, right? What? You forgot? Oops!

7:23: They're talking about how much Matt Millen loves Drew Stanton. Bad news for Stanton. You're either going to suck, get really fat like Mike Williams or order pizzas during practice like Charles Rogers.

7:25: The Detroit Lions select QB Drew Stanton. That said, I think it's a good move. Stanton is a solid quarterback who could thrive in Mike Martz's system.

7:29: The Minnesota Vikings select WR Sydney Rice. I would have wanted Dwayne Jarrett if I were a Viking fan, but I don't think is a bad pick.

7:31: The Carolina Panthers select WR Dwayne Jarrett. Carolina's having a great draft. First, they traded down and got the player they wanted at No. 14. Now, they took one of the top wide outs in the draft. Jarrett, his new Steve Smith and Keyshawn Johnson are going to be tough to stop.

7:36: The Pittsburgh Steelers select DE/OLB LaMarr Woodley. This doesn't make any sense. It should have been Tim Crowder. Pittsburgh is transitioning into a 4-3. LaMarr Woodley is suited for the 3-4. Where's he going to fit in? I don't get it.

7:38: Most awkward and boring conversation ever. They should make tapes of Keyshawn Johnson and Dwayne Jarrett having a discussion for people with insomnia.

7:39: I keep losing my train of... who?

7:42: I'll say it again. I don't get the Woodley pick. It was like the Eagles taking Chris Gocong last year. It just doesn't fit.

7:43: Jets and Packers swap. Could be David Harris. Could be Steve Smith. The way the draft is unfolding, they'll probably take Ted Ginn or Justin Harrell.

7:45: The New York Jets select ILB David Harris. Another great move by the Jets. They could have taken him at No. 25. New York traded up twice today, but the team is walking away with two dynamic players.

7:51: My friend Anish just said the following about the Eagles' pick of Kevin Kolb: "I almost drove off the 202 when I heard who they picked." I don't blame him. Lots of Philadelphians probably crashed their cars.

7:52: I think the Jaguars should take Steve Smith.

7:54: I just turned on the NFL Network, and it looks like Jamie Dukes is about to eat Jesse Palmer and the old guy standing next to him. Scary stuff.

7:56: The Jacksonville Jaguars select OLB Justin Durant. A fast receiver might have been a better option, but I can't argue with Justin Durant. Nice pick.

8:03 The Cincinnati Bengals select RB Kenny Irons. Rudi Johnson, Chris Perry, Kenny Watson, Kenny Irons. Always good to have four running backs, right Marv? With so many runners available in the third round, I'm not really sure what Cincy is thinking here.

8:07: The Tennessee Titans select RB Chris Henry. Cough, reach, cough. Good job drafting a 40 time, Tennessee.

8:14: The New York Giants select WR Steve Smith. A nice speed option for the Giants. Solid first draft for GM Jerry Reese.

8:16: The Lions just traded for Josh McCown, Mike Williams and Mike Williams' lifetime supply of donuts for a fourth-round pick.

8:18: The St. Louis Rams select FB Brian Leonard. Nice backup for Steven Jackson. Another weapon for Marc Bulger. Solid choice.

8:27: Just remembered Ryan Kalil is still on the board. Cleveland just traded up. Will they take another lineman?

8:28: The Cleveland Browns select CB Eric Wright. Not Ryan Kalil, but a good pick nonetheless. Nice job by Dallas trading down and reclaiming the picks they lost to Philadelphia.

8:31: What was Eric Wright doing with 136 ecstacy pills? What, was 135 not enough? How about giving some to the less fortunate? Selfish jerk.

8:35: The Kansas City Chiefs select DT Turk McBride. No offensive line help for the Chiefs. Terrible. Doesn't Herm Edwards remember himself saying, "Can't block, can't block, can't block, can't block, can't block" against the Colts?

8:38: The Eagles should take Trent Edwards. They appear to be that dumb.

8:42: The Seattle Seahawks select CB Josh Wilson. Given that they were signing cornerbacks off the street, this was a solid move. I would have taken Marcus McCauley, but Wilson works.

8:45: The Denver Broncos select DE Tim Crowder. Another defensive end? Puzzling, but I prefer Mike Shanahan's strategy of drafting as many defensive ends as possible over Andy Reid's plan to load his roster with quarterbacks.

8:46: Eagles are up. Trent Edwards is coming off the board. Mark my words. But seriously, I could see them taking Marcus McCauley here. That would save them from a first-day F grade.

8:48: The Philadelphia Eagles select DE Victor Abiamiri. Defensive end is a need, but not as much as safety or corner. But Victor Abiamiri wasn't the best player available. Someone must have put something in one of Andy Reid's 545 cheese steaks.

8:55: The Detroit Lions select DE Ikaika Alama-Francis. No need to trade up for him, Matt Millen. I guess Millen escaped from the broom closet the fans locked him in when the Lions took Calvin Johnson and Drew Stanton.

8:57: Did anyone else see Jamie Dukes' rant on the NFL Network? It's a good thing I didn't have 3D glasses, or else it would have looked like he was coming to eat me. I'm just kidding around. I like Dukes. (This is an obvious attempt to get Dukes not to devour me). But no, seriously, Dukes is a good analyst. Good as in I'm not tasty. Yep.

8:59: Andy Reid's on ESPN. Andy, they didn't boo the quarterback. The fans booed the pick. And how was he the best player available? What about Zach Miller? Justin Blalock? John Beck? Chris Houston? Tony Ugoh? Sydney Rice? DAVID HARRIS? Justin Durant? Steve Smith? Eric Wright? Brian Leonard? Josh Wilson? Tim Crowder? All were taken after Kolb, the so-called "best player available." Was it just me or did Reid look groggy? Someone definitely slipped a mickey into cheese steak No. 230.

9:03: The Carolina Panthers select C Ryan Kalil. One of today's best draft choices. Incredible.

9:07: The Miami Dolphins select C Samson Satele. A little early for Samson Satele (why does that not surprise me?) But not a bad pick.

9:12: The Detroit Lions select S Gerald Alexander. Gerald Alexander!? The Lions traded up for a guy I had going in the sixth round? That's pretty embarrassing. Millen definitely has nude photos of Floyd Reese.

9:17: The Chicago Bears select DE Dan Bazuin. A little too early and no real need. There were better ends available.

9:19: Oh no, we're going to need another mop before another analyst drowns in a pool of Ron Jaworski's drool.

9:21: Mort's gasping for air. Look at him. This is compelling TV.

9:23 The Green Bay Packers select RB Brandon Jackson. Another reach for the Packers. What an awful day for the Lambeau faithful. The Packers clearly panicked after missing out on Marshawn Lynch.

9:31: The Tampa Bay Buccaneers select Sabby Piscitelli. I interrupt this boring Lovie Smith interview to tell you that the Buccaneers made an OK draft choice. One more round to go -- until we have four more tomorrow!

9:34: The Oakland Raiders select DE Quentin Moses. Offense needed. Not defense. Let's see if the Saints do something better.

9:36: The New Orleans Saints select CB Usama Young. Better corners were available and Usama Young's a bit of a reach. THe Saints did trade down, however, so I can't give them too bad of a grade.

9:41: The Dallas Cowboys select OT James Marten. Nice pick; James Marten should have went in the second.

9:43: First two rounds - 9 hours, 20 minutes. I think I'm developing Carpal Tunnel.

9:45: The Tampa Bay Buccaneers select OLB Quincy Black. Nice linebacker for the Cover-2. Good pick.

9:47: The Arizona Cardinals select ILB Buster Davis. Not an exciting pick but nothing wrong with it.

9:48: I just realized the Raiders have yet to improve their offensive line. JaMarcus Russell should take out a life-insurance policy.

9:50: The Denver Broncos select OT Ryan Harris. Should be able to play right tackle. Will be effective in the zone-blocking scheme, unlike George Foster.

9:52: The Miami Dolphins select RB Lorenzo Booker. Too many other needs for this luxury. Another poor pick by Miami.

9:53: By the way, I like Keyshawn Johnson as an analyst. He's not loyal to anyone, so he can say what he really thinks. The Ted Ginn pick was stupid. Really stupid. Anyone who doesn't admit that it was is obviously biased.

9:55: The Minnesota Vikings select CB Marcus McCauley. He's finally off the board. The Vikings really improved themselves today.

9:58: The Houston Texans select WR Jacoby Jones. Like the Raiders, failed to upgrade their offensive line. I blame it on the Ghost of Charley Casserly.

9:59: The Baltimore Ravens select WR Yamon Figurs. Whoa, way too early for Yamon Figurs. He'll be a nice returner, but Baltimore could have taken him later.

10:00: "I'll take the Adrian Peterson when he was eight." -- Sean Salisbury. Ummm... that's a pretty weird, Michael Jackson-like thing to say, but whatever.

10:03: The Atlanta Falcons select WR Laurent Robinson. Another solid pick by the Falcons. If their quarterback wasn't some alleged dog-slaying, finger-flailing, alleged drug-smuggling, cheap, inaccurate quarterback, I'd like their chances next year.

10:06: The San Francisco 49ers select WR Jason Hill. A quick receiver that Alex Smith needs. Great pick.

10:08: The Pittsburgh Steelers select TE Matt Spaeth. Huh? You can clearly tell Bill Cowher's gone by the moves the Steelers have made today.

10:12: The Green Bay Packers select WR James Jones. Reach. Again. F. Next.

10:15: The Jacksonville Jaguars select WR Mike Walker. The guy the Packers should have taken. What is Green Bay doing?

10:18: The Tennessee Titans select WR Paul Williams. Two rounds too late for a receiver. Robert Meachem should have been the guy.

10:22: The New York Giants select DT Jay Alford. I owe Fred a beer. He bet me that Jay Alford would go in the third round. I said he'd go in the fourth. Alford's a nice player, but why haven't the Giants upgraded the offensive tackle position? Jerry Reese is obviously possessed by Charley Casserly.

10:25: The Kansas City Chiefs select DT Tank Tyler. Another defensive tackle? Am I missing something here? Did Willie Roaf and Will Shields really retire, or was it all just a ruse? Maybe Chiefs GM Carl Peterson was too busy watching Herm Edwards motivational tapes to notice.

10:28: The Carolina Panthers select DE Charles Johnson. How many great picks can the Panthers possibly have? I feel sorry for all Saints, Falcons and Buccaneers fans.

10:31: The St. Louis Rams select CB Jonathan Wade. Another solid player for the Rams, but they have yet to upgrade the defensive tackle position. This is a huge mistake, as Shaun Alexander and Frank Gore will both trample St. Louis' pathetic front.

10:34: The Seattle Seahawks select DT Brandon Mebane. I can't think of anything to say.

10:35: Jacksonville should take Trent Edwards before Andy Reid scoops up the "best player available."

10:37: Baltimore just moved up. Here comes Edwards.

10:39: The Baltimore Ravens select G Marshal Yanda. The Ravens traded up for Marshal Yanda!?!?!?!!?!?!?!?!?!?!?!?!??!

10:40: Best player available: Trent Edwards!

10:41: The Philadelphia Eagles select OLB Stewart Bradley. No Trent Edwards. Guess Stewart Bradley's better than Edwards. Bradley's a decent pick, but the Eagles still haven't done anything to immediately improve their team.

10:44: The New Orleans Saints select G Andy Alleman. A bit early for Andy Alleman, especially with Josh Beekman available, but not a bad choice.

10:48: The Green Bay Packers select S Aaron Rouse. Nice pick, especially because I had him here. Just had to mention that. Thanks for listening.

10:51: The Philadelphia Eagles select RB Tony Hunt. When this pick went down, I was actually on the phone with a fellow Penn State alumnus, who was wondering why the Steelers didn't take Tony Hunt. Well, the Eagles finally made a great choice. I've covered Hunt and watch every game he has played in. He will be a great complement to Brian Westbrook.

10:54: The Oakland Raiders select OT Mario Henderson. The Raiders traded up for Mario Henderson? I had him as a fifth-round prospect at best. What about Allen Barbre, Gabe Hall or Doug Free? At least they finally upgraded their offensive line. No more life-insurance policy for JaMarcus Russell.

10:58: The Buffalo Bills select QB Trent Edwards. I can't believe Trent Edwards fell this far. What a great pick. If J.P. Losman doesn't continue to improve, the Bills will have a back-up option.

11:05: The Chicago Bears select RB Garrett Wolfe and MLB Michael Okwo. The Bears got a nice backup for Cedric Benson, but it was a bit early to take Michael Okwo.

11:06: The Indianapolis Colts select CB Daymeion Hughes. How was Daymeion Hughes available? Too many stupid teams like Miami and Green Bay ruining everyone's mock.

11:09: The San Diego Chargers select ILB Anthony Waters. Should help replace Donnie Edwards. Solid pick.

11:10: I just realized that I've been typing this blog for almost 12 hours now. I think my fingers are going to fall off. Seriously. My thumb has dislodged itself from its knuckle. I need to go to the hospital. Please, draft, be over soon.

11:11: The San Francisco 49ers select Ray McDonald. Solid pick for the 49ers. Ray McDonald will bolster a weak 49ers' defensive front. But it won't bolster my thumb, which has bled all over my keyboard.

11:13: The Indianapolis Colts select Quinn Pitcock. Pitcock was supposed to go in the second round. Nice job by the Colts.

11:14: The Oakland Raiders select Johnnie Lee Higgins. Solid move. I considered Johnnie Lee Higgins as Oakland's top pick in this round.

11:20: Oh, look at that. Three more fingers have fallen off. Thanks for tuning into my Third-Annual Live Draft Blog. I'm going to the hospital now, and I plan on taking out a life-insurance policy like JaMarcus Russell. Good night.





2015: Live 2014 NFL Draft Blog - April 30
2015 NFL Week 1 Recap - Sept. 12
2015 NFL Week 2 Recap - Sept. 17
2015 NFL Week 3 Recap - Sept. 24
2015 NFL Week 4 Recap - Oct. 1
2015 NFL Week 5 Recap - Oct. 8
2015 NFL Week 6 Recap - Oct. 15
2015 NFL Week 7 Recap - Oct. 22
2015 NFL Week 8 Recap - Oct. 29
2015 NFL Week 9 Recap - Nov. 5
2015 NFL Week 10 Recap - Nov. 12
2015 NFL Week 11 Recap - Nov. 19
2015 NFL Week 12 Recap - Nov. 26
2015 NFL Week 13 Recap - Dec. 4
2015 NFL Week 14 Recap - Dec. 11
2015 NFL Week 15 Recap - Dec. 18
2015 NFL Week 16 Recap - Dec. 25
2015 NFL Week 17 Recap - Jan. 4
2015 NFL Week 18 Recap - Jan. 11
2015 NFL Week 19 Recap - Jan. 18
2015 NFL Week 20 Recap - Jan. 25
Super Bowl 50 Recap - Feb. 8


2014: Live 2014 NFL Draft Blog - May 8
2014 NFL Week 1 Recap - Sept. 5
2014 NFL Week 2 Recap - Sept. 12
2014 NFL Week 3 Recap - Sept. 19
2014 NFL Week 4 Recap - Sept. 26
2014 NFL Week 5 Recap - Oct. 3
2014 NFL Week 6 Recap - Oct. 10
2014 NFL Week 7 Recap - Oct. 17
2014 NFL Week 8 Recap - Oct. 24
2014 NFL Week 9 Recap - Oct. 31
2014 NFL Week 10 Recap - Nov. 6
2014 NFL Week 11 Recap - Nov. 13
2014 NFL Week 12 Recap - Nov. 20
2014 NFL Week 13 Recap - Nov. 27
2014 NFL Week 14 Recap - Dec. 5
2014 NFL Week 15 Recap - Dec. 12
2014 NFL Week 16 Recap - Dec. 19
2014 NFL Week 17 Recap - Dec. 29
2014 NFL Week 18 Recap - Jan. 4
2014 NFL Week 19 Recap - Jan. 11
2014 NFL Week 20 Recap - Jan. 18
Super Bowl XLIX Live Blog - Feb. 1
Super Bowl XLIX Recap - Feb. 2


2013: Live 2013 NFL Draft Blog - April 26
2013 NFL Week 1 Recap - Sept. 10
2013 NFL Week 2 Recap - Sept. 17
2013 NFL Week 3 Recap - Sept. 24
2013 NFL Week 4 Recap - Oct. 1
2013 NFL Week 5 Recap - Oct. 8
2013 NFL Week 6 Recap - Oct. 15
2013 NFL Week 7 Recap - Oct. 22
2013 NFL Week 8 Recap - Oct. 29
2013 NFL Week 9 Recap - Nov. 4
2013 NFL Week 10 Recap - Nov. 11
2013 NFL Week 11 Recap - Nov. 18
2013 NFL Week 12 Recap - Nov. 25
2013 NFL Week 13 Recap - Dec. 2
2013 NFL Week 14 Recap - Dec. 9
2013 NFL Week 15 Recap - Dec. 16
2013 NFL Week 16 Recap - Dec. 23
2013 NFL Week 17 Recap - Dec. 30
2013 NFL Week 18 Recap - Jan. 6
2013 NFL Week 19 Recap - Jan. 13
2013 NFL Week 20 Recap - Jan. 20
Super Bowl XLVIII Recap - Feb. 3
Super Bowl XLVIII Live Blog - Feb. 2


2012: Live 2012 NFL Draft Blog - April 26
2012 NFL Week 1 Recap - Sept. 10
2012 NFL Week 2 Recap - Sept. 17
2012 NFL Week 3 Recap - Sept. 24
2012 NFL Week 4 Recap - Oct. 1
2012 NFL Week 5 Recap - Oct. 8
2012 NFL Week 6 Recap - Oct. 15
2012 NFL Week 7 Recap - Oct. 22
2012 NFL Week 8 Recap - Oct. 29
2012 NFL Week 9 Recap - Nov. 5
2012 NFL Week 10 Recap - Nov. 12
2012 NFL Week 11 Recap - Nov. 19
2012 NFL Week 12 Recap - Nov. 26
2012 NFL Week 13 Recap - Dec. 3
2012 NFL Week 14 Recap - Dec. 10
2012 NFL Week 15 Recap - Dec. 17
2012 NFL Week 16 Recap - Dec. 24
2012 NFL Week 17 Recap - Dec. 31
2012 NFL Week 18 Recap - Jan. 7
2012 NFL Week 19 Recap - Jan. 14
2012 NFL Week 20 Recap - Jan. 21
Super Bowl XLVII Recap - Feb. 4
Super Bowl XLVII Live Blog - Feb. 4


2011: Live 2011 NFL Draft Blog - April 28
2011 NFL Week 1 Recap - Sept. 12
2011 NFL Week 2 Recap - Sept. 19
2011 NFL Week 3 Recap - Sept. 26
2011 NFL Week 4 Recap - Oct. 3
2011 NFL Week 5 Recap - Oct. 10
2011 NFL Week 6 Recap - Oct. 17
2011 NFL Week 7 Recap - Oct. 24
2011 NFL Week 8 Recap - Oct. 31
2011 NFL Week 9 Recap - Nov. 7
2011 NFL Week 10 Recap - Nov. 14
2011 NFL Week 11 Recap - Nov. 21
2011 NFL Week 12 Recap - Nov. 28
2011 NFL Week 13 Recap - Dec. 5
2011 NFL Week 14 Recap - Dec. 12
2011 NFL Week 15 Recap - Dec. 19
2011 NFL Week 16 Recap - Dec. 26
2011 NFL Week 17 Recap - Jan. 2
2011 NFL Week 18 Recap - Jan. 9
2011 NFL Week 19 Recap - Jan. 16
2011 NFL Week 20 Recap - Jan. 23
Super Bowl XLVI Live Blog - Feb. 6


2010: Live 2010 NFL Draft Blog - April 22
2010 Hall of Fame Game Live Blog - Aug. 8
2010 NFL Kickoff Live Blog - Sept. 9
2010 NFL Week 1 Review - Sept. 13
2010 NFL Week 2 Review - Sept. 20
2010 NFL Week 3 Review - Sept. 27
2010 NFL Week 4 Review - Oct. 4
2010 NFL Week 5 Review - Oct. 11
2010 NFL Week 6 Review - Oct. 18
2010 NFL Week 7 Review - Oct. 25
2010 NFL Week 8 Review - Nov. 1
2010 NFL Week 9 Review - Nov. 8
2010 NFL Week 10 Review - Nov. 15
2010 NFL Week 11 Review - Nov. 22
2010 NFL Week 12 Review - Nov. 29
2010 NFL Week 13 Review - Dec. 6
2010 NFL Week 14 Review - Dec. 13
2010 NFL Week 15 Review - Dec. 20
2010 NFL Week 16 Review - Dec. 27
2010 NFL Week 17 Review - Jan. 3
2010 NFL Week 18 Review - Jan. 10
2010 NFL Week 19 Review - Jan. 17
2010 NFL Week 19 Review - Jan. 24
Super Bowl XLV Live Blog - Feb. 6


2009: Live 2009 NFL Draft Blog - April 25
2009 Hall of Fame Game Live Blog - Aug. 10
2009 NFL Kickoff Live Blog - Sept. 10
2009 NFL Week 1 Review - Sept. 14
2009 NFL Week 2 Review - Sept. 21
2009 NFL Week 3 Review - Sept. 28
2009 NFL Week 4 Review - Oct. 5
2009 NFL Week 5 Review - Oct. 12
2009 NFL Week 6 Review - Oct. 19
2009 NFL Week 7 Review - Oct. 26
2009 NFL Week 8 Review - Nov. 2
2009 NFL Week 9 Review - Nov. 9
2009 NFL Week 10 Review - Nov. 16
2009 NFL Week 11 Review - Nov. 23
2009 NFL Week 12 Review - Nov. 30
2009 NFL Week 13 Review - Dec. 6
2009 NFL Week 14 Review - Dec. 13
2009 NFL Week 15 Review - Dec. 20
2009 NFL Week 16 Review - Dec. 27
2009 NFL Week 17 Review - Jan. 4
2009 NFL Week 18 Review - Jan. 11
2009 NFL Week 19 Review - Jan. 18
2009 NFL Week 20 Review - Jan. 25
Super Bowl XLIV Live Blog - Feb. 7


2008: Live 2008 NFL Draft Blog - April 26
2008 NFL Kickoff Blog - Sept. 4
NFL Week 1 Review - Sept. 8
NFL Week 2 Review - Sept. 15
NFL Week 3 Review - Sept. 22
NFL Week 4 Review - Sept. 29
NFL Week 5 Review - Oct. 6
NFL Week 6 Review - Oct. 13
NFL Week 7 Review - Oct. 20
NFL Week 8 Review - Oct. 27
NFL Week 9 Review - Nov. 3
NFL Week 10 Review - Nov. 10
NFL Week 11 Review - Nov. 17
NFL Week 12 Review - Nov. 24
NFL Week 13 Review - Dec. 1
NFL Week 14 Review - Dec. 8
NFL Week 15 Review - Dec. 15
NFL Week 16 Review - Dec. 22
NFL Week 17 Review - Dec. 29
NFL Wild Card Playoffs Review - Jan. 4
NFL Divisional Playoffs Review - Jan. 11
NFL Championship Sunday Review - Jan. 19
Super Bowl XLIII Live Blog


2007: NFL Draft: Day 1 Review Blog - April 28
Quarterback Rankings - June 25
NFL Kickoff Blog - Sept. 6
Chief Carl Has Lost a Step - Sept. 9
The NFL Cheated the Patriots - Sept. 16
NFL Week 3 Wrap-Up - Sept. 23
NFL Week 4 Wrap-Up - Sept. 30
NFL Week 5 Wrap-Up - Oct. 7
NFL Week 6 Wrap-Up - Oct. 14
NFL Week 7 Wrap-Up - Oct. 21
NFL Week 8 Wrap-Up - Oct. 28
NFL Week 9 Wrap-Up - Nov. 4
NFL Week 10 Wrap-Up - Nov. 11
NFL Week 11 Wrap-Up - Nov. 18
NFL Week 12 Wrap-Up - Nov. 25
NFL Week 13 Wrap-Up - Dec. 2
NFL Week 14 Wrap-Up - Dec. 9
NFL Week 15 Wrap-Up - Dec. 16
NFL Week 16 Wrap-Up - Dec. 23
NFL Week 17 Wrap-Up - Dec. 30
NFL Week 18 Wrap-Up - Jan. 6
NFL Week 19 Wrap-Up - Jan. 13
2008 Championship Sunday Diary - Jan. 20
Super Bowl XLII Live Blog - Feb. 3


---