This is Charlie Campbell's interview with N.C. State quarterback Mike Glennon. Charlie is reporting live from Mobile, Ala., and he'll be posting interviews throughout the week.

If you want to see other 2013 Senior Bowl Reports, click the link.

Follow me @walterfootball for updates, and stay tuned all week for tons of 2013 Senior Bowl coverage.








2013 Senior Bowl Interview: Mike Glennon
By Charlie Campbell -
@draftcampbell
N.C. State quarterback Mike Glennon has enjoyed a big rise to his draft status over the past month. Now, many are projecting him as the second signal-caller selected in the 2013 NFL Draft, and he could go as high as the eighth pick to the Buffalo Bills. The 6-foot-6, 220-pounder has a powerful arm with great height for the NFL. WalterFootball.com caught up with Glennon to find out if any teams were putting in extra time to get to know him early in the draft process.
"I've done brief interviews with all sorts of teams," said Glennon. "There hasn't been that one team that kind of expressed more interest than any other or that spent a lot more time with me than the others."
Glennon completed 58.5 percent of his passes this season for 4,031 yards, 31 touchdowns and 17 interceptions. He played better than his numbers indicate. Glennon took over the reins from future Seahawks quarterback Russell Wilson in 2011 and had a productive season. The first-year starter completed 62 percent of his passes for 3,054 yards with 31 touchdowns and 12 interceptions.
Glennon comes from a pro-style system that has had some correlation to the offense being taught to him by the Oakland Raiders' coaching staff.
"Yes, I ran a West Coast," said Glennon. "It had similar terminology to what we are running here. There are some parts that are a bit different, but there are some words that are exactly same. It definitely makes it easier. Coming from my college offense really prepared me for something like this. It prepared me well for the NFL, and I think it has been a big advantage for me coming from a West Coast offense."
Glennon's collegiate career hasn't exactly mirrored those by other high first-round picks, but he did have a signature win in leading a late-fourth-quarter comeback against an undefeated Florida State team. Glennon completed 30-of-55 passes for 259 yards with two touchdowns and an interception against a Seminoles' defense with a number of NFL talents.
"There aren't many times that you get to go against the No. 3 team in the country and beat them," said Glennon. "It was definitely an exciting game for us to rally back and be able to pull out the win. I'll cherish it the rest of my life."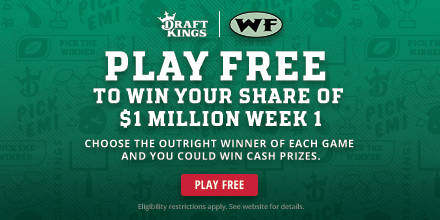 The season didn't end well as Glennon struggled in his bowl game against Vanderbilt. He threw three interceptions and came close to a few more as N.C. State lost 38-24.
"Just things didn't work out as well. I missed a few throws," said Glennon. "Obviously, I would've liked to have played better, but sometimes things like that happen and I'm just looking forward to that new stage."
At the Senior Bowl, sources have told WalterFootball.com that Glennon has been the most impressive quarterback on the North squad over Syracuse's Ryan Nassib and Miami of Ohio's Zach Dysert. Glennon has the strongest arm and best delivery. Playing in an All-Star game can be tough on quarterbacks because they don't have any familiarity with their centers or wide receivers. Glennon hasn't been phased by the pressure of the Senior Bowl and is performing well while getting accustomed to a new set of teammates for a week.
Glennon said: "It is a lot, but that comes with the position. We have a lot on our hands at all times. Like I said, we'll develop the chemistry."
Thus far, however, it doesn't sound like Glennon is working on chemistry with any one NFL team.
2013 NFL Draft Interviews:
Mike Glennon
|
Margus Hunt
|
Lane Johnson
|
Barrett Jones
|
Nick Kasa
|
Brandon McGee
|
Alex Okafor
|
Ryan Otten
2012 NFL Draft Interviews:
Quinton Coples
|
Ladarius Green
|
Luke Kuechly
|
Ronnell Lewis
|
Shea McClellin
|
Marvin McNutt
|
Mohamed Sanu
|
Ryan Tannehill
|
Brandon Thompson
2010 NFL Draft Interviews:
Jimmy Clausen
|
Myron Rolle
NFL Picks
- Oct. 21
2020 NFL Mock Draft
- Oct. 20
2019 NFL Mock Draft
- Oct. 18
Fantasy Football Rankings
- Sept. 5
2019 NBA Mock Draft
- Aug. 13
NFL Power Rankings
- June 3