**** NOTES FOR EVERY GAME WILL BE UP AS SOON AS I WATCH THEM **** Follow me
@walterfootball
for updates.
2018 Preseason Notes:
Week 1
|
Week 2
|
Week 3
|
Week 4
2018 Fantasy Football Stock Pages:
Preseason Stock Week 1
|
Preseason Stock Week 2
|
Preseason Stock Week 3
|
Preseason Stock Week 4
|
Training Camp Stock


Cardinals 24, Chargers 17
Josh Rosen was the final of the five first-round quarterbacks to see action during the 2018 preseason. He wasn't horrible in his debut, but he struggled, especially when compared to Baker Mayfield and Sam Darnold.

Rosen's first pass was a short completion to Christian Kirk, which occurred as Melvin Ingram drilled him. Rosen's initial drive came to a close when he threw too high toward a tight end. His best pass came on his second possession; it was a 21-yarder, and he moved in the pocket while keeping his eyes downfield. However, Rosen then nearly threw a pick-six, but the ball was dropped by Desmond King. Rosen tried to rebound by connecting on a pretty back-shoulder throw to Greg "Mr. Reliable" Little, but replay review ruled it incomplete because Little had just one foot inbounds. Rosen's night came to an end at halftime, but it should've lasted a bit longer; Rosen failed to call timeout when the clock was ticking down, drawing criticism from the Arizona broadcasters, who gave Rosen a "C" for his performance.

Rosen was just 6-of-13 for only 41 yards, and he should've thrown an interception. He struggled, no doubt, but it needs to be noted that the offensive line was woeful. Not only did it block poorly, but Rosen received multiple poor snaps.


Rosen entered the game on the second drive. Sam Bradford played the first possession, "leading" the team into the end zone. I used quotation marks because Bradford completed only one official pass for six yards.

Here were Bradford's targets:

Larry Fitzgerald: 1
Ricky Seals-Jones: 1


This game marked the return of David Johnson, who suffered a season-ending injury in Week 1 of last year. Johnson looked like his usual self, bursting for dual 14-yard gains on his only carries. Rookie Chase Edmonds spelled Johnson after that. The announcers remarked that Edmonds "looked so good in camp." Edmonds, who gained 11 yards on five carries, appeared to be stuffed on a fourth down near the goal line, but somehow squirmed into the end zone, rolling over countless bodies on the ground.


Another Arizona rookie, Christian Kirk, caught two of his three targets for nine yards. He nearly had a highlight to start the game, as it seemed as though he would score on a punt return. Only the punter was in front of him. However, Kirk tripped over his own two feet at the Chargers' 45-yard line.


As for the Chargers, Philip Rivers didn't play. Cardale Jones started instead, and he was mediocre, going 6-of-12 for 50 yards and a dropped interception. Geno Smith was better, but battled Arizona's backups.


Melvin Gordon looked good in his 2018 debut. He gained 16 yards on five carries, but ran with great speed. On one instance, he showed tremendous balance when he spun away from a defender after catching a screen pass. Gordon should have a strong season.


I'm looking forward to seeing how Rivers and Mike Williams work together. That'll have to wait until next week, but Williams saw action in this contest. He caught two passes for 18 yards. He broke some tackles on his second reception.


There were two atrocious helmet-related calls in this game. The first occurred when the Cardinals forced a fumble on a Charger tight end. It was a clean hit, yet it drew the flag. "You couldn't have done it any better," one of the announcers said. This announcer was even angrier in the second half, when a defender kept his head up and hit an offensive player in the shoulder. Once again, there was another 15-yard penalty. The announcer was so irate that he refused to watch the next play; he told his partner that he was too miffed to pay attention to what happened. Please, NFL: Make Football Violent Again.


NFL Preseason Announcers: It's August, which means it's time for more Ron Wolfley! For those unfamiliar with Wolfley, he's the Cardinals' color analyst. He says many crazy things throughout each telecast, and he did not disappoint in this contest. Here's a list of strange things he said:

"Desperation is a wonderful master!"

"You remember the game of Twister!? Red hand, red dot!? He was literally playing Twister there!"

"Hitch up the pants if you know what I mean! Hitch hitch!"

"That was good! Dora! Exploring!"

"This is like eating spicy beef jerky on the porch of your beach house!"

"That guy is a fire hydrant with lips right there!"

"OOOOH BABY, RIGHT IN THE DIAPHRAGM!"

"Bring that big pork to the ground, baby! Bring it out!"

Follow me @walterfootball for updates.













Vikings 42, Broncos 28
Get the ESPN hype machine ready! Minnesota's starting offense was incredibly impressive in its preseason debut against a talented Denver defense, so there will be many talking heads proclaiming that the Vikings should be favored to win the Super Bowl.

Kirk Cousins completed all four of his passes for 42 yards and a touchdown. This was highlighted by a pretty 28-yard fade to Stefon Diggs, setting up a first-and-goal opportunity that Cousins was able to convert with another pass to Diggs. All of this sounds great, but keep in mind that this a small sample size in a preseason game. I'm more interested to see if the ESPN hype propels the Vikings up to -6 for their Week 1 matchup versus San Francisco.

Here were Cousins' targets:

Stefon Diggs: 3 (1 end zone)
C.J. Ham: 1
Latavius Murray: 1


We only saw one drive from the Minnesota offense, but it looked like Kirk Cousins and Stefon Diggs were on the same page in the preseason opener. Diggs caught all three of the passes thrown to him, including a 28-yarder where he made a ridiculous catch. I like Diggs more than Adam Thielen this year; Diggs is more talented, and Cousins and Thielen may not have the same chemistry that Case Keenum and Thielen possessed.


Dalvin Cook sat out, so Latavius Murray started instead. Murray gained 43 yards on just four carries, thanks to a 21-yard burst. Undrafted rookies Roc Thomas and Mike Boone saw action after that. Thomas tallied 29 yards on eight attempts, while Boone mustered 22 yards on 12 carries. Both were also factors in the passing game; Thomas had three receptions for 102 yards and two touchdowns, while Boone caught all three of his targets for 21 yards. Boone had an impressive run where he bounced off a couple of defenders to pick up a first down. He also moved the chains on a 10-yard burst on a draw. The announcers mentioned that the Minnesota coaching staff happened to be huge fans of Boone.


While Cousins undoubtedly has Minnesota fans buzzing, Denver supporters might be worried about what they saw from the starting offense. The first-stringers failed to secure a single first down.

Case Keenum completed his initial pass, a quick completion to Demaryius Thomas for five yards. Keenum didn't make a connection after that, finishing 1-of-4 for those five yards. That said, as with Cousins, this was a small sample size. Nothing should really be determined from this, and no one in Denver should be panicking right now.

Here were Keenum's targets:

Royce Freeman: 1
Andy Janovich: 1
Courtland Sutton: 1
Demaryius Thomas: 1


Rookie receiver Courtland Sutton caught just one pass for three yards, but the important thing is that he saw a target from Keenum on the opening drive. Sutton will be a fairly large part of Denver's scoring attack this season, and his role will grow exponentially should either Thomas or Emmanuel Sanders suffer an injury.


Devontae Booker started at running back for the Broncos. He gained seven yards on two carries. Rookie Royce Freeman entered on the second drive. His stats look better - four carries, 38 yards, one touchdown - but he battled the backups on most of his snaps. That said, Freeman's touchdown run was a 23-yarder featuring a nice cut.


Let's discuss Denver's backup quarterbacks:

- Paxton Lynch looked predictably awful. He went 6-of-11 for only 24 yards and an interception. His pick was a throw into a tight window, prompting the ball to pop into the air. Lynch also misfired on a pass to a teammate three yards in front of him. His completions were checkdowns. He looks like a horrible bust.

- Chad Kelly, a rookie from 2017, didn't get to play at all last summer because of an injury. Based on how he performed in this contest, he - not Lynch - could be Denver's quarterback of the future.

Kelly was fantastic. Outside of a couple of plays, he was flawless. Kelly finished 14-of-21 for 177 yards, two touchdowns and an interception, and he was as good as those numbers indicate.

Kelly opened his evening by drawing a pass interference on the defense, then connected with a teammate on a 16-yard screen. He found a wide-open receiver for a touchdown on the next drive. The following possession was his best, and it began when he drilled a 20-yarder to his wideout. He then received a poor snap, but collected the ball and threw it away calmly. Kelly responded by firing a laser for another 20-yard gain. He then impressively recognized the blitz and changed the protection, allowing him to scramble for a first down. Kelly followed that up with his second touchdown; he faced down a blitzer and found the open target for a score as he was getting drilled.

Fans were chanting "Kel-ly! Kel-ly!" at this point, but that's when Kelly made his first mistake. He threw an interception, firing a late ball as he stared down his receiver. However, he rebounded by rifling a 19-yard pass on his next throw. He managed to lead the Broncos to the red zone once again, but ran out of time. He was fortunate to have a pick-six dropped, but would've thrown a third touchdown had his teammate not dropped the ball in the end zone.

Kelly was so much better than Lynch. It wasn't even close, and if this continues, the Broncos seriously must think about naming Kelly their No. 2 quarterback over Lynch. If Keenum struggles enough to get benched, Kelly should be the one getting the chance; not Lynch.


This game featured one of those new horrible helmet penalties, as Broncos safety Justin Simmons was flagged for a hit. It didn't look like it would be a foul in the NBA, yet the Broncos were tagged for 15 yards. The NFL is becoming a wussy sport, and Roger Goodell needs to stop this nonsense before he loses even more viewers.


NFL Preseason Announcers: I didn't hear anything wrong outside of one of the color analysts referring to Kirk Cousins as "Kurt Cousins." For those of you who struggle to remember it, it's not Captain Kurt Cousins; it's Captain Kirk Cousins. The more you know.

Follow me @walterfootball for updates.




Raiders 16, Lions 10
Rookies or second-year quarterbacks typically garner all of the attention ahead of a preseason game, but in this case, it was Jon Gruden, who was making his return to the NFL as a head coach. It would be interesting to see how the Raiders' scoring unit looked under the tutelage of Gruden and his new offensive coordinator Greg Olson.

Unfortunately, we don't quite know yet because Derek Carr and the rest of the Oakland starters were on the field for just one drive. Carr completed half of his passes, going 2-of-4 for 11 yards. One incompletion was a downfield bomb to Martavis Bryant, who may have been interfered with. The second was a near-interception. Carr was hit as he threw, so the ball popped into the air. Jordy Nelson, showing his veteran awareness, knocked the ball down before a Lion could snatch it.

It's difficult to discern anything from four passes, but it looks like the Raiders will be attacking downfield more often this year. Carr was injured for most of 2017, so that'll be possible this upcoming season.

Here were Carr's targets:

Martavis Bryant: 1
Jordy Nelson: 2
Griff Whalen: 1


Marshawn Lynch exploded for a 60-yard touchdown run in the first quarter of the preseason opener. He burst through the hole and showed great acceleration. It didn't count, however, because rookie left tackle Kolton Miller was called for a hold. The penalty was legitimate, but Lynch still would've had the gain regardless; the hold was completely unnecessary. Still, the take-away is that Lynch has plenty of explosion and seems like a relatively safe bet to be productive this year.

Meanwhile, Doug Martin also had just one carry, taking it for three yards on the opening series. We'll be able to watch him more next week.


While we didn't see much of Carr, Olson's presence was felt by Connor Cook's performance. Cook is known as the quarterback who bungled a playoff performance in the wake of Carr's injury a couple of seasons ago. He also struggled last summer, losing the backup job to E.J. Manuel. However, Cook looked like a different person in this contest. Showing improved footwork, downfield vision and confidence, Cook was successful in leading multiple scoring drives in this contest. On one occasion, he escaped the pocket, rest, surveyed the field and found Ryan Switzer for a diving touchdown. This improvement isn't too much of a shock, as Olson has turned water into wine on countless occasions throughout his coaching career. He took Josh Freeman to a Pro Bowl and was largely responsible for Jared Goff improving last year, so Cook showing rapid growth is natural. Cook finished 11-of-19 for 141 yards and a touchdown. His numbers could've been better, but one of his receivers dropped a deep pass.


Two young Raider defenders stood out: Cornerback Nick Nelson and linebacker James Cowser. Nelson, in particular, was great; he was chosen in the fourth round, falling because of an injury; he was considered a second-round prospect beforehand. Nelson appears to be completely healthy and ready to bolster Oakland's secondary.


Moving on to the Lions, Matthew Stafford didn't play. Matt Cassel started and looked as awful as usual. Third-stringer Jake Rudock was better, but only by default. The Lions will be in serious trouble should Stafford suffer an injury.


LeGarrette Blount started for the Lions and saw the ball on the first two plays, carrying for four and zero yards. Blount ultimately finished with 21 yards on five attempts. However, if this game was any indication, Blount won't keep the starting job for long.

That's because Kerryon Johnson was spectacular in his preseason debut. He broke countess tackles throughout the evening, gaining 34 yards on seven carries, all while catching four passes for 33 receiving yards. Not included in those numbers is a 57-yard run in the third quarter that was negated by a very questionable holding call by rookie lineman Tyrell Crosby. Had the play stood, Johnson would've accumulated 124 total yards on just 12 touches. If you're looking for the next Alvin Kamara, it could easily be the talented Johnson. Unfortunately, Johnson's ADP isn't nearly as low as Kamara's was last year; his ADP is currently at 6.08, and it'll soar after this performance.


NFL Preseason Announcers: I heard some dire things about Matt Millen's health back in May, so I was glad to see him partake in the Raiders' broadcasting crew along with Rich Gannon as one of the two color analysts. I hope that means he's doing much better. I don't want to make fun of Millen, but he actually said these three things during this telecast, all of which brought back memories:

"He put him on his rear end."
"That was a tough man to bring down."
"That's a big, powerful man."

But with that in mind, I hope Millen is doing much better health-wise, and I think I can say that we all wish him a speedy recovery.

Follow me @walterfootball for updates.




Jets 17, Falcons 0
This game was heavily anticipated because Sam Darnold would be playing extensively. Josh McCown started and was on the field for one drive. Teddy Bridgewater then quarterbacked the team for a couple of possessions. Darnold took the field with 8:41 remaining in the second quarter and played the rest of the way. Based on his debut, Jet fans must be feeling very optimistic right now.

Darnold's first pass was a short toss that didn't go anywhere. However, he converted a third down by hitting his tight end for an 8-yard gain. He dinged his finger on an ensuing scramble, but it was on his non-throwing hand, so he was fine. That was quite apparent on his second possession. He showed some hesitation before hitting a receiver for eight yards, but then got into an unstoppable rhythm. He found tight end Clive Walford for an 18-yard gain, then appeared to fire a touchdown to Charles Johnson, but Johnson dropped the ball. Darnold went back to Johnson, who caught the pass in the end zone this time. However, he was flagged for offensive pass interference. It would've been a shame had Darnold come away with no touchdowns because that pass featured a great fake from Darnold where he looked left to draw the safety away, then came back to Johnson. However, it didn't matter because Darnold came back to Johnson on a third occasion. This time, the touchdown stood.

Darnold didn't do much after that. He was nearly picked on a third down after halftime, though that was because the receiver didn't run the route correctly. Darnold tried to throw a bomb to a running back, but the player didn't see the ball. Darnold's final throw was an accurate one, connecting with a receiver after bootlegging left to move the chains on third down.

Darnold finished 13-of-18 for 98 yards and a touchdown. The YPA doesn't look good, but Darnold performed on a very high level. Todd Bowles must be considering making Darnold his starting quarterback for Week 1, but he'll have several more weeks to decide.


The other major storyline entering this game involved another Jets quarterback, and that would be Teddy Bridgewater. He was set to see his first extensive action since his brutal knee injury two years ago.

Bridgewater entered the game on the second drive. His initial pass was a short, nondescript completion to Robby Anderson. However, he converted a fourth-and-3 to Jermaine Kearse with an accurate hurl. He then found Isaiah Crowell for a touchdown on a short throw, allowing Crowell to power his way into the end zone.

It's impossible to know how Bridgewater really felt, but he looked completely healthy. He finished 7-of-8 for 85 yards and a touchdown, with his sole incompletion being a pass that was too high toward a tight end. The Jets have Darnold as their franchise quarterback of the future, but they also possess a valuable commodity in Bridgewater, who should fetch a nice price from a team whose quarterback suffers an injury in the future.


As for Josh McCown, the veteran spent most of the evening chatting with Darnold and Bridgewater on the sideline. He was on the field for one drive, connecting on his sole attempt for four yards.

Here were McCown's targets:


Neal Sterling: 1


The Jets announcers spent lots of time talking up tight end Neal Sterling during the preseason opener. A 2015 seventh-round pick, Sterling was described as a "matchup nightmare." Sterling certainly looked good, as he caught four of his five targets for 38 yards. With Austin Seferian-Jenkins gone, Sterling definitely has some upside, and you could find worse options in the late rounds of your fantasy draft if you want a backup tight end with upside.


Bilal Powell started at running back for the Jets. He struggled to find running room - six carries, five rushing yards - but managed to catch a 7-yard pass. He eventually gave way to Isaiah Crowell, whose night was cut short because of a concussion.


Jets sixth-round rookie running back Trenton Cannon saw more action than anticipated in the wake of Crowell's concussion. This, however, was not a good thing despite his 31 yards on eight carries because Cannon muffed two punts. He was fortunate that his teammates recovered both. The Jets can't have any sort of confidence in Cannon as a punt returner.


There isn't really much to say about the Falcons. Neither Julio Jones nor Devonta Freeman played. Matt Ryan took the field, but threw one pass, which was a loss of two yards. I'm not sure why Ryan even suited up, but it's not like the Falcons put him in any danger.

Here were Ryan's targets:


Calvin Ridley: 1


First-round rookie Calvin Ridley caught Matt Ryan's lone pass. Ryan tried to set up a receiver screen to Ridley, but Buster Skrine blew up the play, tackling the former Alabama wideout two yards behind the line of scrimmage. That was Ridley's only target of the night.


NFL Preseason Announcers: There was nothing wrong with the Jets' professional broadcasting team. However, one camera person captured this: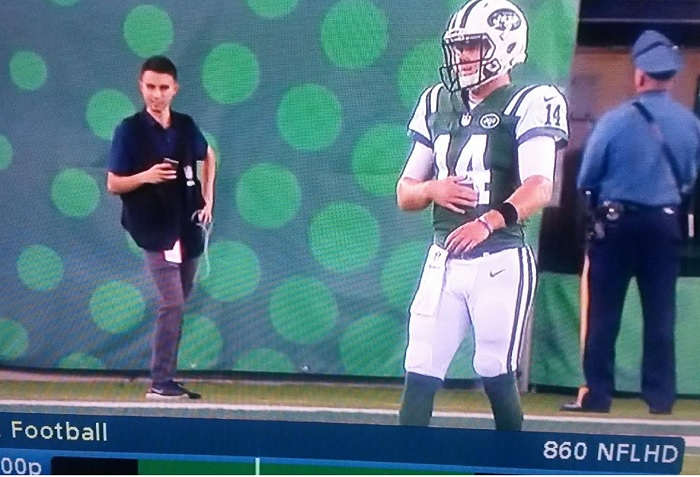 Who the hell is that creepy guy, and why is he staring at Darnold that way? And why is that cop not doing anything about him!?

Follow me @walterfootball for updates.









Texans 17, Chiefs 10
This was one of the more anticipated Week 1 preseason games from Thursday night, as two second-year quarterbacks, Deshaun Watson and Patrick Mahomes, would be squaring off. Mahomes was on the field more than Watson, so let's begin with him.

Mahomes played two drives, and he went 5-of-7 for 33 yards. He began by connecting with Travis Kelce for a 14-yard dart off a play-action fake. The rest of his completions were of the short variety, though he took a 20-yard shot to Kelce on his second possession. Mahomes, however, overthrew Kelce for one of his two incompletions. The second misfire was thrown away while under pressure. There was not nearly enough of a sample size to determine anything about Mahomes' fantasy or real-life outlook. To me, it looked like Mahomes was playing it safe in the wake of throwing lots of interceptions in training camp practices, which was a mistake. Alex Smith played it safe, and Andy Reid wanted to move on from him. Mahomes has a cannon for an arm, so he should use it.

Here were Mahomes' targets:

Tyreek Hill: 2
Kareem Hunt: 1
Travis Kelce: 3


In addition to Kelce, Kareem Hunt, Tyreek Hill all played two drives. All three players touched the ball exactly twice. It seemed as though new offensive coordinator Eric "sleeping with" Bieniemy was focused on getting everyone involved in the early stages of the game. Hopefully he's not as predictable during the regular season.


Of Kansas City's backup quarterbacks, rookie Chase Litton was most impressive, and it wasn't close. The undrafted rookie looked like a mid-round pick at the very worst, as he played one drive and looked great. Litton showed off some impressive arm strength and went through his progressions. He was accurate for the most part as well. He converted a whopping four third downs on his sole drive. The first occurred when he fit the ball through a tight window on a third-and-8. Another was a 16-yard deep out to Byron Pringle, which was a very impressive throw. The final one was a scramble on a third-and-7. Litton led the Chiefs down to the goal line, but they couldn't punch the ball into the end zone. Litton seemed to hit a backup tight end for a touchdown, but a defender made a nice play to knock the ball away.

Litton's final numbers - 7-of-13, 66 yards - don't look great, but he played much better than the stats indicate. Two of his misfires were dropped, and he managed to draw a pass interference in the end zone, so his stat line could've been much better. Litton looked like a third-round pick at the very least, and the Chiefs absolutely need to consider giving him a chance to unseat the pedestrian Chad Henne and the anemic Matt McGloin behind Mahomes.


Speaking of young quarterbacks, Watson played just one drive. We didn't get to see much of him at all, as he threw just one pass, a 4-yard connection.

Here were Watson's targets:

Bruce Ellington: 1



The Texans are down on Lamar Miller, but he looked good on the opening drive. He had a nice run of 19 yards on his second scamper, though he was later stuffed on a third-and-1 attempt. There might be some hype for Miller after this, but keep in mind that Houston's coaching staff doesn't believe Miller can handle a full workload throughout the season.


Rookie tight end Jordan Akins started with the first-string offense. He obviously didn't catch anything from Watson, but he hauled in two touchdowns when backup quarterback Brandon Weeden was in the game. I'm looking forward to seeing what Akins can do with Watson throwing the ball to him.


NFL Preseason Announcers: Did you know there's an NFL official named Jerome Bogerts? "You mean Jerome Boger, Walt?" I'm sure you're asking. Nope. Jerome Boger apparently changed his name, according to the Chiefs broadcast:




Where the hell did they get Bogerts from? Bogerts sounds like something from Harry Potter. "Oy, 'Arry, you gotta mix the Bogerts with the dingleberry weed to make a sillypuss potion!"

Follow me @walterfootball for updates.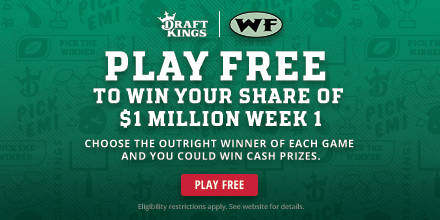 Patriots 26, Redskins 17
The major news concerning the Patriots-Redskins preseason game was Derrius Guice's injury. The second-round rookie sprained his MCL on a run at the end of the opening quarter. It sounds like he'll be ready for Week 1, which is obviously good news. Prior to the injury - which was not announced by the Patriots' broadcast network, by the way - Guice had a strong showing. He gained 19 yards on six carries, but also had a 33-yard scamper negated by a hold. It was a shame, as it was a great run. He used a stiff-arm and spin move to seemingly move the Redskins into the red zone, but the play came back. Guice is well worth it at his third-round ADP.


Outside of Guice, there isn't much else to say about this contest. Both Tom Brady and Alex Smith sat out, so Brian Hoyer was playing against Colt McCoy for most of the opening half. McCoy was the better of the two, as he moved the chains effectively against New England's starting defense. McCoy went 13-of-18 for 189 yards and two touchdowns. He's one of the best backup quarterbacks in the NFL, for what it's worth. Hoyer struggled early, but picked up his play as the evening progressed.


The Patriots have a crowded backfield, so three guys might be fighting for one or two jobs. The only runners to get carries in this contest were Jeremy Hill, Mike Gillsilee and undrafted rookie Ralph Webb. Hill gained 51 yards and a touchdown on 11 carries. On one play, he used a stiff-arm to get away from a defender to convert a third-and-8. Gillsilee, meanwhile, lost a fumble on a botched exchange with third-string quarterback Danny Etling.

As for Webb, the rookie showed a nice, sudden burst, and the Patriot announcers said that he reminded them of Dion Lewis. Webb dropped a pass, but that was his sole gaffe of the evening. He broke a tackle to pick up six yards on a run, then later made a nice catch on a low throw to score on a two-point conversion. Webb finished with 14 carries, 46 yards and two touchdowns.


Patriots seventh-round rookie quarterback Danny Etling made his pro debut. Unfortunately, we didn't get to see much of him. He played half of the fourth quarter and threw just three passes, completing one of them for 18 yards. He had one poor throw, which was a heave over his receiver's head.


Speaking of rookies, Redskins nose tackle Tim Settle had a nice showing. He was a force in the interior of the line of scrimmage, winning in the trenches by pushing back opposing offensive linemen. He also recovered a fumble.


NFL Preseason Announcers: The Patriots broadcast network had the corniest opener ever, mimicking the Saturday Night Live introduction. We got a "Live from New England, iiit's Patriots fooootball!" They then showed clips of people walking in Foxborough, and mixed in announcements like "Featuring Roooob Niiiinkoviiich!" It was bad.

What's worse is that the Patriots broadcast once again had guests from Bob's Discount Furniture. The two furniture salesmen spent some time talking about their favorite Patriot nicknames. I wanted to know why they weren't concentrating on selling dining room tables instead.

Follow me @walterfootball for updates.









Packers 31, Titans 17
Aaron Rodgers didn't play in this game, so let's begin with Tennessee's first-string offense. Marcus Mariota played one drive, and he led the Titans down the field for an easy touchdown drive. Mariota threw just three passes, completing two of them for 42 yards and a touchdown. The lone misfire occurred because Taywan Taylor fell down in the end zone. Despite the small sample size, the Green Bay broadcasting team was impressed, citing that some of the formations and plays "looked like it came out of the Patriots playbook."

Here were Mariota's targets:

Darius Jennings: 1
Taywan Taylor: 1 (1 end zone)
Nick Williams: 1


Derrick Henry took the first two carries in this game, then Dion Lewis was given an opportunity. Henry and Lewis had three and two attempts for 11 and eight yards, respectively. I expect the two to split the workload almost evenly, perhaps with a 55-45 edge to Henry.


There are some fantasy analysts hyping up 2017 third-round receiver Taywan Taylor because he's been running with the first-string offense in training camp. I would prefer to stay away, as the fifth option (Corey Davis, Delanie Walker, Rishard Matthews, Dion Lewis being the four ahead of him) in a run-heavy attack doesn't sound very appealing to me. Taylor, as mentioned earlier, fell down in the end zone on Mariota's lone drive. Taylor caught one ball for nine yards in this contest.


Titans rookie quarterback Luke Falk played most of the second half, but had his share of struggles. He barely completed half of his passes - 10-of-19 - despite throwing lots of checkdowns. His yardage total was somewhat high (105), but it's worth noting that two of his longer gains were short tosses that his receivers turned into long gains. For example, a 20-yard reception came on a bubble screen. He took some deep shots, but one pass was way underthrown. There were also some helpless fades thrown into the end zone. He had a receiver open for a touchdown, but missed him, though he managed to throw a scoring toss on the next play to someone else who was open.

The silver lining is that Falk had one very good throw when he placed some nice touch to Deontay Burnett along the sideline. However, it wasn't enough to dispel the belief that Falk won't be anything but practice squad fodder in the pros.


Another Titans rookie, Akrum Wadley, saw lots of work in the second half. He gained 27 yards on nine carries and made a nice return on a kickoff to the Green Bay 40-yard line, but lost a fumble when the ball was punched out by a defender on an inside carry.


As mentioned, Rodgers sat out. Brett Hundley drew the start and went 9-of-14 for 108 yards, one touchdown and an interception. He should've thrown a second score, but a receiver dropped the ball in the end zone. Hundley's best pass was a 43-yarder when he hit Davante Adams in stride, as Adams was able to beat Malcolm Butler. Hundley's pick occurred when he was hit, prompting the ball to pop into the air and into the arms of a Tennessee linebacker.


Jamaal Williams was Green Bay's starting running back, to no surprise. Williams didn't do much on the ground - five carries, 16 yards - but his best play came on a reception, as he made a nice cut to avoid linebacker Jayon Brown to score a touchdown.


We know who the Packers' top two receivers are. There are five guys competing to be the No. 3 wideout behind Adams and Randall Cobb. Let's discuss them all...

- Geronimo Allison is the incumbent. He played with the first string, catching two passes for 12 yards. He was guilty of a drop as well.

- Fourth-round rookie J'Mon Moore caught three passes for 27 yards. Not shown in the box score is that he drew multiple defensive penalties. He also made an impressive catch on a throw from Hundley near the goal line. The Packer announcers cited that Moore was showing nice adjustment to the football. His one mistake was a drop on a deep ball from fourth-string quarterback Tim Boyle.

- Fifth-round rookie Marquez Valdes-Scantling led the team with five grabs for 101 yards and a touchdown. The score was an impressive catch where he fought the ball away from the defender. He made some other nice receptions, and he's very much in the mix to be the third wideout.

- Sixth-round rookie Equanimeous St. Brown hauled in four passes for 61 yards. He made some impressive receptions, and on one occasion, he made a nice move to avoid a defender to pick up a 28-yard gain.

- Dark-horse candidate Jake Kumerow received praise from Rodgers this week. Those words translated into this performance, as Kumerow logged three receptions for 76 yards and a touchdown. He was targeted in the end zone on multiple occasions, but DeShone Kizer couldn't get the ball to him. Kumerow also drew a defensive hold on the opening drive in the third quarter, then made a nice catch when he boxed out a defender with his 6-foot-4 frame. His touchdown was a 52-yarder on a fade pass. When he scored, Rodgers fist pumped, appearing happy that perhaps "his guy" was doing well.

I really don't know who will win Green Bay's No. 3 receiver job, but it needs to be monitored, as that player will be a factor as a fantasy player because of Rodgers. Right now, it's a tight, five-horse race.


NFL Preseason Announcers: When the color analyst was asked whom he was going to monitor throught the preseason, he had a one-word answer: "Orenburg." Who the hell is Orenburg? I wondered. I scoured the Packer depth chart, but couldn't find Orenburg. It later became apparent that Oreburg was really Oren Burks. I nearly had a mental breakdown because I couldn't figure out who Orenburg was.

Play-by-play guy Kevin Harlan had a great gem when describing Blaine Gabbert on one pass: "Goood time. Baaaad throw."

Follow me @walterfootball for updates.




Steelers 31, Eagles 14
Neither of the starting quarterbacks played in this game. Nick Foles sat out as well. It was Nate Sudfeld for the Eagles versus Landry Jones for the Steelers in what was a thrilling exhibition football matchup. OK, maybe not.


The most prominent signal-caller on the field was Steelers rookie Mason Rudolph. The Oklahoma State product played the entire second half and had a mostly positive performance. He went 7-of-12 for 101 yards, leading multiple scoring drives.

Things didn't begin all that well for Rudolph, as a short pass of his was dropped on his initial possession. However, he managed to locate receiver Damoun Patterson downfield with some nice placement after that. He had a chance to continue the drive, but threw behind a receiver on third-and-3. Rudolph's longest completion came on the next possession, where he took advantage of the Eagles being offside to find James Washington along the sideline. Washington boxed out his defender like a power forward and came down with the ball for a 35-yard gain, setting up a field goal. The two, of course, played together at Oklahoma State, and it was apparent that they had some great chemistry.

Rudolph found Patterson with a nice strike to move into Eagles territory on the next possession, but the drive ended because Rudolph held the ball too long in the pocket and was sacked. The same exact thing happened on Rudolph's fifth and final possession. Overall, Rudolph threw the ball well, but he needs to work on his pocket awareness.

Washington, meanwhile, caught two balls for 44 yards. He made that one nice play, but didn't do much else. Those who say he's a threat to take away JuJu Smith-Schuster's targets are mistaken.


Landry Jones, as mentioned, started this game for the Steelers. He had a nondescript night outside of a 71-yard bomb to Smith-Schuster. Jones caught the Eagles off guard, as Philadelphia jumped offside. Cornerback Rasul Douglas made a terrible play, misjudging the ball on a weak jump. This allowed Smith-Schuster to haul in the pass and score easily. Jones finished 4-of-4 for 83 yards and the score, while Smith-Schuster's touchdown was his only reception of the evening.


With Jones seemingly entrenched as the No. 2 quarterback, and Rudolph showing promise, it appears as though last year's rookie, Josh Dobbs, won't make the 53-man roster. Dobbs struggled in this contest despite going 9-of-13 for 91 yards, one touchdown and an interception. The stats were very misleading. The pick was a horrible, telegraphed throw. Dobbs was very fortunate to get away with two more possible picks, as he telegraphed more throws. One was dropped by an Eagle, while the other was a low throw; otherwise, it would've been intercepted. Dobbs did make a nice touchdown throw to Patterson, who did a backflip in celebration. This prompted predictable boos from the Philadelphia crowd.


Moving on to the Eagles' scrub quarterback, third-stringer Nate Sudfeld played the entire first half. He went 10-of-14 for 140 yards, two touchdowns and two interceptions. He had a poor performance despite the numbers, and the struggles began early when the Steelers baited him into an interception on a trap. He then got Corey Clement blown up on a pass in the flat that took way too long to get there. Sudfeld's second interception was because of a miscommunication, though he did manage to rebound with a touchdown to Shelton Gibson, hitting the receiver in stride on a fade.


Jay Ajayi was given four carries in this contest, and he turned them into 20 yards. He had a 22-yard burst from his own goal line, thanks to some great blocking. Clement, meanwhile, was mixed in on the first few drives. He gained 30 yards on five carries. Clement will have a big year if Ajayi gets hurt.


Rookie tight end Dallas Goedert had some nice moments in his NFL debut, catching four of five targets for 66 yards and a touchdown. His first reception was off a play-action bootleg, as he was able to get wide open for a gain of 26 yards. Goedert made his lone mistake of the night after that, dropping a routine 5-yard reception because he turned his head too soon to begin running. However, Goedert made up for it afterward, scoring a touchdown on a nice adjustment when Nate Sudfeld began scrambling. If Zach Ertz were ever to get injured, the impressive Goedert would likely post TE1-caliber numbers.


There was a scary moment in this game when Sidney Jones seemingly got hurt in the second quarter. The talented corner missed most of his rookie campaign with a torn Achilles, of course, but is expected to be 100 percent this year. He went to one knee in the second frame and grabbed his foot. It sounded like the Eagles announcers feared the worst, but Jones was able to walk off the field on his own power.


I normally don't discuss punters, but the Eagles' new punter, Cameron Johnston, blasted an 81-yard boot at one point. It was an impressive kick to say the least.


NFL Preseason Announcers: Eagles fans are blessed with having Mike Mayock as their color analyst. It was a pleasure listening to Mayock, who needs to be a broadcaster for some network's "A" team. I'd love to see him replace the monotone Troy Aikman on FOX's broadcast, for example. Actually, if he could replace Joe Buck as well, that would be amazing.

Follow me @walterfootball for updates.




Colts 19, Seahawks 17
Andrew Luck threw the ball in live action for the first time since December 2016 in his preseason debut at Seattle. Luck led the Colts on a scoring drive that culminated in a field goal to start the game. He went 6-of-9 for 64 yards. However, Luck threw mostly short passes and didn't put himself in a position where he needed to use his arm strength; even his fourth-down conversion was a short toss to Robert Turbin. There was one exception where Luck tried to complete a pass that needed velocity, but cornerback Justin Coleman broke up a possible completion. I wouldn't hit the panic button on Luck yet, as he may have been just taking it easy in his first return to live action, but I need to see his arm strength at some point this August before I invest a fantasy pick on him in the first eight rounds. It's worth noting, however, that Luck took a hit to the shoulder on a third-down scramble on his second of two possessions, but got up and didn't look like he was in pain at all.

Here were Luck's targets:

Jack Doyle: 1
T.Y. Hilton: 4
Marlon Mack: 2
Chester Rogers: 1
Robert Turbin: 1


T.Y. Hilton saw four targets in two drives from Luck. That's the good news. The bad news is that he and Luck connected once for eight yards. Luck overshot Hilton on one occasion on a roll-out. I wouldn't downgrade Hilton just yet, as this was a small sample size.


Marlon Mack started at running back for the Colts, as expected. Mack was given four carries, but turned those into just nine yards. Anthony Castonzo was not in the lineup because of a hamstring injury, so Mack didn't have ideal blocking in front of him to deal with Bobby Wagner.


The Colts have two rookie running backs on their roster: Nyheim Hines and Jordan Wilkins. Hines is a smaller receiving back, and he served as a return specialist in this contest. Strangely, though, he didn't catch any passes, though he did have three carries for seven yards. Wilkins, meanwhile, mustered 21 yards on six carries, which included a tough conversion on a third-and-1 to seal the victory at the very end. Wilkins has the most potential out of all the Indianapolis backs, so I want to see more of him in the next two weeks.


As for the Seahawks, Russell Wilson led his team to a touchdown on his only drive of the evening. Wilson looked very sharp, completing 4-of-5 passes for 43 yards and a touchdown. He also scrambled twice for 14 rushing yards. It's worth noting that Wilson had more time in the pocket than usual. Whether this was a byproduct of an improved offensive line or a horrific Indianapolis defensive front remains to be seen.

Here were Wilson's targets:

Jaron Brown: 1
Tyler Lockett: 1
Nick Vannett: 3 (1 end zone)


Chris Carson was the starting running back for the Seahawks in the preseason opener, but Rashaad Penny was mixed in throughout the evening, including the opening drive. Carson looked like the better runner, gaining 26 yards on just four carries, while Penny mustered 16 yards on eight tries. Penny is currently being overdrafted at his 5.01 ADP. He could eventually overtake Carson as the starter, but it's Carson's job for now.


With Doug Baldwin out, Russell Wilson targeted tight end Nick Vannett thrice on one drive in Seattle's initial preseason game, connecting twice for 20 yards and a touchdown. Vannett is a good blocker, and now he's showing that he can be a factor in the passing game. If you're looking for a TE2 with upside in the late rounds, definitely consider Vannett.


Seattle seventh-round rookie quarterback Alex McGough played in the second half. He completed 10 of his 13 passes, but didn't have a very good debut. Most of his completions were checkdowns, which would explain his 48 passing yards. He checked down on fourth-and-medium, forcing a field goal. He was nearly intercepted on a throw into heavy traffic. He overthrew a wide-open player for what should've been a 25-yard completion. And on one occasion, he drifted back 20 yards in the pocket to heave a helpless pass downfield that was somehow caught, but was nullified because of offensive pass interference.


NFL Preseason Announcers: Usually, preseason announcers talk up their own players. The Seattle guys did this to the Indianapolis players instead. One of them had this to say: "Jack Doyle is one of the great tight ends in the game." Jack Doyle is a great tight end now? That's like saying these announcers are some of the great broadcasters on TV, but that would be a horrible lie, much like their statement.

Follow me @walterfootball for updates.




Buccaneers 26, Dolphins 24
Ryan Tannehill saw his first action since tearing his ACL last summer. He opened this game with a short completion on a roll out to Kenny Stills. However, he misfired shortly later when he took a deep shot to Danny Amendola. The pass was off the mark and nearly intercepted. He then threw behind Kalen Ballage.

Tannehill finished 4-of-6 for 32 yards. His completions were short, and his misfires were disappointing. We didn't get to see much from Tannehill, however, so we'll have to wait until next week for more volume of work.

Here were Tannehill's targets:

Danny Amendola: 2
Kalen Ballage: 1
Kenyan Drake: 1
Kenny Stills: 2


If DeVante Parker wasn't announced as a starter by the Dolphins' television network, I wouldn't have known he was even on the field. Tannehill didn't target him at all in the preseason debut. It seemed as though Tannehill preferred to throw to Danny Amendola and Kenny Stills instead. I expect Parker to disappoint once again this year.


Running back Kenyan Drake saw most of the first-team work, and he only left the field to take a breather. Drake looked good, rushing for 16 yards on just three carries. His longest gain, a 10-yarder, featured a nice cut on a third-and-11 draw. He followed that up by converting a fourth-and-1 try. Drake seems like a quality pick in Rounds 4-5 of 12-team leagues.


Rookie running back Kalen Ballage had a roller-coaster evening. He was seeing carries on the first drive in relief of Drake, which was a positive sign, though it must be noted that Frank Gore didn't suit up. Ballage showed some good pass-protection skills, allowing Tannehill to take a downfield shot to Danny Amendola. Ballage then turned the corner on the second drive, picking up 14 yards. However, Ballage was guilty of a poor error shortly afterward. He lost a fumble hurdling over a defender in the second quarter. It was a poor decision, and it spoiled what was otherwise a solid outing. Ballage even picked up a first down on a third-and-8 reception. Ballage finished with 37 yards on 10 attempts.


Moving on to the Dolphins, Ryan Fitzpatrick started over Jameis Winston because of Winston's impending three-game suspension. Fitzpatrick looked like he knew what he was doing, going 6-of-8 for 55 yards. One of his incompletions was a near-great catch by Chris Godwin, but the pass was broken up by Dolphins rookie Minkah Fitzaptrick.

Here were Fitzpatrick's targets:

Peyton Barber: 2
Mike Evans: 2
Chris Godwin: 2
DeSean Jackson: 1
Ronald Jones: 1


Winston played after a couple of drives and stayed on the field for the remainder of the opening half. He completed nearly all of his passes, going 11-of-13 for 102 yards. However, it's worth noting that he played with some starters, particularly Cameron Brate, and yet he was going up against Miami's backup defense.


Peyton Barber started at running back over Ronald Jones in the exhibition opener. Barber was better, rushing for 21 yards and a touchdown on just four attempts. Ronald Jones was mixed in, but mustered just nine yards on eight runs. He scored a touchdown, but couldn't do much because of poor blocking. There was one occasion in which he spun out of a Jerome Baker tackle, just to get back to the line of scrimmage. It seems clear that Barber is Tampa's starting running back, though that could change.


NFL Preseason Announcers: The Dolphins broadcasting network paid lots of money for their pre-game introduction, as there were fancy 4D graphics with tons of explosions, rock music and a boxing announcer. It was ridiculous. It's a freaking preseason game, guys. Tone it the hell down.

Perhaps the network heads thought they needed to do this, as the Dolphins' broadcasting team is known for having a group comprised of geriatric former players. That was the case once again, as all three guys in the booth took turns making obscure references from the 60s. The play-by-play guy was confused at one point as well, as he said the following:

"Jameis Winston coming out to quarterback the Dolphins here."

Wow, a trade!? I didn't even have enough time to grade it!

Follow me @walterfootball for updates.




Ravens 33, Rams 7
Joe Flacco played one drive in this contest, which meant that Lamar Jackson would be on the field for the rest of the first half. Jackson struggled mightily in the Hall of Fame Game, so this was his opportunity to bounce back from a poor debut.

Jackson wasn't great in this contest, but he was certainly better in his second preseason game. He began by throwing a bomb to Chris Moore for a gain of 36 yards. Moore was covered, but he was able to snatch a pass over a defender's back. Jackson then scored on the drive, scrambling and eluding defenders to find the end zone. Jackson's next possession culminated in a field goal; it could've been better, but a dropped pass derailed the drive.

Jackson completed mostly short throws after that. Some of his longer completions were really just tosses close to the line of scrimmage that his teammates turned into big gains. Still, this was a marked improvement over what we saw in Canton. The Baltimore announcers praised Jackson for actually throwing a spiral in this contest, which has to be considered a win, given what occurred last week.

Jackson finished 7-of-18 for 119 yards to go along with five scrambles for 21 rushing yards and a score on the ground. Jackson still has plenty to work on - mechanics, accuracy, his tendency to stop looking downfield - but the potential is certainly there.


As for Joe Flacco, he had a nice showing against the Rams. Flacco reportedly worked harder than he has in a long time this offseason, and it was apparent. Flacco was sharp on his sole drive, going 5-of-7 for 71 yards and a touchdown, with one of his incompletions being a drop by Michael Crabtree. Flacco managed to lead his team to a touchdown, as he found someone named Patrick Ricard in the flat for a score.

Here were Flacco's targets:

Buck Allen: 1
John Brown: 1
Michael Crabtree: 3 (1 end zone)
Hayden Hurst: 1
Patrick Ricard: 1


Michael Crabtree led the Ravens starters with three targets in his Baltimore debut, though he caught just one pass for 30 yards. He dropped a ball as well. Still, it's nice for Crabtree's fantasy outlook that Joe Flacco is targeting him more than anyone else.


The Baltimore announcing team hyped up Alex Collins because of Collins' high Pro Football Focus rating, and he didn't disappoint them in his preseason debut. Collins finished with 26 yards on two carries, but had an 8-yard burst negated by a chop block. His big run, a 23-yarder, was aided by nice downfield blocking by rookie tight end Hayden Hurst. Collins' production will see a boost because of Hayden's blocking, so he could be in for a nice season.


The perennially disappointing Breshad Perriman thrived in this contest. He caught three of his four targets for 71 yards and a touchdown. The score was an impressive one, as he leapt high in the end zone over a defender to catch a ball from Robert Griffin late in the fourth quarter.


There's not much to say about the Rams, who didn't play any of their starters. Even middling starters like Cooper Kupp sat out. However, the Rams were flagged for one of those infamous helmet-to-not-head penalties. In this instance, a player was penalized because his helmet hit a Baltimore player's knee. Football will be a complete joke if the NFL insists on flagging these routine, harmless hits, just because they fear greedy lawyers.


NFL Preseason Announcers: I hate when preseason announcers give false information. The play-by-play guy was talking about Ray Lewis and Ed Reed, and he said that Reed could become the third Raven to enter the Hall of Fame next year, and that Lewis was the second. This confused me greatly because I could've sworn that Rod Woodson, Jonathan Ogden and Shannon Sharpe were all in the Hall of Fame. I had to take the time and look this up on Wikipedia to make sure I wasn't going crazy, and I was right. Including Lewis, the Ravens have four Hall of Famers, and Reed would be the fifth. Actually, sixth if you count Deion Sanders' brief tenure. F**k you for wasting my time, play-by-play guy.

Here's something even worse: The Ravens' broadcast was comprised of the play-by-play guy, Brian Billick as the color analyst, and a guy named Gerry Sandusky as the sideline reporter. The play-by-play guy would say, "Joined by Gerry Sandusky, the coach [i.e. Billick], and myself [whatever his name was.]" It sounded like he was saying "Gerry Sandusky, the coach," as in Jerry Sandusky, the coach from Penn State. It was a weird choice of words.

Follow me @walterfootball for updates.




Saints 24, Jaguars 20
Blake Bortles was the only starting quarterback who saw action in this game, and he was on the field for just one drive. Bortles tossed mostly checkdowns, which would explain his pedestrian YPA on his stat line (6-of-9, 53 yards.)

Bortles tried three downfield passes, as the rest of his tosses were checkdowns. The first was nearly caught by Dede Westbrook. The second was a dropped interception in the end zone. The third was a nice connection to Westbrook for a first down in the red zone. Bortles capped off his lone drive with a rushing touchdown on a bootleg.

Here were Bortles' targets:

Marqise Lee: 2 (1 end zone)
Donte Moncrief: 3
James O'Shaughnessy: 1
Dede Westbrook: 3


Donte Moncrief and Dede Westbrook tied for the Jaguar team lead in targets from Bortles with three. We didn't get much of a sample size, but it was evident that Westbrook was the better player on the drive. Westbrook caught three passes for 32 yards, and his lone failed connection with Bortles was a near deep catch in which he couldn't keep his feet inbounds. Moncrief, meanwhile, dropped a pass. Moncrief ended up logging some receptions from Cody Kessler, but he was underwhelming.


Leonard Fournette was given some carries on the opening drive of his preseason debut. He was handed the ball five times, and he turned those opportunities into 24 yards. The Jaguar announcers made sure to point out that Fournette shed some weight and appeared to be in great shape.


Jaguars sixth-round rookie quarterback Tanner Lee saw action in the fourth quarter. He didn't have a good showing, going 4-of-8 for 37 yards. He took two sacks on his first two drop-backs because he held the ball for an eternity. He then overthrew the tall Allen Lazard after making a nice play-action fake. That was followed up by a strip-sack, which the 49ers turned into a touchdown. He was strip-sacked again later on his final drive, but he managed to recover the loose ball. Lee managed to draw a defensive hold, but it wasn't enough, as he came up short in an attempt to win the game at the very end.


Drew Brees sat this game out, but Alvin Kamara, Mark Ingram and Michael Thomas were all on the field. In fact, all three were playing well into the second quarter, which was a curious decision to say the least. Kamara was given the initial touches before Ingram, though Ingram ended up with way more carries (7-3) and yards (23-11). Ingram also scored on the ground. Kamara saw three targets, catching one ball for seven yards. He should've had a better receiving stat line, but Tom Savage overshot him for what should've been a routine completion. Thomas, meanwhile, snatched both of his targets from Savage for 16 yards.


The Saints trailed in this game by the score of 20-10. They were able to win via a comeback, thanks to third-string quarterback Taysom Hill. The former BYU product went 8-of-9 for 72 yards. He didn't look as good as those numbers indicate, as he struggled with his pocket awareness and mostly settled for checkdowns. However, he displayed great scrambling ability, rushing for 52 yards and a touchdown on seven runs.


NFL Preseason Announcers: "Blake Bortles has done a great job of minimizing distractions." The Jaguars color analyst said this, which I found odd because Bortles thought his car was stolen at a party this offseason. I'm not sure how that counts as minimizing distractions.

Also, this has very little to do with the announcers, but I found it odd that Sean Payton was wearing a heavy jacket. It wasn't cold because Jaguars sideline reporter Ashlyn Sullivan was wearing a sleeveless shirt. Plus, weather.com says that it's 72 degrees in Jacksonville as of this writing, and I'm sure it was warmer at kickoff. Perhaps Payton's strange wardrobe choice had something to do with his decision to play Kamara, Ingram and Thomas into the second quarter without Brees.

Follow me @walterfootball for updates.




49ers 24, Cowboys 21
Jimmy Garoppolo and Dak Prescott were on the field for one drive each in this contest. Garoppolo had a mixed performance, as he looked jittery on his initial throws. He fired behind seventh-round rookie Richie James, though James was able to make the catch. Garoppolo then sailed a pass over Marquise Goodwin's head. He then made up for it by finding Goodwin while under pressure for a gain of 17, but then overshot George Kittle down the seam for what should've been a deep completion.

Garoppolo went 3-of-6 for 34 yards. This wasn't a good showing, but it was just one drive. There's no take-away from this performance, given the rust and tiny sample size.

Here were Garoppolo's targets:

Marquise Goodwin: 3
Richie James: 1
George Kittle: 1
Jerick McKinnon: 1


Jerick McKinnon didn't have a very encouraging preseason debut for the 49ers. He was on the field for one drive, but had absolutely no running room. McKinnon was given three carries, but lost four yards in the process. His one positive play was a 7-yard reception on what was Jimmy Garoppolo's final throw. McKinnon is being overdrafted in the second round.


The 49ers suffered multiple injuries to important players in this contest. Second-year defensive end Solomon Thomas took a cleat to the face and was down on the ground for a couple of minutes, but managed to walk off the field. Meanwhile, top backup running back Matt Breida and starting tight end George Kittle both exited with shoulder injuries. Not much is known about these injuries right now, but hopefully they're OK.


Second-round rookie receiver Dante Pettis saw four passes go his way. He managed to haul in just one of those balls, but he made it count. He reeled in a 53-yard reception from C.J. Beathard.


Contrary to Garoppolo, Dak Prescott looked sharp on his single drive. He completed all three of his throws for 39 yards and a touchdown. He also scrambled once for 12 yards. Thirty of his 39 passing yards came on one pass, which was a deep shot to rookie Michael Gallup.

Here were Prescott's targets:

Michael Gallup: 1
Blake Jarwin: 1
Rod Smith: 1


Third-round rookie receiver Michael Gallup has a huge opportunity to make a big splash this year, given the dearth of receiving talent the Cowboys have on their roster. Gallup saw three targets in his preseason debut, though just one from Dak Prescott on the starting quarterback's lone drive. Gallup snatched that target for what turned out to be a 30-yard touchdown. Gallup is worth it at his 13.08 ADP because he could be Dallas' No. 1 receiver.


Ezekiel Elliott didn't play, so Rod Smith started in Dallas' backfield instead. He gained 32 yards on eight carries, thanks to a 15-yard burst. Seventh-round rookie Bo Scarbrough saw action afterward. He rushed for 33 yards and a touchdown on nine carries, most of which came on a 28-yard burst. Scarbrough's big run was impressive, as he broke multiple tackles during the play.


Fifth-round rookie quarterback Mike White went 6-of-12 for 63 yards and an interception, though the pick was a Hail Mary attempt. One of his incompletions was a dropped pass. He made some nice connections, but was guilty of holding the ball too long on a couple of occasions. Still, White didn't look totally lost like some of the other rookie quarterbacks, and he has some potential.


NFL Preseason Announcers: The announcers were clean for the most part, though they once called Dante Pettis "Aldrick Robinson."

Follow me @walterfootball for updates.




Bengals 30, Bears 27
Mitchell Trubisky and the rest of the Chicago starters weren't on the field during the Hall of Fame game. This would be Trubisky's preseason debut as Chicago's starting quarterback for the first time in his career. It was also our initial chance to see him in Matt Nagy's system. Unfortunately, we'll have to wait a bit longer for more extensive action from Trubisky.

Trubisky played just two drives and didn't have access to Jordan Howard or Tarik Cohen. He did, however, have Kevin White at his disposal. He fired a deep shot in White's direction on his initial drive, but overshot him. He then hit White on what should've been a completion, but White dropped the ball. Trubisky tossed a pass in White's direction once more after that, but couldn't connect with the former first-rounder because of heavy pressure. Trubisky threw just two passes otherwise on his two short drives. He saw lots of pressure and couldn't do anything, which would explain his line of 2-of-4 for four yards.

Here were Trubisky's targets:

Trey Burton: 1
Anthony Miller: 1
Kevin White: 3


Kevin White had a rough 2018 debut. He dropped a ball, but was bailed out by a roughing-the-passer penalty, so it technically didn't count. Mitchell Trubisky fired passes thrice in White's direction, but White couldn't come up with a single reception.


New Bears Trey Burton and Anthony Miller saw action in this contest. Both caught a pass for five and minus-1 yards, respectively. We'll get a better look at them in the next couple of weeks.


There's not much else to say about the Bears, so let's move on to the Bengals. Cincinnati's starting offense was responsible for three touchdowns - two for the Bengals and one for the Bears. Chicago's score was a pick-six, which occurred because John Ross fell down. The Bengals otherwise clicked very well, as Dalton finished 6-of-8 for 103 yards, two touchdowns and the pick-six.

Here were Dalton's targets:

Tyler Boyd: 1 (1 end zone)
A.J. Green: 2
Josh Malone: 1
Joe Mixon: 1
John Ross: 3 (1 end zone)


A.J. Green is coming off a down year by his standards, as it was marred with drops and mental errors. He looked like he was in great shape in this contest, catching both of his targets for 48 yards.


John Ross, as mentioned, fell down on a route and was responsible for Dalton's pick-six as a result. Ross, however, made up for it later when he made a nice move on Eddie Jackson to set up a first-and-goal inside the 5-yard line. Dalton looked toward Ross in the end zone right after that, but the two couldn't connect. Dalton hit Tyler Boyd for a score on the next play.


Joe Mixon played just one drive in his 2018 debut, but he made it count. Mixon caught a pass, stiff-armed the first defender, spun away from the second and then ran into the end zone for a 24-yard receiving touchdown. Mixon otherwise rushed for nine yards on three carries. Mixon, who is in great shape, should have a huge year behind an improved offensive line.


NFL Preseason Announcers: The color analyst in this game said "white jersey on black jersey" a couple of times even though the Bears were wearing their usual navy jerseys. He then got a bit excited when the Bengals scored, screaming, "Who do you double team between A.J. Green, John Ross and Tyler Boyd!?" Umm... probably just Green, buddy.

There was also a hilarious moment when the official, a guy I have never seen before, made an error. He had to announce to the crowd, "I'm sorry. I made a mistake. I pointed the wrong way. First down, Chicago." He was understandably showered with a chorus of boos.

Follow me @walterfootball for updates.




Panthers 28, Bills 23
The Bills have what the announcers called a "three-horse race" to see who will be the starting quarterback. Nathan Peterman is the lone signal-caller who was on the team last year, so he drew the start in this contest. A.J. McCarron then played the second quarter, while rookie Josh Allen, chosen seventh overall, played the entire second half.

Allen wowed the crowd on his first throw, which he hurled from his own 20-yard line to Carolina's 25. The receiver caught the ball, but couldn't stay inbounds, though he was close to doing so. The Bills ended up going three-and-out on Allen's opening possession because Allen's second pass was dropped.

Allen's next drive didn't go that well, though he did convert a third-and-4 and then showed some nice touch on a 23-yard completion. The problem was that he panicked on a fourth-down attempt and nearly threw an interception. That lingered into the next possession when Allen misfired a routine pass in the flat. He then nearly hit a receiver for a deep touchdown, but the pass was slightly overthrown. I think a better wideout may have caught the ball.

Allen had a very similar throw a couple of drives later, failing to connect on a bomb. He was then nearly intercepted on a miscommunication. However, he showed off his talent right after that, lofting up a 27-yard completion while falling out of bounds. He followed that up with a short touchdown.

Allen finished 9-of-19 for 116 yards and a touchdown. It was a very mixed performance. His arm strength and mobility (three carries, 29 yards) were very much on display, but his pocket awareness, mechanics and accuracy need to be improved greatly. Allen is a work in progress, but he has the tools to be an outstanding quarterback if he's coached up very well.


Peterman, as mentioned, started for the Bills in this contest. His performance was a far cry from his horrendous showing versus the Chargers last season when he was responsible for five interceptions.

Peterman completed his first six passes and misfired just once throughout the entire evening. That happened to be an interception, but that wasn't his fault because the pick occurred as a result of Chris Ivory dropping the ball. Peterman went 9-of-10 for 119 yards, one touchdown and the interception. He also drew a pass interference flag on a pass to a running back, and he made a deep completion to a receiver that was negated because of offensive pass interference.

Peterman looked like a professional quarterback for a change. As mentioned, he had a long completion nullified. He came back two plays later to convert a touchdown to Kelvin Benjamin on a pretty fade pass. The difference from Peterman in 2017 and 2018 is night and day, and the Buffalo coaching staff needs to be commended for developing him well.

Here were Peterman's targets:

Kelvin Benjamin: 4
Travaris Cadet: 2
Charles Clay: 1
Andre Holmes: 1
Chris Ivory: 2
Marcus Murphy: 1
Rod Streater: 1


The other quarterback, A.J. McCarron, also looked good. McCarron led a touchdown drive, going 7-of-10 for 116 yards. McCarron should probably be the team's starting quarterback until Allen is ready. He has the most experience of all the quarterbacks on the team, and I trust him more than Peterman right now.


Kelvin Benjamin made some nice plays in his preseason debut. He hauled in a diving catch to convert a third-and-5 when Nathan Peterman rolled out of the pocket, under pressure. He then hauled in a deep fade pass for a touchdown. Benjamin caught all four of his targets for 59 yards and the score. Despite some sketchy quarterbacking, Benjamin looks like he's going to have a strong season.


If you checked the box score, you may not have seen LeSean McCoy's name. McCoy sat out. Travaris Cadet and Ivory split touches about evenly until they were taken out of the game.


Moving on to the Panthers, Cam Newton got off to a slow start. He overthrew Greg Olsen twice in the early going, and one of those poor passes featured a dropped interception by safety Jordan Poyer. However, Newton got on track after that. He led a touchdown drive on one of his two possessions, going 6-of-9 for 84 yards. His best pass was a nice back-shoulder completion to Jarius Wright.

Here were Newton's targets:

Alex Armah: 1
Devin Funchess: 1
Christian McCaffrey: 2
D.J. Moore: 2
Greg Olsen: 2
Jarius Wright: 1


Christian McCaffrey nearly committed a mistake on his second carry when he hopped over some bodies at the line of scrimmage. He coughed up the ball, but the Panthers recovered. This almost spoiled a solid performance. McCaffrey opened the evening with a 12-yard reception on the second play of the game, impressively eluding some Buffalo starting defenders. McCaffrey then scored a touchdown, as it was noteworthy that the Panthers used him at the 2-yard line instead of C.J. Anderson.


First-round rookie receiver D.J. Moore played the entire game in his preseason debut. He saw targets from both Cam Newton and the third-string quarterback. Newton threw a pass his way on the opening drive, but Shaq Lawson batted the ball down. Moore then caught an 8-yard pass from Newton, but that was negated by a Devin Funchess hold. Moore made up for it by dodging defenders on a 32-yard gain in the fourth quarter. Moore finished with four catches for 75 yards.


Carolina's other young receiver, 2017 second-rounder Curtis Samuel, played exclusively with the backups in the second half. It's apparent that Moore is ahead of Samuel in the pecking order right now.


NFL Preseason Announcers: One of the announcers called Nathan Peterman the "most-experienced quarterback on the team." I guess McCarron's four years of experience don't mean anything compared to Peterman's one season.

Follow me @walterfootball for updates.




Browns 20, Giants 10
Prior to kickoff, NFL Network said this would be the first time in NFL history that the first- and second-overall picks in the most recent draft would make their pro debuts in a preseason game. I'll discuss both in detail, beginning with the No. 1 overall choice.

Tyrod Taylor started this game and led a touchdown drive on his second possession. Baker Mayfield then took the field with 1:31 remaining in the opening quarter. He threw just one pass on that series, sailing a pass over Darren Fells' head. Fortunately, his second drive was much more eventful. He began by throwing a nice back-shoulder pass to Rashard Higgins. He then converted a third-and-8 by stepping up in the pocket and finding his receiver for a gain of 22.

Mayfield followed up those nice passes with some timely scrambles. He rushed for a first down on third-and-6, making the defense look foolish with some pump fakes. Mayfield always kept his eyes downfield throughout the entire process, which was impressive. Mayfield then ran for another first down on fourth-and-2. The drive concluded with a touchdown throw to David Njoku. Mayfield bought time in the pocket and always kept his eyes downfield, going through his progressions very effectively.

Mayfield's third drive wasn't as successful, though he was able to sidestep a pass-rusher and connect on a 13-yard pass to his receiver. However, he was then jittery in the pocket on one occasion and sailed a ball out of bounds. He should've been flagged for intentional grounding. This was the second time Mayfield looked uncomfortable; on a previous play, he stared down his receiver and was fortunate not to be intercepted.

Following an uneventful three-and-out, Mayfield scrambled under pressure and found rookie receiver Antonio Callaway along the sideline for a catch, but the officials ruled that Callaway was out of bounds. The play was reviewed, and it was turned into a 24-yard completion. Mayfield then fired a strike down the seam for 20 yards and followed that up with a successful sneak on fourth-and-1.

Mayfield's sixth and final drive saw him cap off his night with a 54-yard touchdown, a bullet on a slant to Callaway on a third-and-4. Callaway took it the distance.

Mayfield finished 11-of-20 for 212 yards and two touchdowns. The completion percentage doesn't look ideal, but Mayfield had a great debut. He showed off pocket awareness, accuracy, arm strength and mobility. Cleveland fans must be feeling very optimistic about this performance, and rightfully so.


As well as Mayfield played, he's not going to unseat Tyrod Taylor anytime soon. Taylor had a strong debut, completing all five of his passes for 99 yards and a touchdown. Taylor's best throw was an accurate, downfield ball to Jarvis Landry, who caught the pass despite some great coverage from Janoris Jenkins. Taylor is a professional starting quarterback - something the Browns haven't had in a very long time.

Here were Taylor's targets:

Rashard Higgins: 2
Jarvis Landry: 2
David Njoku: 1


Rashard Higgins created a buzz in training camp, but I wanted to see him translate that to live action. That certainly happened, as Higgins caught four passes for 66 yards in his preseason debut. He saw two targets from Tyrod Taylor, so half of his catches came from each quarterback. The announcers of the Browns-Giants game called Higgins the "master of the back-shoulder throw," as he made multiple such catches. On one instance, Higgins turned Giants cornerback Eli Apple around and caught a back-shoulder pass for a big gain. Higgins may have entered late-round sleeper range, especially in the wake of Josh Gordon's absence.


Speaking of sleeper receivers, fourth-round rookie Antonio Callaway had a nice second-half performance in the exhibition opener. He struggled early, but things turned around for him when he made a great diving catch for a 24-yard gain, which featured him impressively tapping his feet inbounds as he fell out of play. Callaway then scored on a 54-yard slant, breaking away from his defender quite easily. Callaway finished with three catches for 87 yards and a score. Unfortunately, a dark marijuana cloud hangs over him, as he could be suspended because that drug was found in his car.


Carlos Hyde started in Cleveland's backfield, but was given just one carry. He lost a yard on the play. Despite this, his YPC was almost as good as rookie Nick Chubb's. The Georgia product rushed 15 times, but gained only 11 yards in the process. He didn't get much help from his blocking, but it was still a discouraging showing.


The Browns were feisty in this game. Perhaps being on a mission to prove something, two new-comers, Denzel Ward and Jarvis Landry, were whistled for taunting in the first four minutes. It was nice seeing the Browns playing with more swagger, but they need to control themselves. Landry, by the way, caught two balls for 36 yards.


Let's get to the second-overall pick from the 2018 NFL Draft. There isn't nearly as much to analyze about Saquon Barkley because he touched the ball just five times. His first carry was quite the explosion, as he made some defenders miss and then showed some great acceleration with a 39-yard gain. Barkley didn't do much else - he lost two yards on one carry because he had no room behind Ereck Flowers the next time he touched the ball - but he didn't need to. Barkley showed his great play-making ability and should have Giant fans optimistic heading into 2018. Barkley finished with 43 yards on five carries.


Eli Manning played a couple of drives in this game. He completed 4-of-7 passes for 26 yards. Those numbers look poor, but keep in mind that there was a drop from someone named Hunter Sharp. A bit later, backup tight end Rhett Ellison was at fault for an incompletion because he didn't turn his head around. It's also worth noting that Odell Beckham Jr. sat out as a precaution.

Here were Manning's targets:

Rhett Ellison: 1
Hunter Sharp: 2
Sterling Shepard: 2
Jonathan Stewart: 2


The Giants need a quarterback of the future, as it's apparent that Davis Webb stinks. The 2017 third-rounder didn't see action last year when Manning was benched, and it was easy to see why. Webb opened his evening by sailing a routine pass in the flat to Wayne Gallman. He then overthrew Russell Shephard and was lucky to have two possible interceptions dropped. All of that occurred in the opening half, and the poor passes continued to surface in the third quarter when he overthrew what should've been a short completion on third-and-5.

Webb was an abysmal 9-of-22 for 70 yards. He could be surpassed by third-string rookie Kyle Lauletta, who went 7-of-12 for 55 yards. Not included in those numbers was a drawn pass interference on a downfield throw. Lauletta wasn't great, but he did manage to complete a 23-yard pass to Roger Lewis. The rest of his night was nondescript.


NFL Preseason Announcers: The play-by-play guy called Rashard Higgins "Rashad Higgins." That's not a big deal, but this was worse: "Baker Mayfield scrambles for a first down to convert the third down!" The problem? It wasn't a third down! Mayfield did this on fourth down. Way to pay attention to the game!

Follow me @walterfootball for updates.




Ravens 17, Bears 16
Neither Joe Flacco nor Mitchell Trubisky played for their respective teams in the Hall of Fame game. NFL franchises sitting their starters has become a growing trend for this event, so the league needs to consider moving the Hall of Fame game to the first full weekend of the preseason. Another solution is to cancel the Week 1 preseason contests for the teams that play in the Hall of Fame game, as that might give coaches some incentive to play their starters. Instead, Robert Griffin and Gus Edwards lined up in Baltimore's backfield, while the duo of Chase Daniel and Benny Cunningham was the battery in Chicago's.


That said, NFL fans had one major reason to tune into this contest besides the Hall of Famers, and that was Lamar Jackson. The first-round rookie was making his NFL preseason debut, and John Harbaugh said that Jackson would play the entire second half. Harbaugh didn't lie, as Jackson was on the field for the final 30 minutes. Unfortunately, it was an extremely disappointing showing from the Louisville product.

Things didn't begin well for Jackson, who didn't have much time in the pocket because the Bears flooded his backfield with blitzes. This is something Jackson is going to see extensively in the pros until he proves that he can beat the blitz. Jackson didn't really seem to know how to react to Chicago's defense, though that was somewhat understandable, given that this was his first NFL action.

Jackson's first real throw was a misfire, but it was part of a nice touchdown drive where he found fellow rookie Hayden Hurst in the end zone. Things took a turn for the worse after that, however. Jackson fired an interception on a pass he telegraphed. The throw was inaccurate and late, and it never had a chance. On a later drive, he converted a third down with the flick of his wrist, but then fired incomplete on the next third down. The ball was high and wobbly, and the Chicago defender nearly picked it off. Jackson followed that up by taking a bad sack the next time he had possession.

Jackson finished 4-of-10 for only 33 yards, one touchdown and an interception. He showed off his trademark speed by rushing for 25 yards on eight scrambles, but his passing left much to be desired. Jackson was horrible in his debut, holding the ball too long and showing poor accuracy on too many of his throws. He also displayed no answer for the opposing blitz.

I don't want to draw conclusions from one game, so labeling Jackson a bust would be an obvious mistake. At the same time, however, it's not like Jackson was battling real NFL players. He was going up against practice squad scrubs, or as Kenny from our podcast referred to them, "the future mailmen of America." The fact that Jackson was vastly outplayed by Bears' third-string quarterback Tyler Bray is very alarming.


Hayden Hurst, who caught Jackson's sole touchdown, had a nice debut. He caught three passes for 14 yards and a touchdown. The rookie tight end made another impressive reception where he dived and caught the ball, but the play was negated by an illegal procedure.


There aren't any prominent fantasy players worth noting because they all sat out. The one skill player who stood out was Bears seventh-round pick Javon Wims, who made some spectacular catches in the fourth quarter. Wims finished with seven receptions for 89 yards. He could become a decent receiver for Chicago, but it'll take numerous injuries for him to be a factor this year.


Ravens linebacker Kamalei Correa had a great performance. He recorded three sacks, a forced fumble and an interception. Granted, he did this against scrubs, but Correa was a second-round pick from the 2016 NFL Draft, so perhaps he's finally blossoming after struggling in his first two years as a pro.


Another young Raven, Kenny Young, made some nice plays. He showed nice instincts and stuffed a run on fourth down to force a turnover on downs. The fourth-round rookie was impressive and should be able to compete for a healthy amount of snaps.


As for a Chicago defender who impressed, fifth-round rookie Bilal Nichols single-handedly destroyed a Ravens drive by stuffing the run on two consecutive plays.


I'd be remiss if I didn't discuss the new helmet rule. Five penalties were called for players leading with their helmet. All but one of these infractions were completely bogus, as instant replay showed that the players connected to the chest area. There's no way in hell the four hits should've been flagged, yet they were. Those four penalties were aggravating, and they disrupted the flow of the game. The NFL is going to lose more viewership if it insists on proceeding with this horrible rule change. It's just awful, and the product just keeps getting worse. Tony Dungy, a guest in the NBC booth, said that it's impossible to play defense right now, and he's correct. It's also getting increasingly difficult to watch this game that we all love, all because some greedy lawyers want to get paid. It's a damn shame.

Follow me @walterfootball for updates.


2018 Preseason Notes: Week 1 | Week 2 | Week 3 | Week 4
2018 Fantasy Football Stock Pages: Preseason Stock Week 1 | Preseason Stock Week 2 | Preseason Stock Week 3 | Preseason Stock Week 4 | Training Camp Stock







More 2018 Fantasy Football Articles:
Fantasy Football Rankings

2018 Fantasy Football Rankings:
2018 Fantasy Football Rankings: Quarterbacks - 9/5 (Walt)
Chet Gresham's Fantasy Football Quarterback Rankings - 8/29 (Chet)
2018 Fantasy Football Rankings: Running Backs - 9/5 (Walt)
Chet Gresham's Fantasy Football Running Back Rankings - 8/29 (Chet)
2018 Fantasy Football Rankings: Wide Receivers - 9/5 (Walt)
Chet Gresham's Fantasy Football Wide Receiver Rankings - 8/29 (Chet)
2018 Fantasy Football Rankings: Tight Ends - 9/5 (Walt)
Chet Gresham's Fantasy Football Tight End Rankings - 8/29 (Chet)
2018 Fantasy Football Rankings: Kickers - 8/21 (Walt)
2018 Fantasy Football Rankings: Defenses - 8/21 (Walt)
Fantasy Football Rookie Rankings: Dynasty - 8/21 (Walt)
Fantasy Football Rookie Rankings: Dynasty - 5/18 (Chet)



2018 Fantasy Football Mock Drafts:
Fantasy Football Mock Draft - 9/1 (Walt)
Fantasy Football Mock Draft - 8/30 (Walt)
Fantasy Football Mock Draft - 8/27 (Walt)
Fantasy Football PPR Mock Draft - 8/23 (Walt)
Fantasy Football Mock Draft - 8/22 (Walt)
Fantasy Football Mock Draft - 8/16 (Walt)
Fantasy Football PPR Mock Draft - 8/9 (Walt)
Fantasy Football Mock Draft - 8/2 (Walt)
Fantasy Football PPR Mock Draft - 8/1 (Chet)
Fantasy Football PPR Mock Draft - 7/26 (Walt)
Fantasy Football 2-QB Dynasty Draft - 5/25 (Chet)



2018 Fantasy Football Cheat Sheets:
2018 Fantasy Football Cheat Sheet: Top 250 - 9/5 (Walt)
2018 Fantasy Football Cheat Sheet: Top 250 PPR - 9/5 (Walt)
2018 Fantasy Football Cheat Sheet: Top 250 2-QB - 9/5 (Walt)
2018 Fantasy Football Cheat Sheet: Top 250 Touchdown League - 9/5 (Walt)
2018 Fantasy Football Cheat Sheet: Custom - 9/5 (Walt)
2018 Fantasy Football: Dynasty Rankings - 9/5 (Walt)
2018 Fantasy Football Spreadsheets - 9/5 (Walt)

2018 Fantasy Football Articles:
2018 Fantasy Football Stock Report: OTAs, Training Camp - 9/5 (Walt)
2018 Fantasy Football Sleepers - 9/5 (Walt)
2018 Fantasy Football Busts - 9/5 (Walt)
2018 Fantasy Football Mid-Round Values - 9/5 (Walt)
2018 NFL Preseason Game Recaps - 8/31 (Walt)
2018 Fantasy Football Stock Report: Preseason Games - 8/31 (Walt)
2018 Fantasy Football Notes - 8/31 (Chet)
2018 Fantasy Football Quarterback Preseason Targets Tracker - 8/30 (Walt)
2018 Fantasy Football D/ST Drafting - 8/28 (Chet)
2018 Fantasy Football ADP Values: Running Backs - 8/16 (Chet)
2018 Fantasy Football Round-by-Round Strategy Guide - 8/15 (Walt)
2018 Fantasy Football ADP Values: Quarterbacks - 8/15 (Chet)
2018 Fantasy Football Tight Ends to Target - 8/9 (Chet)
2018 Fantasy Football - PPR Draft Strategy: Rounds 1 and 2 - 7/27 (Chet)
2018 Fantasy Football: Doug Baldwin's Value - 7/25 (Chet)
2018 Fantasy Football: Chris Hogan's Value - 7/18 (Chet)
2018 Fantasy Football: Alvin Kamara's Value - 7/16 (Chet)
2018 Fantasy Football Strength of Schedule: Tight Ends - 7/11 (Chet)
2018 Fantasy Football Strength of Schedule: Wide Receivers - 7/6 (Chet)
2018 Fantasy Football Strength of Schedule: Running Backs - 7/5 (Chet)
2018 Fantasy Football Strength of Schedule: Quarterbacks - 7/4 (Chet)
2018 Fantasy Football Tight Ends Better Than ADP - 6/29 (Chet)
2018 Fantasy Football Wide Receivers Better Than ADP - 6/28 (Chet)
2018 Fantasy Football Target Shares - 6/22 (Chet)
2018 Fantasy Football Wide Receiver Points Per Game - 6/13 (Chet)
2018 Fantasy Football Mock Draft Simulator - 6/2
2018 Fantasy Football Value Players - 5/25 (Chet)
2017 Fantasy Football Quarterback Look-Back - 1/28 (Walt)
2018 Fantasy Football: Running Backs with the Most Carries - 1/28 (Walt)






NFL Picks - Oct. 19


2019 NFL Mock Draft - Oct. 18


2020 NFL Mock Draft - Oct. 13


Fantasy Football Rankings - Sept. 5


2019 NBA Mock Draft - Aug. 13


NFL Power Rankings - June 3