NFL Picks (Preseason 2012):
6-9-1 (-$1,440)
NFL Picks (Week 1, 2012):
0-1 (-$2,110)
NFL Picks (2011):
137-133-12 (-$1,925)
NFL Picks (2010):
144-131-8 (+$6,080)
NFL Picks (2009):
151-124-9 (+$3,370)
NFL Picks (2008):
136-125-6 (+$4,330)
If you don't quite understand the line, total or anything else, go to my
Sports Betting FAQ
.
---
Vegas betting action updated Sept. 10, 4:45 p.m. ET. Follow
@walterfootball
for updates.
Go to
Week 1 NFL Picks
- Late Games


Dallas Cowboys (0-0) at New York Giants (0-0)
Line: Giants by 4. Total: 45.5.
Walt's Projected Line (Before Preseason):
Giants -4.5.
Walt's Projected Line (After Preseason ):
.
Wednesday, Sept. 5, 8:30 ET
Discuss Week 1 Games, Talk Trash
The Game. Edge: Giants.

I usually happy at the beginning of the NFL season, but I'm pissed off today. Why? Because this game is on a Wednesday instead of the usual Thursday. Why does this upset me so? Because it just does! And besides, what matters is who caused the change, and that would be Barack Obama.
Look, if the U.S. President wants to make an important speech to alter the commencement of the NFL season, that's fine. I'm not sure what he could possibly say, but if it's something important - like announcing that we are going to war with Canada - then I can totally understand. However, Obama's speech is not any sort of announcement. It's just for his political campaign. I think that's a load of crap. I don't care if a Democrat or Republican does it; moving the beginning of the NFL season is anti-American. In fact, I'd argue that any U.S. President guilty of this should be arrested for treason.
And that brings me to this upcoming election. I wasn't sure whom I was voting for before this, but I'm definitely not backing a traitor to this country. In full disclosure, I didn't vote for Obama back in 2008 for one reason, or rather one word: change. I hate change. It's the worst. Like when I was a kid and my mom changed my sheets, it really sucked because I had to get used to the new ones - and once I finally was, she changed them again! Now that I live on my own, I never change my sheets. Never!
Also, Comcast changed all of my cable channels from the 200s to the 800s last week. For example, ESPN was 202, but now it's 850. I hate this. I keep entering in "202" on my remote, only to get an error message. Why did Comcast have to change? Change is absolutely horrible, and it makes me want to cry.
I don't follow politics, so I don't know what sort of campaign this Matt Romney character is running, but he'll instantly have my vote if he comes out and says, "I guarantee that I won't change anything. Everything will stay exactly the same for the four or eight years I'm in office. I'll even force Comcast to revert back to its previous channels so that ESPN is 202 again. Oh, and I'm not a traitor to this country. I'll never interrupt the NFL, and I also really hate soccer."
Now that's how you win an election. Take note, Barack.
I'll be posting these NFL Picks throughout the day. Follow me at
@walterfootball
for updates.
NEW YORK OFFENSE:
I don't think the Cowboys were too happy when the schedule was released and they saw that they had to battle Eli Manning in the opener. They had seen enough of Manning to close out the year, as he torched their inept secondary in Weeks 14 and 17 for a combined 746 yards, five touchdowns and one interception.
Dallas has tried its best to make sure that doesn't happen again. It spent tons of money on cornerback Brandon Carr and then drafted another one in Morris Claiborne No. 6 overall in the 2012 NFL Draft. However, the Cowboys still haven't done enough to gain an advantage in this matchup. Strong safety Barry Church is a huge liability in coverage. Also, nose tackle Jay Ratliff is out with an ankle injury, so Dallas will be down one of its pass-rushers.
Ratliff will also be missed in terms of run defense. The Giants compiled 204 rushing yards in the two meetings against the Cowboys late last season, so the stud nose tackle's absence will offset the signing of inside linebacker Dan Connor.
DALLAS OFFENSE:
I mentioned the edge that Manning and his receivers have against the Cowboys' secondary, but the greatest mismatch in this contest will occur in the trenches. The interior of Dallas' offensive line is an abomination. It stands no chance against the Giants' ferocious pass rush. New York compiled nine sacks versus Dallas in the two meetings last year, and now the Cowboys' blocking is even worse.
Tony Romo will constantly be under siege. This wouldn't be a huge deal if he had all of his weapons, but that's not the case. Jason Witten is expected to be out with a spleen issue. Miles Austin-Jones may play, but he won't be 100 percent coming off a hamstring injury. Dez Bryant, however, should be in the lineup.
The Cowboys will absolutely have to establish DeMarco Murray to keep the heat off Romo, but that will be difficult for the same reason. Murray simply won't have the running lanes. The Giants limited Dallas to just 46 rushing yards (on 14 carries) in Week 17, so I'd expect something similar.
RECAP:
The home teams have enjoyed a dominant run ever since the NFL started opening the season on Thursday (and now Wednesday) night. Since 2002, the hosts are 9-1 straight up and 6-1-3 against the spread.
I expect those numbers to be 10-1 and 7-1-3 by the time this one is over. The Giants, whose playoff run was no fluke because all of their pass-rushers came back from injury, are a much better team than the banged-up Cowboys. And they're playing with a chip on their shoulder because no one is taking them seriously.
LOCKED IN:
I'm very comfortable with laying four, so I'm willing to place the bet right now before people realize how ridiculous this line is. It should be at least six.
The Psychology. Edge: None.
The Cowboys will be out for revenge, but the Giants may feel disrespected by being only a short favorite.
The Vegas. Edge: Cowboys.
Slight lean on the Giants.
Percentage of money on New York: 61% (73,000 bets)


The Trends. Edge: Cowboys.

History: Giants have won 7 of the last 9 meetings.
Big Dog Dominance: Divisional underdogs of 3.5 points or more are 21-11 ATS on kickoff weekend since 2000.
Tony Romo is 10-5 ATS as a starter in September.
Opening Line: Giants -3.
Opening Total: 47.
Weather: .


Week 1 NFL Pick: Giants 27, Cowboys 17
Giants -4 (3 Units) -- Incorrect; -$330
Under 45.5 (0 Units) -- Correct; $0
Cowboys 24, Giants 17


---



Indianapolis Colts (0-0) at Chicago Bears (0-0)
Line: Bears by 10. Total: 43.
Walt's Projected Line (Before Preseason): Bears -7.5.
Walt's Projected Line (After Preseason ): .
Sunday, Sept. 9, 1:00 ET
Discuss Week 1 Games, Talk Trash

The Game. Edge: Bears.



Regardless of whether the opening game is on a Wednesday or Thursday, I'm thrilled the NFL is back. I've even watched every single preseason game this August. Go here for recaps of all the preseason games.

One issue is that the replacement refs will be officiating these games. If you haven't been paying attention to the preseason, they've been unbelievably awful. I compiled a list of all of the NFL Replacement Officials' screw-ups here.

In case you're ignorant and are thinking, "LOLOLOLOL WALT YOU NEVAR OFFICEEATED A GAME BEFORE YU DONT NOW HOW HARD IT IS!" it's not a matter of these scab refs blowing calls. Half of it is that they don't know the rules or the proper procedures (i.e. block in the back ON THE DEFENSE!). The other half is that they're calling either too many or too few personal foul penalties, meaning an important player could get injured if a latter official is overseeing the game.

As I asked on that page, tweet the NFL Replacement Officials' link out to @nflcommish (Roger Goodell) and the @nflpa (NFL Players' Association) so they can fix this immediately.

INDIANAPOLIS OFFENSE: Andrew Luck made a hell of a debut in the preseason against the Rams. If the Colts even get half as good of a performance out of him in this contest, they should be thrilled because battling the Chicago's stalwart defense is no easy task for a rookie making his first start.

However, Luck is catching a bit of a break here, as Brian Urlacher is battling a knee malady right now. Urlacher told the media that he expects to play, but admitted that he will be restricted in the early portion of the season. That's huge, given that Chicago's stop unit has not been the same without Urlacher over the years. If he's not close to being 100 percent - which sounds like that's the case - then Luck may actually have some success in his real debut.

What figures to hold Luck back this year is his offensive line. It's really bad. The group was terribly abused in the preseason, so it doesn't stand a chance against Julius Peppers and company. The Colts will have to counter with a short, quick passing attack, which will obviously limit their scoring opportunities.

CHICAGO OFFENSE: Jay Cutler and Brandon Marshall have to be thrilled to be reunited with each other. The two should be able to pick up where they left off when they were torching secondaries in Denver.

The Colts were projected to have a brutal defensive backfield going into the season, but that changed when they spent second- and sixth-round picks on Vontae Davis. It'll be interesting to see Marshall and Davis battle each other, given that they were teammates in Miami. As for the rest of the secondary, the starters are pretty decent, but there is no depth.

The Bears may not even have to bother with this because they figure to be able to run the ball quite easily. Nose tackle Antonio Johnson should not be a starter on this level. Chicago's offensive line should be able to push Indianapolis' defensive front around with ease.

RECAP: The Bears are obviously the better team, but that's why they are favored by 9.5 points. The question is whether they'll cover. I don't think they will.

This is a really difficult schedule spot for Chicago. How can the players be focused on this "crappy," non-conference Indianapolis squad when they have to deal with arch-rival Green Bay just four days later?

This got me thinking - how have teams fared as favorites (-3.5 or more) just prior to battling a divisional foe in which they're expected to be an underdog? I looked it up, and it's not pretty - teams in that situation are 59-103 against the spread since 2002 (Weeks 1-15). This makes sense, given that they're bound to be eying their next game. Oh, and if you're wondering, it's 5-9 in Week 1, so yes, teams do look past season openers.

LOCKED IN: I don't anticipate this spread going any higher than 10.


The Psychology. Edge: Colts.


I'd say the Bears will be geared up to put Andrew Luck in his place, but they have a date with the Packers four days later. They could be more focused on that contest.


The Vegas. Edge: Colts.


Slight lean on the Bears.
Percentage of money on Chicago: 65% (91,000 bets)


The Trends. Edge: Colts.

Jay Cutler is 31-47 ATS.
Jay Cutler is 15-23 ATS as a favorite.
Jay Cutler is 3-7 ATS when favored by 7 or more.
Opening Line: Bears -10.
Opening Total: 41.
Weather: .


Week 1 NFL Pick: Bears 24, Colts 20
Colts +10 (3 Units) -- Incorrect; -$330
Over 43 (0 Units) -- Correct; $0
Bears 41, Colts 21






---



Philadelphia Eagles (0-0) at Cleveland Browns (0-0)
Line: Eagles by 8. Total: 43.
Walt's Projected Line (Before Preseason): Eagles -6.5.
Walt's Projected Line (After Preseason ): .
Sunday, Sept. 9, 1:00 ET
Discuss Week 1 Games, Talk Trash

The Game. Edge: Eagles.




In addition to tracking all of the horrible calls this preseason, I also once again noted some of the worst broadcasting moments. Here were the highlights:

1. I absolutely hate the fact that most of the NFL analysts on TV know nothing about fantasy football. Most people watch football for fantasy purposes, so shouldn't these guys at least understand the rules of fantasy football? It was clearly evident that the Bills' announcers had no clue when one of them said this gem in their third game:

"If you had Fred Jackson as your fantasy running back, that was a pretty good drive for you."

Damn it. I benched Jackson this week. In my preseason fantasy football league. Oh wait, I forgot, I don't play preseason fantasy football, and neither does anyone else on this entire planet.

The Bills' broadcasting network also had this hilarious screw-up when flashing the scores from the other games that night: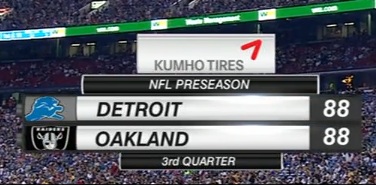 2. The play-by-play guy in the second Broncos' game called Jacob Tamme "Jason Tamme," but the more egregious blunder was the color analyst's "keys to the game," which included "Keep Manning healthy" and "homefield advantage."

Homefield advantage? In the preseason? What the hell does homefield advantage matter in the preseason?

The guy's reasoning for this? "The Broncos need to get back to their winning ways at home." Ah, OK. Much more important than keeping everyone else healthy in a meaningless game.

3. The exchange between the two Cleveland broadcasters prior to kickoff of the finale was highly amusing. Here's what they were talking about:

"I feel like I've been asking you this every week. Who's the backup quarterback!?"

"We don't know yet, but we also have to discover who will be the third-string quarterback!"

One guy has been asking the other who the backup quarterback is every week? Why? Oh, and if you don't trust me, here's a graphic they pulled up right after this conversation: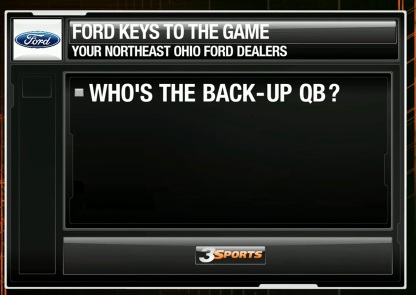 And that is why Preseason Week 4 is utterly worthless.

***

I have to wonder though about that last one - do the Cleveland announcers ever take their home with them? Like, do they ever talk about what they discuss with each other with their wives? I can only imagine if this were the case...

Announcer's Wife: Ohhhh... ohhhhhhhhh... yeaahhhh... yeahhhhh that's it...

Announcer: I need to discuss something with you.

Announcer's Wife: Ohhh... ohhhhhhhh... are you going to tell me how dirty I am?

Announcer: No, I was actually wondering whom you think will win the Browns' backup quarterbacking job.

Announcer's Wife: Umm... what?

Announcer: Oh, and while we're at it, I need to know who the third quarterback will be as well. My partner doesn't know either, and we spent five hours discussing it today.

Announcer's Wife: Get out...

Announcer: But can you tell me first? Will it be Colt McCoy?

Announcer's Wife: I said, get out!

Announcer: Jeez, my broadcasting partner would never treat me like this. That's it, I'm going to his house to discuss the team's backup quarterback. Maybe he's had some new ideas in the couple of hours we've been apart.

PHILADELPHIA OFFENSE: I've spent too much time harping about why the Eagles' quarterback is incredibly overrated this offseason. Everyone always thinks back to that ridiculous Monday night game in which the Redskins quit on the field. QB Eagles No. 7 has not been the same since; his inability to read defenses and recognizes blitzes has been exposed, while his running ability has quietly diminished. In seasons in which he has played 12-plus games, he's never rushed fewer than 100 times - until last season. He scrambled on just 76 occasions. Given that he's 32 and quite fragile, it's understandable why he wants to preserve himself.

The Eagles are not a good team, as their quarterback's regression is one of the major issues. However, that won't matter much in this game because the Browns are atrocious. They were OK on defense last year, but they'll be without top cornerback Joe Haden (drug-related suspension) and stud run-stuffer Phil Taylor (torn pectoral). Several linebackers will be missing as well for various reasons.

Philadelphia simply has too many weapons for Cleveland's skeleton-crew defense to handle.

CLEVELAND OFFENSE: The real reason why the Eagles are overrated is because they have terrible coaching. Juan Castillo is the worst defensive coordinator in the NFL. It's embarrassing that he hasn't been replaced yet. He was able to stay on because of last year's hot finish, but Philadelphia simply beat up on four terrible quarterbacks in Matt Moore, Mark Sanchez, Stephen McGee and Rex Grossman. Whoop-dee-freaking-doo.

You can add Brandon Weeden to the list. He's had a few bright moments in the preseason but has looked sub par overall. Weeden just doesn't have the weapons to be successful. Greg Little drops too many passes; Josh Gordon is too raw; and Trent Richardson figures to be pretty limited coming off a knee scope.

Weeden may not even make it through this game. Philadelphia has an amazing pass rush that will constantly put pressure on him because his offensive line is a joke.

RECAP: I can't see this game being close. The Eagles might be overrated, but the Browns are one of the two worst teams in football. Their front office is in complete disarray, while the talent is alarmingly lacking. Remember how Philadelphia blasted St. Louis in Week 1 last year and then proceeded to struggle versus real competition after that? I expect history to repeat itself.

LOCKED IN: I don't see this spread going down very much, if at all, so I'd like to keep it at -8.


The Psychology. Edge: None.
No psychological edge.


The Vegas. Edge: Browns.



The public is predictably pounding a very public team over a crappy one.
Percentage of money on Philadelphia: 84% (90,000 bets)


The Trends. Edge: Browns.
Eagles are 16-24 ATS vs. AFC opponents since 2001.
Opening Line: Eagles -8.5.
Opening Total: 41.5.
Weather: .


Week 1 NFL Pick: Eagles 31, Browns 13
Eagles -8 (4 Units) -- Incorrect; -$440
Over 43.5 (0 Units) -- Incorrect; $0
Eagles 17, Browns 16






---



Buffalo Bills (0-0) at New York Jets (0-0)
Line: Jets by 3. Total: 40.
Walt's Projected Line (Before Preseason): Jets -3.
Walt's Projected Line (After Preseason ): .
Sunday, Sept. 9, 1:00 ET
Discuss Week 1 Games, Talk Trash

The Game. Edge: Bills.

If you've been reading this Web site for a while, you know that this wasn't the first preseason in which I made fun of the homer announcers. Here are some of my favorite quotes of theirs from over the years:

5. Raiders Announcers in 2010: "The Cowboys call themselves 'America's Team.' Well, the Raiders are the planet's team!"

4. Miami announcers Dick Stockton, Nat Moore and the senile Bob Griese are always good for funny material, and they certainly provided some in their Week 1 contest in 2011. In the first quarter, Griese claimed he didn't know who Ryan Kalil was when Stockton mentioned the Panther center's contract extension. Even worse was this exchange between Stockton and Griese in the second quarter:

Dick Stockton: Get your tickets for the Dolphins-Texans game on Sept. 18!

Bob Griese: What'd you call them? The Texas?

Dick Stockton: The Texans.

Bob Griese: Those are the Dallas Texans?

Dick Stockton: No, those would be the Houston Texans.

Bob Griese: Ohhh...

3. Here's an exchange between Bob Griese and Dick Stockton in 2010. Take a look at how out of it Stockton was:

Griese: When I was playing football, we had one 300-pound lineman in the NFL. One! In 2000, there were 300 300-pound linemen. Guess how many 300-pound linemen there were this year?

Stockton: 85.

Griese: There were 345 guys who were 300 pounds or more!

I don't know what's worse - Stockton's terrible guess or Griese's very questionable fact.

2. Eagles' play-by-play guy Don Tollefson had the following to say about Nnamdi Asomugha in Week 1 of 2011:

I'm sure many young women in the Delaware Valley would love to cook and clean for Nnamdi (Asomugha), but he's so versatile that he could probably cook and clean for them.

A combination of sexism, stupidity and homerism? Only in the preseason.

1. The Eagles Television Network perennially has the worst announcers in the league. I already discussed Don Tollefson in the other capsule. Here are some gaffes from Kevin Reilly, Herm Edwards and Hugh Douglas in 2009:

Reilly always used to make factual mistakes, calling Maurice Jones-Drew "Maurice Drew-Jones;" referring to Torry Holt as "Terry Holt;" and telling the viewers that the Eagles were playing the "Jacksonville Jag-wires." The misinformed Reilly also said of an Eagles player, "He can be big for US this year." Us? Are you on the roster, Kevin?

Edwards and Douglas were just as painful to listen to. On one occasion, Douglas did his best Emmitt Smith impression by saying, "One of things he does that's extremely well, he catches the ball when it's thrown to him." As opposed to catching the ball well when it's not thrown to him?

Another of Douglas' quotes: "You cannot talk about the defense without talking about Michael Vick." Really? I didn't know QB Dog Killer plays on defense.

Herm, meanwhile, was always incoherent. Check out this bit of analysis when he was talking about an illegal contact penalty:

"I'm OK with the first down! I'm OK with the five yards! What I don't like is the first down!"

Two other Herm quotes:

- After a Jason Babin sack: "Here's the key now! Here's the key! Uhh... ummm..."

- After a poor play by QB Dog Killer: "That's good! That's good! That's OK! That's good! That's OK!"

The best part was that Reilly always had hostility toward Herm for some reason. He either disregarded whatever Herm said, or just completely cut him off. Here are some examples:

Herm: This kid... he was at... Missouri... he was a weapon... he...

Reilly: We'll be back after a word from our sponsors!

Another even more blatant instance:

Reilly: What happened there, coach?

Herm: Uhh...

Reilly: We'll be right back after this!

Stay tuned for more Reilly and Tollefson later.

NEW YORK OFFENSE: Or lack thereof. The Jets failed to score a single touchdown in the preseason, which is hardly surprising, given the lack of talent they have on offense. The receivers are terrible; Santonio Holmes is an overrated bum, while Stephen Hill is not ready to start quite yet. Shonn Greene is someone else who shouldn't be in any lineup. The offensive line also stinks, though it looked better when Austin Howard replaced turnstile Wayne Hunter at right tackle two weeks ago. Still though, the jury is still out on Howard, who is just a former undrafted free agent.

Despite what some crazy hate-mailers seem to think - I'll have that posted later - Mark Sanchez also blows. It really boggles my mind how so many people think that Sanchez can be a better option than Tim Tebow. Sanchez is awful. He lost the locker room last December, all while tossing multiple picks to 320-pound nose tackles. Tebow didn't look any better in the preseason, but that's only because it wasn't Tebow Time. Tebow comes through in the fourth quarter of meaningful games. He's never going to shine in the preseason. Expecting him to do that is just incredibly naive.

The point of this is that the Jets won't be able to score very much until Tebow takes the reins in the fourth quarter. Buffalo's bolstered pass rush will be too much for New York's offensive front to handle. Sanchez will be pressured mercilessly, which will result in several turnovers. This will be a blessing in disguise, as it'll just expedite the Tebow process.

BUFFALO OFFENSE: The Bills will also have trouble scoring against a top-10 Jets' defense that should have more success in getting to the quarterback this year. I don't trust Buffalo's front, though it'll be much better than last year's version because everyone is healthy for a change. Center Eric Wood played just nine games in 2011, so the Bills will be happy to have him back.

Chan Gailey will have to keep utilizing his quick, short-passing attack to keep Fitzpatrick from being sacked. Conventional wisdom says that Fitzpatrick won't be able to throw to Steve Johnson, who will be blanketed by Darrelle Revis, but this apparently did not affect him in a Week 12 matchup against the Jets when he went 26-of-39 for 264 yards and three touchdowns. Johnson, by the way, hauled in eight catches for 75 yards and a score in that contest.

The Bills lost that game, 28-24, but didn't have Fred Jackson at their disposal. Jackson suffered a season-ending injury the week before. He would have run well; he gained 82 yards on just 18 carries versus the Jets earlier in Week 9.

RECAP: When this spread opened at -4.5, I planned on betting heavily on the Bills. Unfortunately, the Jets' epically horrific preseason has caused the line to drop to -3, so we've lost tons of value. I still like Buffalo, the unquestionably better team in this matchup, but not nearly as much as I did a month ago.

UNIT CHANGE: I'm moving this to zero units. Steve Johnson's groin injury scares me. If he's ineffective, the Bills won't have their only receiving play-maker.


The Psychology. Edge: None.
No psychological edge.


The Vegas. Edge: Jets.
Why would anyone bet on a team that couldn't score a touchdown in the preseason?
Percentage of money on Buffalo: 60% (93,000 bets)


The Trends. Edge: Jets.
History: Jets have won 7 of the last 8 meetings.
Small Favorite Dominance: Divisional favorites of 1-3 points are 16-6 ATS on kickoff weekend since 2000.
Jets are 7-12 ATS in September home games since 2000 (4-2 since in 2009).
Opening Line: Jets -4.5.
Opening Total: 42.5.
Weather: .


Week 1 NFL Pick: Bills 17, Jets 11
Bills +3 (0 Units) -- Incorrect; $0
Under 40 (0 Units) -- Incorrect; $0
Jets 48, Bills 28






---



Washington Redskins (0-0) at New Orleans Saints (0-0)
Line: Saints by 8. Total: 50.
Walt's Projected Line (Before Preseason): Saints -9.
Walt's Projected Line (After Preseason): .
Sunday, Sept. 9, 1:00 ET
Discuss Week 1 Games, Talk Trash

The Game. Edge: Saints.



If you noticed at the top, I had a pretty brutal preseason. I think it's the worst one I've ever had. I've always been pretty good at picking preseason games because it's always been about betting the coaches who want to win and fading those who don't care, but I don't know what happened this August. It's like everything flipped upside down. Mike Tomlin, who is always a sure bet, went 1-2-1 against the spread in the preseason. Meanwhile, Andy Reid, who usually doesn't give a damn, went 4-0 straight up. Four and f***ing oh. How the hell does that happen? Ugh!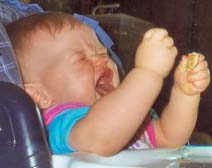 Hopefully I don't have to use that baby picture as much this year. At any rate, I expected to receive hate mail for my lousy preseason, but I didn't get a single negative message. The hate-mailers instead focused on my 2012 NFL Power Rankings, so let's list what they wrote here, as well as my response to each.

From Kim: Pretty silly rankings. And the Jag comment makes you seem like a giant douche.

Thanks! Giant douche was exactly what I was going for.

From Walt Has No Clue: These rankings straight up blow. vikings above the bengals? chiefs above the 49ers? LOLOLOLOLOLOLOLOL. stick to mockdrafts walt, because you suck at power rankings

Because it's completely inconceivable that in the NFL, the American sport that has the most fluctuation out of any other professional league, Team A can't be better than Team B when Team B had the better record the year before. I expect the Bengals and 49ers to regress because they had a tremendous amount of luck last year. It happens. Half the teams that make the playoffs one season don't qualify the next for a reason.

From MarkB: Tebow wins games? That's your take? Bwhahahahaha!

I could have went with "Tebow circumsizes penises" or "Tebow is our lord and savior," but yeah, I went with "Tebow wins games." That's my take, and I'm sticking to it.

From GPS_Flex: What a dillweed. I mean really, you're still posting the phony Bevis and Butthead like Todd Hastings gif and expecting anyone to take you seriously? After the 49ers sat on your face and took a dump in that lax pie hole of yours last year you come up with

Who the hell is Todd Hastings? Are you sure you're not the dillweed?

From Mario: They must be high to rank the 49ers at #12

It's true. I snorted coke prior to compiling my power rankings. I'm sober now, but I still don't understand the issue. Should the Niners be higher or lower? My feeling is that they should be closer to the 15-18 range, but maybe I'm still a little high.

From Eric: More anti-9er bias. Shocker.

Oh, I guess they should be in the top 10. Who knew? But yes, my apologies. I was born and raised in Philadelphia, so I have a natural disdain for all things San Francisco, including the 49ers.

From Tebow: I think what Walt is failing to mention is that his girlfriend is probably a HUGE fan of Tim Tebow and he says half of this just to impress her lol.

No. I'm the HUGE fan of Tebow. My girlfriend doesn't like Tebow.

From John: The 49ers at 12? You know alot about football

OK, I've had enough of this. The 49ers are a good team, but they're not top-10 worthy. Not with that offense. Alex Smith blows and is due for some serious regression this year. Teams have had an entire offseason to study Jim Harbaugh's offense, so they'll be much more effective in terms of stopping Smith. Plus, it doesn't help that Smith has no one to throw to, save for Vernon Davis. Oh, and Frank Gore's legs die on first contact. Plus, the offensive line can't block. Is that enough?

From Twitter: Your Insiders are all twitter aren't they? Yeah, we know. At least admit it. That's the only place you get information. Thumbsdown my comment all you want by the way. Let's me know I'm actually getting to you. Because I should. You have zero journalistic integrity.

All Twitter? Umm... no. There's also Facebook and Myspace. Duh.

From Jordan: To have the bengals at 23 clearly shows that your one of the worst nfl writers in the world. That's just pathetic that you hate on them show much. You gave them no credit on a really good draft and now your trying to say that they are going to be bad cause aj green does a gesture towards dalton? Your just stupid

I'm glad I could cement my status as "one of the worst nfl writers in the world" by placing the Bengals at 23. Do I get some sort of trophy, medal or plaque for this? I sure hope so. I'd hate to see all of my hard, but futile work go to waste.

From Walt Sucks: you actually think walt has a girlfriend? come on. he dreams of tebow running shirtless in the rain every night. great analysis walt. a bunch of poor attempts at humor. you suck

Hey, hey, hey, just because I dream of Tebow running shirtless in the rain every night doesn't mean that I can't have a girlfriend as well.

NEW ORLEANS OFFENSE: I really didn't know what to expect out of the Saints entering the preseason. Would they be dysfunctional in the wake of Bountygate, or would they band together and go into F-U mode in retaliation of Roger Goodell's punishments?

It's too early to tell, obviously, but it appears as though the latter is the case. Drew Brees looked incredibly sharp in the third exhibition game against a top-five Texans' defense. I guess I shouldn't be surprised; Brees is an elite quarterback capable of putting the team on his shoulders and leading the other players through troubling times. If the Saints had an average signal-caller, they'd be screwed. But they'll always have a chance with Brees.

Brees is simply unstoppable in the Superdome. The Redskins have two terrific pass-rushers, but Brees gets rid of the ball so quickly that it won't matter how easily Brian Orakpo and Ryan Kerrigan get past the tackles. Brees will have fun toying with Washington's inept safety tandem of Madieu Williams and Brandon Meriweather.

WASHINGTON OFFENSE: It'll also be interesting watching Robert Griffin in his debut. He has a pretty tough challenge ahead of him; not that the Saints are any good defensively, but because the Superdome will be rocking as always. If he performs well in front of that chaotic crowd, amid all of the mayhem and noise, then that will be a pretty good indication that he'll be a really good starting quarterback in this league.

It helps Griffin's cause that the Saints are missing some key personnel. Will Smith is suspended. Weakside linebacker David Hawthorne's status is in doubt in the wake of meniscus surgery. Middle linebacker Curtis Lofton is also uncertain because of a high ankle sprain. Top backup linebacker Chris Chamberlain is out for the year. New Orleans will have trouble containing Griffin's scrambling ability, which he'll actually utilize now that this is a meaningful game.

The Redskins should be able to establish the run as long as this game is within reach. The Saints ranked 31st versus ground attacks last year, and they certainly won't be better than that without Smith, Hawthorne and Lofton.

RECAP: This is a tough one to call because it's not completely certain how the Saints will perform, but I think they'll be in F-U mode, for reasons discussed earlier. I figure that this is going to be a statement game for them. Plus, how can I possibly bet against New Orleans in the Superdome?

The one thing that would scare me if I wagered on the Saints is a potential backdoor cover. Griffin seems like the type of quarterback who could put together meaningless scoring drives at the very end. Cam Newton did this last year. I think both Griffin and Andrew Luck will be responsible for several backdoor covers this season.


The Psychology. Edge: Unknown.
Will the Saints be out to prove that they can win despite all the suspensions, or will they be completely out of whack?


The Vegas. Edge: Redskins.



People have suddenly jumped on the Saints.
Percentage of money on New Orleans: 82% (105,000 bets)


The Trends. Edge: Saints.
Saints are 22-10 ATS as a home favorite since 2007.
Opening Line: Saints -9.5.
Opening Total: 50.5.
Weather: Dome.


Week 1 NFL Pick: Saints 34, Redskins 24
Saints -8 (0 Units) -- Incorrect; $0
Over 50 (0 Units) -- Correct; $0
Redskins 40, Saints 32






---



New England Patriots (0-0) at Tennessee Titans (0-0)
Line: Patriots by 5. Total: 48.
Walt's Projected Line (Before Preseason): Patriots -4.
Walt's Projected Line (After Preseason): .
Sunday, Sept. 9, 1:00 ET
Discuss Week 1 Games, Talk Trash

The Game. Edge: Patriots.



THE ADVENTURES OF TOM BRADY'S HAIRCUTS

Remember when Tom Brady used to be the most clutch quarterback in the NFL? He had that epic drive against the Rams in the Super Bowl. He then engineered numerous other fourth-quarter comebacks, including one to defeat the Panthers two years later to claim his second Lombardi trophy. After he earned his third, there was a wide-spread belief that he would pass both Joe Montana and Terry Bradshaw and eventually earn five or more total rings.

Well, Brady's been stuck on three. He's no longer clutch; in fact, he often melts down in the fourth quarters of big matchups. He seems to really care about some games - especially those involving Tim Tebow - but then he's so lackadaisical in others.

So, what happened? The obvious answer is his wife. But more specifically, it's the haircuts that his wife forces him into getting. It's unknown to the media, but Brady's haircuts are much more than just silly fashion statements; each haircut gives Brady a new persona.

For instance, the following conversation took place as the Patriots were preparing for the Titans during the week...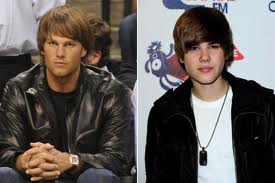 Bill Belichick: Stop practice. Everyone stop practice! Has anyone seen my AA batteries? My batteries are on low and I can't film... God damn it, someone get me some AA batteries right now!

Josh McDaniels: You heard the man! Someone get some AA batteries pronto!

Bill Belichick: What do you mean, "someone?" I meant you, McDouche. What do you think I hired you back for after you ruined Sam Bradford's career?

Josh McDaniels: Oh stop it, you know you love me, BB! It's like good old times again. Me and BB coaching the Pats. We're best friends! Hey let me ask you something though. What's up with Tom? He doesn't seem like himself lately.

Bill Belichick: Ugh. Tom, get over here. And don't start doing any bulls**t sing...

Tom Brady: My money is yours, give you a little more because I love ya, love ya.

Josh McDaniels: What?

Tom Brady: Girl I promise I'll be gentle I know we gotta do it slowly.

Bill Belichick: Jesus f***ing Christ, he won't stop.

Tom Brady: You know you love me, I know you care. Just shout whenever, And I'll be there. You are my love, You are my heart. And we will never ever-ever be apart.

Josh McDaniels: Why is he doing this, BB?

Tom Brady: Chillin' by the fire as we eaten fondue.

Bill Belichick: It's that f***ing homo Justin Bieber haircut. Not that there's anything wrong with that. But yeah, his stupid wife made him look like Justin Bieber this week. At least I hope she did. Any man who chooses to look like a 15-year-old boy has issues.

Josh McDaniels: Agreed. My buzz cut attracts all the ladies.

Bill Belichick: Shut up, McDouche. You attract no one.

Tom Brady: We started out it was perfect. Nothing but fun. And my heart was convinced. To say that you're the one.

Josh McDaniels: Tom, can we go back to practice please?

Tom Brady: See my baby really needs some help cause she can never stay home by herself.

Josh McDaniels: Make him stop, BB, please, make him stop! I want to have a good season. I don't want to be fired and then forced into coaching Sam Bradford again!

Bill Belichick: You're going to be fired if you don't get me my batteries right now, idiot!

NEW ENGLAND OFFENSE: OK, now that I've had some fun with Brady, it's time to actually delve into how he'll perform in this matchup. Brady has not enjoyed a good preseason. Something just seemed off. It could be that Wes Welker was missing. I think it has more to do with the offensive line though. Brady's blocking was abysmal in August.

The Titans finished with the second-fewest sacks (28) in the NFL last year, but they've bolstered their pass rush with the addition of Kamerion Wimbley. Wimbley has looked great this preseason, so he should be able to pressure Brady enough to disrupt the offense just a bit.

Having said that, it's only a matter of time before Brady and his impressive arsenal of weapons begin clicking once again. Everyone on that offense is just too damn talented to be so limited. The Titans can only hope that this occurs next week.

TENNESSEE OFFENSE: The Titans made the right move in going with Jake Locker. Matt Hasselbeck is a decrepit quarterback who is barely functional at this stage of his career. Locker has so much more upside with his arm strength and scrambling ability.

Locker and his solid receiving corps have a nice matchup versus a New England secondary that is still highly questionable. I don't know what the Patriots think they're doing with former Chargers' safety Steve Gregory, but he stinks. Nate Washington and Kendall Wright should often be open downfield. And when they're not? Locker can just scramble to pick up first downs. What he needs to avoid doing is throwing late across his body after moving out of the pocket to his right. He did this twice in the preseason, and it cost him once with an interception.

I feel like Locker may have to do most of the work because I've just about lost all faith in Chris Johnson. He's so tentative, preferring to dance around the line of scrimmage instead of just hitting the hole. His offensive line is not opening up the running lanes it used to, but he has yet to adjust.

RECAP: Everyone and their evil stepmother are on the Patriots. But I'm not. I really like the Titans for a few reasons:

1. Super Bowl losers suck in their first game the following season. They're a ridiculously bad 3-15 against the spread the previous 18 instances. Last year, the Steelers were shockingly blown out by the Ravens.

2. The Patriots aren't as good as everyone thinks they are. They're not 8.5 points better than the Titans (add three to 5.5 to make it go to a neutral field). Their defense stinks, while their offensive line can't block. And Brady just looks off... and I'm not talking about the Bieber haircuts.

3. There's tons of action on New England, yet the line is moving in Tennessee's favor. This means that the books want even more money on the Patriots. Interesting...


The Psychology. Edge: None.
No psychological edge found.


The Vegas. Edge: Titans.



There is so much money coming in on the Patriots, yet the line is shifting toward Tennessee's direction. Hmm...
Percentage of money on New England: 89% (103,000 bets)


The Trends. Edge: Titans.


Super Bowl Loser Syndrome: Super Bowl losers are 3-15 ATS in their first game the following season.
Tom Brady is 135-44 as a starter (104-71 ATS).
Opening Line: Patriots -6.5.
Opening Total: 47.5.
Weather: .


Week 1 NFL Pick: Patriots 23, Titans 22
Titans +5 (3 Units) -- Incorrect; -$330
Under 47 (0 Units) -- Push; $0
Patriots 34, Titans 13


---



Jacksonville Jaguars (0-0) at Minnesota Vikings (0-0)
Line: Vikings by 3.5. Total: 37.5.
Walt's Projected Line (Before Preseason): Vikings -2.5.
Walt's Projected Line (After Preseason ): .
Sunday, Sept. 9, 1:00 ET
Discuss Week 1 Games, Talk Trash

The Game. Edge: Vikings.

College Football Notes - my thoughts on Penn State:

Ohio 24, Penn State 14. Sigh. It's going to be a long decade in Happy Valley, full of two-, one- and even zero-win seasons. Seriously, whom is Penn State going to beat this year besides maybe Navy? Temple? I'm not so sure. The Owls nearly took down the Nittany Lions the past couple of seasons.

Many people have asked me to post my thoughts about the Penn State scandal ever since the Freeh Report was released. Here are some points:

1. I'd say 25 percent of the people glancing at this won't even read it, opting instead to write something in the comment board below like, "I cant beleeve ur defending JOe Potoerno again yu idiot!" or "PennStae desreve what they got the ncaa did the write thing even maybe they shoulda done more!"

This is not a defense of Paterno of any sort; more of an attack on ESPN and the NCAA. If you're sick of the Penn State scandal entirely, like I am, skip ahead to Item No. 7 on this list before reading about this actual NFL game.

2. Penn State sure sucks now that Joe Paterno, the renowned child rapist, is gone. Oh wait, Paterno didn't rape kids, did he? No, he didn't. My bad. I thought I was part of the idiotic 45 percent of the United States' population. Did you know that according to a poll conducted by NewsBusters.org, 45 percent of Americans believe that Joe Paterno was the one raping kids? Click the link to read more about that.

3. The media's (mainly ESPN's) coverage of the Paterno rape scandal - I mean Sandusky rape scandal - has been atrocious. ESPN led a witch hunt against Paterno, and while he did make a terrible mistake if he did, in fact, cover it up, the main focus of this should have been on Sandusky. He's the one who actually raped the kids. Instead, 45 percent of Americans think Paterno did it because of ESPN's ridiculous reporting.

ESPN has made the Freeh Report Paterno's lynching point, but something they'll never tell you is that the Freeh Report is not admissible in court. ESPN will never tell you that there were several errors in the Freeh Report that had to be amended following its release. ESPN will never mention that Louis Freeh never interviewed any of the major players in this scandal. ESPN will never point out that some of Freeh's witnesses weren't referred to by name; they were simply called "janitors" instead. ESPN will never remind us that when Freeh was with the FBI, he was part of major cover-ups in the U.S. Ruby Ridge and Waco cases. Kind of ironic that he "investigated" this cover-up.

The Penn State Board of Trustees paid Freeh to conduct that report so they could be cleared of any wrongdoing. That was the sole purpose behind the Freeh Report. What they didn't anticipate, however, is that the NCAA and the media (and because of the media, the public) would treat the Freeh Report as gospel despite the fact that it has been discredited in the perjury case. But ESPN will never tell you that. The World-Wide Leader has its own agenda.

All of this doesn't change what happened. Kids were raped and people covered it up. It sucks. Did Paterno know everything or at least enough to stop it from happening? Maybe. Probably. If he did, then he deserves to have his name tarnished. But the problem is that no one really knows what happened. People think they know, and many have already formed an unwavering opinion, thanks to ESPN. But if this were a simple criminal case that didn't involve the rape of kids - larceny, for example - then I think more people would have stepped back and actually thought about what was going on instead of automatically vilifying the most public name involved in the scandal. Most homoclitic people just naturally react incoherently to when they hear the words "child rape," and understandably so.

4. Going further with ESPN's incompetence, why isn't anyone talking about the Syracuse rape scandal? Former assistant coach Bernie Fine raped kids. That is a fact. ESPN had a taped phone conversation between Fine's wife and victim, where they both discussed the rape openly. Yet, ESPN covered it up until news broke about this several years later.

So, to recap, some kids were raped and someone covered it up. Why does this sound familiar? ESPN is so hypocritical, and it's sickening that no one is really calling them out for it.

5. I hate what the NCAA did as well. The NCAA opted to punish Penn State after the Freeh Report was released, making the same mistake that the media did in treating it like something that would actually hold up in court. Penn State accepted the punishment for one of two reasons: The school either wanted to avoid a public-relations disaster because ESPN was chomping at the bit (believable since the Board of Trustees paid Freeh tons of money for this report in the first place) or it knew that once the real facts were released, it would make the school look even worse, meaning it would be punished even more harshly.

Whatever the reason may be, the NCAA screwed up because the organization is both dumb and cowardly. It should have either went all in and banned the football team for several years, or just simply wait until the real facts were gathered. They shouldn't have half-a** the punishment. There was no need to do something the instant the Freeh Report was released. So, the public would be pissed, so what? What does that mean if there's a public backlash? People aren't going to stop watching college football games because of this.

The public is irrelevant in this case. ESPN created a mob, and the NCAA succumbed to it because it's run by a bunch of p***sies. It should have waited for all of the facts. If there was indeed a major cover-up, then ban Penn State from the NCAA for the immediate future if you feel that's warranted. Or, if there wasn't as much of a cover-up, don't punish the school as harshly. There was no need to do anything half-a**ed.

6. I really hope that companies don't penalize innocent Penn State alumni. I've heard stories where Penn State students and grads have been rejected from internships and jobs because of their alma mater. I encourage any Penn State alumnus or student to talk to a lawyer if this has happened to them. I don't know how far something like that could go in court - almost definitely further than the Freeh Report - but maybe the mere threat of a lawsuit would help prevent these jerk employers from being complete a**holes.

7. On a lighter note, we have a Mafia Game section in the forums. It's quite fun, and I encourage all of you to play.

Why do I mention this? Because I'm going to run a Penn State Sex Scandal mafia game after the season is over. It's going to be awesome. As you can imagine, Sandusky will be the main killer. All of the major players will be involved, from Paterno, to Graham Cocker Spanier, to Freeh, even to Silas Redd. Matt Millen will even be in the game, and he'll love his kielbasas more than ever.

Now, before I get any hate mail/comments for this, I'm not making light of the scandal with this game; on the contrary, Sandusky and all of the bad guys will be vilified and belittled. It should be fun, and I hope you take part in it during the spring.

MINNESOTA OFFENSE: All of the focus is on Adrian Peterson. Will he play? If so, how limited will he be? I've mentioned this often during the summer: The Vikings would be wise to wait until October so that Peterson is completely healed. Why risk further injury now, especially against the Jaguars? It's not worth it.

The Jaguars were actually fifth versus the rush last year, surrendering 3.9 YPC, so I don't expect Peterson to do much even if he plays. Toby Gerhart won't find much running room either, but he'll at least be productive as a pass-catcher out of the backfield.

Speaking of pass-catchers, Percy Harvin will once again be the focal point of the offense, just as he was last year when Peterson went down. The Jaguars have a pretty solid back seven, but containing someone as talented as Harvin is a pretty difficult task. The Jaguars will have to pressure a currently healthy Christian Ponder instead, which is something they wouldn't have been able to do last year; they tallied just 31 sacks, which ranked them 26th in the NFL. I don't see how Jacksonville has improved in this area, so Ponder should have a solid outing behind rookie left tackle Matt Kalil.

JACKSONVILLE OFFENSE: It really makes me laugh when I see Jaguar homers on NFL.com boast that Blaine Gabbert hasn't thrown a single interception in the preseason. Never mind that Gabbert had a lost fumble when he pitched the ball to the wrong player in the backfield in the exhibition finale; he's been clean pick-wise because he has barely thrown downfield. Quarterbacks' coach Greg Olson has installed a quick-release passing system, which is a great idea because Gabbert can't handle pressure. And no one brings more pressure than Jared Allen.

Gabbert won't turn the ball over, but he also won't be able to move the chains very much. He'll pick up some first downs with short passes to Justin Blackmon and Mike Thomas, but any sort of penalty will derail a possession because the Jaguars won't be able to move the chains on third-and-long situations.

Jacksonville, of course, will want to establish the run with Rashad Jennings and a limited Maurice Jones-Drew. That will prove to be difficult, given that the Vikings were eighth versus the rush last season.

RECAP: I'm not planning on betting this game - I'm scared that Peterson's premature return could have initial negative ramifications - but the Vikings should be able to win and cover. It's difficult for young quarterbacks to play in a loud dome, and I can't imagine Gabbert having success in that situation - especially after getting blown out at Atlanta, 41-14, last year.


The Psychology. Edge: None.
No psychological edge found.


The Vegas. Edge: None.
Equal action.
Percentage of money on Minnesota: 58% (44,000 bets)


The Trends. Edge: None.
Jaguars are 10-2 ATS in their last 12 season openers.
Jaguars are 7-13 ATS vs. NFC opponents since 2007.
Opening Line: Vikings -4.5.
Opening Total: 38.
Weather: Dome.


Week 1 NFL Pick: Vikings 20, Jaguars 13
Vikings -3.5 (0 Units) -- Incorrect; $0
Under 37.5 (0 Units) -- Incorrect; $0
Vikings 26, Jaguars 23


---



Miami Dolphins (0-0) at Houston Texans (0-0)
Line: Texans by 13. Total: 41.5.
Walt's Projected Line (Before Preseason): Texans -10.


Walt's Projected Line (After Preseason ): .
Sunday, Sept. 9, 1:00 ET
Discuss Week 1 Games, Talk Trash

The Game. Edge: Texans.




I still can't get over the fact that 45 percent of Americans think that Joe Paterno raped kids. Anyway, here are more college football notes:

1. Speaking of Penn State, the entire Big Ten sucks. Seriously, these results are a disgrace. Ohio University beat the Nittany Lions. Alabama destroyed Michigan. Wisconsin barely survived against Northern Iowa. Iowa knocked off Northern Illinois by just one point. Indiana State nearly took down Indiana. Michigan State narrowly escaped from a Kellen Moore-less Boise State squad at home...

This is horrible. Everyone makes fun of the ACC and Big East for sucking, but the Big Ten is right there in futility.

2. The one pick I got right this weekend was Vanderbilt +6.5 or whatever it was over South Carolina. Aaron Rodgers' brother Jordan as a home underdog? Sign me up.

I really liked the pick until the day of when Senior NFL Draft Analyst Charlie Campbell sent over this link containing a weird picture of Jordan Rodgers.

I desperately wanted to change my pick, but it was too late. Fortunately, Vanderbilt still covered. Rodgers was a predictable disappointment. He did not look like an NFL quarterback. Perhaps if he stopped shaving his body and quit wearing heterosexually challenged swim trunks, he would improve. Not that there's anything wrong with wearing heterosexually challenged swim trunks.

3. As for FOX's new college football broadcast, it was pretty cool. Erin Andrews, Eddie George and Joey Harrington seemed to work together. Harrington was awful in the NFL, but he at least succeeded at Oregon, so some of what he has to say can be considered valid - even if he's a fan of playing the piano and eating caviar. Meanwhile, I was thrilled when I heard Gus Johnson's voice for the first time. I even posted this in the forum:

YAYYYYYYYYYYYYY GUS JOHNSON!!!
NOOOOOOOOOOOOOOO CHARLES DAVIS!!!

Ugh, I was so disgusted when I realized that Davis would be Johnson's partner. I've heard that Davis is a nice guy, but he annoys me whenever he opens his mouth because he always talks with upspeak. If you've never noticed it, take notice of how the end of each of his sentences is spoken with a higher pitch. It sounds like he's talking to a little kid, which is the main issue with Davis. Whenever he's part of a broadcast, I feel like I'm watching a cartoon or a children's football show, or something. And no, Jerry Sandusky, there's no such thing. Sorry.

MIAMI OFFENSE: Quick, Dolphins, there are five more days until you play this game! There's still plenty of time for you to ship off more offensive talent for mid-round draft picks!

I can't believe Miami dealt Brandon Marshall for a pair of third-rounders. Well, that's a lie. I actually can believe it because the Dolphins are the worst-run organization in all of football. It's amazing how this front office transformed a playoff-caliber squad into the laughing stock of the NFL.

I highly doubt the Dolphins will be able to reach double figures in this contest. How exactly are they going to do that without a fluke defensive or special-teams touchdown? The Texans had a top-10 rush defense last year, so they'll be able to bottle up Reggie Bush. Their pass rush, meanwhile, will suffocate Ryan Tannehill, who won't have good protection because Jake Long is out with an MCL sprain.

HOUSTON OFFENSE: The Dolphins also just dealt top cornerback Vontae Davis, so they're going to have to use their No. 2 cornerback to cover a healthy Andre Johnson. Yeah, that's going to work really well.

Miami still has a pretty solid defense though. The pass rush is led by the talented Cameron Wake, while the run defense ranked in the top three last year. The Texans will not be able to score on every possession. At least not at first.

What I think is going to happen, however, is that the Dolphins' defense will get worn down from being on the field for so long. The Texans do a great job of opening up running lanes, thanks to Gary Kubiak's zone-blocking scheme, so I think they'll definitely have some success on the ground, especially in the second half when Miami's defenders are running on fumes.

RECAP: The Dolphins are easily one of the three worst teams in the NFL. There's such a sense of hopelessness in that locker room because the front office keeps trading away talent. I just don't think Miami has the spirit or the players to compete with an elite team like Houston.

SURVIVOR PICK: Take the Texans in survivor this week and don't look back. I'll have my survivor pool up tonight.


The Psychology. Edge: None.
No psychological edge found.


The Vegas. Edge: Dolphins.



No one in their right mind is betting Miami.
Percentage of money on Houston: 84% (109,000 bets)


The Trends. Edge: None.
Opening Line: Texans -7.
Opening Total: 43.5.
Weather: Retractable roof.


Week 1 NFL Pick: Texans 26, Dolphins 6
Texans -13 (2 Units) -- Correct; +$200
Under 41.5 (0 Units) -- Correct; $0
Survivor Pick
Texans 30, Dolphins 10


---



St. Louis Rams (0-0) at Detroit Lions (0-0)
Line: Lions by 7. Total: 45.5.
Walt's Projected Line (Before Preseason): Lions -10.
Walt's Projected Line (After Preseason ): .
Sunday, Sept. 9, 1:00 ET
Discuss Week 1 Games, Talk Trash

The Game. Edge: Lions.




If you followed this site for a while, you might remember that I like to respond to my spam mails. Two years ago, a man named Jon Wire from the "United Bank of Africoan" promised me an ATM card of some sort, so I responded as a man named Mister Compassion Chuck Norris, who was raised by wolves. I had to scan my ID card, so here's what I sent: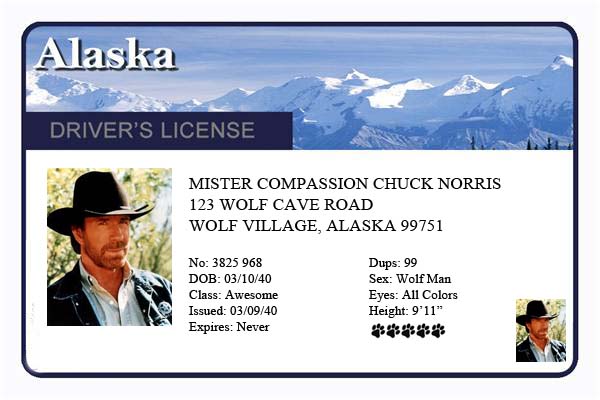 Last year, I received e-mails from Richard Held and Loon Bruce, who told me I won a Facebook Award, which comes with a "lump sum pay out of (750,000.00 GBP)."

Pretending to be Matthew Millen Kim, I sent out my application and fake money: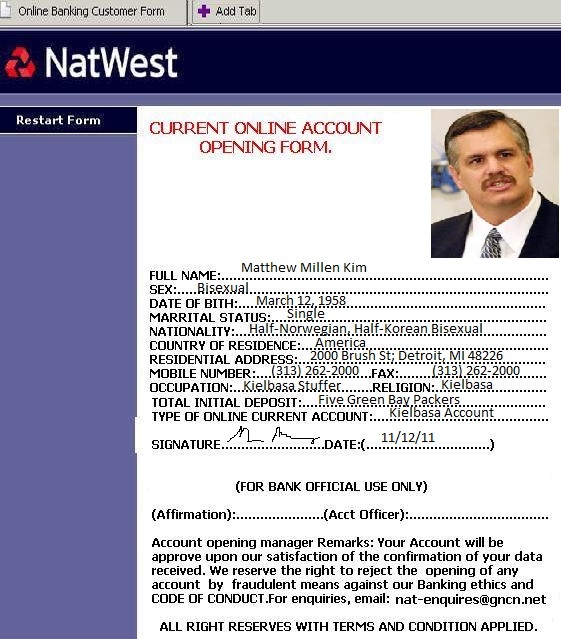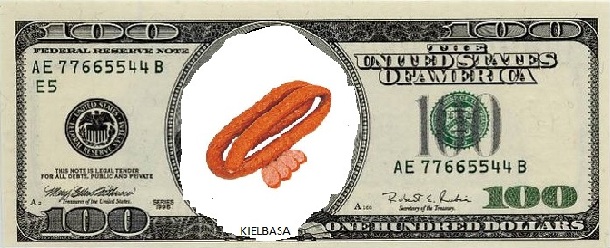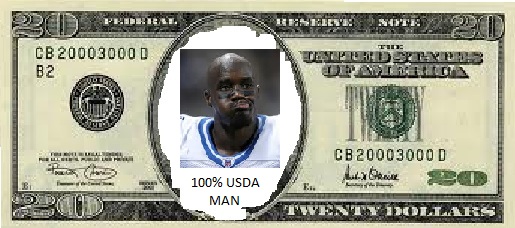 I actually forgot to send out the envelope for a few days, so I only mailed it much later. Chris Bridley, Richard Held and Loon Bruce weren't pleased, as they constantly bombarded me with e-mails like this:

Dear Online Customer; Matthew Millen Kim,

Your mail was received in this bank but we have not been able to confirm your payment receipt yet, you are hereby advised to send to this bank; a scan copy of your payment slip/receipt via email. Failure to do this will render your prize forfeited within 48 hours.

Since I sent cash, I couldn't exactly give them a scanned copy of my slip/receipt. Instead...

Dr. Chris Bridley,

I sent the envelope days ago. I do not have a copy of the money I sent you, but I can scan and show you the envelope as proof!

P.S. Do you think some of my prize winnings can come in forms of kielbasa?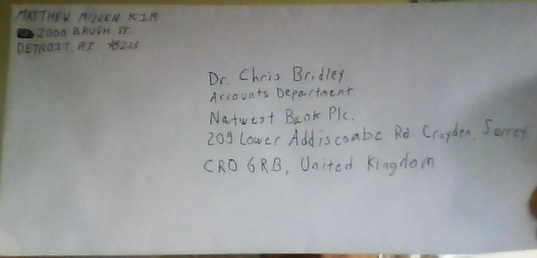 I also needed an excuse for Richard Held and Loon Bruce. Here's what I came up with:

I am sorry for the delay. I had a week-long getaway where I gathered with other 100-percent USDA Men, such as myself, and well, I don't need to tell you what happened during our retreat.

I mailed out the payment late, but it's on its way!

I didn't hear from them, so I e-mailed them two weeks later:

It has been 20 days or so since I sent the $250 to the bank, but I have not heard from them yet. Can you tell me when I shall receive my Facebook prize money and the kielbasas, as promised?

I have a meeting with about a dozen young stallions in 2 weeks. I would love to show off my new-found fortunes while having some fun in my hotel room, if you know what I mean.

Once again, nothing. Fortunately, I've received tons of other spam e-mails. For instance, this is from Mrs. Shirley Jones: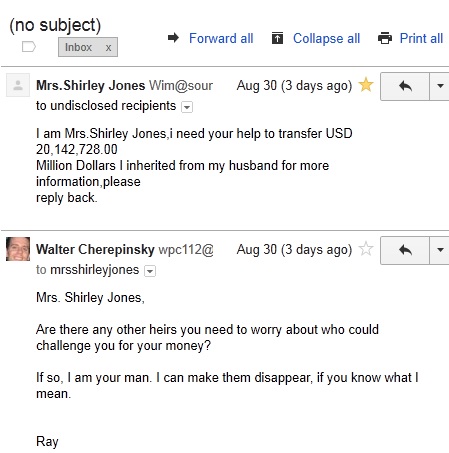 Hopefully I'll have her response next week.

ST. LOUIS OFFENSE: What's the proper therapy for someone with David Carr Syndrome? Is it spending several months on a beach, being served drinks by hot chicks in bikinis, or is it playing a football game against Ndamukong Suh and Cliff Avril?

Definitely not the latter. Sam Bradford has become really skittish in the pocket, so you have to hate this matchup for both his stat line and his safety. Like Blaine Gabbert in Jacksonville, Bradford has been mostly dinking and dunking this preseason because the coaching staff knows how anemic the offensive line is. This will keep Bradford from being sacked and committing turnovers, but it'll also really limit St. Louis' scoring opportunities; one penalty, and it's punting time. The Rams will not be able to pick up third-and-long situations - not with their poor blocking and inept receiving corps.

The Rams could have some success running the football. Wide-nine fronts are susceptible to the rush, and Steven Jackson looks great considering the mileage he has on his legs. All of this, however, will be moot if the Lions get out to a big lead. St. Louis will have to throw to catch up, which can only be disastrous.

DETROIT OFFENSE: The Rams have a pretty solid defense, though they do have some weaknesses. One glaring hole is at safety. That's not a good liability to have when battling Matthew Stafford.

It's not like St. Louis would be able to cover Calvin Johnson anyway. The front office spent a ton of money on Cortland Finnegan, but he's small and has trouble with larger receivers as a consequence. Andre Johnson constantly abused him in the AFC South, so Megatron won't have any trouble scoring.

The Lions will also be able to run the ball if they want to. First-round rookie defensive tackle Michael Brockers is out with an ankle injury. The Rams were 30th versus the rush last year (4.98 YPC), so Brockers' absence will be felt. The Lions will be utilizing Kevin Smith in the backfield for the first two weeks. He has shown that he can produce when he's healthy, which sadly is not often.

RECAP: This has blowout written all over it. I just can't see the Rams being competitive with a Detroit squad that has no reason to look past its opening-day opponent.

LOCKED IN: I don't see this spread going below seven points.


The Psychology. Edge: None.
No psychological edge found.


The Vegas. Edge: Rams.



No surprise where the money is flowing in this game.
Percentage of money on Detroit: 86% (84,000 bets)


The Trends. Edge: Lions.
Rams are 29-50 ATS in road games since 2001 (9-12 since 2009).
Opening Line: Lions -9.
Opening Total: 46.5.
Weather: Dome.


Week 1 NFL Pick: Lions 31, Rams 13
Lions -7 (2 Units) -- Incorrect; -$220
Under 45.5 (0 Units) -- Incorrect; $0
Lions 27, Rams 23


---



Atlanta Falcons (0-0) at Kansas City Chiefs (0-0)
Line: Falcons by 2.5. Total: 42.5.
Walt's Projected Line (Before Preseason): Chiefs -1.


Walt's Projected Line (After Preseason ): .
Sunday, Sept. 9, 1:00 ET
Discuss Week 1 Games, Talk Trash

The Game. Edge: Falcons.

Video of the Week: I discussed the Penn State Sex Scandal Mafia game earlier, which I'll be running after the season in the Mafia Games section of the forum. Well, my friend and forum mod Injured Reserve and I also have a really cool idea for a Game of Thrones mafia game, which will be really unique. When he and I were discussing it, he showed me a hilarious video of a great Game of Thrones impressionist. Watching this, I'm reminded of the 16-bit RPG version of the show I posted last year.

ATLANTA OFFENSE: This was supposed to be a great matchup. An improved Matt Ryan and a dominant Julio Jones versus a Kansas City defense that shut down Aaron Rodgers last December? Sign me up. Several weeks ago, this seemed like THE battle to watch on opening Sunday.

That's not the case anymore, unfortunately. Elite pass-rusher Tamba Hali has been suspended because of a marijuana arrest. Top cornerback Brandon Flowers will be a game-time decision because of an ankle injury. Stud inside linebacker Derrick Johnson should be able to play, but won't be 100 percent because of his own ankle malady.

With all of that in mind, it's difficult to envision the Chiefs having much luck against Atlanta's dynamic passing attack. Matt Ryan figures to have tons of time to throw without having to worry about Hali, and he'll easily connect with Jones on multiple occasions, thanks to the presumed absence of Flowers. Running the ball won't be much of an option because Michael Turner is completely finished, but the Falcons won't need to do that because their offense is now primarily aerially based.

KANSAS CITY OFFENSE: The Chiefs will have some issues defensively this week, but they should be able to move the chains pretty efficiently. They're going to run the ball as good as anyone this season, thanks to the dynamic tandem of the currently healthy Jamaal Charles and Peyton Hillis, as well as a bolstered offensive line with Eric Winston as a massive upgrade over the inept Barry Richardson at right tackle.

The Falcons were 12th in the NFL against the run last year, but that ranking will likely drop, thanks to Curtis Lofton's departure. Replacement Akeem Dent struggled a bit in the preseason, so I'm expecting the Chiefs to rip off big gains on the ground.

This will open up play-action opportunities for Matt Cassel, who will need them because he's not a good quarterback. He should at least be protected well, making the daunting task of battling cornerbacks Brent Grimes and Asante Samuel a bit easier. It also helps that starting receivers Dwayne Bowe and Jonathan Baldwin have a very healthy size advantage over Atlanta's two corners. And not to be forgotten, Dexter McCluster is finally being utilized correctly out of the slot. I think he could be a PPR monster this year.

RECAP: This is a tough spot for the Falcons, who aren't nearly as good in outdoor games. Following this matchup against the "crappy" Chiefs, they have to deal with Peyton Manning's Broncos, Philip Rivers' Chargers and Cam Newton's Panthers. They won't be completely focused, especially now that Hali is out. And yes, teams do look past Week 1 games. See the Colts-Bears write-up for proof.

Despite missing Hali and possibly Flowers, I feel like the Chiefs are underrated. They run the ball extremely well, while Romeo Crennel is still a defensive mastermind who will have something up his sleeve for Ryan. I'd like Kansas City as my September NFL Pick of the Month if they were completely healthy, but this is still a multi-unit play for me.


The Psychology. Edge: Chiefs.



The Falcons have the Broncos, Chargers and Panthers after this battle against the Chiefs, who weren't any good last year. They may not be 100-percent focused.


The Vegas. Edge: Chiefs.


The Falcons can easily beat the "crappy" Chiefs, right?
Percentage of money on Atlanta: 73% (73,000 bets)


The Trends. Edge: None.
Chiefs are 20-7 ATS in season openers at home since 1971.
Chiefs are 15-25 ATS at home since 2007.
Opening Line: Falcons -1.
Opening Total: 41.
Weather: .


Week 1 NFL Pick: Chiefs 20, Falcons 17
Chiefs +2.5 (3 Units) -- Incorrect; -$330
Under 42.5 (0 Units) -- Incorrect; $0
Falcons 40, Chiefs 24




Week 1 NFL Picks - Late Games
Seahawks at Cardinals, 49ers at Packers, Panthers at Buccaneers, Steelers at Broncos, Chargers at Raiders, Bengals at Ravens



Prop/Teaser/Parlay Picks
A list of some of my favorite team/player prop picks this week
(Offense & defensive ROY picks to be counted whenver winners are announced.) Picks carried over on a week-to-week basis will be in black.


Prop/teaser/parlay picks posted in Week 1 NFL Picks - Late Games



NFL Picks - Nov. 29


2016 NFL Mock Draft - Nov. 26


Fantasy Football Rankings - Sept. 10


2016 NBA Mock Draft - Aug. 25


2017 NFL Mock Draft - July 29


2016 NBA Mock Draft - May 7


NFL Free Agents




SUB MENU





Note: For legality purposes, this Web site does not promote or advocate gambling. This is solely for entertainment purposes only.






Last Week's NFL Picks Against The Spread (Week 12, 2015): 5-10 (-$1,050)
Last Week's 2-3 Unit NFL Picks (Week 12, 2015): 2-5 (-$930)
Last Week's 4-5 Unit NFL Picks (Week 12, 2015): 0-0 ($0)
Last Week Over-Under (Week 12, 2015): 9-5-1 ($0)
Last Week's Prop/ML/Teaser/Parlay Picks (Week 12, 2015): +$100

2015 NFL Picks of the Month: 0-3, 0% (-$2,200)

2015 Season NFL Picks Against The Spread: 78-90-9, 46.4% (-$5,920)
2015 Season 2-3 Unit NFL Picks: 27-26-1, 51.0% (-$685)
2015 Season 4-5 Unit NFL Picks: 10-14, 41.7% (-$3,040)
2015 Season Over-Under: 80-76-4, 51.3% ($0)
2015 Season Prop/ML/Teaser/Parlay Picks: -$595

1999 Season NFL Picks Against The Spread: 27-41-3 (39.7%)
2000 Season NFL Picks Against The Spread: 128-123-8 (51.0%)
2001 Season NFL Picks Against The Spread: 127-122-7 (51.0%)
2002 Season NFL Picks Against The Spread: 123-136-7 (47.5%)
2003 Season NFL Picks Against The Spread: 146-126-8 (53.7%)
2004 Season NFL Picks Against The Spread: 157-123-8 (56.1%)
2005 Season NFL Picks Against The Spread: 156-126-11 (55.3%)
2006 Season NFL Picks Against The Spread: 151-135-9 (52.8%)
2007 Season NFL Picks Against The Spread: 162-135-10, 54.5% (+$2,550)
2008 Season NFL Picks Against The Spread: 148-140-7, 51.4% (+$2,620)
2009 Season NFL Picks Against The Spread: 151-124-9, 54.9% (+$3,370)
2010 Season NFL Picks Against The Spread: 144-131-8, 52.4% (+$6,080)
2011 Season NFL Picks Against The Spread: 137-133-12, 50.7% (-$1,925)
2012 Season NFL Picks Against The Spread: 130-145-8, 47.3% (-$5,760)
2013 Season NFL Picks Against The Spread: 144-131-8, 52.4% (+$5,580)
2014 Season NFL Picks Against The Spread: 143-133-7, 51.8% (-$1,885)

2002 Season 2-3 Unit NFL Picks: 41-49-2 (45.6%)
2003 Season 2-3 Unit NFL Picks: 52-51-2 (50.5%)
2004 Season 2-3 Unit NFL Picks: 65-44-3 (59.6%)
2005 Season 2-3 Unit NFL Picks: 77-61-1 (55.8%)
2006 Season 2-3 Unit NFL Picks: 65-61-4 (51.6%)
2007 Season 2-3 Unit NFL Picks: 83-59-5, 58.5% (+$4,110)
2008 Season 2-3 Unit NFL Picks: 44-57-3, 43.6% (-$3,510)
2009 Season 2-3 Unit NFL Picks: 49-35-3, 58.3% (+$2,260)
2010 Season 2-3 Unit NFL Picks: 51-38-4, 57.3% (+$3,180)
2011 Season 2-3 Unit NFL Picks: 44-51-3, 46.3% (-$2,715)
2012 Season 2-3 Unit NFL Picks: 45-50-2, 47.4% (-$2,130)
2013 Season 2-3 Unit NFL Picks: 38-42, 47.5% (-$2,890)

2002 Season 4-5 Unit NFL Picks: 11-12 (47.8%)
2003 Season 4-5 Unit NFL Picks: 16-13-1 (55.2%)
2004 Season 4-5 Unit NFL Picks: 18-11 (62.1%)
2005 Season 4-5 Unit NFL Picks: 25-22-1 (53.2%)
2006 Season 4-5 Unit NFL Picks: 21-29-1 (42.0%)
2007 Season 4-5 Unit NFL Picks: 35-30-2, 53.8% (+$420)
2008 Season 4-5 Unit NFL Picks: 39-26-2, 60.0% (+$4,055)
2009 Season 4-5 Unit NFL Picks: 29-26, 52.7% (+$330)
2010 Season 4-5 Unit NFL Picks: 32-22, 59.3% (+$4,790)
2011 Season 4-5 Unit NFL Picks: 14-14, 50.0% (-$1,260)
2012 Season 4-5 Unit NFL Picks: 14-21, 40.0% (-$3,650)
2013 Season 4-5 Unit NFL Picks: 17-9-3, 65.4% (+$2,970)

2001 Season Over-Under: 3-2 (60.0%)
2002 Season Over-Under: 121-91-3 (57.1%)
2003 Season Over-Under: 126-132-2 (48.8%)
2004 Season Over-Under: 139-124-4 (52.9%)
2005 Season Over-Under: 117-145-4 (44.7%)
2006 Season Over-Under: 129-132-5 (49.4%)
2007 Season Over-Under: 136-145-3, 48.4% (-$1,900)
2008 Season Over-Under: 137-125-6, 52.3% (+$860)
2009 Season Over-Under: 128-135-4, 48.7% (-$3,195)
2010 Season Over-Under: 128-135-5, 48.7% (-$5)
2011 Season Over-Under: 131-131-5, 50.0% (+$135)
2012 Season Over-Under: 125-121-5, 50.8% (+$30)
2013 Season Over-Under: 132-130-5, 50.4% (-$340)

2007 Season Prop/ML/Teaser/Parlay Picks: +$1,035
2008 Season Prop/ML/Teaser/Parlay Picks: +$1,775
2009 Season Prop/ML/Teaser/Parlay Picks: +$865
2010 Season Prop/ML/Teaser/Parlay Picks: -$200
2011 Season Prop/ML/Teaser/Parlay Picks: +$590
2012 Season Prop/ML/Teaser/Parlay Picks: -$1,685
2013 Season Prop/ML/Teaser/Parlay Picks: +$2,245

2006 NFL Picks of the Month: 3-3 (50%)
2007 NFL Picks of the Month: 3-3, 50.0% (-$400)
2008 NFL Picks of the Month: 6-1, 85.7% (+$3,720)
2009 NFL Picks of the Month: 3-2, 60.0% (+$640)
2010 NFL Picks of the Month: 2-4, 33.3% (-$1,810)
2011 NFL Picks of the Month: 5-2, 71.4% (+$1,870)
2012 NFL Picks of the Month: 3-2, 60.0% (+$560)
2013 NFL Picks of the Month: 6-0, 100% (+$3,900)
2014 NFL Picks of the Month: 2-4, 33.3% (-$1,350)

Career NFL Picks Against The Spread: 2,235-2,068-126, 51.9% (+$4,600)
Career 2-3 Unit NFL Picks: 721-650-34 (52.5%)
Career 4-5 Unit NFL Picks: 298-265-11 (52.9%)
Career Over-Under: 1,760-1,722-50 (50.6%)
Career Second-Half NFL Picks: 22-15-1 (61.1%)
Career NFL Picks of the Month: 30-22 (57.7%)





My Team-by-Team ATS Record
This section shows how well I do when picking each team this year. The purpose is to see how well I read each team. Pushes are not displayed. Winning/losing streak in parentheses.


| | | | |
| --- | --- | --- | --- |
| Cowboys: 5-6 (2014: 7-11) | Bears: 3-7 (2014: 8-8) | Bucs: 7-4 (2014: 9-7) | 49ers: 8-3 (2014: 8-7) |
| Eagles: 5-6 (2014: 9-7) | Lions: 7-4 (2014: 8-8) | Falcons: 6-5 (2014: 8-8) | Cardinals: 5-6 (2014: 8-9) |
| Giants: 6-4 (2014: 5-11) | Packers: 5-6 (2014: 13-4) | Panthers: 4-7 (2014: 8-10) | Rams: 4-6 (2014: 8-8) |
| Redskins: 7-4 (2014: 8-8) | Vikings: 7-4 (2014: 12-4) | Saints: 4-6 (2014: 6-9) | Seahawks: 4-5 (2014: 10-9) |
| | | | |
| Bills: 3-5 (2014: 7-9) | Bengals: 3-6 (2014: 6-11) | Colts: 3-6 (2014: 8-10) | Broncos: 4-4 (2014: 8-9) |
| Dolphins: 5-6 (2014: 10-5) | Browns: 4-5* (2014: 9-5) | Jaguars: 1-10 (2014: 10-6) | Chargers: 6-5 (2014: 7-9) |
| Jets: 5-6 (2014: 8-8) | Ravens: 4-4* (2014: 10-8) | Texans: 3-8 (2014: 8-7) | Chiefs: 5-6 (2014: 9-6) |
| Patriots: 7-3 (2014: 10-9) | Steelers: 5-5 (2014: 9-8) | Titans: 2-8 (2014: 8-6) | Raiders: 4-7 (2014: 7-9) |
| | | | |
| Divisional: 25-27* (2011-14: 177-178) | 2x Game Edge: 12-10 (2011-14: 69-81) | 2x Psych Edge: 16-19 (2011-14: 121-105) | 2x Vegas Edge: 26-23 (2011-14: 176-183) |
| 2x Trend Edge: 16-23 (2011-14: 107-99) | Double Edge: 8-8 (2011-14: 43-46) | Triple Edge: 0-1 (2011-14: 2-1) | Quad Edge: 0-0 (2011-14: 0-0) |