Send Matt an e-mail here:
[email protected]
All other e-mail, including advertising and link proposals, send to:
[email protected]
Updated July 16, 2010
The NFL Draft has become more and more popular especially in the last five years partially because of this thing called the "Internet." You might have heard of it before. The point is that fans are more educated on NFL Draft prospects than ever before. There is a brand new crop of Draftniks who really became enthused in the last couple of years, and this has lead to higher expectations for teams not juts in the first round; but in the following rounds as well.
The second round of the NFL Draft is now looked at the way the first round was in the 1990s. Well-informed fans know all about these prospects and there is now an expectation that teams should hit most to all of their second-round picks.
However, we all know that second-round picks don't become superstars. These are certainly quality players, but fans look to their second-round picks to come onto their team and become high-impact starters in their first few years in the league.
NFL Draft research says this is much easier said than done. Consistently in the last 10 years there is a 50-percent hit rate on second-round picks, but you have to account for variance in that some NFL Drafts are stronger than others so there isn't always your typical 50-percent hit rate every year.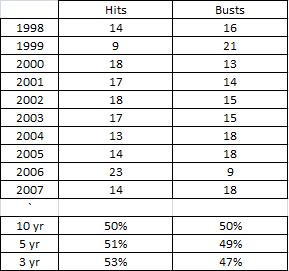 Though I do believe that in the next 10 years this will increase closer to 60 percent, it doesn't hide the fact that it is much harder to get impact players in the second round than most Draftniks can imagine.
Fans and Draftniks need to look at the second round as it is a bit of a coinflip, but as always teams make really dumb second-round picks, which should never have happened.
For example, let's take the second round of the 2009 NFL Draft. I did not believe Pat White, Michael Mitchell, Ande Levitre or Richard Quinn should ever have been selected in the second round. This is only four players, but when you equate it into the statistics, it's 12.5 percent of the second round.
We see three to five players drafted every year in the second round in which teams simply make stupid picks, and I'm not talking about "hindsight is 20-20;" I am talking about picks that were controversial the day they were selected.
Even if teams were never stupid in the second round, the hit rate is still a relative flip of the coin simply because of the talent level of the prospect we are dealing with. The top 32 picks are now off the board and teams are simply choosing from a lower tier of talent, and it is always harder to get impact players at an extremely high rate at that point.
This said, historically the second-round hit rate is less than 10 percent different from the first round over the past 10 years.
When I calculated "hits" and "busts" in the second round I certainly adjusted my expectations. If a player is a starter in the second round (or a very good backup), then I gave him a "hit." We expect second-round players to be starters for our football team. Of course, sometimes I did give second-round starters the bust label if they are really, really bad, or they are simply on a team with no talent at their position and they would be a backup anywhere else. Take this into account when you compare the stats to the first round. Some second-round hits would be "busts" in the first round because we have lower expectations for second-rounders.
Please view the spreadsheet for the
10-year NFL Draft study of the second round
here and e-mail me or tweet me if you have any questions or comments.
Now, I am going to discuss some of the borderline hits and busts that might be a bit controversial to clear the air:
Leon Bender, DT, Oakland, 1998
: Bender never played a game in the NFL. He was died to due a seizure disorder. It's impossible to know if the Raiders just did a bad job with the medical, but I didn't count Bender as a bust or hit to be fair.
Reggie Kelly, TE, Atlanta, 1999
: Kelly became a starter because of his blocking ability in Cincinnati, but he is a bust as a second-round tight end. He only has about 1,700 receiving yards in his 10-year career, and has never eclipsed 31 catches or 340 yards in a season.
Robert Ferguson, WR, Green Bay, 2001
: I know Green Bay fans might hate this, but I think Ferguson was a bust. He was the No. 41 overall pick, and he never had a 600-yard or five-touchdown season in his career. Ferugson was nothing more than a No. 3 receiver for Green Bay, and he had a Hall of Famer at quarterback.
Gary Baxter, CB, Baltimore, 2001
: Baxter had a short career because he tore his patella tendons in both knees in 2006 against the Broncos. This was a horrific injury that couldn't have been forseen. He was a 2-year starter in Baltimore in which he totaled four interceptions, 25 pass breakups and 143 tackles. He had a very promising career and I think Baltimore made a great pick - he's a "hit" in my book who just had some bad luck.
Josh Reed, WR, Buffalo, 2002:
Reed has never been a gamebreaker and he hasn't put up big stats, but he's been a very reliable No. 2/No. 3 receiver in Buffalo who has consistently produced. He has 3,575 receiving yards and he's been a starter. He's been a marginal "hit," but a hit nonetheless.
LeCharles Bentley, C, New Orleans, 2002
: Bentley was a two-time Pro Bowler for New Orleans and started 57 games for them. He never got on the field for Cleveland due to injuries, but because the Saints got four really productive years out of a second-round pick I have to maintain that they got a sufficient return on their investment to call Bentley a "hit".
Boss Bailey, LB, Detroit, 2003
: Bailey was not very productive in Detroit as a starter and his career fizzled out in Denver. He only had more than 50 tackles in a season once (rookie year) and only got to start in Detroit because their talent level was so bad at linebacker. If he was productive in Denver, then I wouldn't view him as a bust, but he was simply in a favorable situation in Detroit.
Julius Jones, RB, Dallas, 2004
: Jones just might be the worst starting running back in the NFL in 2009, but he does have more than 5,800 total yards in his career, and has been a starter in Dallas and Seattle. Jones is a starter and he is barely a "hit" in my opinion.
Darrent Williams, CB, Denver, 2005
: Williams' first two years with the Broncos were very good (23 starts, 6 INTs, 19 pass breakups, 125 tackles, 8.4 punt return average), but he was murdered. He had a promising career, so I categorized him as a "hit."
Tim Jennings, CB, Indianapolis, 2006
: Jennings isn't a solid starter in the NFL, but he's been an excellent nickel in Indianapolis, and with 125 tackles over the past three years, I think he's productive enough to be a "hit" as a late second rounder.
Darryl Tapp, DE, Seattle, 2006
: Tapp has 18 sacks in his 4-year career including a seven-sack season in 2007. He hasn't been ridiculously productive, but I consider him a hit.
Arron Sears, G, Tampa Bay, 2007
: Sears was an extremely productive in Tampa and arguably a better player than first-round pick Davin Joseph, but he suffered from what is believed to be a mental illness and the Bucs cut him this offseason after he did not play in 2009. I don't think Tampa or any other team could have forseen this and they just got unlucky with a short career. Therefore, Sears is a hit and not a bust.
Introduction to the 10-Year NFL Draft Study:
The 10-Year NFL Draft Study: Round 1
The 10-Year NFL Draft Study: Round 2
NFL Draftology Home
2017 NFL Mock Draft
- March 29
2018 NFL Mock Draft
- Feb. 17
NFL Picks
- Feb. 7
Fantasy Football Rankings
- Sept. 7
2017 NBA Mock Draft
- June 23
NFL Free Agents