Send Matt an e-mail here:
[email protected]
All other e-mail, including advertising and link proposals, send to:
[email protected]
Updated July 12, 2010
The first round can make or break a team's draft. This is where the top prospects fall most of the time. Casual fans watch the first round of the NFL Draft and then tune it out. However, have the expectations for how successful teams should be drafting in the first round become too high now?
I think they are based on my research in the NFL Draft Study. In the NFL Draft broadcast, sure a couple prospects are talked about as being overrated, but consistently in my study at least 10 players busted in the first round each time and we should expect this in the future. This means at least every third player will bust in the first round, and in some past drafts half the players busted in the first round.
Fans can't comprehend that there is at least a 33-percent chance of their 2010 first-round pick busting, but it's true (33% - giving the benefit of the doubt that the scouting in 2010 is better than in recent years).
Here are my numbers for the NFL Drafts from 1998-2007: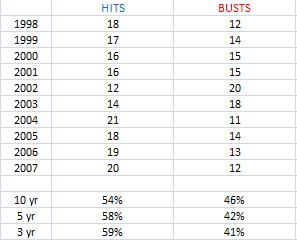 There are a number of ways you can use this. Go back into the 2009 and 2010 NFL Drafts, and you can scope out 10 or more players whom you think have a very legitimate possibility of busting. It's annoying how some analysts (i.e. Jon Gruden) talk about every prospect like they will pan out, but the reality of the situation is that a lot of these players will bust.
Why is this? Is scouting this bad? I don't think the scouting is bad, but I feel bad drafts are certainly made for teams.
Even though teams invest hundreds of thousands of dollars into their scouting department and spends thousands of hours evaluating prospects from January the April, the reality of the situation is that this is simply an
extremely difficult process
. It's really hard to figure who will thrive in the NFL and who won't.
Is it a crapshoot? It's a little bit of a crapshoot because teams can only do so much and then players have to take some level of responsibility for their performance on and off the field. However, I think teams do make mistakes and while I feel like some of these busts can certainly be avoided, the bottom line is teams don't want to deviate from the consensus on talent evaluation throughout the league.
There is good news. It looks as though evaluation is getting better and better as the percentages are going up. Is it this, or were the 2002 and 2003 NFL Drafts just so terrible that they skewed the stats? I think a little bit of both. Teams are doing more thorough background checks (often now to the point of over-analysis) and learning from some of the league's mistakes. I am confident the percentages will improve in the future.
Here is how you can apply these statistics. For one, stop expecting every first-round pick - or even the vast majority - to be successful. Secondly, stop expecting your team to nail every first-round pick and give them the benefit of the doubt sometimes. Go back through your team's drafts in the last five years. If your team only has one or no successful first-rounders (assuming you have five first-round picks - adjust accordingly if you have more or less) then you have a bad drafting team in the first round. Two is below average; three is solid; four or five is excellent.
You can access this
10-year NFL Draft study first round only
(the six other rounds will be released eventually) by downloading it here. Every first-round pick from 1998 to 2007 is accounted for. If you have any comments or complaints about whether a player was a hit or a bust (and quite frankly this isn't going to be perfect; I'm bound to be off on a couple) then please e-mail me.
Now I'm going to touch on some of the controversial players in my study as to whether I categorized them as a hit or bust, and explain why. Keep in mind this is an NFL Draft study - so even if the player presently has a successful career, he might have been a bust for the team that drafted him in his first 3-5 years in the league, then went on to success elsewhere.
Anthony Simmons, LB, Seattle, 1998
: I thought the Seahawks made a good pick here with Simmons and he was productive enough to be a "hit" before succumbing to some bad luck with injuries. I have no idea if he had durability issues at Clemson, and if he did and this could have been more avoidable then he'd be categorized as a "bust." Simmons started every game for the Seahawks from 1999 to 2001 racking up seven sacks, four interceptions, and 279 tackles. I think injuries really derailed his career and I'm not blaming the Seahawks here.
Shaun Williams, S, N.Y. Giants, 1998
: Williams had a very promising career in New York before he suffered a season-ending knee injuries in 2003 and 2004. It is hard for me to label him a bust because he started every game for the Giants from 2000 to 2002 before having some bad luck.
Daunte Culpepper, QB, Minnesota, 1999
: We all know who Culpepper is now and the argument can certainly be made he was a product of Randy Moss, Cris Carter and Dennis Green's coaching with the Vikings. However, Culpepper did make the Pro Bowl three times, and he has more than 24,000 yards passing in his career. Who knows what would have happened if he hadn't blown out his knee. He was very productive for the Vikings for five years. If you don't like that he's not a bust - tough. I think he was good enough to be a "hit."
Thomas Jones, RB, Arizona, 2000
: Jones spent his first three years in Arizona starting only 15 games there and only averaged 3.5 yards per carry. He had marginal success in Tampa, then has enjoyed a fairly successful career in Chicago and especially with the Jets. He has rushed for more than 2,700 yards with New York in the past two seasons. Despite all this, Jones was a bust for Arizona. This is an NFL Draft study, and he severely underperformed in Arizona and quite frankly I don't think there are any excuses when you are drafted at No. 7 overall. Jets fans might not like this, but if Jones were enjoying success now in Arizona and he didn't do anything for you if you drafted him in the top 10, then you would feel differently.
Leonard Davis, T, Arizona, 2001
: Davis was drafted at No. 2 overall and expected to be an elite left tackle in the NFL. Davis couldn't even handle playing offensive tackle in the NFL and has enjoyed success with the Cowboys at right guard. However, in this study we don't account for positional changes. You don't spend the No. 2 overall pick and the money coming with it hoping he works out at guard if he busts at tackle. If you are drafted as a tackle and you bust as a tackle, then you're a bust in my book. You severely failed to live up to the expectations of the position you were drafted as.
Andre Carter, DE, San Francisco, 2001
: Carter had an enormous 12.5-sack sophomore season in San Francisco and has 63.5 career sacks. He hasn't lived up to the hype of being the No. 7 pick in the NFL Draft, but he hasn't busted either. He's a solid pass rusher though a bit inconsistent. I don't think he's a bust, but I can't blame 49er fans for expecting a little more production in his time there.
Marc Colombo, T, Chicago, 2002
: Colombo did nothing in Chicago because he had three years where injuries really held him back. He has enjoyed a lot of success with the Cowboys, though he missed a lot of games in 2009 due to injuries. Colombo has been in the NFL for eight years, but has only had three productive seasons. He has to be a bust.
Calvin Pace, DE, Arizona, 2003
: Calvin Pace did absolutely nothing in his first four years in Arizona, then had a great season in his contract year and has been very good for the Jets. Arizona might have gotten screwed here. Pace had the talent all along, but he obviously lacked the work ethic and competitiveness to be great for the team that drafted him. He's not a bust with the Jets now, but for his first four years he did nothing - and the drafting team that invested the No. 18 pick in the NFL Draft got burned.
Robert Gallery, T, Oakland, 2004
: See Davis, Leonard.
Alex Smith, QB, San Francisco, 2005
: The jury is still out on Alex Smith, but for the moment I'm giving him the benefit of the doubt.
Cedric Benson, RB, Chicago, 2005
: See Pace, Calvin.
Antrel Rolle, CB, Arizona, 2005
: Rolle was a bust at corner in Arizona. He is now a solid safety, but he greatly failed to live up to expectations as a cornerback. Bust.
Mark Clayton, WR, Baltimore, 2005
: While Clayton hasn't been extraordinarily productive in Baltimore, he has been able to lock up the No. 2 receiver position for most of his career and hold off other receivers. Clayton is certainly in the gray area, and I think you can make the case he has been both a "bust" and a "hit," but because he has been able to hold onto the No. 2 receiver job I gave him the benefit of the doubt.
The second round will be coming later in the week, so stay tuned and do your duty as a Draftnik and look back at past drafts!
Introduction to the 10-Year NFL Draft Study:
The 10-Year NFL Draft Study: Round 1
The 10-Year NFL Draft Study: Round 2
NFL Draftology Home
2017 NFL Mock Draft
- March 23
2018 NFL Mock Draft
- Feb. 17
NFL Picks
- Feb. 7
Fantasy Football Rankings
- Sept. 7
2017 NBA Mock Draft
- June 23
NFL Free Agents