Written by Paul Banks of the Washington Times, and David Kay of the The Sports Bank.
Send Paul an e-mail here: paulb05 AT hotmail DOT com.
All other e-mail, including advertising and link proposals, send to: wpc112@gmail.com
2014 NBA Draft Lottery Odds Breakdown
- May 20
The 2014 NBA Draft Lottery will be held this evening, and once the pingpong balls are revealed, the order will officially be set for the 2014 NBA Draft. Teams took tanking to a new level this past season in hopes of earning the top-overall pick and a chance to select one of the three players likely to go first; Duke's Jabari Parker, or Andrew Wiggins or Joel Embiid from Kansas.
Here is a breakdown of each team in the lottery and which prospect each would likely select if it lands the top pick.

Milwaukee Bucks: 25%
The Bucks were one of the worst offensive teams in the league this past season and the former Blue Devil would give Milwaukee a needed go-to scoring option moving forward. I think he is a 20+-per-night scorer at the next level and is ready to put up numbers right away. The organization did just draft a forward of the future last year in Giannis Antetokounmpo, who is a longer, athletic type, which is why the Bucks can pass on Wiggins. Jabari and Giannis should be able to play in the same frontcourt down the road even though small forward is the natural position for both of them. With Larry Sanders' off-the-court issues from this past season, Embiid is a real possibility as well since he would bring more offensive ability down low.

Philadelphia 76ers: 19.9%
The Sixers are re-building more than any team in the NBA right now. They have pretty much blown up their roster since last summer highlighted by dealing Evan Turner prior to the trade deadline. With no hopes of winning right away, Philadelphia is in a position to draft the best available player to add to last year's first-round picks, Michael Carter-Williams and Nerlens Noel. That player is Andrew Wiggins.
Wiggins fits a need at small forward and also has a ridiculous amount of upside. His athleticism and defensive abilities are strong, right, but he needs to develop his all-around offensive game - especially his consistency with his outside shot and aggressiveness attacking the tin. The 76ers also acquire the rights to New Orleans' pick if they don't move up in the lottery, so they will be adding a pair of building blocks for their franchise.

Orlando Magic: 15.6%
With Moe Harkless and Tobias Harris at forward and Nikola Vucevic at center, the Magic already has a young, up-and-coming frontcourt. The team's biggest need is at point guard where Dante Exum and Marcus Smart are better fits. However, there is no way Orlando reaches for either Exum or Smart and instead takes Wiggins and figures out the forward position afterward. I think the Magic would be a team that might be intrigued with the possibility of moving down from the No. 1 spot to hope and grab Exum or Smart while acquiring more future assets.

Utah Jazz: 10.4%
Utah needs to upgrade its wing play, especially with Gordon Hayward a restricted free agent. The Mormon connection is a huge plus, but Parker's scoring ability makes him a better fit with the Jazz since the team finished second to last in the league in scoring.

Boston Celtics: 10.3%
With Kelly Olynyk, Victor Faverani, and Joel Anthony the big men on the Celtics' roster, the club would probably take a long look at Embiid as a possible frontcourt mate alongside Jared Sullinger (who like Embiid, had back issues coming out of college.) Even though Boston has Jeff Green and Gerald Wallace at small forward, neither of those guys warrant passing on Parker or Wiggins, so it comes down to preference. However, Parker's scoring ability seems to make more sense alongside Rajon Rondo.

Los Angeles Lakers: 6.3%
The Lake Show is likely undergoing a major roster overhaul this summer, therefore the team's best bet is to take the best available player. Parker could end up replacing Kobe Bryant as the Lakers' franchise scorer, while Wiggins would provide needed versatility on the wing. I could also see L.A. seriously considering Embiid since the organization has a long history with franchise centers, but the health concerns could be a deal-breaker - especially with Bryant recovering from his own injuries.

Sacramento Kings: 4.3%
Rudy Gay holds a player option on the final year of his contract, so his long-term future in Sacramento is murky. Wiggins would give the Kings an all-around talent and needed defensive stopper on the wing. A potential Embiid/DeMarcus Cousins frontcourt would be intriguing as well.

Detroit Pistons: 2.8%
With Andre Drummond already established as Detroit's franchise center, the team has no need for Embiid (hey, that rhymed). Greg Monroe is a restricted free agent, so the Pistons' best bet is drafting Wiggins or Parker and sliding Josh Smith to the four. Parker brings more offensive firepower and three-point shooting, which Detroit sorely needs. However, a Drummond/Smith/Wiggins frontcourt could be destructive defensively. This is a toss up.

Cleveland Cavaliers: 1.7%
Can Dan Gilbert's son hit the jackpot again? The Cavaliers' biggest need is at small forward so winning the lottery would solve that issue. Kyrie Irving and Dion Waiters are scorers, so I'm not sure there would be enough ball to go around if you add Parker to the mix. Cleveland is also a marginal-at-best defensive club, so adding Wiggins brings some defensive prowess to the floor.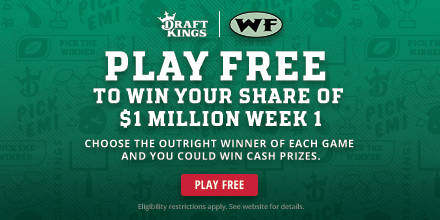 New Orleans Pelicans: 1.1%
If the Pelicans don't move into the top four, this pick goes to Philadelphia. Joel Embiid would be a potentially devastating frontcourt partner for Anthony Davis, but you'd have to give the edge to Wiggins due to his all-around game and still plentiful upside.

Denver Nuggets: .8% and .7%
The Nuggets get the Knicks' first-rounder regardless of where it lands, but Denver loses the less favorable of its two first-round picks to Orlando. So translation; if the Nuggets move into the top spot, they keep the pick. In that case, they go with best available, and that's Wiggins. He would add needed defense to the floor but also fit Denver's up-tempo style of play due to his athleticism and ability to thrive in transition.

Minnesota Timberwolves: .6%
The Kevin Love trade rumors are already heating up, so this is going to be an interesting summer for the Timberwolves. Landing the top pick would only add to the drama. With Nikola Pekovic in the middle, Minnesota doesn't need Embiid. The team has Corey Brewer and Chase Budinger at small forward, but Wiggins would be a long-term fix there. Scoring isn't the issue for thr Timberwolves; defense is. That's why Wiggins edges out Parker.

Phoenix Suns: .5%
The Suns were one of the surprise teams in the NBA this season, but Phoenix's pressing offseason need is adding talent on the wing. Wiggins beats out Parker since his ceiling is higher.
Comment...
Written by Paul Banks of the Washington Times, and David Kay of the The Sports Bank.
Send Paul an e-mail here: paulb05 AT hotmail DOT com.
All other e-mail, including advertising and link proposals, send to: wpc112@gmail.com
2015 NBA Mock Draft
2016 NBA Mock Draft
2014 NBA Draft Prospect Rankings
:
C
|
PF
|
COMBO-F
|
SF
|
COMBO-G
|
SG
|
PG
NFL Picks
- Oct. 15
2020 NFL Mock Draft
- Oct. 13
2019 NFL Mock Draft
- Oct. 11
Fantasy Football Rankings
- Sept. 5
2019 NBA Mock Draft
- Aug. 13
NFL Power Rankings
- June 3