By Chet Gresham -
@ChetGresham
Follow
@walterfootball
for updates.
Below, check out my fantasy-centered recaps of key players from this week's contests. For instance, did a player come back to earth after an aberrant breakout, or were they simply affected by something like game flow?

Redskins 16, Buccaneers 3
Alex Smith completed 19-of-27 passes for 178 yards and one touchdown, which is right in his wheelhouse of fantasy mediocrity, but still disappointing against the worst pass defense in the league.
Washington had very few yards in offense, but Josh Doctson has now caught a touchdown in back-to-back games, as he caught all four of his targets on Sunday for 46 yards and a touchdown. Jordan Reed saw one more target and caught four passes for 51 yards, but once again failed to get into the end zone. This passing offense is fairly useless in fantasy, but in deeper leagues, Doctson appears to be Washington's best red-zone threat at the moment.
Ryan Fitzpatrick completed 29-of-41 passes for 406 yards, no touchdowns and two interceptions, plus a lost fumble. That is a difficult stat line to compose on an NFL field, but Fitzpatrick is just the player to do it. As you can tell, the Buccaneers moved the ball with ease, but couldn't do anything the closer they got to the end zone. As long as Fitzpatrick is starting, he is still a fantasy start unless you have someone else who can throw for 400 yards consistently.
As you can imagine, Tampa Bay's receivers piled up yardage, but Mike Evans has another down game, as he caught 3-of-6 targets for 51 yards. Fitzpatrick missed him wide open in the end zone, so his day could have been much better, and he will remain a top play next week against the Giants.
Jacquizz Rodgers showed up this week, catching all eight of his targets for 102 yards. He ended up leading the team in targets, which isn't what Tampa Bay wants. Maybe Rodgers sees an uptick in targets, but it will be tough for him to see this kind of workload again this season.
Chiefs 26, Cardinals 14
Patrick Mahomes completed 21-of-28 passes for 249 yards and two touchdowns, ending his eight-game streak of 300 yards passing or more, but he was excellent as usual in another convincing win. He will take on the high-scoring Rams in Mexico City next Monday night, which should be a fun, barn-burning affair.
Tyreek Hill had his usual blowup game after a couple of down games, as he caught 7-of-10 targets for 117 yards and two touchdowns, adding 20 extra yards on one carry. He is going to be up and down, but his down games aren't awful and his up games are out of this world.
Those of you who traded for, or held onto, David Johnson; your waiting and sacrifice is finally over! We all had hopes that once Byron Leftwich became offensive coordinator we would see Johnson's workload look much better, especially after their bye, and this week, Johnson was the team's workhorse, as he rushed 21 times for 98 yards and a touchdown and caught 7-of-9 targets for 85 yards and another touchdown. That's 30 looks for Johnson, so the buy-low window is bolted shut.
Larry Fitzgerald led the team in targets with 10, catching six for 50 yards. The targets were there, which is good, unfortunately the production wasn't. If Johnson's workload remains close to the 20-25-touch range, Fitzgerald will likely remain the only other player you can feel good about starting for Arizona.
Titans 34, Patriots 10
It looks like good Marcus Mariota is finally back. He completed 16-of-24 passes for 228 yards and two touchdowns, caught a 21-yard reception, and ran the ball twice for 21 yards. He now has two strong games in his last two and is hopefully back to 100 percent health.
Dion Lewis was the no-doubt lead back again, but this week, he couldn't get much going against his old team, as he rushed 20 times for 57 yards and caught his two targets for 11 yards. Derrick Henry, however, rushed 11 times for 58 yards and two touchdowns. I don't think this changes Lewis' lead-back role, but he'll need to be more efficient to keep the job.
Tom Brady completed 21-of-41 passes for 254 yards and no touchdowns. The Patriots were overpowered by the Titans' defense, and with Mariota and company not turning over the ball, that defense never got into tough situations. The absence of Rob Gronkowski always hurts the Patriots' offense, and they really need him to be healthy for the stretch run coming off their bye next week.
Nothing much went right for the Patriots this week, which ended up pushing short passes to Julian Edelman, who caught 9-of-12 targets for 104 yards to lead the team in fantasy points.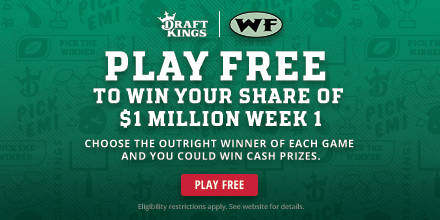 Browns 28, Falcons 16
Baker Mayfield completed 17-of-20 passes to nine different players for 216 yards and three touchdowns against the Falcons, putting together his best game as a rookie. He has now thrown for two or more touchdowns in each of his last four games and will be a streaming option after the bye when the Browns face the Bengals.
Mayfield was close to perfect this week, but so was Nick Chubb, who rushed 20 times for 176 yards and a touchdown, plus caught 3-of-3 targets for 33 yards and another touchdown. A 92-yard touchdown run was the key to his huge day, but even if that play hadn't happened, he still would have had a strong day. With this offense showing some life under David Kitchens, Chubb's outlook gets a boost.
Matt Ryan completed 38-of-52 passes for 330 yards and two touchdowns to continue his high-end fantasy play on the season. Even with a middling rest-of-the-season schedule, he should continue to put up good numbers.
In come-from-behind mode, the Falcons went to the air, which hurt Tevin Coleman, but helped Julio Jones and Austin Hooper to both see 11 targets. Jones caught seven for 107 yards and his second touchdown of the season after not getting into the end zone for seemingly 5,000 years. Jones might not go on a true touchdown landslide, but he sure has that monkey off his back and there's no reason we don't see a few more this year.
Saints 51, Bengals 14
Drew Brees completed 22-of-25 passes for 265 yards and three scores, plus rushed for a 1-yard touchdown, in his domination of the hapless Bengals. He doesn't have many tough matchups left on the docket and should continue his fantasy greatness.
Mark Ingram had 16 touches to Alvin Kamara's 16 touches, and both had big fantasy days, with Kamara totaling 102 yards and two touchdowns, and Ingram totaling 162 yards and one touchdown. It was good to see for Ingram backers, as things had not been going well for his fantasy adventures. Kamara remains the main back around the goal line, but in games in which the Saints have leads, Ingram should still be a big factor.
Andy Dalton completed 12-of-20 passes for 153 yards, one touchdown and two interceptions. It was a disastrous game for the Bengals coming off a bye and playing a weaker defense at home. Of course, the absence of A.J. Green hurt, but it was still a pitiful display.
Joe Mixon rushed 11 times for 61 yards and caught both of his targets for 24 yards. Mixon is the type of player who needs to get work, even when trailing but that didn't happen once again. He'll need games to be closer to get to get close to his upside, which is annoying.
Bills 41, Jets 10
In one of the more head-scratching games of the day, Matt Barkley completed 15-of-25 passes for 232 yards and two touchdowns during the Bills humiliation of the Jets. Barkley's two touchdown passes almost reached the total for the Bills through their first nine games, as they had just three. Josh Allen will likely return after the bye to face Jacksonville though.
LeSean McCoy was the engine behind the Buffalo offense this week, as he rushed 26 times for 113 yards and two touchdowns. It was his first 100-yard rushing game of the season and his first two touchdowns as well. In his previous three games, he had rushed 24 times for 24 yards. If you can pawn him off on someone during Buffalo's bye, go ahead.
Josh McCown completed just 17-of-34 passes for 135 yards and two interceptions in the spot start for Sam Darnold. The Jets as a whole are bad, so I'm not going to lay this all on McCown, but he is in no way the answer to their troubles. Darnold should return after the bye to take on the Patriots.
Isaiah Crowell scored a five-yard touchdown in garbage time, but was outplayed by Elijah McGuire, who had nine touches for 57 yards to Crowell's nine touches for 37 yards. They will likely continue to split work fairly evenly, and I expect won't have much fantasy value, but I would rather have McGuire for his possible upside.
Colts 29, Jaguars 26
Andrew Luck completed 21-of-29 passes for 285 yards, three touchdowns and an interception in yet another dominating passing performance, this time against a talented defense coming off their bye. After getting "just" five touchdowns over his first three games, Luck has now totaled 21 in his last six, or 3.5 per game.
Eric Ebron is barely on the field now that Jack Doyle is back, but he still managed three touchdowns on four touches this week. Frank Reich doesn't waste plays and puts Ebron in situations where he'll excel, and with tight end play being awful for the most part, that should keep Ebron as a TE1; we just need to know that if he doesn't get into the end zone, he will be a dud.
Blake Bortles completed 26-of-38 passes for 320 yards and two touchdowns, rushing twice for eight yards. He played much better than he has of late, but that's his M.O., as he gives you a string of good games that makes you think he is going to right the ship, but then he single-handedly sinks the ship the following week.
Leonard Fournette rushed 24 times for 53 yards and a touchdown, plus caught all five of his targets for 56 yards and another touchdown. His efficiency numbers aren't good on the ground, but the fact that he lasted all game and touched the ball 29 times is great to see for his ability to stay on the field for the rest of the season.
Bears 34, Lions 22
I keep thinking Mitch Trubisky is going to come back to earth, but I think Matt Nagy isn't going to let that happen and Trubisky is gaining confidence as he's put into good situations over and over. This week, he dusted Detroit's inept defense for three touchdowns and 355 yards on 23-of-30 passing, while also rushing for another touchdown. He played a perfect game and now has a healthy Allen Robinson back. I'm on board too late, but I'm on board.
Allen Robinson had a big return to the field, as he caught 6-of-8 targets for 133 yards and two touchdowns. Rookie Anthony Miller wasn't far behind him, catching 5-of-6 targets for 122 yards and a touchdown. With both healthy, I think we can let Taylor Gabriel go after not catching any of his three targets.
Matthew Stafford completed 25-of-42 passes for 274 yards with two touchdowns and two interceptions, plus was sacked six times after being sacked 10 times last week against the Vikings. He already lost Golden Tate, and now Marvin Jones left this game with a knee injury. We'll need to see the extent of Jones' injury, but Stafford is getting low on weapons.
Kenny Golladay saw 10 targets in the second half, many after Marvin Jones left with an injury. Golladay ended up catching 6-of-13 targets for 78 yards and a touchdown, and if Jones were to miss any time, Golladay would be the main target and a high-upside play with his ability.
Chargers 20, Raiders 6
Philip Rivers completed 18-of-26 passes for 223 yards for two touchdowns and an interception. It was yet another low-volume day for Rivers, who continues to be efficient, but until a team forces him to throw the ball more, he is going to hand it off with a lead. He got lucky that Melvin Gordon took a dump-off 66 yards to the house, but we know Rivers can put up huge numbers when forced to. His fantasy backers better hope Denver gives the Chargers a tougher game next week.
Melvin Gordon continued his dominating season, as he rushed 18 times for 93 yards and caught 5-of-6 passes for 72 yards and a touchdown. He totaled 165 yards and has now topped 1,000 yards, with 1,033 and 11 touchdowns through eight games - he missed one due to injury.
Derek Carr and the Raiders haven't scored a touchdown in their last two games, and Carr has now thrown for one or fewer touchdowns in Seven-of-nine games - That's for you, Star Trek nerds. He also threw the ball away on fourth down for some unknown reason. Las Vegas is getting a flawed quarterback.
Amazingly, Doug Martin was the only consistent offensive player this week, as he rushed 15 times for 61 yards and hauled in all three of his targets for 31 yards. Unfortunately, his upside remains low because the Raiders as a team are awful and Martin isn't the kind of player who can take over a game anymore.
Packers 31, Dolphins 12
Only one Aaron went off this week in Green Bay, and it was Aaron Jones, who finally ran as the no-doubt every-down back, as he rushed 15 times for 145 yards and two touchdowns, plus caught 3-of-5 targets for 27 yards. His five targets were third on the team behind Davante Adams and Marquez Valdes-Scantling, which is a good sign, especially with Jamaal Williams only getting three carries and zero targets.
Marquez Valdes-Scantling caught 6-of-7 targets for just 44 yards, but did tie Davante Adams for the target lead. Valdes-Scantling should continue to be a useful fantasy piece moving forward.
Brock Osweiler moved the ball okay at times, but had no luck getting it into the end zone under one of his teammates' possession. Osweiler is a statue who took three sacks in a row at one point and made an awful interception that put the game out of reach. Ryan Tannehill should return after the bye to keep the mediocrity intact.
Kenyan Drake had to leave this game with a shoulder injury, but Frank Gore was the preferred back even while Drake was in there. It's hard to believe that Drake put up huge numbers late last season as the lead back and is now Frank Gore's backup. Yes, Gore is still producing at times, like this week when he totaled 102 yards on 15 touches, but he is too damn old to break one and has just one touchdown all season compared to Drake's five.
Rams 36, Seahawks 31
Jared Goff completed 28-of-39 passes for 318 yards and two touchdowns, looking his usual self. Next week, he'll get a Monday night matchup with Kansas City, which will likely be the highest over/under of the year - and perhaps of all time.
The biggest news for fantasy in this game was Cooper Kupp's non-contact injury, which at this point looks like it could be a season-ending ACL tear. Nothing is official yet, but usually the "initial concern" reports end up being true. His absence won't stop this Rams offense, but he was absolutely a big part of its success with six touchdowns in his six games this season. Robert Woods and Brandin Cooks will see an uptick in work, while Josh Reynolds will be needed to finish out the season.
Russell Wilson completed 17-of-26 passes for 176 yards and three touchdowns, plus rushed nine times for 92 yards. His crazy touchdown rate and his most rushing yards since 2014, pushed him up into a top-five quarterback play this week, despite his low passing yards. He now has four three-score games in his last five, despite averaging just 19.25 attempts and 15.25 completions in those four games.
Rashaad Penny rushed 12 times for 108 yards and a touchdown, while Mike Davis rushed 11 times for 58 yards and caught 4-of-6 targets for 22 yards and a touchdown. Both played well, but Penny did look great and should continue to see touches. Much will depend on if Chris Carson can return for this Thursday's game against the Packers though.
Cowboys 27, Eagles 20
Dak Prescott kept from making any egregious mistakes, as he completed 26-of-36 passes for 270 yards and a touchdown, plus took six carries for nine yards and another touchdown. The true reason, however, the Cowboys were able to go into Philadelphia and come out winners was Ezekiel Elliott's big game. Elliott rushed 19 times for 151 yards and a touchdown, plus caught 6-of-7 targets for 36 yards and a touchdown. And this explosion came against one of the best rushing defenses in the league.
Amari Cooper led the way through the air for the Cowboys, catching 6-of-10 targets for 75 yards, but it should have been a bigger game, as the Eagles were down three defensive backs and Cooper was open more often than not.
Carson Wentz ended up with a good fantasy game, as he relentlessly targeted Zach Ertz, who caught 14-of-16 targets for 145 yards and two touchdowns. The only other receiver to put up significant yardage was Nelson Agholor, who caught 5-of-7 targets for 83 yards.
Golden Tate's first game was a bust, as he caught 2-of-4 targets for 19 yards. Hopefully, he just needs to get more familiar with the offense. For now, he needs to be downgraded until we see his target share get a boost.
For more thoughts, check out Walt's updated
NFL Power Rankings
, which will be posted Tuesday morning.
Comment...
Fantasy Football: The Things I Learned - Week 10
- 11/12
Fantasy Football: The Things I Learned - Week 9
- 11/5
Fantasy Football: The Things I Learned - Week 8
- 10/29
Fantasy Football: The Things I Learned - Week 7
- 10/22
Fantasy Football: The Things I Learned - Week 6
- 10/15
Fantasy Football: The Things I Learned - Week 5
- 10/8
Fantasy Football: The Things I Learned - Week 4
- 10/1
Fantasy Football: The Things I Learned - Week 3
- 9/24
Fantasy Football: The Things I Learned - Week 2
- 9/17
Fantasy Football: The Things I Learned - Week 1
- 9/10
NFL Picks
- Nov. 13
2019 NFL Mock Draft
- Nov. 8
2020 NFL Mock Draft
- Nov. 3
Fantasy Football Rankings
- Sept. 5
2019 NBA Mock Draft
- Aug. 13
NFL Power Rankings
- June 3
2018:
Live 2018 NFL Draft Blog
- April 30
2018 NFL Week 1 Recap
- Sept. 7
2018 NFL Week 2 Recap
- Sept. 14
2018 NFL Week 3 Recap
- Sept. 21
2018 NFL Week 4 Recap
- Sept. 28
2018 NFL Week 5 Recap
- Oct. 5
2018 NFL Week 6 Recap
- Oct. 12
2018 NFL Week 7 Recap
- Oct. 19
2018 NFL Week 8 Recap
- Oct. 26
2018 NFL Week 9 Recap
- Nov. 2
2018 NFL Week 10 Recap
- Nov. 9
2017:
Live 2017 NFL Draft Blog
- April 30
2017 NFL Week 1 Recap
- Sept. 12
2017 NFL Week 2 Recap
- Sept. 19
2017 NFL Week 3 Recap
- Sept. 26
2017 NFL Week 4 Recap
- Oct. 2
2017 NFL Week 5 Recap
- Oct. 9
2017 NFL Week 6 Recap
- Oct. 16
2017 NFL Week 7 Recap
- Oct. 23
2017 NFL Week 8 Recap
- Oct. 30
2017 NFL Week 9 Recap
- Nov. 6
2017 NFL Week 10 Recap
- Nov. 13
2017 NFL Week 11 Recap
- Nov. 20
2017 NFL Week 12 Recap
- Nov. 27
2017 NFL Week 13 Recap
- Dec. 4
2017 NFL Week 14 Recap
- Dec. 11
2017 NFL Week 15 Recap
- Dec. 18
2017 NFL Week 16 Recap
- Dec. 25
2017 NFL Week 17 Recap
- Jan. 1
2017 NFL Week 18 Recap
- Jan. 8
2017 NFL Week 19 Recap
- Jan. 15
2017 NFL Week 20 Recap
- Jan. 22
Super Bowl LII Recap
- Feb. 5
2017:
Live 2017 NFL Draft Blog
- April 30
2017 NFL Week 1 Recap
- Sept. 12
2017 NFL Week 2 Recap
- Sept. 19
2017 NFL Week 3 Recap
- Sept. 26
2017 NFL Week 4 Recap
- Oct. 2
2017 NFL Week 5 Recap
- Oct. 9
2017 NFL Week 6 Recap
- Oct. 16
2017 NFL Week 7 Recap
- Oct. 23
2017 NFL Week 8 Recap
- Oct. 30
2017 NFL Week 9 Recap
- Nov. 6
2017 NFL Week 10 Recap
- Nov. 13
2017 NFL Week 11 Recap
- Nov. 20
2017 NFL Week 12 Recap
- Nov. 27
2017 NFL Week 13 Recap
- Dec. 4
2017 NFL Week 14 Recap
- Dec. 11
2017 NFL Week 15 Recap
- Dec. 18
2017 NFL Week 16 Recap
- Dec. 25
2017 NFL Week 17 Recap
- Jan. 1
2017 NFL Week 18 Recap
- Jan. 8
2017 NFL Week 19 Recap
- Jan. 15
2017 NFL Week 20 Recap
- Jan. 22
Super Bowl LII Recap
- Feb. 5
2016:
Live 2016 NFL Draft Blog
- April 30
2016 NFL Week 1 Recap
- Sept. 12
2016 NFL Week 2 Recap
- Sept. 19
2016 NFL Week 3 Recap
- Sept. 26
2016 NFL Week 4 Recap
- Oct. 3
2016 NFL Week 5 Recap
- Oct. 10
2016 NFL Week 6 Recap
- Oct. 17
2016 NFL Week 7 Recap
- Oct. 24
2016 NFL Week 8 Recap
- Oct. 31
2016 NFL Week 9 Recap
- Nov. 7
2016 NFL Week 10 Recap
- Nov. 14
2016 NFL Week 11 Recap
- Nov. 21
2016 NFL Week 12 Recap
- Nov. 28
2016 NFL Week 13 Recap
- Dec. 5
2016 NFL Week 14 Recap
- Dec. 12
2016 NFL Week 15 Recap
- Dec. 19
2016 NFL Week 16 Recap
- Dec. 26
2016 NFL Week 17 Recap
- Jan. 2
2016 NFL Week 18 Recap
- Jan. 9
2016 NFL Week 19 Recap
- Jan. 16
2016 NFL Week 20 Recap
- Jan. 23
2016 NFL Week 21 Recap
- Feb. 6
2015:
Live 2015 NFL Draft Blog
- April 30
2015 NFL Week 1 Recap
- Sept. 12
2015 NFL Week 2 Recap
- Sept. 17
2015 NFL Week 3 Recap
- Sept. 24
2015 NFL Week 4 Recap
- Oct. 1
2015 NFL Week 5 Recap
- Oct. 8
2015 NFL Week 6 Recap
- Oct. 15
2015 NFL Week 7 Recap
- Oct. 22
2015 NFL Week 8 Recap
- Oct. 29
2015 NFL Week 9 Recap
- Nov. 5
2015 NFL Week 10 Recap
- Nov. 12
2015 NFL Week 11 Recap
- Nov. 19
2015 NFL Week 12 Recap
- Nov. 26
2015 NFL Week 13 Recap
- Dec. 4
2015 NFL Week 14 Recap
- Dec. 11
2015 NFL Week 15 Recap
- Dec. 18
2015 NFL Week 16 Recap
- Dec. 25
2015 NFL Week 17 Recap
- Jan. 4
2015 NFL Week 18 Recap
- Jan. 11
2015 NFL Week 19 Recap
- Jan. 18
2015 NFL Week 20 Recap
- Jan. 25
Super Bowl 50 Recap
- Feb. 8
2014:
Live 2014 NFL Draft Blog
- May 8
2014 NFL Week 1 Recap
- Sept. 5
2014 NFL Week 2 Recap
- Sept. 12
2014 NFL Week 3 Recap
- Sept. 19
2014 NFL Week 4 Recap
- Sept. 26
2014 NFL Week 5 Recap
- Oct. 3
2014 NFL Week 6 Recap
- Oct. 10
2014 NFL Week 7 Recap
- Oct. 17
2014 NFL Week 8 Recap
- Oct. 24
2014 NFL Week 9 Recap
- Oct. 31
2014 NFL Week 10 Recap
- Nov. 6
2014 NFL Week 11 Recap
- Nov. 13
2014 NFL Week 12 Recap
- Nov. 20
2014 NFL Week 13 Recap
- Nov. 27
2014 NFL Week 14 Recap
- Dec. 5
2014 NFL Week 15 Recap
- Dec. 12
2014 NFL Week 16 Recap
- Dec. 19
2014 NFL Week 17 Recap
- Dec. 29
2014 NFL Week 18 Recap
- Jan. 4
2014 NFL Week 19 Recap
- Jan. 11
2014 NFL Week 20 Recap
- Jan. 18
Super Bowl XLIX Live Blog
- Feb. 1
Super Bowl XLIX Recap
- Feb. 2
2013:
Live 2013 NFL Draft Blog
- April 26
2013 NFL Week 1 Recap
- Sept. 10
2013 NFL Week 2 Recap
- Sept. 17
2013 NFL Week 3 Recap
- Sept. 24
2013 NFL Week 4 Recap
- Oct. 1
2013 NFL Week 5 Recap
- Oct. 8
2013 NFL Week 6 Recap
- Oct. 15
2013 NFL Week 7 Recap
- Oct. 22
2013 NFL Week 8 Recap
- Oct. 29
2013 NFL Week 9 Recap
- Nov. 4
2013 NFL Week 10 Recap
- Nov. 11
2013 NFL Week 11 Recap
- Nov. 18
2013 NFL Week 12 Recap
- Nov. 25
2013 NFL Week 13 Recap
- Dec. 2
2013 NFL Week 14 Recap
- Dec. 9
2013 NFL Week 15 Recap
- Dec. 16
2013 NFL Week 16 Recap
- Dec. 23
2013 NFL Week 17 Recap
- Dec. 30
2013 NFL Week 18 Recap
- Jan. 6
2013 NFL Week 19 Recap
- Jan. 13
2013 NFL Week 20 Recap
- Jan. 20
Super Bowl XLVIII Recap
- Feb. 3
Super Bowl XLVIII Live Blog
- Feb. 2
2012:
Live 2012 NFL Draft Blog
- April 26
2012 NFL Week 1 Recap
- Sept. 10
2012 NFL Week 2 Recap
- Sept. 17
2012 NFL Week 3 Recap
- Sept. 24
2012 NFL Week 4 Recap
- Oct. 1
2012 NFL Week 5 Recap
- Oct. 8
2012 NFL Week 6 Recap
- Oct. 15
2012 NFL Week 7 Recap
- Oct. 22
2012 NFL Week 8 Recap
- Oct. 29
2012 NFL Week 9 Recap
- Nov. 5
2012 NFL Week 10 Recap
- Nov. 12
2012 NFL Week 11 Recap
- Nov. 19
2012 NFL Week 12 Recap
- Nov. 26
2012 NFL Week 13 Recap
- Dec. 3
2012 NFL Week 14 Recap
- Dec. 10
2012 NFL Week 15 Recap
- Dec. 17
2012 NFL Week 16 Recap
- Dec. 24
2012 NFL Week 17 Recap
- Dec. 31
2012 NFL Week 18 Recap
- Jan. 7
2012 NFL Week 19 Recap
- Jan. 14
2012 NFL Week 20 Recap
- Jan. 21
Super Bowl XLVII Recap
- Feb. 4
Super Bowl XLVII Live Blog
- Feb. 4
2011:
Live 2011 NFL Draft Blog
- April 28
2011 NFL Week 1 Recap
- Sept. 12
2011 NFL Week 2 Recap
- Sept. 19
2011 NFL Week 3 Recap
- Sept. 26
2011 NFL Week 4 Recap
- Oct. 3
2011 NFL Week 5 Recap
- Oct. 10
2011 NFL Week 6 Recap
- Oct. 17
2011 NFL Week 7 Recap
- Oct. 24
2011 NFL Week 8 Recap
- Oct. 31
2011 NFL Week 9 Recap
- Nov. 7
2011 NFL Week 10 Recap
- Nov. 14
2011 NFL Week 11 Recap
- Nov. 21
2011 NFL Week 12 Recap
- Nov. 28
2011 NFL Week 13 Recap
- Dec. 5
2011 NFL Week 14 Recap
- Dec. 12
2011 NFL Week 15 Recap
- Dec. 19
2011 NFL Week 16 Recap
- Dec. 26
2011 NFL Week 17 Recap
- Jan. 2
2011 NFL Week 18 Recap
- Jan. 9
2011 NFL Week 19 Recap
- Jan. 16
2011 NFL Week 20 Recap
- Jan. 23
Super Bowl XLVI Live Blog
- Feb. 6
2010:
Live 2010 NFL Draft Blog
- April 22
2010 Hall of Fame Game Live Blog
- Aug. 8
2010 NFL Kickoff Live Blog
- Sept. 9
2010 NFL Week 1 Review
- Sept. 13
2010 NFL Week 2 Review
- Sept. 20
2010 NFL Week 3 Review
- Sept. 27
2010 NFL Week 4 Review
- Oct. 4
2010 NFL Week 5 Review
- Oct. 11
2010 NFL Week 6 Review
- Oct. 18
2010 NFL Week 7 Review
- Oct. 25
2010 NFL Week 8 Review
- Nov. 1
2010 NFL Week 9 Review
- Nov. 8
2010 NFL Week 10 Review
- Nov. 15
2010 NFL Week 11 Review
- Nov. 22
2010 NFL Week 12 Review
- Nov. 29
2010 NFL Week 13 Review
- Dec. 6
2010 NFL Week 14 Review
- Dec. 13
2010 NFL Week 15 Review
- Dec. 20
2010 NFL Week 16 Review
- Dec. 27
2010 NFL Week 17 Review
- Jan. 3
2010 NFL Week 18 Review
- Jan. 10
2010 NFL Week 19 Review
- Jan. 17
2010 NFL Week 19 Review
- Jan. 24
Super Bowl XLV Live Blog
- Feb. 6
2009:
Live 2009 NFL Draft Blog
- April 25
2009 Hall of Fame Game Live Blog
- Aug. 10
2009 NFL Kickoff Live Blog
- Sept. 10
2009 NFL Week 1 Review
- Sept. 14
2009 NFL Week 2 Review
- Sept. 21
2009 NFL Week 3 Review
- Sept. 28
2009 NFL Week 4 Review
- Oct. 5
2009 NFL Week 5 Review
- Oct. 12
2009 NFL Week 6 Review
- Oct. 19
2009 NFL Week 7 Review
- Oct. 26
2009 NFL Week 8 Review
- Nov. 2
2009 NFL Week 9 Review
- Nov. 9
2009 NFL Week 10 Review
- Nov. 16
2009 NFL Week 11 Review
- Nov. 23
2009 NFL Week 12 Review
- Nov. 30
2009 NFL Week 13 Review
- Dec. 6
2009 NFL Week 14 Review
- Dec. 13
2009 NFL Week 15 Review
- Dec. 20
2009 NFL Week 16 Review
- Dec. 27
2009 NFL Week 17 Review
- Jan. 4
2009 NFL Week 18 Review
- Jan. 11
2009 NFL Week 19 Review
- Jan. 18
2009 NFL Week 20 Review
- Jan. 25
Super Bowl XLIV Live Blog
- Feb. 7
2008:
Live 2008 NFL Draft Blog
- April 26
2008 NFL Kickoff Blog
- Sept. 4
NFL Week 1 Review
- Sept. 8
NFL Week 2 Review
- Sept. 15
NFL Week 3 Review
- Sept. 22
NFL Week 4 Review
- Sept. 29
NFL Week 5 Review
- Oct. 6
NFL Week 6 Review
- Oct. 13
NFL Week 7 Review
- Oct. 20
NFL Week 8 Review
- Oct. 27
NFL Week 9 Review
- Nov. 3
NFL Week 10 Review
- Nov. 10
NFL Week 11 Review
- Nov. 17
NFL Week 12 Review
- Nov. 24
NFL Week 13 Review
- Dec. 1
NFL Week 14 Review
- Dec. 8
NFL Week 15 Review
- Dec. 15
NFL Week 16 Review
- Dec. 22
NFL Week 17 Review
- Dec. 29
NFL Wild Card Playoffs Review
- Jan. 4
NFL Divisional Playoffs Review
- Jan. 11
NFL Championship Sunday Review
- Jan. 19
Super Bowl XLIII Live Blog