By Chet Gresham -
@ChetGresham
Follow
@walterfootball
for updates.
Below, check out my fantasy-centered recaps of key players from this week's contests. For instance, did a player come back to earth after an aberrant breakout, or were they simply affected by something like game flow?
Chiefs 42, Steelers 37
Patrick Mahomes is the real deal, and there isn't much to debate. He's now torched a good defense on the road against the L.A. Chargers in Week 1 and a bad defense on the road in Pittsburgh Week 2. And, he elevated his game against the lousy defense, throwing for six touchdowns and 326 yards. He also found receivers other than Tyreek Hill, who was his primary target in Week 1. Hill didn't even have a catch in the first half against the Steelers, but Travis Kelce and Sammy Watkins were used well before Hill was added to the fun in the second half for another big day. Mahomes will be a top-5 fantasy quarterback until further notice.
It was good to see Travis Kelce get going after a slow Week 1, but we knew he would come around quickly. It was more interesting to see Sammy Watkins get some production, as he caught 6-of-7 targets for 100 yards. He'll always be behind Hill and Kelce in the pecking order, but this game shows us that there is still upside in his game.
Kareem Hunt rushed 18 times for 75 yards and caught his lone target for a five-yard touchdown. The ability is there without a doubt, but this is Mahomes' team now, and as long as he's able to do anything he wants through the air, Hunt will take a back seat. There will be better matchups and game scripts for Hunt, but with just one reception in his first two games, we may have to live with a lower ceiling for him in PPR leagues as Mahomes' ability to throw 50 yards on a dime helps the receivers more than Hunt.
Ben Roethlisberger had a huge game as well and currently leads all quarterbacks in fantasy points for the week. We knew this was coming against a weak Kansas City pass defense, but it wouldn't have been quite the monster game if it weren't for the Steelers getting in a big hole early. Much like Kansas City, it looks like the Steelers' defense is going to push their quarterback to throw the ball a whole bunch, and Big Ben's 60 pass attempts were a whole bunch today.
Antonio Brown saw 17 targets but caught nine for just 67 yards and no touchdowns. Roethlisberger did miss him on a couple of deep passes where he had a step, but the Chiefs also keying on him, and it appeared his calf wasn't 100 percent either. Hopefully, it's nothing to worry about, as he gets a great matchup against the Buccaneers' awful pass defense next week.
James Conner wasn't needed as much this week due to the quick 21-point deficit, but he did still manage a touchdown and five receptions to keep him from a dud. He also made one of the most amazing receptions I've ever seen, but was out of bounds.
Falcons 31, Panthers 24
Matt Ryan put together a strong fantasy game despite Julio Jones only getting 64 yards and no touchdowns. Of course, Ryan's two short-yardage rushing touchdowns made a big difference, but I don't think we'll see a bunch of those in his future, as these are his first rushing touchdowns since 2012.
Tevin Coleman stepped into the lead-back role with Devonta Freeman out and put up good yardage with 107 rushing yards on 16 carries. Coleman also caught all four of his targets for 18 more yards. He was vultured by Matt Ryan at the goal line as well, so his day could have been more significant for fantasy. Freeman is out next week against the Saints, when Coleman will again be a useful fantasy back.
Rookie Calvin Ridley had a bounce-back game after getting shut out in Week 1, as he caught 4-of-5 targets for 64 yards and a touchdown. His five targets were three more than Mohamed Sanu and could be the start of Ridley passing Sanu on the depth chart.
Ito Smith had a nice game with 10 touches for 54 yards and should continue to see a decent workload while Freeman is out.
Cam Newton and his offense had trouble early in this game, but he did start accumulating yardage and fantasy points as the Panthers tried to come back from a deficit. What looked to be an early dud turned into a big game for Newton with 335 yards passing for three touchdowns and an extra 42 yards on the ground. He's a tough player to hold down in fantasy.
Christian McCaffrey went crazy through the air with 14 receptions on 15 targets for 102 yards and added eight carries for 37 yards. If you are in a standard league, you aren't as happy, but in PPR, he'll likely end up as a top-5 play. With Greg Olsen out and the rest of Carolina's receivers inconsistent, we'll continue to see big reception days from McCaffrey.
Jarius Wright appears to have found a niche in this offense with Olsen out, as he caught 5-of-7 targets for 62 yards and a touchdown this week. The touchdowns will be tough to come by moving forward though.
Colts 21, Redskins 9
Andrew Luck completed 21-of-31 passes for 179 yards with two touchdowns and two interceptions. It was an inconsistent game from him, but one of his interceptions was on a ball tipped at the line of scrimmage, and he was able to get the ball to his best receiver T.Y. Hilton for a good fantasy game. Additionally, Luck got a road win, his first win since the late 1800s. The Colts' offense is a work in progress, but one that is working enough to move the ball and put up some fantasy points, and will have better days when the game they're in is closer, or they trail, which they will.
Marlon Mack and Jordan Wilkins split work, but Wilkins outplayed him and was the preferred back in the second half. Neither put up good fantasy numbers, but Wilkins had 12 touches for 64 yards to Mack's 11 touches for 36 yards. I don't know if this game is enough to push Wilkins to the lead role, mainly since this was Mack's first game back from his injury, but it is a step in the right direction.
Washington couldn't get anything going at home against a weak Indianapolis defense, which is concerning. Alex Smith had a decent yardage day as he tried to bring his team from behind, but couldn't get a touchdown, as his team settled for three field goals. The Redskins' Week 1 crushing of Arizona isn't looking that special after the Rams held the Cardinals to just five first downs and put up 34 points on them this week.
Most of the offense went through Chris Thompson on check downs as Washington tried to come back. Thompson caught 13-of-14 targets for 92 yards and rushed four times for one whole yard. Adrian Peterson was also bottled up on the ground for just 20 yards on 11 carries and then wasn't used after getting behind. Thompson will remain one of the better PPR backs in the league, while Peterson will need touchdowns and positive game script to stay relevant.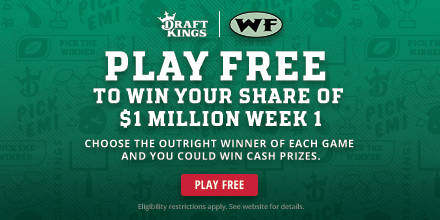 Titans 20, Texans 17
Blaine Gabbert to the rescue! Well, maybe not exactly, but he did get the win, as he completed 13-of-20 passes for 117 yards and a touchdown, and didn't throw an interception. Overall, this game was an ugly one for the Titans on offense, but a fake punt touchdown helped a lot, although not if you play fantasy football. As long as Blaine Gabbert is the quarterback, there won't be any gaudy fantasy stats coming out of Tennessee, and that may be true once Marcus Mariota returns as well, but the upside for the offense as a whole will be higher.
Texans players had much better fantasy production this week than Titans players, as Deshaun Watson completed 22-of-32 passes for 310 yards, two touchdowns and an interception, plus rushed for 36 yards. The fact that he put those numbers up and pushed both Will Fuller and DeAndre Hopkins over 100 yards, with both getting into the end zone, and the Texans still lost to an offensively impaired Tennessee team is embarrassing. Thankfully, we don't care about how embarrassing it was because fantasy points were right where we wanted them with Watson, Fuller and Hopkins all putting up good games, and it's a relief to see they have it in them.

Buccaneers 27, Eagles 21
Yeah, I don't know what to say about Ryan Fitzpatrick, except that he's been outstanding in his first two games this season. I mean, really, really, really good. This week, he had another tough matchup against the Eagles' defense and just went out and topped 400 yards and threw four touchdowns AGAIN! He's now done this to two good pass defenses in a row and gets the Steelers at home next week. He'll be set up for another big game, and we have to start him while we wait for the other shoe to drop.
Mike Evans, DeSean Jackson and Chris Godwin continue to put up high numbers, with Jackson and Evans getting the bulk of the yardage, but Evans remains the target leader and the receiver most likely to keep his stats consistently high. Jackson now has now caught all nine of his targets for 275 yards and three touchdowns. None of this is sustainable of course, but it's fun while it lasts.
Peyton Barber isn't getting it done on the ground, as he now has rushed the ball 35 times for 91 yards. Of course, Philadelphia's defensive line is one of the best in the business, but Barber is only going to get what is blocked for him and will need strong matchups for success.
Cameron Brate hasn't caught a pass this year, while O.J. Howard has five receptions for 150 yards. A big chunk of those came on a 75-yard catch-and-run for a touchdown on Sunday, and his target numbers aren't going to be where we need them for consistency, but he is someone who can make big plays on limited targets, as seen so far in his career.
Nick Foles completed 35-of-48 passes for 334 yards and a touchdown in comeback mode, but a good quarterback would have shredded this Tampa Bay pass defense for big gainers and touchdowns. The Eagles need Carson Wentz back, and it looks like he is very close to returning.
Jay Ajayi missed most of the first half with a back injury, and when he returned in the second half, he didn't see a lot of work as the Eagles trailed. He did manage a touchdown run, while Corey Clement saw heightened work in his place and as a receiving back. Clement rushed six times for 30 yards and a touchdown, plus caught 5-of-6 targets for 55 yards, showing that he needs touches in this offense, likely over Darren Sproles when he returns from injury. Ajayi will remain the lead back, but Clement should see a more significant role moving forward.
Mike Wallace left the game in the first quarter with an ankle injury, which pushed targets up for Zach Ertz and Nelson Agholor. Ertz had an excellent PPR game, as he caught 11-of-13 targets for 94 yards, but Agholor found the end zone while catching 8-of-12 targets for 95 yards. We don't know the extent of the Wallace injury, but the fact that he was ruled out fairly quickly does seem to put next week in jeopardy. Alshon Jeffrey is likely out next week as well, so Agholor should remain the top fantasy receiver in a nice matchup against the Colts in Week 3.
Dolphins 20, Jets 12
The Dolphins didn't do much offensively to win this game, as Ryan Tannehill did throw for two touchdowns and rush for 44 yards, but also threw for just 168 yards. The rushing yards were nice to see, as they elevated him into the top-15 quarterbacks for the day, but he's going to need to throw the ball a whole lot more to be fantasy relevant.
Albert Wilson ended up leading the team in targets and receiving yards with five targets and 37 yards, but also was able to get into the end zone, while Kenny Stills caught just 2-of-3 targets for 17 yards. Again, the pass attempts aren't there to sustain consistent receiving stats right now. The Dolphins will need to get behind, and against Oakland next week, they'll likely get DeVante Parker back and be in a winnable game.
Kenyan Drake did find the end zone against the Jets, but also had just 11 rushing attempts and four receptions, while Frank Gore totaled 10 touches. Drake was better this week on the ground, rushing 11 times for 53 yards, while Gore rushed nine times for 25 yards, which is good to see after Gore outplayed him last week on fewer carries, but I don't think we'll see Gore's workload diminish any, especially while the Dolphins are winning.
The Jets remain a work in progress with Sam Darnold at the helm, but he continues to show enough to have some optimism. Darnold completed 25-of-41 passes for 334 yards, one touchdown and two interceptions. His ability to get the ball downfield and eat up yardage is going to keep him a 2QB starter.
Darnold's favorite target was once again Quincy Enunwa, who saw 11 targets, catching seven for 92 yards. Darnold also missed Enunwa in the end zone for a touchdown, which is a heartbreaker for those chasing his Week 1 production, but he still put up good PPR numbers. Jermaine Kearse returned, but only saw two targets, and at this point, I don't see Enunwa falling out of favor anytime soon.
Robby Anderson was out-targeted by Terrelle Pryor and Enunwa, as he saw just five targets and caught three for 27 yards. Anderson scored a touchdown in Week 1, but it was his only target of the game. He's a big-play receiver and will get his, but right now, we have to realize that Josh McCown was the quarterback who loved Anderson and we'll need to see more out of their connection before feeling good about his prospects.
Chargers 31, Bills 20
Philip Rivers completed 23-of-27 passes for 256 yards and three touchdowns, having no trouble moving his team against the Buffalo defense. He spread the ball around well, which isn't always great for fantasy, and two of his touchdowns went to running back Melvin Ingram. That left Keenan Allen out of the fun despite leading the team in targets and receiving yards.
The Chargers got up on the Bills quickly and then coasted to the win, which allowed Austin Ekeler to see 14 touches for 98 yards, but Melvin Gordon was the fantasy stud, as he caught those two touchdowns and ran for another, but only accumulated 66 total yards on 15 touches. I think you'll take the three touchdowns as compensation if you have him on your team.
Virgil Green caught all three of his passes for 55 yards, while Antonio Gates didn't catch his one target. Neither is likely fantasy material, but Gates isn't even close at this point.
Josh Allen completed 18-of-33 passes for 245 yards with a touchdown and two interceptions. He has a great arm and showed it off a few times in comeback mode, but his mistakes were costly and with a weak overall offense, he doesn't have the ability to raise his teammates up.
LeSean McCoy hurt his ribs and had to leave the game. Before he left, he accumulated 68 yards on 13 touches and had a few nice runs, but getting near the end zone is going to be tough for this team, and now he's hurt.
The Bills' leading targets in this game were Andre Holmes, Marcus Murphy, McCoy and Jason Croom.
Vikings 29, Packers 29
Kirk Cousins had another strong game this week, as he completed 35-of-48 passes for 425 yards, four touchdowns and one interception, and the interception wasn't on him. He looked great and has been great for fantasy so far in Minnesota. As long as Adam Thielen and Stefon Diggs stay healthy, Cousins should continue to put up top-10 numbers without any trouble.
Last week, we saw Thielen severely out-target Diggs, but this week, they evened things out, with both getting 13 targets. Thielen caught more and put up slightly more yardage, but Diggs caught two touchdowns to Thielen's one. This is all to say that both have incredible upside in this offense and that we can't assume who the "No. 1" receiver will be between the two moving forward. We can expect, however, that both will have extremely high upsides.
Dalvin Cook had to leave the game in overtime with a hamstring injury. He didn't do much on the ground but did have good receiving yardage with 52 yards on three receptions. He says he'll be fine, but players are always more optimistic than they should be. Latavius Murray would be a start in most leagues with Cook out.
Aaron Rodgers was limping around this game with his big knee brace, but he was still terrific, as he completed 30-of-42 passes for 281 yards and a touchdown against a great Vikings defense.
Davante Adams was the lone Packers receiver to catch a touchdown, and he led the team with 12 targets, but Jimmy Graham led the team in receiving yards, as he caught 6-of-8 passes for 95 yards. He also had a touchdown called back and was overall a significant presence for this offense after doing next to nothing in Week 1. Graham's usage as the second-most targeted receiver and being targeted deep were great to see, which should keep him high in the fantasy rankings.
Saints 21, Browns 18
Drew Brees got off to a slow start against the Browns, but finally picked things up with two touchdown passes to Michael Thomas in the second half. Brees' performance was a letdown compared to his Week 1 game, but it looked like it was going to be much worse.
Michael Thomas lost a fumble in this game, but that was his only blemish, as he had another huge fantasy day, catching 12-of-13 passes for 89 yards and two touchdowns. He now has a whopping 28 receptions for 269 yards and three touchdowns. The touchdowns we expected to rise this year for Thomas are doing just that, and even though he's not going to post 24 touchdowns, he is set up for a huge year.
Alvin Kamara hasn't had much luck rushing so far this season, but he's still able to put up good stats through the air. This week was a letdown, as he amazingly didn't score a touchdown - he did have one called back -, but these kinds of games are bound to happen. Kamara did total 99 yards on 19 touches, including five receptions to help out his PPR points. He should be in store for a big receiving day next week when he takes on the Falcons, as they just allowed 14 receptions to Christian McCaffrey.
The Browns led for much of this game, which did limit Tyrod Taylor's passing attempts, but overall, he wasn't right. He did make a beautiful touchdown throw to Antonio Callaway with a minute remaining, which kept him from an awful fantasy day.
Callaway, who has replaced Josh Gordon, led the team in fantasy points, as he caught 3-of-4 targets for 81 yards and the touchdown, but he was also fourth on the target hierarchy. The good news is that he's likely Cleveland's best deep-ball receiver and should have good upside moving forward.

49ers 30, Lions 27
Jimmy Garoppolo completed 18-of-26 passes for 206 yards and two touchdowns. The good news is he didn't throw an interception and found the end zone twice. The absence of Marquise Goodwin likely held him back as well. It's still a step up from his Week 1 performance, and now he'll get to take on an awful Kansas City pass defense in Week 3.
The big fantasy play for the 49ers was Matt Breida, who rushed 11 times for 138 yards and a touchdown, plus caught 4-of-4 targets for 21 yards. Alfred Morris led the running backs with 16 to Breida's 14 touches, but had 80 total yards and no touchdowns. Both backs will continue to see work in this offense, although Breida showed that he deserves to keep seeing as much, if not more touches than Morris.
Matthew Stafford completed 34-of-53 passes for 347 yards and three touchdowns, losing a fumble but not throwing any interceptions, which is a nice change from last week, when he threw four. He still missed some throws, but overall, this was a much better display from him. Stafford piled up the attempts as he tried to bring his team back from a deficit and almost succeeded. His receiving weapons are just too good for him to completely flop, even if he regresses some this season.
Marvin Jones and Kenny Golladay both ended up with nine targets, but Golladay caught six for 89 yards, and a touchdown, and Jones caught four for 54 yards and a touchdown. Stafford did miss an open Jones for another touchdown though, so these numbers are a little skewed, but there's no doubt that Golladay is on even footing with Jones at the very least and will continue to be a must-start in fantasy.
Kerryon Johnson looked good as he rushed eight times for 43 yards and caught 5-of-6 passes for 23 more. He is still in a timeshare with LeGarrette Blount and will lose receiving work to Theo Riddick, but if Johnson can continue to play well, he'll end up as the lead back.
Rams 34, Cardinals 0
Jared Goff completed 24-of-32 passes for 354 yards, a touchdown and an interception in an uneven performance that ultimately didn't matter, as Arizona was unbelievably awful and didn't even pretend to put up a fight. Goff isn't Peyton Manning and likely will never be a top fantasy quarterback, but his offensive play-makers are great, and he'll be able to put up better numbers in games where the Rams are challenged.
Todd Gurley rushed for three touchdowns in his total of 73 yards. He didn't need to do much in this one, so it's more than great that he rushed for three scores. Gurley left with cramps and sat out the fourth quarter due to the blowout. He was the No. 1 pick in fantasy leagues this season for a reason.
The Cardinals totaled five first downs all game and accumulated just 137 total yards, and to add injury to these insulting numbers; Larry Fitzgerald had to leave the game with a hamstring injury. In the past, Sam Bradford could at least get the ball to his receivers accurately from close range, but he's not even able to do that this year. He was awful, and Josh Rosen should be on deck.
David Johnson rushed 13 times for 48 yards and caught just one reception on two targets for three yards. Even with one of the best running backs in the league, this offense can't get him the ball. He saw zero targets in the first half, which is just criminal. Maybe Rosen would be better for him, but until we see it, he should continue to be thought of as a low-end RB2.
Jaguars 31, Patriots 20
Blake Bortles had a monster day, as he passed for 377 yards and four touchdowns with one interception. The absence of Leonard Fournette opened things up for this Jaguars offense, and they went for it, passing on first down 60 percent of the time and doing so with high production, keeping the Patriots defense on their heels. This is how offenses should be run, and hopefully, Jacksonville won't get back into a run on first-down mantra when Fournette returns.
Keelan Cole was great in this one, catching 7-of-8 targets for 116 yards and a touchdown. Donte Moncrief out-targeted him by one and also caught a touchdown, but he could only catch four passes for 34 yards to add to his stats. There are quite a few receivers in this offense, and we aren't going to see Bortles throwing four touchdown passes all that often, but Cole is the real deal and should come out of the scrum with the ball more often than not.
Jacksonville's stout pass rush and defense kept Tom Brady under control most of the game, but he was able to find Chris Hogan for two touchdown receptions, with one coming against Jalen Ramsey. It was an excellent showing for Hogan, as this game seemed like his toughest matchup of the season and he was coming off a game in which he did little against a weak Houston pass defense in Week 1. His next four games are Detroit - Darius Slay could be out with a concussion -, Miami, Indianapolis and Kansas City.
As expected, James White led the running backs in fantasy points due to his short pass-reception prowess, catching 7-of-8 targets for 73 yards. Sony Michel and Rex Burkhead split work, but Michel saw 11 touches to Burkhead's six. Neither did much against the Jaguars defense, but it is interesting that Michel out-touched Burkhead. For now, we can't rely on any of these backs, but White should remain useful in PPR leagues.
Broncos 20, Raiders 19
Case Keenum completed 19-of-35 passes for 222 yards with an interception, but added a rushing touchdown and looked much better in the second half, as he helped his team win this game. That isn't much consolation for a down fantasy day against a weak Raiders defense, but this is Case Keenum we're talking about. He'll have his good days and his bad, and hopefully, you don't have to rely on him in fantasy.
Phillip Lindsay was the lead back this week, as he saw 15 touches to Royce Freeman's eight. Lindsay also totaled 111 yards to Freeman's 28 yards, but Freeman did get a one-yard touchdown run. These two will continue to split work and hurt each other's fantasy ceilings.
Derek Carr completed 29-of-32 passes for 288 yards and one touchdown. That's right, just three incompletions! This was a different Derek Carr than the one we saw Week 1 and a good place for him to build from. I still don't see him keeping this kind of consistency going, but it's still a good sign.
With Carr's newfound accuracy, Amari Cooper also saw a nice bounce-back game, as he caught all 10 of his targets for 116 yards. The Raiders moved him around the formation and got him into good situations, as the coaching staff worked at getting him going and they did just that.
Cowboys 20, Giants 13
Dak Prescott threw for just 160 yards and one touchdown, which came on a 64-yard catch and run by Tavon Austin on their first drive. This version is the Dak Prescott we have this season, and I don't think it's going to change much, especially if Dallas' defense can continue to play well.
The offense ran through Ezekiel Elliott, who rushed 17 times for 78 yards and a touchdown, plus caught five passes for just nine yards. It was good to see him have a good game, but even with a lead for the whole game and Elliott as the primary offensive weapon, he still couldn't come close to the top running backs' fantasy outputs. He will get them I think, but not with the consistency we'd hoped for.
Eli Manning completed 33-of-44 passes for 279 yards and a touchdown. His offensive line couldn't handle Dallas' defensive line, and the game plan quickly went to dinking and dunking to Saquon Barkley to keep Manning alive.
Barkley couldn't get anything going on the ground with 11 carries for 28 yards, but he did put up good PPR numbers, as he caught 14-of-16 targets for 80 yards. This week probably proved more than any other, that we should go ahead and use .5 points in PPR rather than a full point because these backs do not deserve all these points for their five-yard receptions.
For more thoughts, check out Walt's updated
NFL Power Rankings
, which will be posted Tuesday morning.
Comment...
Fantasy Football: The Things I Learned - Week 2
- 9/17
Fantasy Football: The Things I Learned - Week 1
- 9/10
NFL Picks
- Sept. 23
2019 NFL Mock Draft
- Sept. 20
Fantasy Football Rankings
- Sept. 5
2019 NBA Mock Draft
- Aug. 13
2020 NFL Mock Draft
- Aug. 1
NFL Power Rankings
- June 3
2018:
Live 2018 NFL Draft Blog
- April 30
2018 NFL Week 1 Recap
- Sept. 7
2018 NFL Week 2 Recap
- Sept. 13
2017:
Live 2017 NFL Draft Blog
- April 30
2017 NFL Week 1 Recap
- Sept. 12
2017 NFL Week 2 Recap
- Sept. 19
2017 NFL Week 3 Recap
- Sept. 26
2017 NFL Week 4 Recap
- Oct. 2
2017 NFL Week 5 Recap
- Oct. 9
2017 NFL Week 6 Recap
- Oct. 16
2017 NFL Week 7 Recap
- Oct. 23
2017 NFL Week 8 Recap
- Oct. 30
2017 NFL Week 9 Recap
- Nov. 6
2017 NFL Week 10 Recap
- Nov. 13
2017 NFL Week 11 Recap
- Nov. 20
2017 NFL Week 12 Recap
- Nov. 27
2017 NFL Week 13 Recap
- Dec. 4
2017 NFL Week 14 Recap
- Dec. 11
2017 NFL Week 15 Recap
- Dec. 18
2017 NFL Week 16 Recap
- Dec. 25
2017 NFL Week 17 Recap
- Jan. 1
2017 NFL Week 18 Recap
- Jan. 8
2017 NFL Week 19 Recap
- Jan. 15
2017 NFL Week 20 Recap
- Jan. 22
Super Bowl LII Recap
- Feb. 5
2017:
Live 2017 NFL Draft Blog
- April 30
2017 NFL Week 1 Recap
- Sept. 12
2017 NFL Week 2 Recap
- Sept. 19
2017 NFL Week 3 Recap
- Sept. 26
2017 NFL Week 4 Recap
- Oct. 2
2017 NFL Week 5 Recap
- Oct. 9
2017 NFL Week 6 Recap
- Oct. 16
2017 NFL Week 7 Recap
- Oct. 23
2017 NFL Week 8 Recap
- Oct. 30
2017 NFL Week 9 Recap
- Nov. 6
2017 NFL Week 10 Recap
- Nov. 13
2017 NFL Week 11 Recap
- Nov. 20
2017 NFL Week 12 Recap
- Nov. 27
2017 NFL Week 13 Recap
- Dec. 4
2017 NFL Week 14 Recap
- Dec. 11
2017 NFL Week 15 Recap
- Dec. 18
2017 NFL Week 16 Recap
- Dec. 25
2017 NFL Week 17 Recap
- Jan. 1
2017 NFL Week 18 Recap
- Jan. 8
2017 NFL Week 19 Recap
- Jan. 15
2017 NFL Week 20 Recap
- Jan. 22
Super Bowl LII Recap
- Feb. 5
2016:
Live 2016 NFL Draft Blog
- April 30
2016 NFL Week 1 Recap
- Sept. 12
2016 NFL Week 2 Recap
- Sept. 19
2016 NFL Week 3 Recap
- Sept. 26
2016 NFL Week 4 Recap
- Oct. 3
2016 NFL Week 5 Recap
- Oct. 10
2016 NFL Week 6 Recap
- Oct. 17
2016 NFL Week 7 Recap
- Oct. 24
2016 NFL Week 8 Recap
- Oct. 31
2016 NFL Week 9 Recap
- Nov. 7
2016 NFL Week 10 Recap
- Nov. 14
2016 NFL Week 11 Recap
- Nov. 21
2016 NFL Week 12 Recap
- Nov. 28
2016 NFL Week 13 Recap
- Dec. 5
2016 NFL Week 14 Recap
- Dec. 12
2016 NFL Week 15 Recap
- Dec. 19
2016 NFL Week 16 Recap
- Dec. 26
2016 NFL Week 17 Recap
- Jan. 2
2016 NFL Week 18 Recap
- Jan. 9
2016 NFL Week 19 Recap
- Jan. 16
2016 NFL Week 20 Recap
- Jan. 23
2016 NFL Week 21 Recap
- Feb. 6
2015:
Live 2015 NFL Draft Blog
- April 30
2015 NFL Week 1 Recap
- Sept. 12
2015 NFL Week 2 Recap
- Sept. 17
2015 NFL Week 3 Recap
- Sept. 24
2015 NFL Week 4 Recap
- Oct. 1
2015 NFL Week 5 Recap
- Oct. 8
2015 NFL Week 6 Recap
- Oct. 15
2015 NFL Week 7 Recap
- Oct. 22
2015 NFL Week 8 Recap
- Oct. 29
2015 NFL Week 9 Recap
- Nov. 5
2015 NFL Week 10 Recap
- Nov. 12
2015 NFL Week 11 Recap
- Nov. 19
2015 NFL Week 12 Recap
- Nov. 26
2015 NFL Week 13 Recap
- Dec. 4
2015 NFL Week 14 Recap
- Dec. 11
2015 NFL Week 15 Recap
- Dec. 18
2015 NFL Week 16 Recap
- Dec. 25
2015 NFL Week 17 Recap
- Jan. 4
2015 NFL Week 18 Recap
- Jan. 11
2015 NFL Week 19 Recap
- Jan. 18
2015 NFL Week 20 Recap
- Jan. 25
Super Bowl 50 Recap
- Feb. 8
2014:
Live 2014 NFL Draft Blog
- May 8
2014 NFL Week 1 Recap
- Sept. 5
2014 NFL Week 2 Recap
- Sept. 12
2014 NFL Week 3 Recap
- Sept. 19
2014 NFL Week 4 Recap
- Sept. 26
2014 NFL Week 5 Recap
- Oct. 3
2014 NFL Week 6 Recap
- Oct. 10
2014 NFL Week 7 Recap
- Oct. 17
2014 NFL Week 8 Recap
- Oct. 24
2014 NFL Week 9 Recap
- Oct. 31
2014 NFL Week 10 Recap
- Nov. 6
2014 NFL Week 11 Recap
- Nov. 13
2014 NFL Week 12 Recap
- Nov. 20
2014 NFL Week 13 Recap
- Nov. 27
2014 NFL Week 14 Recap
- Dec. 5
2014 NFL Week 15 Recap
- Dec. 12
2014 NFL Week 16 Recap
- Dec. 19
2014 NFL Week 17 Recap
- Dec. 29
2014 NFL Week 18 Recap
- Jan. 4
2014 NFL Week 19 Recap
- Jan. 11
2014 NFL Week 20 Recap
- Jan. 18
Super Bowl XLIX Live Blog
- Feb. 1
Super Bowl XLIX Recap
- Feb. 2
2013:
Live 2013 NFL Draft Blog
- April 26
2013 NFL Week 1 Recap
- Sept. 10
2013 NFL Week 2 Recap
- Sept. 17
2013 NFL Week 3 Recap
- Sept. 24
2013 NFL Week 4 Recap
- Oct. 1
2013 NFL Week 5 Recap
- Oct. 8
2013 NFL Week 6 Recap
- Oct. 15
2013 NFL Week 7 Recap
- Oct. 22
2013 NFL Week 8 Recap
- Oct. 29
2013 NFL Week 9 Recap
- Nov. 4
2013 NFL Week 10 Recap
- Nov. 11
2013 NFL Week 11 Recap
- Nov. 18
2013 NFL Week 12 Recap
- Nov. 25
2013 NFL Week 13 Recap
- Dec. 2
2013 NFL Week 14 Recap
- Dec. 9
2013 NFL Week 15 Recap
- Dec. 16
2013 NFL Week 16 Recap
- Dec. 23
2013 NFL Week 17 Recap
- Dec. 30
2013 NFL Week 18 Recap
- Jan. 6
2013 NFL Week 19 Recap
- Jan. 13
2013 NFL Week 20 Recap
- Jan. 20
Super Bowl XLVIII Recap
- Feb. 3
Super Bowl XLVIII Live Blog
- Feb. 2
2012:
Live 2012 NFL Draft Blog
- April 26
2012 NFL Week 1 Recap
- Sept. 10
2012 NFL Week 2 Recap
- Sept. 17
2012 NFL Week 3 Recap
- Sept. 24
2012 NFL Week 4 Recap
- Oct. 1
2012 NFL Week 5 Recap
- Oct. 8
2012 NFL Week 6 Recap
- Oct. 15
2012 NFL Week 7 Recap
- Oct. 22
2012 NFL Week 8 Recap
- Oct. 29
2012 NFL Week 9 Recap
- Nov. 5
2012 NFL Week 10 Recap
- Nov. 12
2012 NFL Week 11 Recap
- Nov. 19
2012 NFL Week 12 Recap
- Nov. 26
2012 NFL Week 13 Recap
- Dec. 3
2012 NFL Week 14 Recap
- Dec. 10
2012 NFL Week 15 Recap
- Dec. 17
2012 NFL Week 16 Recap
- Dec. 24
2012 NFL Week 17 Recap
- Dec. 31
2012 NFL Week 18 Recap
- Jan. 7
2012 NFL Week 19 Recap
- Jan. 14
2012 NFL Week 20 Recap
- Jan. 21
Super Bowl XLVII Recap
- Feb. 4
Super Bowl XLVII Live Blog
- Feb. 4
2011:
Live 2011 NFL Draft Blog
- April 28
2011 NFL Week 1 Recap
- Sept. 12
2011 NFL Week 2 Recap
- Sept. 19
2011 NFL Week 3 Recap
- Sept. 26
2011 NFL Week 4 Recap
- Oct. 3
2011 NFL Week 5 Recap
- Oct. 10
2011 NFL Week 6 Recap
- Oct. 17
2011 NFL Week 7 Recap
- Oct. 24
2011 NFL Week 8 Recap
- Oct. 31
2011 NFL Week 9 Recap
- Nov. 7
2011 NFL Week 10 Recap
- Nov. 14
2011 NFL Week 11 Recap
- Nov. 21
2011 NFL Week 12 Recap
- Nov. 28
2011 NFL Week 13 Recap
- Dec. 5
2011 NFL Week 14 Recap
- Dec. 12
2011 NFL Week 15 Recap
- Dec. 19
2011 NFL Week 16 Recap
- Dec. 26
2011 NFL Week 17 Recap
- Jan. 2
2011 NFL Week 18 Recap
- Jan. 9
2011 NFL Week 19 Recap
- Jan. 16
2011 NFL Week 20 Recap
- Jan. 23
Super Bowl XLVI Live Blog
- Feb. 6
2010:
Live 2010 NFL Draft Blog
- April 22
2010 Hall of Fame Game Live Blog
- Aug. 8
2010 NFL Kickoff Live Blog
- Sept. 9
2010 NFL Week 1 Review
- Sept. 13
2010 NFL Week 2 Review
- Sept. 20
2010 NFL Week 3 Review
- Sept. 27
2010 NFL Week 4 Review
- Oct. 4
2010 NFL Week 5 Review
- Oct. 11
2010 NFL Week 6 Review
- Oct. 18
2010 NFL Week 7 Review
- Oct. 25
2010 NFL Week 8 Review
- Nov. 1
2010 NFL Week 9 Review
- Nov. 8
2010 NFL Week 10 Review
- Nov. 15
2010 NFL Week 11 Review
- Nov. 22
2010 NFL Week 12 Review
- Nov. 29
2010 NFL Week 13 Review
- Dec. 6
2010 NFL Week 14 Review
- Dec. 13
2010 NFL Week 15 Review
- Dec. 20
2010 NFL Week 16 Review
- Dec. 27
2010 NFL Week 17 Review
- Jan. 3
2010 NFL Week 18 Review
- Jan. 10
2010 NFL Week 19 Review
- Jan. 17
2010 NFL Week 19 Review
- Jan. 24
Super Bowl XLV Live Blog
- Feb. 6
2009:
Live 2009 NFL Draft Blog
- April 25
2009 Hall of Fame Game Live Blog
- Aug. 10
2009 NFL Kickoff Live Blog
- Sept. 10
2009 NFL Week 1 Review
- Sept. 14
2009 NFL Week 2 Review
- Sept. 21
2009 NFL Week 3 Review
- Sept. 28
2009 NFL Week 4 Review
- Oct. 5
2009 NFL Week 5 Review
- Oct. 12
2009 NFL Week 6 Review
- Oct. 19
2009 NFL Week 7 Review
- Oct. 26
2009 NFL Week 8 Review
- Nov. 2
2009 NFL Week 9 Review
- Nov. 9
2009 NFL Week 10 Review
- Nov. 16
2009 NFL Week 11 Review
- Nov. 23
2009 NFL Week 12 Review
- Nov. 30
2009 NFL Week 13 Review
- Dec. 6
2009 NFL Week 14 Review
- Dec. 13
2009 NFL Week 15 Review
- Dec. 20
2009 NFL Week 16 Review
- Dec. 27
2009 NFL Week 17 Review
- Jan. 4
2009 NFL Week 18 Review
- Jan. 11
2009 NFL Week 19 Review
- Jan. 18
2009 NFL Week 20 Review
- Jan. 25
Super Bowl XLIV Live Blog
- Feb. 7
2008:
Live 2008 NFL Draft Blog
- April 26
2008 NFL Kickoff Blog
- Sept. 4
NFL Week 1 Review
- Sept. 8
NFL Week 2 Review
- Sept. 15
NFL Week 3 Review
- Sept. 22
NFL Week 4 Review
- Sept. 29
NFL Week 5 Review
- Oct. 6
NFL Week 6 Review
- Oct. 13
NFL Week 7 Review
- Oct. 20
NFL Week 8 Review
- Oct. 27
NFL Week 9 Review
- Nov. 3
NFL Week 10 Review
- Nov. 10
NFL Week 11 Review
- Nov. 17
NFL Week 12 Review
- Nov. 24
NFL Week 13 Review
- Dec. 1
NFL Week 14 Review
- Dec. 8
NFL Week 15 Review
- Dec. 15
NFL Week 16 Review
- Dec. 22
NFL Week 17 Review
- Dec. 29
NFL Wild Card Playoffs Review
- Jan. 4
NFL Divisional Playoffs Review
- Jan. 11
NFL Championship Sunday Review
- Jan. 19
Super Bowl XLIII Live Blog