Draft Kings Picks
Here's the link to
Play FREE Fantasy Football on DraftKings with your first Deposit of $5 or more
.
Here's my Draft Kings lineups for Week 11: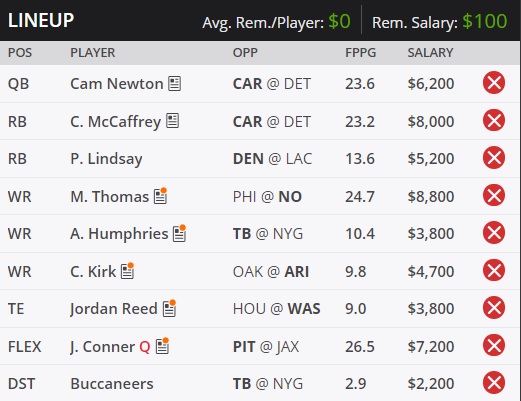 Cam Newton is always a points machine, and we just saw what Mitchell Trubisky did to Detroit's defense.
I'm pairing Newton with Christian McCaffrey. Detroit's linebackers can't cover, so McCaffrey will have a big receiving day. My other running back, Phillip Lindsay, will be able to abuse the Chargers similarly, as San Angeles lost Denzel Perryman for the year.
Michael Thomas should be a big-time producer once again this week, as the Eagles have cornerback issues. Christian Kirk and Adam Humphries have favorable matchups as well.
Jordan Reed has not lived up to expectations this year, but this is a prime opportunity for him to bust out versus a Houston defense that can't cover tight ends.
Tampa Bay's defense is worth a shot. I expect New York to be flat following a victory, as bad teams can't handle success.
I had enough money left over for James Conner, who should keep scoring tons of touchdowns if he can clear concussion protocol.
Here are players I like per position this week:
Quarterback:
Drew Brees, $6,500
Carson Wentz, $6,300
Cam Newton, $6,200
Ryan Fitzpatrick, $5,600
Eli Manning, $5,200
Case Keenum, $4,800
Lamar Jackson, $4,700 (if Joe Flacco out)
Running Back:
Melvin Gordon, $8,900
Saquon Barkley, $8,700
Alvin Kamara, $8,200
Christian McCaffrey, $8,000
David Johnson, $7,500
James Conner, $7,200 (if he plays)
Phillip Lindsay, $5,200
Dion Lewis, $4,800
Alex Collins, $4,400
Josh Adams, $3,300
Wide Receiver:
Michael Thomas, $8,800
Odell Beckham Jr., $8,400
DeAndre Hopkins, $8,300
JuJu Smith-Schuster, $6,800
Kenny Golladay, $5,800
Calvin Ridley, $5,700
Larry Fitzgerald, $5,600
Golden Tate, $5,500
Sterling Shepard, $5,300
Christian Kirk, $4,700
Courtland Sutton, $4,600
Adam Humphries, $3,800
Tight End:
Zach Ertz, $6,600
O.J. Howard, $4,900
Austin Hooper, $4,500
Jordan Reed, $3,800
James O'Shaughnessy, $2,600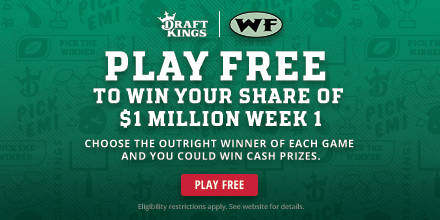 Good luck to those of you who are playing this weekend! Once again, here's the link to
Play FREE Fantasy Football on DraftKings with your first Deposit of $5 or more
.
I am a promoter at DraftKings and am also an avid fan and user (my username is walterfootball) and may sometimes play on my personal account in the games that I offer advice on. Although I have expressed my personal view on the games and strategies above, they do not necessarily reflect the view(s) of DraftKings and I may also deploy different players and strategies than what I recommend above. I am not an employee of DraftKings and do not have access to any non-public information.
Comment...
More 2018 Fantasy Football Articles:
Fantasy Football Rankings
2018 Fantasy Football Rankings:
2018 Fantasy Football Rankings: Quarterbacks
- 9/5 (Walt)
Chet Gresham's Fantasy Football Quarterback Rankings
- 8/29 (Chet)
2018 Fantasy Football Rankings: Running Backs
- 9/5 (Walt)
Chet Gresham's Fantasy Football Running Back Rankings
- 8/29 (Chet)
2018 Fantasy Football Rankings: Wide Receivers
- 9/5 (Walt)
Chet Gresham's Fantasy Football Wide Receiver Rankings
- 8/29 (Chet)
2018 Fantasy Football Rankings: Tight Ends
- 9/5 (Walt)
Chet Gresham's Fantasy Football Tight End Rankings
- 8/29 (Chet)
2018 Fantasy Football Rankings: Kickers
- 8/21 (Walt)
2018 Fantasy Football Rankings: Defenses
- 8/21 (Walt)
Fantasy Football Rookie Rankings: Dynasty
- 8/21 (Walt)
Fantasy Football Rookie Rankings: Dynasty
- 5/18 (Chet)
2018 Fantasy Football Mock Drafts:
Fantasy Football Mock Draft
- 9/1 (Walt)
Fantasy Football Mock Draft
- 8/30 (Walt)
Fantasy Football Mock Draft
- 8/27 (Walt)
Fantasy Football PPR Mock Draft
- 8/23 (Walt)
Fantasy Football Mock Draft
- 8/22 (Walt)
Fantasy Football Mock Draft
- 8/16 (Walt)
Fantasy Football PPR Mock Draft
- 8/9 (Walt)
Fantasy Football Mock Draft
- 8/2 (Walt)
Fantasy Football PPR Mock Draft
- 8/1 (Chet)
Fantasy Football PPR Mock Draft
- 7/26 (Walt)
Fantasy Football 2-QB Dynasty Draft
- 5/25 (Chet)
2018 Fantasy Football Cheat Sheets:
2018 Fantasy Football Cheat Sheet: Top 250
- 9/5 (Walt)
2018 Fantasy Football Cheat Sheet: Top 250 PPR
- 9/5 (Walt)
2018 Fantasy Football Cheat Sheet: Top 250 2-QB
- 9/5 (Walt)
2018 Fantasy Football Cheat Sheet: Top 250 Touchdown League
- 9/5 (Walt)
2018 Fantasy Football Cheat Sheet: Custom
- 9/5 (Walt)
2018 Fantasy Football: Dynasty Rankings
- 9/5 (Walt)
2018 Fantasy Football Spreadsheets
- 9/5 (Walt)
2018 Fantasy Football Articles:
2018 Fantasy Football Stock Report: OTAs, Training Camp
- 9/5 (Walt)
2018 Fantasy Football Sleepers
- 9/5 (Walt)
2018 Fantasy Football Busts
- 9/5 (Walt)
2018 Fantasy Football Mid-Round Values
- 9/5 (Walt)
2018 NFL Preseason Game Recaps
- 8/31 (Walt)
2018 Fantasy Football Stock Report: Preseason Games
- 8/31 (Walt)
2018 Fantasy Football Notes
- 8/31 (Chet)
2018 Fantasy Football Quarterback Preseason Targets Tracker
- 8/30 (Walt)
2018 Fantasy Football D/ST Drafting
- 8/28 (Chet)
2018 Fantasy Football ADP Values: Running Backs
- 8/16 (Chet)
2018 Fantasy Football Round-by-Round Strategy Guide
- 8/15 (Walt)
2018 Fantasy Football ADP Values: Quarterbacks
- 8/15 (Chet)
2018 Fantasy Football Tight Ends to Target
- 8/9 (Chet)
2018 Fantasy Football - PPR Draft Strategy: Rounds 1 and 2
- 7/27 (Chet)
2018 Fantasy Football: Doug Baldwin's Value
- 7/25 (Chet)
2018 Fantasy Football: Chris Hogan's Value
- 7/18 (Chet)
2018 Fantasy Football: Alvin Kamara's Value
- 7/16 (Chet)
2018 Fantasy Football Strength of Schedule: Tight Ends
- 7/11 (Chet)
2018 Fantasy Football Strength of Schedule: Wide Receivers
- 7/6 (Chet)
2018 Fantasy Football Strength of Schedule: Running Backs
- 7/5 (Chet)
2018 Fantasy Football Strength of Schedule: Quarterbacks
- 7/4 (Chet)
2018 Fantasy Football Tight Ends Better Than ADP
- 6/29 (Chet)
2018 Fantasy Football Wide Receivers Better Than ADP
- 6/28 (Chet)
2018 Fantasy Football Target Shares
- 6/22 (Chet)
2018 Fantasy Football Wide Receiver Points Per Game
- 6/13 (Chet)
2018 Fantasy Football Mock Draft Simulator
- 6/2
2018 Fantasy Football Value Players
- 5/25 (Chet)
2017 Fantasy Football Quarterback Look-Back
- 1/28 (Walt)
2018 Fantasy Football: Running Backs with the Most Carries
- 1/28 (Walt)
NFL Picks
- Nov. 13
2019 NFL Mock Draft
- Nov. 8
2020 NFL Mock Draft
- Nov. 3
Fantasy Football Rankings
- Sept. 5
2019 NBA Mock Draft
- Aug. 13
NFL Power Rankings
- June 3