By Chet Gresham -
@ChetGresham
Follow
@walterfootball
for updates.
Kyle Rudolph has been one of the most boring fantasy tight ends in the league for quite a while. His hype was always high, but his fantasy points were not. Add to that back-to-back injury-plagued seasons, and there was little to give us hope that he would ever be more than a five-touchdown, 400-yard guy on a poor offense. That is until last season.
Before 2016, Rudolph averaged 5.1 targets per game - through his first 64 games. Last season though, he dramatically had that number rise to 8.25, which he turned into 83 receptions for 840 yards and seven touchdowns. That fact in itself is worth considering Rudolph as an upper-echelon fantasy tight end, especially with the position being weak throughout, but we can also take a look at the offensive coordinator switch midway through last season as a help to our 2017 prognostications.
Offensive coordinator Norv Turner unexpectedly retired halfway through the 2016 season, leaving Pat Shurmur to take over in Week 8. Shurmur didn't automatically start getting the ball to Rudolph, but starting Week 9 and through the rest of the season, Rudolph saw 75 targets in the final eight games, which was an average of 9.4 targets per game. That second-half boost in targets would extrapolate to 150 targets on the season and over 1,000 yards receiving, and Rudolph already led all tight ends with 132 targets on the season.
When you look closer at Rudolph's targets, you'll also see that he saw 25 targets in the red zone, 12 inside the 10-yard line and eight inside the five-yard line, which all were highs for tight ends last season. But will that change this year? When you look at the Vikings' personnel, there is some chance that Dalvin Cook takes off as a scorer in the red zone, but he is a rookie and the Vikings' blocking is sub-par. The real competition for red-zone targets for Rudolph will be from Stefon Diggs and Adam Thielen, who combined for 23 red-zone targets to Rudolph's 25. And even though he had just six touchdowns on those 25 targets, Thielen and Diggs had just four touchdowns on their 23. Of course, we'd like better production from those targets, but it sure doesn't seem like anyone else is going to quickly start taking them away.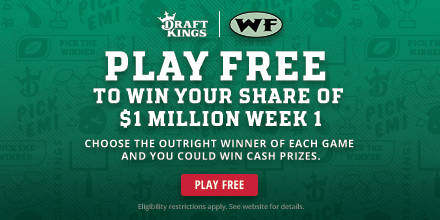 Sam Bradford is extremely accurate, but that is because he doesn't like to test the boundaries much. He is much more comfortable in the short passing game, and that, of course, is where Rudolph is most of the time. He doesn't have the upside of a Rob Gronkowski or Jordan Reed, but he is a solid player who should continue to see a large share of his team's targets this season.
For more advice and recommendations, check out WalterFootball.com's
Fantasy Football Rankings
.
More 2017 Fantasy Football Articles:
Fantasy Football Rankings
2017 Fantasy Football Rankings:
2017 Fantasy Football Rankings: Quarterbacks
- 9/6 (Walt)
Chet Gresham's Fantasy Football Quarterback Rankings
- 8/28 (Chet)
2017 Fantasy Football Rankings: Running Backs
- 9/6 (Walt)
Chet Gresham's Fantasy Football Running Back Rankings
- 8/28 (Chet)
2017 Fantasy Football Rankings: Wide Receivers
- 9/6 (Walt)
Chet Gresham's Fantasy Football Wide Receiver Rankings
- 8/28 (Chet)
2017 Fantasy Football Rankings: Tight Ends
- 9/6 (Walt)
Chet Gresham's Fantasy Football Tight End Rankings
- 8/28 (Chet)
2017 Fantasy Football Rankings: Kickers
- 8/18 (Walt)
2017 Fantasy Football Rankings: Defenses
- 8/18 (Walt)
Fantasy Football Rookie Rankings
- 5/12 (Walt)
Fantasy Football Rookie Rankings: Dynasty
- 5/12 (Walt)
Fantasy Football Rookie Rankings: Dynasty
- 5/12 (Chet)
2017 Fantasy Football Mock Drafts:
2017 Fantasy Football Mock Draft: PPR
- 9/1 (Walt)
2017 Fantasy Football Mock Draft: Standard
- 8/31 (Walt)
2017 Fantasy Football Mock Draft: 2-QB, PPR
- 8/25 (Chet)
2017 Fantasy Football Mock Draft: PPR
- 8/24 (Walt)
2017 Fantasy Football Mock Draft: PPR
- 8/17 (Walt)
2017 Fantasy Football Mock Draft: Standard
- 8/10 (Walt)
2017 Fantasy Football Mock Draft: PPR
- 8/3 (Walt)
2017 Fantasy Football Mock Draft: Standard
- 7/27 (Walt)
2017 Fantasy Football Mock Draft: PPR
- 7/26 (Chet)
2017 Fantasy Football Mock Draft: PPR
- 7/20 (Walt)
2017 Fantasy Football Mock Draft: PPR
- 7/14 (Chet)
2017 Fantasy Football Mock Draft: Standard
- 7/13 (Walt)
2017 Fantasy Football Cheat Sheets:
2017 Fantasy Football Cheat Sheet: Top 250
- 9/6 (Walt)
2017 Fantasy Football Cheat Sheet: Top 250 PPR
- 9/6 (Walt)
2017 Fantasy Football Cheat Sheet: Top 250 2-QB
- 9/6 (Walt)
2017 Fantasy Football Cheat Sheet: Top 250 Touchdown League
- 9/6 (Walt)
2017 Fantasy Football Cheat Sheet: Custom
- 9/6 (Walt)
2017 Fantasy Football: Dynasty Rankings
- 9/6 (Walt)
2017 Fantasy Football PPR Rankings
- 8/16 (Chet)
2017 Fantasy Football Spreadsheets
- 9/6 (Walt)
2017 Fantasy Football Articles:
2017 Fantasy Football Stock Report: OTAs, Training Camp
- 9/6 (Walt)
2017 Fantasy Football Sleepers
- 9/2 (Walt)
2017 Fantasy Football Busts
- 9/2 (Walt)
2017 NFL Preseason Game Recaps
- 9/1 (Walt)
2017 Fantasy Football Stock Report: Preseason
- 9/1 (Walt)
2017 Fantasy Football: Running Backs with the Most Carries
- 1/31 (Walt)
NFL Picks
- Nov. 16
2019 NFL Mock Draft
- Nov. 15
2020 NFL Mock Draft
- Nov. 3
Fantasy Football Rankings
- Sept. 5
2019 NBA Mock Draft
- Aug. 13
NFL Power Rankings
- June 3