By Chet Gresham -
@ChetGresham
Follow
@walterfootball
for updates.
Let's take a look at Round 1 of the 2017 NFL Draft in terms of fantasy football possibilities. We'll focus on the offensive players, which there were 11.

Mitchell Trubisky, QB, Chicago Bears (Pick No. 2 from 49ers)
The first big surprise of the night came quickly after the Browns wisely grabbed Myles Garrett instead of Mitchell Trubisky. That pick gave the Bears a shot at Trubisky, so they gave up picks No. 3, 67, 111 and a 2018 third-rounder to the 49ers to grab him. It's obvious the Bears believe he has the ability to start, and start soon, over free agent pickup Mike Glennon, so there is that when thinking about Trubisky's 2017 fantasy ability, but even if he does start, there are many who believe he is still a work in progress and will need to improve on footwork and decision-making, especially at the NFL level. The Bears lost Alshon Jeffery over the offseason and will likely go run heavy with Jordan Howard, so I'm not buying Trubisky at all for re-draft unless you're in a 2QB league. He does have dynasty appeal, but I'd rather waste a project pick on him than anything in the first couple rounds of a rookie draft unless you are really hurting at the position.
Leonard Fournette, RB, Jacksonville Jaguars (Pick No. 4)
Fournette was at the top of the running back chart for many draftniks and if not at the top, usually in the second slot, so his early departure in the draft isn't shocking, but picking a running back this early is a risk in today's NFL. The Jaguars are not very good from top to bottom, and their brass is hoping Fournette can just power his way into helping the offense. I think he does have that ability, but it's not going to be easy. The Jaguars and Blake Bortles are usually better out of the shotgun - better is a relative term here of course -, while Fournette on the other hand is better when not in the shotgun and running over people with a full head of steam. The Jaguars will of course know this, but making it all work in Week 1 could be a challenge. Fournette may be my No. 1 rookie pick this season in dynasty, but it's not a slam-dunk. His ADP for MFL10s has been around the 12th running back off the board, near the start of the third round. I wouldn't want to go any higher than that, as I think that's around his upside for this season.
Corey Davis, WR, Tennessee Titans (Pick No. 5)
Davis may not be the next Dez Bryant, but the man can catch the ball in traffic and is an excellent route runner. The Titans should be able to use Davis by Week 1 due to his skill set and the lack of a solid starting group of receivers. Don't get me wrong, the Titans have some good receivers, but Davis will already be on par with them entering the league, and with his draft slot, they'll want him on the field. This, of course, helps Marcus Mariota, who will again have a strong running game to protect him, but also have a solid group of receivers to help bolster his numbers.
Mike Williams, WR, Los Angeles Chargers (Pick No. 7)
The Chargers skipped some good defensive players to pick Williams, which is a sign they want to win with this offense this year. I think they can do that with a strong group of pass catchers and Melvin Gordon. The question that arises for the Chargers is: How healthy is Keenan Allen? Is Williams insurance for Allen or just an additional piece for this offense? It's likely a bit of both, and we could see Allen play all season without any trouble. That would hurt Williams' upside of course, but knowing the Chargers, they'll have at least three injuries to pass catchers in training camp.
The knock on Williams is that he doesn't get separation, but he does have fundamental skills that should get him on the field, and with Phillip Rivers throwing him the ball; I think he can have success. Rivers likes big-bodied receivers who he can lead away from defenders, but Williams will need to learn Rivers' tendencies. I don't expect Williams to climb up the target totem if Allen, Tyrell Williams and Hunter Henry are all healthy, but like I said, the injury ninja lives in southern California.
Christian McCaffrey, RB, Carolina Panthers (Pick No. 8)
This wasn't the best spot for McCaffrey to land for fantasy, but I'm not overly concerned, as he has the skills for fantasy production for every team. My main concern is Cam Newton's accuracy, as McCaffery should be a strong PPR player for them. But if we are talking accuracy, it is easier to throw five yards than 30. It's also good to note that Stanford's pro-style spread offense is right in line with Carolina's. The less favorable news is that the Panthers have ranked 32nd, 32nd and 28th in total targets for running backs over the last three seasons. Of course, that will change with McCaffery in the backfield.
Last season was an offensive disaster for the Panthers, and I see them changing to accommodate McCaffery's abilities, so take that running back target stat with a grain of salt. He is a dynamic player who can play all over the field. The Panthers will keep pushing Jonathan Stewart into short yardage and early downs, but I expect McCaffery to be the PPR and big-yardage back. He'll be a top-3 rookie pick for me without a doubt.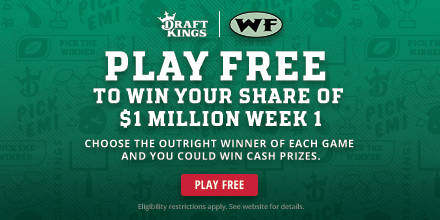 John Ross, WR, Cincinnati Bengals (Pick No. 9)
Ross is the fastest man on any football field he steps on, but of course, there's more to being a receiver than speed. Thankfully, he did land in a good spot across for A.J. Green, if he can win the job. Ross will need to learn to beat physical defenders off the line, but if he can get free, he is going to be hard to catch. Ross will likely have some splash plays this season, but I'll need to see that he's getting starter snaps before I get invested in him in redraft. For dynasty, Ross has plenty of upside and will be a first-round rookie pick.
Patrick Mahomes, QB, Kansas City Chiefs (Pick No. 10 from Buffalo)
Quarterback evaluation is always a tough business, and one that will make or break a coach and front office. Kansas City decided to go all-in on Mahomes by trading picks No. 27, 91 and a 2018 first-rounder to the Bills for the right to draft the Texas Tech signal-caller. The Chiefs know what they have in Alex Smith, and even though they are a playoff team with him, they likely will never be a Super Bowl team. That's where Andy Reid and Mahomes come in. Reid has always been considered a quarterback guru, especially after helping Aaron Rodgers and Donovan McNabb develop. Alex Smith will be the starter Week 1, and if things go as the Cheifs hope, they'll be a good team with Smith while they train up Mahomes. And, Mahomes does have one of the highest upsides of the 2017 NFL Draft. He has a great arm, is accurate on the move, has a strong deep pass, and is intuitive in almost all parts of his game. With Alex Smith in his way, I wouldn't bet on Mahomes doing much this season, but if you are looking for a quarterback in dynasty, he's my top QB.
DeShaun Watson, QB, Houston Texans (Pick No. 12 from Cleveland)
All three quarterbacks picked so far have been had through trading up. The Texans gave up their 25th pick and a 2018 first-rounder to Cleveland to get Watson. Of course, Houston very much needed a quarterback with Tom Savage as its current starter. Watson should be able to beat Savage out for the job, but that doesn't mean Watson will be a strong fantasy producer. The Texans will look to insulate him with defense and a running game, but his ability should help DeAndre Hopkins, especially over Savage and company. I like Watson better than Trubisky, but less than Mahomes for long-term success.

O.J. Howard, TE, Tampa Bay Buccaneers (Pick No. 19)
Howard was the best tight end prospect on the board. His 4.51 speed in a 255-pound frame is enough to get any quarterback excited, and Jameis Winston most likely is. Of course, Howard was just another NFL-caliber player at Alabama and wasn't needed as a key offensive piece, especially when he can block. Expecting him to head to Tampa Bay and put up big numbers early is not realistic, and even if he were hitting on all cylinders early, the tight end position is a labyrinth for any rookie. He is a first-round rookie dynasty pick, but I won't be drafting him in re-draft.
Evan Engram, TE, New York Giants (Pick No. 23)
Engram profiles right on the edge of tight end or wide receiver. He makes for a nice fit with the Giants' pass-first mantra, but will join a crowded crew, with Odell Beckham Jr., Brandon Marshall and Sterling Shepard creating the best receiving group in the league. Engram, like any rookie tight end this season, is a dynasty pick unless you are in a 2TE league.
David Njoku, TE, Cleveland Browns (Pick No. 29 from Green Bay)
Njoku doesn't quite have the measurables of O.J. Howard, but he's more seasoned as a receiver and has similar upside. The Browns released Gary Barnidge today, so I expect Hue Jackson wants to get Njoku involved earlier than later, but there are so many factors in a tight end's way from having a good fantasy rookie season; you usually have to wait a year or two in re-draft, but dynasty is another matter. I like Howard and Njoku the most of this group and think both can go in the first round of rookie drafts if you are looking for tight ends.
Round 1
For more recommendations, check out WalterFootball.com's
Fantasy Football Rankings
.
More 2017 Fantasy Football Articles:
Fantasy Football Rankings
2017 Fantasy Football Rankings:
2017 Fantasy Football Rankings: Quarterbacks
- 9/6 (Walt)
Chet Gresham's Fantasy Football Quarterback Rankings
- 8/28 (Chet)
2017 Fantasy Football Rankings: Running Backs
- 9/6 (Walt)
Chet Gresham's Fantasy Football Running Back Rankings
- 8/28 (Chet)
2017 Fantasy Football Rankings: Wide Receivers
- 9/6 (Walt)
Chet Gresham's Fantasy Football Wide Receiver Rankings
- 8/28 (Chet)
2017 Fantasy Football Rankings: Tight Ends
- 9/6 (Walt)
Chet Gresham's Fantasy Football Tight End Rankings
- 8/28 (Chet)
2017 Fantasy Football Rankings: Kickers
- 8/18 (Walt)
2017 Fantasy Football Rankings: Defenses
- 8/18 (Walt)
Fantasy Football Rookie Rankings
- 5/12 (Walt)
Fantasy Football Rookie Rankings: Dynasty
- 5/12 (Walt)
Fantasy Football Rookie Rankings: Dynasty
- 5/12 (Chet)
2017 Fantasy Football Mock Drafts:
2017 Fantasy Football Mock Draft: PPR
- 9/1 (Walt)
2017 Fantasy Football Mock Draft: Standard
- 8/31 (Walt)
2017 Fantasy Football Mock Draft: 2-QB, PPR
- 8/25 (Chet)
2017 Fantasy Football Mock Draft: PPR
- 8/24 (Walt)
2017 Fantasy Football Mock Draft: PPR
- 8/17 (Walt)
2017 Fantasy Football Mock Draft: Standard
- 8/10 (Walt)
2017 Fantasy Football Mock Draft: PPR
- 8/3 (Walt)
2017 Fantasy Football Mock Draft: Standard
- 7/27 (Walt)
2017 Fantasy Football Mock Draft: PPR
- 7/26 (Chet)
2017 Fantasy Football Mock Draft: PPR
- 7/20 (Walt)
2017 Fantasy Football Mock Draft: PPR
- 7/14 (Chet)
2017 Fantasy Football Mock Draft: Standard
- 7/13 (Walt)
2017 Fantasy Football Cheat Sheets:
2017 Fantasy Football Cheat Sheet: Top 250
- 9/6 (Walt)
2017 Fantasy Football Cheat Sheet: Top 250 PPR
- 9/6 (Walt)
2017 Fantasy Football Cheat Sheet: Top 250 2-QB
- 9/6 (Walt)
2017 Fantasy Football Cheat Sheet: Top 250 Touchdown League
- 9/6 (Walt)
2017 Fantasy Football Cheat Sheet: Custom
- 9/6 (Walt)
2017 Fantasy Football: Dynasty Rankings
- 9/6 (Walt)
2017 Fantasy Football PPR Rankings
- 8/16 (Chet)
2017 Fantasy Football Spreadsheets
- 9/6 (Walt)
2017 Fantasy Football Articles:
2017 Fantasy Football Stock Report: OTAs, Training Camp
- 9/6 (Walt)
2017 Fantasy Football Sleepers
- 9/2 (Walt)
2017 Fantasy Football Busts
- 9/2 (Walt)
2017 NFL Preseason Game Recaps
- 9/1 (Walt)
2017 Fantasy Football Stock Report: Preseason
- 9/1 (Walt)
2017 Fantasy Football: Running Backs with the Most Carries
- 1/31 (Walt)
NFL Picks
- Oct. 15
2020 NFL Mock Draft
- Oct. 13
2019 NFL Mock Draft
- Oct. 11
Fantasy Football Rankings
- Sept. 5
2019 NBA Mock Draft
- Aug. 13
NFL Power Rankings
- June 3