2018 East-West Shrine Game: Monday's East Team Practice Report
By Charlie Campbell -
@draftcampbell
The first practice of the East-West Shrine was held in St. Petersburg, Florida under sunny skies with temperatures in the 60s. The players practicing in shells: helmets, shoulder pads and shorts.
Sources said that one player who stood out at the weigh-in was South Florida nose tackle Deadrin Senat. The 6-foot, 300-pounder doesn't have good height or length, but he has a strong build with serious strength. In the team scrimmage, Senat showed a burst to fire into the backfield and notch a tackle for a loss. He was eating up blocks and plugging his gap, as blockers were incapable of moving him. One general manager told WalterFootball.com that they see Senat as a sawed-off nose tackle who has power to hold his gap at the point of attack. They think he could be a late-round pick or undrafted free agent who ends up making the team as a functional nose tackle to rotate into the game.


Florida State linebacker Matthew Thomas received a lot of attention from scouts and teams after practice, as you can see in the team interview page. Thomas (6-4, 220) has good size and speed, and he flies around the field. However, his instincts and play recognition need work. Thomas could be a good special-teams player and backup linebacker who develops into a bigger role.











One of the most impressive players in the first practice was Connecticut defensive tackle Folorunso Fatukasi. Fatukasi had a quick interior rush to get a sack in the team scrimmage, and followed that up by powering his way into the backfield to notch a tackle for a loss. The 6-foot-4, 303-pounder has a versatile build and skill set. Fatukasi could play some three-technique or nose tackle in a 4-3, or demonstrate the ability to play five technique or nose tackle in a 3-4. He could be a sleeper pick who ends up being a really nice value.


In the running for the most impressive skill position player on the East team was Fordham running back Chase Edmonds. The 5-foot-9, 209-pounder was quick to the hole and showed the speed to burst into the secondary. He caught the ball well and had good bend to run behind his pads. His legs didn't go dead on contact, and while the players were't tackling, Edmonds was showing the potential to pick up yards after contact, given his style and technique. Edmonds had a strong first day and got his week off to an excellent start.


The other skill position player who had a nice opening for the East squad was Northern Iowa wide receiver Daurice Fountain. The 6-foot-1, 210-pounder has a nice build to him, but he was generating separation from his quickness and route-running. If Fountain is able to duplicate this performance on Tuesday and Wednesday, he could end up making himself into a third-day prospect in the 2018 NFL Draft.







Miami defensive end Chad Thomas certainly passes the eyeball test. The 6-foot-6, 275-pounder has excellent size while also possessing speed and athletic ability. He had some good pass rushes, including one in the team scrimmage when he worked through Syracuse offensive tackle Jamar McGloster to put heat on South Florida quarterback Quinton Flowers. Thomas has the potential to be a NFL starter, but he is very inconsistent. On some plays, he looks like an early-rounder, and then others, he looks clueless. Thomas needs to land with a good defensive line coach in the NFL.


N.C. State defensive end Kentavius Street had a nice showing on Monday. He almost made an amazing play with a leaping pass breakup after firing into the backfield, nearly locating the ball for an interception. It was an impressive athletic play from Street.


Penn State defensive end Curtis Cothran (6-5, 301) had some nice plays getting penetration into the backfield. He also made some good run fills. Cothran looks like a great fit as a five-technique defensive end in a 3-4 defense. He could be a Day 3 candidate who contributes.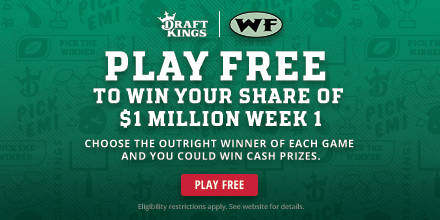 The only quarterback on the East team who has some positive buzz is Memphis' Nate Ferguson. One general manager told me said that Ferguson the only real quarterback he was eager to see in St. Petersburg. Ferguson had a so-so first day and will need to be more accurate. Some incompletions appeared to be the result of miscommunication, and that is typical in All-Star practices as the players have never played together before. South Florida's Quinton Flowers and Ohio State's J.T. Barrett look like undrafted players.

WalterFootball.com will have more recaps from the East-West Shrine practices on Tuesday and Wednesday along with a run-down of the post-practice team interviews. Follow @walterfootball for updates.








2018 East-West Shrine Game: Recap - 1/20
2018 East-West Shrine Game: Wednesday's West Team Practice Report - 1/17
2018 East-West Shrine Game: Wednesday's West Team Interviews - 1/17
2018 East-West Shrine Game: Wednesday's East Team Practice Report - 1/17
2018 East-West Shrine Game: Wednesday's East Team Interviews - 1/17
2018 East-West Shrine Game: Tuesday's West Team Practice Report - 1/16
2018 East-West Shrine Game: Tuesday's West Team Interviews - 1/16
2018 East-West Shrine Game: Tuesday's East Team Practice Report - 1/16
2018 East-West Shrine Game: Tuesday's East Team Interviews - 1/16
2018 East-West Shrine Game: Monday's West Team Practice Report - 1/15
2018 East-West Shrine Game: Monday's East Team Practice Report - 1/15
2018 East-West Shrine Game: Monday's West Team Interviews - 1/15
2018 East-West Shrine Game: Monday's East Team Interviews - 1/15
2018 East-West Shrine Game Home Page






Comment...














NFL Picks - Oct. 15


2020 NFL Mock Draft - Oct. 13


2019 NFL Mock Draft - Oct. 11


Fantasy Football Rankings - Sept. 5


2019 NBA Mock Draft - Aug. 13


NFL Power Rankings - June 3