NFL Draft Rumors and Trade Speculations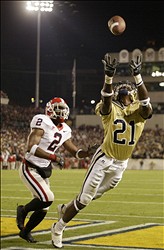 Guess what? Another team's interested in moving up to get Calvin Johnson.

The following are some of my draft rumors and trade speculations. John Walters' draft rumors and trade speculations can be seen Here.


Bucs say: "F- the Lions?" (April 27)
If you?ve been visiting my Web site frequently, you know that I?ve been predicting a trade between the Buccaneers and Lions since February. Here?s a thought: What if Tampa Bay really wants Calvin Johnson, but is afraid that if they move up to No. 2, someone will leapfrog them, trading with Oakland?

In that case, why don?t the Bucs just strike a deal with the Raiders? Oakland?s selection is worth 3,000 points. All of Tampa Bay?s first-day picks, however, are worth only 2,820 points. Because of this disparity and the fact that the market for Johnson is so competitive, Jon Gruden may have to give up something more. I think it will take the No. 4 selection, one of the second-round picks (probably No. 64; not No. 35) and a first-round draft choice in 2008.

Do I think this is a good trade for Tampa Bay? No ? but that?s what it?ll take to secure the top prospect in this class. Oakland, meanwhile, would love for this to go down. Al Davis will take whomever?s left between Brady Quinn, JaMarcus Russell and Joe Thomas at No. 4. Plus, the prospect of having two picks in the second round, as well as the first round in 2008 sounds very appealing.

The Buccaneers get:
Oakland's No. 1 (Calvin Johnson)
The Raiders get:
Tampa Bay's No. 4 (JaMarcus Russell, Brady Quinn or Joe Thomas?)
Tampa Bay's No. 64
Tampa Bay's first-round pick in 2008




What about Atlanta? (April 27)
And how about if Atlanta wants to do the same thing? Per Pro Football Talk, Falcons owner Arthur Blank has instructed general manager Rich McKay to secure Calvin Johnson at all cost. Oakland would obviously rather pick at No. 4 than No. 8, meaning Atlanta would have to sweeten the deal.

To leap all the way up to No. 1, the Falcons would have to package the eighth selection in the draft, both second-round picks and next year?s top choice.

Once again, I would not do this if I were Atlanta. I would rather swap with the Redskins, securing LaRon Landry in the process (for more details, scroll down to see my April 17 entry). The Raiders, once again, would make out like bandits.

The Falcons get:
Oakland's No. 1 (Calvin Johnson)
The Raiders get:
Atlanta's No. 8 (Levi Brown?)
Atlanta's No. 39
Atlanta's No. 44
Atlanta's first-round pick in 2008




Cardinals to save money without switching to Geico? (April 27)
Fred Cimino brought up an interesting trade speculation in his most recent Mock Draft. The deal would involve the Cardinals, who always seem eager to trade down, and the Dolphins, who would love to land either Joe Thomas or Brady Quinn at No. 5.

If Arizona swaps with Miami, it can still secure a premier offensive lineman, as Levi Brown will be available. For sliding down to No. 9, the Cardinals would receive the Dolphins? second- and fourth-round draft choices. The former pick would be the one obtained from New England (No. 60); not the team?s own (No. 40).

Good deal for both squads. Miami will get a top-notch player at a position of need; Arizona could still improve its situation at offensive tackle; while Cards owner Bill Bidwill would save a lot of money. Everyone would be happy.

The Cardinals get:
Miami's No. 9 (Levi Brown?)
Miami's No. 60
Miami's No. 108
The Dolphins get:
Arizona's No. 5 (Joe Thomas or Brady Quinn?)





Broncos to trade up to No. 2? (April 24)
I think I?ve mentioned about 349 teams that are interested in swapping picks with Detroit in order to secure Calvin Johnson. Yeah, that 349 is completely random; I just slammed my fingers down on the keyboard.

Anyway, Pro Football Talk and Pride of Detroit are both reporting that the Broncos are interested in moving from No. 21 all the way up to the second spot. Because they don?t have the ammunition to trade that far, they will have to surrender a first-round selection in 2008, as well as all of Saturday?s first-day picks.

Moving down to No. 21 may not sound desirable for Lions fans, but with extra picks, they could slide back up to No. 10, trading with Houston. The Texans have made it known that they?ve fallen in love with Joe Staley, so moving down makes sense, especially considering they have no second-round selections until 2009.

Meanwhile, the Lions will have tons of options at No. 10. Patrick Willis, Adam Carriker, Jamaal Anderson, Leon Hall and Alan Branch may all be available at that spot. Taking one of those guys while obtaining an extra first-round pick in 2008 could be extremely lucrative for Detroit.

The Broncos get:
Detroit's No. 2 (Calvin Johnson)
The Lions get:
Houston's No. 10
Denver's No. 70
Denver's first-round pick in 2008
The Texans get:
Denver's No. 21
Denver's No. 56
Denver's No. 86




Keystone deal (April 24)
The Pittsburgh Post-Gazette is reporting that the Steelers are interested in trading down. Given that this was leaked to the mainstream media, the possibility of such a deal is unlikely. Nevertheless, here?s something that could happen:

Pittsburgh is switching to the 4-3, so the team is probably targeting Jamaal Anderson at No. 15. If Anderson is gone, however, the Steelers will be stuck because it?ll be too early to take Anthony Spencer, Jarvis Moss or Tim Crowder. They could be looking to swap picks and one possible suitor could be the Eagles, who have a history of trading up to get the player they want.

It?s no secret that the Eagles are looking to improve their secondary through the draft. Both Rod Hood and Michael Lewis are gone, while Brian Dawkins will be celebrating his 34th birthday in October. Rather than just sitting at No. 26, why not move up to secure the high-rising corner Darrelle Revis, which would permit Andy Reid and Jim Johnson to move Sheldon Brown to safety? Reggie Nelson could also be an option at that juncture, assuming Carolina passes on him.

Philadelphia would have to surrender a second-round selection for this to occur. Pittsburgh throws in its sixth-rounder to make things even per the NFL Draft Value Chart.

The Steelers get:
Philadelphia's No. 26
Philadelphia's No. 57
The Eagles get:
Pittsburgh's No. 15
Pittsburgh's No. 192 (sixth round)




Kris Jenkins to St. Louis? (April 20)
This isn?t exactly a well-kept secret, but the Rams are extremely interested in Panthers defensive tackle Kris Jenkins, who happens to be on the trading block. It seems as though St. Louis is keen on offering its third- and sixth-round selections. Carolina, meanwhile, wants a second.

In my opinion, the Rams should just give up the second-round pick. In my current mock, I have them taking middle linebacker David Harris with that choice. Will Harris be a solid player in the NFL? Probably, but no one really knows for sure. With Jenkins, St. Louis will be getting a proven, perennial Pro Bowler who is leaps and bounds superior to anyone the team has at defensive tackle.

The only reason the Panthers are willing to part ways with Jenkins is because of their horrendous cap situation. Although he has been injured the past few seasons, Jenkins is 27 and still has about five good years left in the tank.

The Rams get:
Defensive tackle Kris Jenkins
The Panthers get:
St. Louis' No. 52




Calvin Johnson trade to include Simeon Rice? (April 18)
As I wrote below and many times on my Mock Draft page, I believe the Lions and Buccaneers will swap selections so that the latter can obtain Calvin Johnson. WDAE in Tampa and Pro Football Talk are both reporting that a deal is in the works, although instead of second- and third-round selections thrown into the mix, Tampa Bay would trade Simeon Rice to Detroit instead.

I believe this is a better option for the Lions. They?ll obtain the No. 4 overall pick and a proven Pro Bowler. With the fourth selection, they can either trade down again, or pick someone like Joe Thomas or Amobi Okoye.

The Lions get:
Tampa Bay's No. 4
Defensive end Simeon Rice
The Buccaneers get:
Calvin Johnson




Texans-Broncos trade revisited. (April 18)
Months ago, I mentioned a possible Texans-Broncos trade in my mock draft. That deal fizzled when Jake Plummer decided to retire and un-retire about 500 times, prompting Houston to trade for Matt Schaub.

However, thinking things through, a swap between the two franchises is still very possible. Denver needs a legitimate pass-rusher on its defensive line, while Houston won?t have many options as far its needs are concerned at No. 10. Tons of mocks across the internet have the Texans taking Levi Brown ? 45.5 percent of them, according to the Draft Stats. Personally, I don?t think they?ll take Brown if he?s available. He just doesn?t fit the zone-blocking system Gary Kubiak has installed, and while very talented, Brown could become a bust in Houston, much like George Foster was in Denver.

It?s not exactly a secret that the Texans think very highly of Central Michigan offensive tackle Joe Staley, who would fit perfectly in their scheme. However, drafting Staley at No. 10 would be very irresponsible, especially considering that they don?t pick in the second round until 2009.

Swapping Nos. 10 and 21 is a difference of 500 points per the NFL Draft Value Chart. Coincidentally, Denver?s 56th (340 points) and 86th (160) add up to 500. And because the Broncos have two selections in the third round, they won?t be mortgaging their entire first day.

The Texans get:
Denver's No. 21
Denver's No. 56
Denver's No. 86
The Broncos get:
Houston's No. 10




Falcons trading up, but not for Calvin Johnson? (April 17)
There is no doubt the Falcons will have more options than almost any other team come April 28. Positioned near the middle of the top 10 and armed with two second-round selections, they can do a number of things to improve their team.

While I already talked about Atlanta moving up to No. 2 in an attempt to snag Calvin Johnson, there?s another scenario that involves trading up but does not feature the dynamic Georgia Tech wide out.

The Falcons swapped picks with Houston for a reason. They need help with their secondary. LaRon Landry wasn?t going to make it to No. 10, so Atlanta moved into a better position, just in case a deal that would land Johnson couldn?t go through.

Landry should be there at No. 8, but there?s a scenario that has someone trading up for him at No. 7. It could happen if Adrian Peterson and Brady Quinn are both off the board, which would prompt the Vikings to swap picks with a team that desperately needs a safety.

Thus, if both Peterson and Quinn don?t make it to the Redskins? pick ? Washington won?t be taking either of them anyway ? look for Atlanta to leapfrog Minnesota, exchanging selections with the Redskins. Moving to No. 6 would only cost the Falcons 200 points per the NFL Draft Value Chart, meaning their third-round selection would suffice. The bottom line is that Atlanta would ensure itself the top defensive back in the draft while keeping both of its second-round picks.

Why would the Redskins do this? Easy ? they have only one draft choice in the first four rounds. They have a lot of holes on their depth chart, and an extra pick would help out a lot, even if it?s No. 75.

The Falcons get:
Washington's No. 6 (LaRon Landry)
The Redskins get:
Atlanta's No. 8
Atlanta's No. 75




Viking fans want some Johnson. (April 15)
One of the two polls in my most recent Endless Banter asked Viking fans what the best trade scenario was for their favorite team. Of the four choices ? trade up for Calvin Johnson, trade up for Brady Quinn, trade down to No. 12, stay put at No. 7 ? the majority (46 percent as of Sunday morning) voted for the former.

Of course, I can understand why. Minnesota?s starting receivers are slated to be Troy Williamson and Billy McMullen, who combined for 60 catches, 762 yards and two touchdowns in 2006. The team overpaid for Bobby Wade and his 33 receptions of a year ago. Randy Moss is long gone. A dynamic player like Johnson could really open up the Vikings? offense, even with Tavaris Jackson under center.

As I mention below, the Lions are more than willing to move out of the No. 2 spot. So, there?s no problem at that end. It?s just a matter of how much owner Zygmund Wilf wants Johnson. Wilf should definitely consider this move; his team has no superstars and consequently will not be making any appearances on National TV. A trade for Johnson would put Minnesota back on the NFL map.

What do the Vikings have to give up to slide into the two spot? This April?s second- and third-round picks, as well as next year?s second. Unlike Tampa Bay and Atlanta, Minnesota does not have two second-round selections, so it?ll need to trade future draft choices to make this deal go down.

The Vikings get:
Calvin Johnson
The Lions get:
Minnesota's No. 41
Minnesota's No. 72
Minnesota's second-round pick in 2008.




Tampa Bay to trade for Calvin Johnson? (April 13)
You know how I?ve been saying the Lions will deal either the No. 2 pick, or draft and trade Calvin Johnson for at least a month now? Just look at the April 1 and 8 entries in my Draft Mailbag. Well, the national media is finally starting to catch on. Other Web sites like ProFootballTalk posted a memo about it yesterday.

In the wake of this monumental event, I figured I?d list both trade rumors in this new section.

The first involves the Buccaneers, whom I?ve projected to trade for Johnson for about four or five weeks now. In order for Tampa Bay to do that, it must surrender its No. 4 and both of its second-round selections. That would give Detroit just a 20-point edge on the NFL Draft Value Chart, which could easily be matched with one of the Lions' fifth-round choices (they have four).

This trade works for both parties. The Buccaneers get the guy they want. Johnson would be a dynamic weapon in Jon Gruden?s offense that could stretch the field and open up the running game, which was stagnant in 2006. It would also put Tampa Bay back in the limelight and on National TV; unless I read the schedule wrong, the team makes only one prime-time appearance this year.

Meanwhile, the Lions would be able to take Gaines Adams or Joe Thomas at No. 4. With three second-round selections, they could fill tons of needs or trade back up into the lower end of the first round. Their options would be limitless.

The Lions get:
Tampa Bay's No. 4
Tampa Bay's No. 35
Tampa Bay's No. 64
The Buccaneers get:
Calvin Johnson
Detroit's No. 158




Atlanta to trade for Calvin Johnson? (April 13)
While numerous organizations are lining up for the right to swap selections with Detroit ? Tampa Bay, Minnesota, and Washington are all likely candidates ? the team most likely to make a move, with the exception of the Buccaneers, is Atlanta.

In the wake of robbing the Texans in the Matt Schaub trade, the Falcons have positioned themselves to pull the trigger if they want to land Calvin Johnson, the top prospect in the draft. Atlanta would have to surrender its No. 8, both of its second-round picks and its third-round selection.

That seems a bit much, but that?s the price the Falcons will have to pay if they want to open up their offense and give Michael Vick an exceptional weapon to work with. It really depends on how much Arthur Blank wants Johnson. I wouldn?t pull the trigger, but I also wouldn?t have paid billions of dollars to an inaccurate quarterback who flips off his fans.

I love this deal for the Lions. At No. 8, LaRon Landry, Jamaal Anderson, Amobi Okoye, Patrick Willis, Alan Branch and Leon Hall would be available. Picking up three first-day choices would permit them to add depth or to trade back up into the bottom of the first round. They?d have even more options than if they swapped with Tampa Bay.

The Lions get:
Atlanta's No. 8
Atlanta's No. 39
Atlanta's No. 44
Atlanta's No. 75
The Falcons get:
Calvin Johnson




Adrian Peterson to Buffalo? (April 12)
You can?t imagine how many e-mails I?ve received from Bills fans who have stated that there is no way Marv Levy will take Marshawn Lynch, who has his share of baggage.

My responses are generally the same: ?I think Buffalo will end up with another running back, but if it can?t move out of the No. 12 spot, it may have no choice but to select Lynch. The organization cannot settle for Anthony Thomas.?

Unless the Bills trade for Michael Turner, Levy may get desperate. After spending so much money on the offensive line, he simply cannot allow a sub-par retread like Thomas, or a shot-in-the-dark runner taken in the second or third round to wilt behind one of the most massive fronts in the NFL. Imagine what Peterson would be capable of behind that group. Asking him to rumble for 1,600 yards wouldn?t be a daunting task.

There?s a good chance Adrian Peterson will be available at No. 7. If Cleveland takes Brady Quinn, Detroit somehow ends up with Gaines Adams (trading with Tampa Bay) and Arizona snags Joe Thomas, Minnesota will have the option of taking the top-ranked running back in this draft class. The Vikings, who signed Chester Taylor to a 4-year deal an offseason ago, have too many needs to address and cannot afford to select Peterson.

All the Bills would have to surrender to move up is their top third-round pick (No. 74), fourth-round choice (No. 112) and a future early Day 2 selection. The deal, which fits to a tee per the Draft Value Chart, would allow Buffalo to go Peterson-cornerback (Marcus McCauley)-linebacker (Quincy Black). Minnesota, meanwhile, could still select someone like Jamaal Anderson, Patrick Willis, Adam Carriker, Leon Hall or Ted Ginn Jr. The extra selections would allow them to add the depth and talent they need to contend with Chicago.

One last tidbit. You know how everyone in the Bills community is salivating over hosting a Monday Night Football game for the first time this decade? Well, Peterson would put the Bills on National TV more often. A small-market team like the Bills needs a superstar like Peterson.

The Bills get:
Minnesota?s No. 7 (Adrian Peterson)
The Vikings get:
Buffalo?s No. 12 (Anderson, Willis, Carriker, Hall, Ginn)
Buffalo?s No. 74
Buffalo?s No. 112
Buffalo?s 5th-round pick in 2008.



Back to WalterFootball.com Home
Go to Most Recent Rumors


---