I received many e-mails and tweets about my 2015 NFL Mock Draft and the upcoming NFL Draft in general. To share the answers to the questions publicly, I decided to start up a mailbag column. Pass along your NFL draft questions and comments. I'll put together a mailbag periodically that answers questions/comments sent via email
draftcampbell@gmail.com
or on Twitter
@draftcampbell
.
July 15, 2014
From Peter Biscane, Memphis, Tennessee

"The past couple years a surprise team has bottomed out and picked 1st overall. Do you think that with the extremely tough schedules the rams and cardinals have to play and the inconsistent QB play of the teams do u think one of them could be the team to drop off. Remember both Kansas City and Houston had good defenses the years they picked first."


I don't think the Rams will bottom out and land the first pick. I think they'll challenge for a wild card if Sam Bradford stays healthy. Even with a backup quarterback, St. Louis was competitive against good teams, so I think the Rams will battle to some wins even if Bradford gets hurt again.
I think the Cardinals have a better shot of bottoming out. Palmer is aging and could land an injury. They don't have anything behind him. I also have some questions about their offensive line and pass rush.
I agree with you that a surprise team is likely to land the No. 1 pick. Veteran teams that have big expectations, but disappoint and check out, have been the type that have bottomed out. Thus, I think the Jets are a prime candidate to land the first pick. Like Houston in 2013 and Kansas City in 2012, New York has a good defense with issues on offense and quarterback. Another candidate that I could see pulling a Houston or Indianapolis in going from the playoffs to the first pick is Carolina.
There are also a few good playoff teams that if they lost their starting quarterback for the season could be in the hunt for the first pick. In that group, I would include Indianapolis, San Diego, Cincinnati and maybe even Denver.
From Mike Thompson, Dallas, Texas

"I think you're crazy for having so many running backs in the first round of your mock. There is no way that many running backs get taken in the first."


Obviously Mike, you're correct that the running back position has been downgraded; there hasn't been one selected in the first round of the last two drafts. However in 2012, there were three running backs taken in the first round. I spoke about it recently with league sources who said it still is a premium position that makes a big difference in the win-loss column. Just consider where Minnesota would have been the past few years without Adrian Peterson. The Vikings certainly wouldn't have made the playoffs in 2012, and very possibly the 2009 team wouldn't have gone to the NFC Championship.
I think the league is cyclical and running backs will come back in vogue. The two most smash-mouth teams in the NFL are the Seahawks and 49ers. I don't think it is any coincidence that they're also the two best teams in the NFL. I think the copycat nature of the NFL will lead to teams prioritizing running backs again.
Plus, the 2015 class looks loaded at the position. Georgia's Todd Gurley has top-10 talent if he can stay healthy. I think Wisconsin's Melvin Gordon could be a back similar to Chris Johnson, and South Carolina's Mike Davis could be a stud three-down back. There are other interesting prospects like Miami's Duke Johnson, Alabama's T.J. Yeldon and more. It wouldn't surprise me at all if 2015 is the year the running backs come back.
From Aaron McCarron, Los Angeles, California

"I think the Raiders could be a surprise team this year that nobody is talking about. I think the defense is going to be a lot better and the offense has good duo at running back."


The Raiders are headed in the right direction. If ownership is patient with the front office and coaching staff, I think Oakland will be a serious competitor for the division title in a couple of years. Peyton Manning is declining, and once he retires, the division looks pretty wide open. If Derek Carr proves to be the answer, the Raiders are the only team in the division that has a young franchise quarterback. That would give Oakland a big leg up.
From John White, Charleston, West Virginia

"The NFC West is clearly the best division in football, but that won't stay the same. What divisions do you think will replace it as the best in a few years?"


Good question. A lot of people forget that just four years ago the NFC West was garbage as the Seahawks won a division title with a 7-9 record. Four years later, they are the defending championss while the 49ers have been to three-straight conference-championship games. Plus, St. Louis has improved a lot and is on the rise. The same goes for Arizona. I think the Rams or the Cardinals would win the NFC East.
You're right that the NFC West won't stay this dominant as the NFL is geared for parity. In the NFC, I think the North has the potential to be the toughest division. There is a lot of special young talent on all four teams and the division has three good quarterbacks.
In the AFC, I think the South will rise again. The Colts are going to be annual playoff contenders and Super Bowl threats for the next decade because of Andrew Luck. The Titans have quietly built a very talented roster with a good young offense that I think is going to surprise people this fall. Houston is going to be nasty defensively. To me, the Texans are a good quarterback and a No. 1-wide receiver successor for Andre Johnson from being a Super Bowl favorite. Jacksonville is headed in the right direction, but that franchise is still a long way off.
From Andrew Ketchell, Bakersfield, California

"I don't understand why the Chargers didn't do more to upgrade their pass rush this offseason. Johnson and Freeney are dead weight."


I have to agree with you. Jarrett Johnson had only three sacks last year and turns 33 during training camp, while Dwight Freeney is simply done. That being said, I do think the Chargers made a nice pick of Jeremiah Attaochu in the second round. I had San Diego taking him there in my final 2014 Mock NFL Draft since it made a lot of sense. He's a great scheme fit and gives the Chargers speed off the edge. In time, I think they could have a dangerous tandem with Attaochu and Melvin Ingram. For this season, San Diego has to hope that Ingram stays healthy and turns in a breakout year.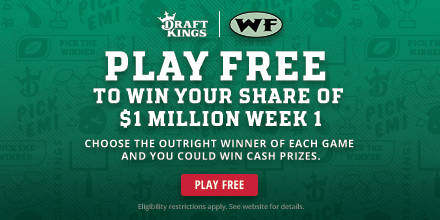 From Bill Marshall, Charlotte, North Carolina.

"Why don't the Panthers sign Santonio Holmes to a one-year league minimum contract?"


"I think the injuries have sapped Holmes of his explosion. Plus, Carolina just got rid of a bad locker-room receiver in Steve Smith, so why replace him with another bad-character individual. That's not the kind of veteran example you want around Kelvin Benjamin."
From Jim Keller, Washington D.C.

"Do you think the Redskins should change their name?"


"No, I don't. The politically correct nonsense has gotten out of control, plus politicians have better things to do than discuss professional sports. Never in my life have I heard Redskin used as a racial slur. I've asked a lot of people and they've said the same thing. I think the entire controversy is absurd. I hope they don't change the name, but if they do maybe they should go with a name like the Wasps ... lol."
Once again send questions/comments via email
draftcampbell@gmail.com
or on Twitter
@draftcampbell
.
2015 NFL Draft Mailbag Archive:
2015 NFL Draft Mailbag
- Feb. 19
2015 NFL Draft Mailbag
- Feb. 13
2015 NFL Draft Mailbag
- Sept. 1
2015 NFL Draft Mailbag
- July 15
2015 NFL Draft Mailbag
- July 9
2015 NFL Draft Mailbag
- June 18
2015 NFL Draft Mailbag
- June 11
Comment...
NFL Picks
- Sept. 24
2019 NFL Mock Draft
- Sept. 20
Fantasy Football Rankings
- Sept. 5
2019 NBA Mock Draft
- Aug. 13
2020 NFL Mock Draft
- Aug. 1
NFL Power Rankings
- June 3
---
---
---
---
WalterFootball.com is part of the NESN digital network.
Support Walt's Other Site:

Sales Tips and Sales Advice - Tons of sales tips, sales techniques and sales advice, including a Sales Mock Draft: The 32 Worst Things You Can Do in Sales.

; ;
!-- BEGIN TH FUSION CODE --> This is a 300x250 left-center Adhesion unit firing on Desktop and tablet only