2007 NFL Mock Draft Database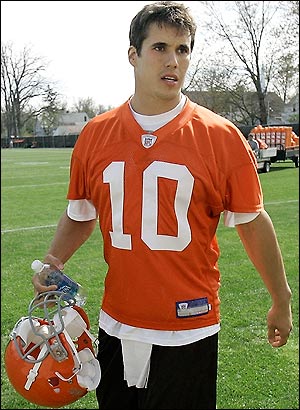 Check out where Darren McFadden and other prospects are going in various 2008 mock drafts.
Below is a chart of more than 150 2007 NFL Mock Drafts found across the internet. The chart also contains when each mock draft has been updated, as well as the top five picks for each.


| | | | | | | |
| --- | --- | --- | --- | --- | --- | --- |
| 2007 Mock Draft Site | Updated | No. 1 | No. 2 | No. 3 | No. 4 | No. 5 |
| | 4/28 | J.Russell | C.Johnson | B.Quinn | G.Adams | J.Thomas |
| | 4/28 | J.Russell | C.Johnson | B.Quinn | G.Adams | J.Thomas |
| | 4/28 | J.Russell | C.Johnson | J.Thomas | G.Adams | L.Brown |
| | 4/28 | J.Russell | C.Johnson | B.Quinn | G.Adams | J.Thomas |
| | 4/28 | J.Russell | C.Johnson | B.Quinn | J.Thomas | G.Adams |
| | 4/28 | J.Russell | C.Johnson | B.Quinn | G.Adams | J.Thomas |
| | 4/28 | J.Russell | C.Johnson | B.Quinn | G.Adams | J.Thomas |
| | 4/28 | J.Russell | C.Johnson | B.Quinn | G.Adams | J.Thomas |
| | 4/28 | J.Russell | C.Johnson | B.Quinn | G.Adams | J.Thomas |
| | 4/27 p.m. | J.Russell | C.Johnson | B.Quinn | G.Adams | J.Thomas |
| | 4/27 p.m. | J.Russell | C.Johnson | B.Quinn | G.Adams | J.Thomas |
| | 4/27 p.m. | J.Russell | G.Adams | A.Peterson | C.Johnson | J.Thomas |
| | 4/27 p.m. | J.Russell | G.Adams | A.Peterson | C.Johnson | J.Thomas |
| | 4/27 p.m. | J.Russell | C.Johnson | B.Quinn | G.Adams | J.Thomas |
| | 4/27 p.m. | C.Johnson | B.Quinn | J.Thomas | J.Russell | G.Adams |
| | 4/27 p.m. | J.Russell | B.Quinn | A.Peterson | C.Johnson | J.Thomas |
| | 4/27 p.m. | J.Russell | B.Quinn | A.Peterson | C.Johnson | J.Thomas |
| | 4/27 p.m. | J.Russell | J.Thomas | A.Peterson | C.Johnson | J.Anderson |
| | 4/27 p.m. | J.Russell | C.Johnson | B.Quinn | G.Adams | J.Thomas |
| | 4/27 p.m. | J.Russell | C.Johnson | B.Quinn | G.Adams | J.Thomas |
| | 4/27 p.m. | C.Johnson | G.Adams | B.Quinn | J.Russell | J.Thomas |
| | 4/27 p.m. | J.Russell | C.Johnson | J.Thomas | G.Adams | L.Landry |
| | 4/27 p.m. | J.Russell | C.Johnson | B.Quinn | G.Adams | J.Thomas |
| | 4/27 p.m. | J.Russell | G.Adams | B.Quinn | C.Johnson | J.Thomas |
| | 4/27 p.m. | J.Russell | G.Adams | B.Quinn | C.Johnson | J.Thomas |
| | 4/27 p.m. | J.Russell | C.Johnson | B.Quinn | G.Adams | J.Thomas |
| | 4/27 p.m. | J.Russell | C.Johnson | A.Peterson | G.Adams | J.Thomas |
| | 4/27 p.m. | J.Russell | C.Johnson | B.Quinn | G.Adams | J.Thomas |
| | 4/27 p.m. | J.Russell | C.Johnson | B.Quinn | G.Adams | J.Thomas |
| | 4/27 p.m. | J.Russell | C.Johnson | B.Quinn | G.Adams | J.Thomas |
| | 4/27 p.m. | J.Russell | B.Quinn | C.Johnson | A.Peterson | J.Thomas |
| | 4/27 p.m. | J.Russell | C.Johnson | A.Peterson | J.Thomas | L.Brown |
| | 4/27 p.m. | J.Russell | C.Johnson | B.Quinn | G.Adams | J.Thomas |
| | 4/27 p.m. | J.Russell | C.Johnson | B.Quinn | G.Adams | J.Thomas |
| | 4/27 p.m. | J.Russell | C.Johnson | J.Thomas | A.Okoye | L.Brown |
| | 4/27 p.m. | J.Russell | C.Johnson | B.Quinn | G.Adams | J.Thomas |
| | 4/27 p.m. | J.Russell | C.Johnson | B.Quinn | G.Adams | J.Thomas |
| | 4/27 p.m. | J.Russell | B.Quinn | A.Carriker | C.Johnson | J.Thomas |
| | 4/27 p.m. | J.Russell | C.Johnson | B.Quinn | G.Adams | J.Thomas |
| | 4/27 p.m. | J.Russell | C.Johnson | B.Quinn | G.Adams | J.Thomas |
| | 4/27 p.m. | J.Russell | C.Johnson | A.Peterson | G.Adams | J.Thomas |
| | 4/27 p.m. | J.Russell | C.Johnson | B.Quinn | J.Thomas | G.Adams |
| | 4/27 p.m. | B.Quinn | C.Johnson | J.Thomas | G.Adams | L.Landry |
| | 4/27 p.m. | J.Russell | C.Johnson | B.Quinn | G.Adams | J.Thomas |
| | 4/27 p.m. | J.Russell | C.Johnson | B.Quinn | A.Okoye | J.Thomas |
| | 4/27 p.m. | J.Russell | C.Johnson | A.Peterson | J.Thomas | G.Adams |
| | 4/27 | J.Russell | C.Johnson | B.Quinn | G.Adams | J.Thomas |
| | 4/27 | J.Russell | C.Johnson | B.Quinn | G.Adams | J.Thomas |
| | 4/27 | J.Russell | G.Adams | C.Johnson | J.Thomas | L.Landry |
| | 4/27 | J.Russell | C.Johnson | J.Thomas | G.Adams | A.Okoye |
| | 4/27 | J.Russell | C.Johnson | B.Quinn | J.Thomas | L.Brown |
| | 4/27 | J.Russell | C.Johnson | B.Quinn | J.Thomas | A.Okoye |
| | 4/27 | J.Russell | C.Johnson | A.Peterson | G.Adams | J.Thomas |
| | 4/27 | J.Russell | G.Adams | A.Peterson | C.Johnson | J.Thomas |
| | 4/27 | J.Russell | C.Johnson | A.Peterson | G.Adams | J.Thomas |
| | 4/27 | C.Johnson | J.Russell | A.Peterson | G.Adams | J.Thomas |
| | 4/27 | J.Russell | C.Johnson | J.Thomas | G.Adams | L.Landry |
| | 4/27 | J.Russell | C.Johnson | B.Quinn | A.Okoye | J.Thomas |
| | 4/27 | J.Russell | C.Johnson | B.Quinn | G.Adams | J.Thomas |
| | 4/27 | J.Russell | J.Thomas | B.Quinn | C.Johnson | J.Anderson |
| | 4/27 | J.Russell | G.Adams | A.Peterson | C.Johnson | J.Thomas |
| | 4/27 | J.Russell | C.Johnson | B.Quinn | G.Adams | J.Thomas |
| | 4/27 | J.Russell | G.Adams | B.Quinn | C.Johnson | J.Thomas |
| | 4/27 | J.Russell | C.Johnson | J.Thomas | B.Quinn | L.Landry |
| | 4/27 | J.Russell | G.Adams | B.Quinn | C.Johnson | J.Thomas |
| | 4/27 | J.Russell | C.Johnson | B.Quinn | G.Adams | J.Thomas |
| | 4/27 | J.Russell | C.Johnson | B.Quinn | J.Thomas | A.Okoye |
| | 4/27 | J.Russell | C.Johnson | B.Quinn | G.Adams | J.Thomas |
| | 4/26 | J.Russell | C.Johnson | J.Thomas | G.Adams | L.Brown |
| | 4/26 | C.Johnson | G.Adams | B.Quinn | J.Russell | J.Thomas |
| | 4/26 | J.Russell | C.Johnson | B.Quinn | G.Adams | J.Thomas |
| | 4/26 | J.Russell | G.Adams | B.Quinn | C.Johnson | J.Thomas |
| | 4/26 | C.Johnson | A.Peterson | J.Russell | J.Thomas | J.Anderson |
| | 4/26 | J.Russell | G.Adams | B.Quinn | C.Johnson | J.Thomas |
| | 4/26 | J.Russell | B.Quinn | A.Peterson | C.Johnson | J.Thomas |
| | 4/26 | J.Russell | C.Johnson | A.Peterson | G.Adams | J.Thomas |
| | 4/26 | J.Russell | C.Johnson | B.Quinn | J.Thomas | G.Adams |
| | 4/26 | J.Russell | G.Adams | B.Quinn | C.Johnson | J.Thomas |
| | 4/26 | J.Russell | G.Adams | B.Quinn | C.Johnson | J.Thomas |
| | 4/26 | J.Russell | C.Johnson | B.Quinn | G.Adams | J.Thomas |
| | 4/26 | J.Russell | C.Johnson | B.Quinn | G.Adams | J.Thomas |
| | 4/26 | J.Russell | B.Quinn | J.Thomas | C.Johnson | G.Adams |
| | 4/25 | J.Russell | C.Johnson | B.Quinn | J.Thomas | G.Adams |
| | 4/25 | J.Russell | C.Johnson | A.Peterson | G.Adams | J.Thomas |
| | 4/25 | C.Johnson | G.Adams | B.Quinn | A.Peterson | J.Thomas |
| | 4/25 | J.Russell | B.Quinn | A.Peterson | C.Johnson | J.Thomas |
| | 4/25 | C.Johnson | J.Russell | B.Quinn | G.Adams | A.Peterson |
| | 4/25 | J.Russell | C.Johnson | B.Quinn | G.Adams | J.Thomas |
| | 4/25 | J.Russell | P.Willis | A.Peterson | C.Johnson | J.Thomas |
| | 4/24 | J.Russell | G.Adams | B.Quinn | C.Johnson | J.Thomas |
| | 4/24 | B.Quinn | J.Russell | A.Peterson | C.Johnson | J.Thomas |
| | 4/24 | J.Russell | C.Johnson | A.Peterson | G.Adams | J.Thomas |
| | 4/24 | J.Russell | G.Adams | B.Quinn | C.Johnson | J.Thomas |
| | 4/23 | J.Russell | C.Johnson | A.Peterson | G.Adams | J.Thomas |
| | 4/23 | J.Russell | C.Johnson | B.Quinn | G.Adams | J.Thomas |
| | 4/23 | J.Russell | G.Adams | B.Quinn | C.Johnson | J.Thomas |
| | 4/22 | J.Russell | G.Adams | A.Peterson | C.Johnson | J.Thomas |
| | 4/22 | J.Russell | C.Johnson | B.Quinn | G.Adams | J.Thomas |
| --- | --- | --- | --- | --- | --- | --- |
| | 4/21 | J.Russell | B.Quinn | A.Peterson | C.Johnson | J.Thomas |
| | 4/20 | J.Russell | B.Quinn | C.Johnson | J.Thomas | A.Okoye |
| | 4/20 | J.Russell | B.Quinn | A.Peterson | C.Johnson | J.Thomas |
| | 4/20 | C.Johnson | J.Russell | A.Peterson | B.Quinn | G.Adams |
| | 4/18 | J.Russell | B.Quinn | A.Peterson | C.Johnson | J.Thomas |
| | 4/17 | C.Johnson | B.Quinn | J.Russell | J.Thomas | P.Willis |
| | 4/17 | J.Russell | A.Peterson | C.Johnson | B.Quinn | J.Thomas |
| | 4/17 | J.Russell | B.Quinn | A.Peterson | C.Johnson | J.Thomas |
| | 4/17 | C.Johnson | J.Russell | B.Quinn | J.Thomas | L.Brown |
| | 4/15 | J.Russell | A.Peterson | C.Johnson | B.Quinn | J.Thomas |
| | 4/15 | B.Quinn | J.Russell | C.Johnson | L.Landry | J.Thomas |
| | 4/15 | J.Russell | B.Quinn | A.Peterson | C.Johnson | J.Thomas |
| | 4/15 | J.Russell | C.Johnson | A.Peterson | J.Thomas | G.Adams |
| | 4/15 | J.Russell | G.Adams | B.Quinn | C.Johnson | J.Thomas |
| --- | --- | --- | --- | --- | --- | --- |
| | 4/14 | J.Russell | G.Adams | A.Peterson | C.Johnson | J.Thomas |
| | 4/14 | J.Russell | C.Johnson | J.Thomas | G.Adams | L.Brown |
| | 4/13 | J.Russell | J.Thomas | B.Quinn | C.Johnson | G.Adams |
| | 4/12 | C.Johnson | A.Peterson | J.Thomas | J.Russell | B.Quinn |
| | 4/11 | J.Russell | C.Johnson | B.Quinn | A.Okoye | G.Adams |
| | 4/11 | C.Johnson | J.Thomas | A.Peterson | B.Quinn | G.Adams |
| | 4/9 | J.Russell | J.Thomas | B.Quinn | C.Johnson | A.Branch |
| | 4/9 | J.Russell | B.Quinn | A.Peterson | C.Johnson | J.Thomas |
| | 4/8 | J.Russell | G.Adams | A.Peterson | C.Johnson | J.Thomas |
| | 4/7 | J.Russell | J.Thomas | A.Peterson | C.Johnson | G.Adams |
| | 4/6 | J.Russell | B.Quinn | A.Peterson | C.Johnson | J.Thomas |
| | 4/4 | J.Russell | J.Thomas | B.Quinn | C.Johnson | G.Adams |
| | 4/4 | J.Russell | J.Thomas | A.Peterson | C.Johnson | G.Adams |
| | 4/3 | C.Johnson | J.Russell | B.Quinn | J.Thomas | G.Adams |
| | 4/1 | J.Russell | B.Quinn | C.Johnson | J.Thomas | A.Peterson |
| | 4/1 | J.Russell | B.Quinn | A.Peterson | C.Johnson | J.Thomas |
| | 4/1 | R.Runner | D.Jarrett | M.Bush | T.Brady Jr. | M.Crosby |
| | 3/30 | J.Russell | C.Johnson | A.Peterson | J.Thomas | L.Landry |
| | 3/29 | J.Russell | B.Quinn | J.Thomas | C.Johnson | G.Adams |
| --- | --- | --- | --- | --- | --- | --- |
| | 3/28 | J.Russell | J.Thomas | B.Quinn | C.Johnson | L.Brown |
| | 3/25 | C.Johnson | B.Quinn | J.Russell | A.Okoye | J.Thomas |
| | 3/24 | J.Russell | B.Quinn | A.Peterson | C.Johnson | J.Thomas |
| | 3/24 | J.Russell | A.Peterson | J.Thomas | C.Johnson | G.Adams |
| | 3/23 | J.Russell | B.Quinn | C.Johnson | J.Thomas | G.Adams |
| | 3/22 | C.Johnson | J.Russell | B.Quinn | J.Thomas | A.Branch |
| | 3/22 | J.Russell | J.Thomas | B.Quinn | C.Johnson | G.Adams |
| | 3/22 | J.Russell | B.Quinn | A.Peterson | C.Johnson | J.Thomas |
| | 3/22 | A.Peterson | L.Landry | B.Quinn | C.Johnson | J.Thomas |
| | 3/20 | J.Russell | B.Quinn | A.Peterson | C.Johnson | J.Thomas |
| | 3/20 | J.Russell | J.Thomas | B.Quinn | C.Johnson | G.Adams |
| | 3/20 | J.Russell | B.Quinn | J.Thomas | C.Johnson | L.Landry |
| | 3/16 | C.Johnson | B.Quinn | J.Russell | J.Thomas | G.Adams |
| | 3/16 | J.Russell | A.Branch | A.Peterson | C.Johnson | J.Thomas |
| | 3/15 | J.Russell | B.Quinn | A.Peterson | C.Johnson | J.Thomas |
| | 3/14 | J.Russell | G.Adams | A.Peterson | C.Johnson | J.Thomas |
| | 3/14 | J.Russell | B.Quinn | A.Peterson | C.Johnson | J.Thomas |
| | 3/14 | J.Russell | J.Thomas | B.Quinn | C.Johnson | J.Anderson |
| | 3/13 | J.Russell | B.Quinn | A.Peterson | C.Johnson | J.Thomas |
| | 3/13 | J.Russell | J.Thomas | A.Peterson | C.Johnson | G.Adams |
| | 3/12 | J.Russell | B.Quinn | J.Thomas | C.Johnson | A.Peterson |
| | 3/12 | C.Johnson | J.Russell | J.Thomas | G.Adams | L.Hall |
| | 3/7 | J.Russell | G.Adams | A.Peterson | C.Johnson | J.Thomas |
| | 2/28 | J.Russell | J.Thomas | A.Peterson | C.Johnson | G.Adams |
| | 2/27 | J.Russell | J.Thomas | A.Peterson | C.Johnson | G.Adams |
| | 2/25 | J.Russell | B.Quinn | J.Thomas | C.Johnson | G.Adams |
| | 2/21 | J.Russell | J.Anderson | J.Thomas | C.Johnson | L.Brown |
| | 2/13 | J.Russell | J.Thomas | A.Peterson | C.Johnson | G.Adams |
| | 2/8 | J.Russell | A.Branch | C.Johnson | A.Peterson | J.Thomas |
| | 2/8 | J.Russell | J.Thomas | B.Quinn | C.Johnson | L.Brown |
| | 1/29 | J.Russell | A.Peterson | J.Thomas | C.Johnson | L.Brown |
| | 1/29 | J.Russell | J.Thomas | B.Quinn | C.Johnson | A.Branch |
| | 1/21 | J.Russell | J.Thomas | A.Branch | C.Johnson | D.Revis |
Back to WalterFootball.com Home
Go to 2008 NFL Mock Draft Database
---
&copy 1999-2014 Walter Cherepinsky : all rights reserved
Privacy Policy
2 5 9 df