This section highlights which players have improved or worsened their 2019 NFL Draft stock as the draft approaches.
By Charlie Campbell.
Send Charlie an e-mail here:
draftcampbell@gmail.com
Follow Charlie on Twitter
@draftcampbell
for updates.
2019 NFL Draft Stock Up

Quinnen Williams, DT, Alabama
Last week
in the Hot Press
, we wrote about how multiple team sources see Williams as a high first-round talent for the 2019 NFL Draft. In speaking to sources at multiple teams including one general manager, they feel that Williams will grade out as a high first-round pick if he is able to stay consistent with his early-season performance. Grading out as a high first-rounder could put him on a par with Houston's Ed Oliver and Auburn's Derrick Brown as the top interior defensive line prospects for the 2019 NFL Draft.
Some team sources think Williams is better than Brown and have him higher, while a couple of others preferred Brown because he's bigger and could have more versatility for the techniques he could play in the NFL. Both Brown and Williams are viewed as having huge upside for the NFL because they are still very young players who are just scratching the surface of what they are capable of doing on a football field. Williams is extremely fast at the point of attack with the ability to fire a gap and cause havoc in the backfield. A number of sources view him as a three-technique for the NFL.
Sources say they are hearing at Alabama that the redshirt sophomore Williams plans on filing paperwork with the NFL Draft Advisory Board for the 2019 NFL Draft. If Williams hears a high first-round projection, he could easily enter the 2019 NFL Draft, and that is what many NFL evaluators think is likely. Most redshirt sophomore return to school, but every year there are a few that skip their final two years of eligibility to go to the NFL.

Trevon Diggs, CB, Alabama
Diggs has taken his game to another level this season. He is in the running to be the top cornerback prospect for the 2019 NFL Draft. Diggs flashed last year, but still was developing at cornerback after starting his career playing both offense and defense. He was able to focus on corner last season, and now this year, his play has taken a huge jump into the phenomenal. Diggs has 13 tackles with five passes broken up and one interception on the year.
As a freshman, Diggs had 11 receptions for 88 yards and a touchdown. He also brings added value as a punt and kick returner after doing that during his first two seasons at Alabama. In his junior year, Diggs totaled 13 tackles with five breakups and an interception. He was buried on the depth chart behind Anthony Averett, Levi Wallace and Tony Brown. Diggs is listed at 6-foot-2, 199 pounds and possesses excellent speed and athleticism to go with that great size.

Jerry Tillery, DT, Notre Dame
Already the 2019 NFL Draft is known to be a class that is going to be loaded with good defensive line talent. A lot of attention gets paid to prospects like Ed Oliver, Nick Bosa, Derrick Brown, Raekwon Davis and the Clemson defensive line; however, Tillery is having a great season and might be the top defensive tackle in the draft in an average year. A week ago against Stanford, Tillery totaled six tackles with four tackles for a loss, four sacks and a forced fumble. That tied him for the lead in the nation with seven sacks through five games. Tillery continued his strong play with a solid game against Virginia Tech.
This season, Tillery has showed excellent strength to shed blocks, technique to get under the pads of offensive linemen, power to bull rush, and speed to close on the quarterback. He is playing like a first-round pick in 2019's loaded defensive line class.

Clayton Thorson, QB, Northwestern
Thorson put on a clinic of accurate passing in leading the Wildcats to a road win at Michigan State. After his one mistake of the day resulted in an interception, Thorson quickly bounced back by throwing a 77-yard touchdown. He rolled to his left and found a wide open receiver deep down the field. Thorson lofted in a well-placed pass that allowed his receiver to coast into the end zone. On the next possession, Thorson made an even better pass. He had a receiver who was blanketed in coverage running down the field, but Thorson tossed in a beautiful pass to the outside shoulder of the receiver, who hauled in the 34-yard touchdown pass. Thorson also lofted in a perfect pass to his tight end for a 21-yard score. Once again, Thorson threw his receiver open despite being well covered, but Thorson's accurate throw led his receiver into the end zone with a dime that went right over the shoulder of the Spartans defender. The next play saw Thorson throw a dart into zone for the two-point conversion.
Versus the Spartans, Thorson completed 31-of-47 passes for 373 yards with three touchdowns and two interceptions. He was more accurate than the numbers indicate because numerous perfect passes were dropped by his wideouts. Thorson showed a strong arm capable of making any throw. His accuracy was superb versus the Spartans, as he repeatedly beat good coverage with perfect precision passes. Thorson had to be on the money because his receivers struggled to get separation. On top of his passing, Thorson protected the ball well while making good decisions except for his first interception. He also showed some ability to move and throw off of bootlegs and roll outs. The outing against Michigan State will help Thorson's draft grade a lot. He looked like a first-round pick versus the Spartans.

Jachai Polite, DE, Florida
Polite was fantastic versus LSU, making some huge plays to help the Florida defense. In the first quarter deep in Gators territory, Polite went by the left guard to get a back-side strip-sack that was recovered by the Gators. Late in the fourth quarter, Polite worked upfield before peeling back to the line of scrimmage to get a sack of Joe Burrow. Polite was getting other pressures and drawing double teams that allowed freed up other rushers like Jabari Zuniga. The 2019 NFL Draft is loaded on the defensive line, so Polite would be better off returning for his senior year and getting stronger. A good year in 2019 could make Polite a first-round pick in the 2020 NFL Draft.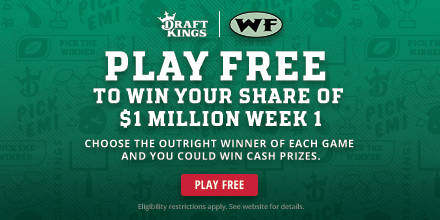 Gerald Willis, DT, Miami
Miami senior defensive tackle Gerald Willis has enjoyed a breakout year as a very consistent performer for Miami. The younger brother of Landon Collins, Willis has had a rough college career that started out at Florida before he transferred because of off-the-field issues. Last year, Willis took a leave from the team because of personal reasons, so playing well as a senior is essential for Willis to be a prospect for the NFL.
Team sources have said they've been impressed with Willis this season. In 2018, he has 23 tackles with 10.5 tackles for a loss and one pass batted. Willis would probably fit best as a three-technique in the NFL, but he also has the potential to be a nose tackle in a 4-3. If his off-the-field issues check out okay, he could be a second-day pick in the 2019 NFL Draft.

Lil'Jordan Humphrey, WR, Texas
When NFL evaluators call a player a dog, that is a great compliment. It means the prospect is a fighters, a competitor, physical and tenacious. I've heard scouts say that Humphrey has some dog in him, and that was clear against Oklahoma. Humphrey totaled 133 yards on nine receptions for a touchdown against the Sooners. He showed impressive run-after-the-catch skills on a wide receiver screen for 29 yards. Late in the third quarter, Humphrey showed his run-after-the catch-skills after hauling in a crossing route before breaking a few tackles while working his way downfield. It actually took two Sooners to get Humphrey to the ground after a gain of 30 yards. A few plays later, Humphrey ran down the seam to get wide open for a 15-yard touchdown.
Humphrey has the potential to be a good NFL pro. He has excellent size with good run-after-the-catch skills and strong hands. He is a real competitor who will fight with defenders. Humphrey has some off-the-field issues that will hurt him with some teams, but he could be an excellent value as a second-day pick who ends up being a good pro receiver.

Elgton Jenkins, C, Mississippi State
Over the past weeks, Jenkins has been a steady blocker in the middle of Mississippi State's offensive line. Overall, he had an impressive game against Auburn, and Mississippi State quarterback Nick Fitzgerald had a lot of success running behind Jenkins. At the point of attack, Jenkins is quick to the second level and does a nice job of beating defenders to a spot to wall them off. He is quick, agile, and athletic on the inside, which translates to his ability to fire to the second level. Jenkins is very effective at double-team combo blocks with guards and is reliable to get gaps open with his double-team skills. In pass protection, Jenkins has a good anchor with the size to handle bull rushes. He may not grade out as a first-round pick, but he could be a good second-day selection who serves as a plug-and-play starter in the NFL.
2018 NFL Draft Stock Down

Bobby Evans, OT, Oklahoma
Evans is an okay college blocker, but in speaking to team sources, they aren't high on Evans for the NFL. They saw him as more of a third-day pick even though he has gotten some projections of going in the top half of the 2019 NFL Draft. While he plays left tackle for Oklahoma, they say that Evans moves like a right tackle and does not have left tackle athleticism. He also is not powerful, which makes him a poor fit at right tackle in the NFL for running the ball. Evans will probably have to move inside to guard as a pro, but he is going to need developmental time to get stronger. Evans looks like a third-day selection in the 2019 NFL Draft.

Anfernee Jennings, LB, Alabama
Team sources have been disappointed in Jennings' play this season and feel that something is off with him. They suspect that Jennings is playing with an injury because he is not the fast dynamic play-maker who flashed at the end of the 2017 season. Jennings has not been as impressive as other Alabama defenders like Quinnen Williams, Raekwon Davis, Mack Wilson, Trevon Diggs and Deionte Thompson. If Jennings doesn't get hot in the second half of the season and in the postseason, he should return to Alabama for 2019 rather than entering the 2019 NFL Draft off of a down year.
Comment...
NFL Picks
- Oct. 15
2020 NFL Mock Draft
- Oct. 13
2019 NFL Mock Draft
- Oct. 11
Fantasy Football Rankings
- Sept. 5
2019 NBA Mock Draft
- Aug. 13
NFL Power Rankings
- June 3