This section breaks down many college football games each week and highlights how
2019 NFL Draft Prospects
have performed. Or look at the
2019 NFL Draft Stock
page.
By Charlie Campbell.
Send Charlie an e-mail here:
draftcampbell@gmail.com
Follow Charlie on Twitter
@draftcampbell
for updates.


Stanford 17, USC 3
Stanford star running back Bryce Love had a rough start to the season in Week 1, but he bounced back with an impressive performance against USC. The Trojans have a tough defense with multiple prospects for the 2019 NFL Draft and could be one of the best stop units that Love will go against all year. Thus, it was good for Love to produce an impressive performance while taking on that caliber of opponent.

On the first drive after having a few runs bottled up, Love sparked the Cardinal by using his vision to bounce a run to the outside before bolting downfield for a 24-yard gain. Love had a similar carry to end the drive for a short rushing touchdown. That score proved all the Cardinal needed to top USC.

In the second quarter, Love showed good pass protection on taking on Trojans linebacker Cameron Smith blitzing up the middle. Love absorbed the hit and got another push on Smith to give his quarterback enough time to get the ball out.

Early in the third quarter, Love ripped off a 59-yard run that saw him bounce to the outside and bolt down the field. The run finally ended when a defensive back pushed him out of bounds, but Love also stiff-armed the defender into the turf while Love stayed on his feet. It was a very impressive run that illustrated Love's elite explosion to go with vision, underrated strength, and patience to allow his blocks to get set up. Midway through the second half, Love did a good job in pass protection, identifying an outside linebacker coming off the edge and pushing him behind his quarterback to stymie the blitz.

While taking on a defense with some good NFL talent, Love ran for 136 yards on 22 caries with a touchdown. He showed his speed on a 59-yard run and averaged 6.2 yards per carry. What might impress NFL evaluators the most from this tape was Love's tough blocking in pass protection. He worked to improve in this area and showed real strides with good blitz protection versus USC. With his speed and more toughness than he is given credit, Love could be a dynamic addition to any NFL offense.


USC safety Marvell Tell III is one of the top safety prospects for the 2019 NFL Draft. He had a decent game against Stanford. In the second quarter, Tell laid a hard hit on the quarterback after flying into the backfield on a delayed blitz. On the next possession, Tell drove down hard from zone coverage to tackle a receiver right after he made a catch. In the fourth quarter, Tell missed a tackle on Love in the flat. Tell came back to make a good tackle in run support, howwere, crashing into the hole. Then on the next possession, Tell came down hard to lay a blistering hit on Love to stop a run at the line of scrimmage. Overall, this was a solid tape from Tell, but he wasn't really tested in the passing game.


USC outside linebacker Porter Gustin was hurt for the vast majority of the 2017 season, so staying healthy and playing well over his senior year is critical for his draft grade. Early in the first quarter, Gustin broke containment by over-pursuing on an interior play fake, and that allowed Love to kick out a run to the outside for a 24-yard gain. In the second half, Gustin started a tackle for a loss after he recognized a screen and flew over to make a tackle in space.

Gustin had some nice plays in the pass against the Cardinal, including drawing a holding penalty and getting a number of pressures. He used his speed to run by the right tackle consistently and also showed some variety in moves, displaying a rip and spin move. This was not a bad tape from Gustin even though he did not have a big game statistically.


This was a game for USC inside linebacker Cameron Smith to make his presence felt. The senior is a tough middle linebacker to defend the run, and overall, he had a solid game against Stanford. In the second quarter, Smith made a nice play pursuing into the backfield to take down Love for a loss. Smith also had a tackle in the flat with good coverage on a tight end after a check-down. A few plays later, Smith laid a bone-rattling hit on the Cardinal's quarterback after blitzing off the edge. Smith buried the signal-caller just after the ball was released.

Smith shows a nice ability to read his keys and get in position to make tackles in the tackle box. He has good diagnosis skills and shows some instincts as a run defender. Smith has worked to improve his pass coverage this year, and he looks like he made some strides in this regard; however, he must do more to improve there for the pass-happy NFL.


USC cornerback Iman Marshall was wise to return to the Trojans for 2018, as sources said they did not like his 2017 tape and felt he needed to show improvement before going pro. Against Stanford, Marshall had a mixed outing.

In the first quarter, Marshall made a bad read on a run to allow Love a lane to the outside on a short touchdown run. In the second quarter, Marshall made a nice play to stay home on the edge and then ride Love out of bounds to limit the carry for a short gain. On the next play, Marshall flew into the backfield and tackled Love for no gain. In the second half, Marshall had a good tackle on Love in space to get him down for no gain.

Marshall had two plays in coverage in along the sideline where he pushed the receiver around, including riding him out of bounds. Marshall had too much contact and could easily have gotten called for some holds. He looks nervous to cover deep speed and go routes along the sideline, resorting to contact as way to keep wideouts from breaking free. Thus, he needs work for the NFL. Marshall looks like a mid-rounder or third-day pick. He would fit best in a zone scheme and moving to safety might be in order.








Clemson 28, Texas A&M 26
The NFL Draft prospect who was the most impressive in this game was Clemson defensive end Clelin Ferrell. He came up with some huge plays to help the Tigers get a tough road win in College Station, a difficult place to play. Ferrell has the to potential to be a top-16 pick in the 2019 NFL Draft, and this game provided proof of that.

In the first quarter, Ferrell fired unblocked into the backfield to get a tackle for a loss. A guard was supposed to pull around to block Ferrell, but Ferrell was too fast for that and his quickness took him into the backfield.

Midway through the third quarter, Ferrell stayed with a play to force out Kelly Mond downfield after he had taken off on a long run. A few plays later, Ferrell made a game-changing play with an outside move and a shift back to the inside to sack the quarterback and force a fumble that was caught in air by a Clemson teammate. It was a huge play to end a Texas A&M drive that was well into Tigers territory. In the fourth quarter, Ferrell used speed to whip the left tackle. He ran by him and pushed him away to rip Mond down for a sack.

Against the Aggies, Ferrell showed why he is an elite prospect for the 2019 NFL Draft. With a some good plays in run defense, Ferrell showed he is more than just a pass rusher. This tape will help Ferrell to go as a top-10 pick next April.


Ferrell will be joined in the first round of the 2019 NFL Draft by defensive tackles Dexter Lawrence and Christian Wilkins. Both of them played really well against Texas A&M and gave the Aggies' interior blockers all they could handle. Wilkins started the night with some good stops in run support. In the second quarter, Wilkins fired his gap on a third-and-short, and that led to linebacker Tre Lamar getting a tackle for a loss. Just before halftime, Wilkins fired by the guard to tackle the quarterback for a loss of four on a third-down quarterback draw. Wilkins showed his trademark versatility, athleticism, and quickness at the point of attack.

Early in the game, Lawrence bulled through Aggies center Erik McCoy and into the quarterback to help get Clemson off the field with a third-down incompletion. In the third quarter, Lawrence fought off a block to crush the quarterback with an impressive pass rush. Early in the fourth quarter, Lawrence had a nice rush after getting off a block and used speed to collapse the pocket and hit Mond again. Lawrence did not produce a huge stat line, but he caused a lot of disruption at the point of attack. He was fast, physical, and overpowering at times. Lawrence has the look of a first-rounder next April.


Texas A&M junior running back Trayveon Williams got off to a fast start a week ago with 240 yards and three touchdowns on 20 carries against a cupcake opponent. Things were going to be much tougher against the best defensive line in college football.

On the first drive of the game, Williams fumbled the ball after a hard hit, but he was fortunate that Clemson did not recover the loose ball. The night did not get any better from there as Williams was held to 31 yards on 17 carries. He did not have good running lanes, and he is not a power runner who can run through big defenders. This game definitely won't help his draft grade.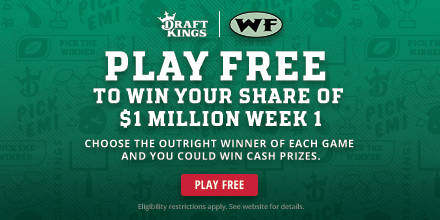 Kentucky 27, Florida 16
The active career sack leader in the SEC is Kentucky linebacker Josh Allen, and he was going against Florida left tackle Martez Ivey. Some sources graded Ivey as a late-round undrafted free agent last year before he decided to return to the Gators, but other scouts like Ivey more. Allen has first-round potential, and Ivey really needed a good game versus Allen to help his draft grade. However, this game validated the grades from last year as Allen dominated Ivey to help lead the Wildcats to their first win against Florida in 31 years and their first road win over the Gators since the 1970s.

Ivey allowed a few pressures in the opening half, but Allen was generally pretty quiet and he spent some time dropping into coverage. In the third quarter, Allen burned Ivey with a speed rush to hit Feleipe Franks as he threw, but the Gator quarterback made a good throw for a third-down completion. Shortly later, Ivey had a false start and was beaten on a third down to allow a pressure that led to a third-down incompletion. Allen then had blanket coverage on a tight end downfield to break up a back shoulder throw downfield. It was excellent coverage from Allen that will really impress evaluators.

Allen came up with a huge clutch play late in the fourth quarter. He made a great read on a two-point conversion attempt to cover a tight end in the back of the end zone, Allen used his athleticism to make a leaping tip of the ball to cause an incompletion. It was a superb play from Allen that helped Kentucky to end its losing streak.

On the final play of the game for the Gators offense with less than 10 seconds remaining, Allen beat Ivey with a speed rush for a strip-sack that was returned by Kentucky for a game-clinching touchdown. It was a terrible play from Ivey as he looked helpless to block Allen.

At will, Allen could burn by Ivey with speed rushes. The players are clearly of different calibers. Allen is a legit late first-round or early second-round pick who would be a superb defender as an outside linebacker in a 3-4 defense. This tape will hurt Ivey's chances of getting a draftable grade.


Kentucky running back Bennie Snell is a hard-nosed runner who could be a second-day pick in the 2019 NFL Draft. He had an excellent game, rolling over the Gators defense and moving the chains on the ground. Florida's defense is not as good as it was in recent years, but Snell still put on a thoroughly impressive performance in The Swamp.

Early on, Snell started strong with a run of about 20 yards on the first drive of the game. Snell then made a great move at the second level to dodge a safety and a linebacker to break downfield for a 44-yard gain. Snell was caught from behind by a cornerback, but this was an impressive run from last year's leading rusher in the SEC. Early in the third quarter, Snell bounced a run to the outside and showed his power to run through two arm tackles on an 18-yard scamper.

Snell totaled 175 yards on 27 carries. He showed natural running ability with excellent vision, quickness to hit the hole, power to get yards after contact, balance, and a hard-nosed decisive style. He has good feel as a runner and reminds me of Ray Rice prior to Rice's decline. This tape will help Snell to be a second-day pick.








Georgia 41, South Carolina 17
This game featured an excellent draft matchup of two potential first-round picks going head-to-head with South Carolina wide receiver Deebo Samuel versus Georgia cornerback DeAndre Baker. Unfortunately, the Gamecocks struggled in how they used Samuel, so after some early fireworks, this matchup did not live up to its potential.

On the second play from scrimmage, Baker had tight coverage on a short route and was able to slap away the pass intended for Samuel. Baker pushed Samuel out of bounds along the sideline and was flagged for a pass interference on the next snap. It was a questionable call, but given how PI-happy NFL officials are, that could have easily been called in the NFL.

A few plays later, Baker snatched a tipped pass and raced down the sideline for a 56-yard gain. Baker got extremely lucky as he made a very stupid move at the end of the play, dropping the ball just in front of the goal line as he coasted into the end zone. It was like DeSean Jackson many years ago with the Eagles. Luckily for Baker, the South Carolina players did not notice he dropped the ball too early, but his teammate Juwan Taylor picked the ball up to bring it into the end zone for a touchdown. That play is going to rub a lot of evaluators the wrong way because it was a dumb mental mistake on an easy-gifted pick-six.

On the next drive, Baker got flagged again for a pass interference, and this was a clear hold that was unmistakeable. Samuel then took an end around and threw a short 13-yard touchdown pass to a wide open receiver. That was the highlight of the game for Samuel. Throughout the first half, Georgia made it a mission to limit Samuel with lots of attention and force the Gamecocks to beat them with other players. By halftime, Samuel had four receptions for 17 yards.

The second half was more of the same, as Samuel ended up with only six receptions for 33 yards. South Carolina did a terrible job of being predictable with Samuel. They had him lining up on the same side on every play and did not move him around to try to get him better looks.

Overall, this tape won't help either player. Baker had multiple penalties and was grabbing too much out of concern for Samuel's speed. Samuel showed that he can be limited and taken out of games. Still, both players have first-round potential for the 2019 NFL Draft.




Houston 45, Arizona 18
One of the consensus top prospects for the 2019 NFL Draft is Houston defensive tackle Ed Oliver, and he proved why in a superb game versus Arizona.

On his initial third down of the game, Oliver fought through a double team to force quarterback Khalil Tate out of the pocket. Oliver then made an excellent play on a third-and-2, as he held his ground against a double team from the great leverage that he plays with, stuffing the tailback for no gain to get his defense off the field.

At the end of the opening quarter, Oliver used speed to fire a gap and functional strength to shed a block to pressure the quarterback into an incompletion. Oliver then used speed, active hands and power to beat a triple team to get pressure on the quarterback. Early in the third quarter, Oliver showed good strength on a rip move to beat the center with a pressure on the quarterback to force a third down incompletion.

Oliver consistently beat double teams against Arizona to get into the backfield and pressure the quarterback while doing a good job of defending the run.

Oliver is the real deal for the NFL. There is so much about him that is extremely impressive. Off the snap, Oliver is extremely fast with special first-step quickness. His great get-off lets him fire into his gap and get quick penetration into the backfield. On top of the speed, Olver plays with great leverage that allows him to push his way into the backfield or hold up against double teams.

While Oliver needs to gain more weight for the NFL, he has functional strength to shed blocks. Oliver is a good run defender despite being undersized for an interior defensive lineman. On the inside of a line, Oliver has the potential to be a dynamic pass rusher. On top of his great skill set, Oliver has a non-stop motor and gives a great effort every snap. This tape will help Oliver to grade out as one of the top prospects for the 2019 NFL Draft, as Oliver looked a worthy top-five selection against Arizona. Walt currently has Oliver slotted to the Bills atop his 2019 NFL Mock Draft.








Mississippi State 31, Kansas State 10
There were some good draft matchups in this game with Mississippi State's two first-round defensive line prospects in tackle Jeffery Simmons and edge defender Montez Sweat taking on a quality offensive line. Kansas State senior right tackle Dalton Risner is a pro prospect, while junior left tackle Scott Frantz has pro potential for the 2020 NFL Draft. Of these prospects, Simmons is the top talent and he could be first off the board if his off-the-field issues don't cause him to slide. Versus the Wild Cats, Simmons illustrated why he is a high first-round talent.

In the first quarter, Simmons stuffed a run at the point of attack. Simmons then hit the quarterback as he threw and that caused the throw to be short of his intended target with a Bulldog teammate making a tremendous diving interception. On the next drive, Simmons made another impressive play as he read a screen well and quickly ripped down the back after the catch was made. Simmons later fired his gap and redirected towards the right side to rip down the running back for a tackle for a loss. Simmons was active and causing disruption at the point of attack all afternoon.

Simmons has a tremendous get off as he constantly is the first player off the snap. That makes him a dangerous interior rusher. He is quick at the point of attack with the speed to fire a gap and charge down the pocket. He has a real burst to close with athleticism to redirect and uses his speed to chase down the signal-caller. Simmons puts a lot of quick pressure on the quarterback to get them off their landmark and harass the signal-caller. On top of his speed, Simmons has real power to bull rush through blockers and heavy hands to shed blockers. With a strong lower body, Simmons is able to ride blockers straight back into the pocket by getting them on roller skates. With his combination of speed and power, Simmons is a dynamic interior rusher.

As a run defender, Simmons is pretty sound at the point of attack. He gets in trouble when he stands up too high, but Simmons has the strength in his base to anchor when he plays with good leverage. He uses his speed to chase down ball-carriers outside of his gap and Simmons blows up a lot of run plays by creating havoc in the backfield. Simmons is at his best when he uses his great skill set to get upfield and cause disruption off the snap.

Overall, this was a tape that will help Simmons to grade out as a first-round pick. If off-the-field concerns don't weigh him down, Simmons could end up going in the top 10. I currently have Simmons going to the Browns at No. 12 overall in my mock draft.


Sweat had a solid performance against Kansas State. On the initial third down of the game, Sweat came unblocked to almost get a sack but force an incompletion to get his defense off the field. Just before halftime, Sweat fighting to get a coverage sack. Risner had Sweat blocked well and stifled a swim move, but the quarterback got happy feet in the pocket and ran into the back of Risner. Sweat was close enough to clean up and take the quarterback down for a third down sack. Sweat later forced a third-down incompletion with good pressure on the quarterback. Overall, this was a quality tape for Sweat that showed his ability to contribute to the pass rush.


Risner was not impressive in this game, but he wasn't awful. On the initial third down of the game, Risner made a mental mistake to not block Sweat coming off the edge. In fact, he didn't block anybody as moved towards the inside. Sweat fired into the backfield to light up the quarterback and Risner made the blunder of not blocking the most dangerous defender near him. Shortly later, Risner got some revenge as he pushed Sweat around in the ground game to get Sweat out of his gap and open up a hole for a gain of four.

Risner struggled with some of the speed out of the Bulldog edge defenders, but he did better than Franz who gave up multiple sacks and was pushed around. It is very early in the season, but this tape gave Risner the look of a mid-rounder to compete at right tackle.


Mississippi State quarterback Nick Fitzgerald was making his first start of the season after being suspended for the season opener. Fitzgerald is coming off an ugly ankle injury in the Egg Bowl last year, so it was important for him to show NFL evaluators that he is recovered and ready to compete. It would really help Fitzgerald's draft grade to illustrate improvement as a pocket passer in his senior year.

Early in the first quarter, Fitzgerald had a receiver open running a quick slant in the end zone, but Fitzgerald was inaccurate and overthrew for an incompletion. A few plays later, Fitzgerald made a really nice play to scramble and throw accurately on the run to the back corner of the end zone, but his receiver dropped the well-located pass. Fitzgerald threw an easy touchdown pass to a wide-open back on a wheel route about halfway through the first half.

Midway through the second quarter, Fitzgerald had a receiver running open deep with a few yards of separation on the wide receiver but Fitzgerald overthrew him for an incompletion on what should have been a 43-yard touchdown. Fitzgerald later made his best pass of the game, throwing a well-placed rope on a slant for a 13-yard touchdown. Fitzgerald, however, was then under pressure and had a tipped pass get intercepted. Overall, Fitzgerald completed 11-of-27 passes for 154 yards with two touchdowns and an interception. He also ran for 159 yards on 19 carries.

Fitzgerald struggled as a passer. He was very inaccurate and missed open receivers with wild throws. Fitzgerald showed a skill set with size, running ability, and an arm. However he did not look like an early-round quarterback prospect because of his inaccuracy. Fitzgerald looks like a day-three prospect, and it isn't out of the question for him to be a late-round pick or undrafted free agent.










Comment...









NFL Picks - Nov. 13


2019 NFL Mock Draft - Nov. 8


2020 NFL Mock Draft - Nov. 3


Fantasy Football Rankings - Sept. 5


2019 NBA Mock Draft - Aug. 13


NFL Power Rankings - June 3