Potential 2018 NFL Draft Trade: Bears-Cardinals Trade
In the Potential 2018 NFL Draft Trades series, I've examined the Bills moving up thus far in the
Bills-Giants NFL Draft Trade
, and I also discussed a potential
Saints-Packers NFL Draft Trade
where New Orleans obtains Drew Brees' successor. Three weeks ago, I mentioned a
Browns-Giants NFL Draft Trade
, where the two teams would swap the top two choices, and after that, I had a
Patriots-Bears NFL Draft Trade
post in the wake of New England acquiring a second opening-round selection for Brandin Cooks. Two weeks ago, I had two trades, involving the
Giants, Broncos and Seahawks
trading picks. A week ago, I had the
Bills-Browns and 49ers-Patriots NFL Draft trades
.
Here's the final trade article of the draft preseason. As with last week, I'm going to discuss a target for Josh Rosen.
One quarterback is likely to fall out of the top five, and it's certain to be Rosen. There aren't any logical spots for him in the top five unless the Bills trade up. Some teams are worried about his off-the-field concerns and injuries.
That said, Rosen has great upside, so a team will likely leap over the Dolphins and Bills to secure him (if Buffalo doesn't trade up for him.)
I think the Cardinals could do it. Mike Jurecki, Arizona's top team reporter, noted that the Cardinals will be interested in moving up if a quarterback fell out of the top five, so general manager Steve Keim could pull the trigger if he has to move up just six or seven spots.
Keim has a working relationship with Bears general manager Ryan Pace. The two have orchestrated trades before, and they could do it again if Chicago won't have the opportunity to select Quenton Nelson.
So, what would a Bears-Cardinals trade look like? Here it is:


Cardinals acquire:
No. 8 (1,400 points) overall = 1,400 points
Bears acquire:
Nos. 15 (1,050 points), 79 ( points), 97 (112 points), 152 (30.6) = 1,387.6 points
(see
NFL Draft Trade Chart
for point values)
In short, the Cardinals are surrendering two third-round picks and a fifth-rounder to move up to No. 8.
This seems like a win-win for both sides. The Cardinals get their franchise quarterback and don't surrender much draft capital. Meanwhile, the Bears pick up two second-day selections in addition to a fifth-rounder. Chicago doesn't have a third-round pick, while Arizona has two, so this trade makes sense from that angle.
Here are some potential options for the Bears at 15:
Edge Rusher:
Marcus Davenport, UTSA; Harold Landry, Boston College.
The Bears have just one viable edge rusher, and Davenport fits what the Bears are looking for as far as athleticism is concerned.
Inside Linebacker:
Leighton Vander Esch, Boise State; Rashaan Evans, Alabama.
Tremaine Edmunds and Roquan Smith will be off the board by No. 15, but here are two other inside linebackers who make sense.
Cornerback:
Denzel Ward, Ohio State; Joshua Jackson, Iowa.
The Bears have been linked to Ward. They might take him at No. 8, and I'm sure they'd love him at 15.
I normally make a quick mock draft on these pages, but I'm not doing that this week. Why? Because I updated my seven-round
2018 NFL Mock Draft
today, incorporating this trade!
Check out the new mock via the link. With one day to go, there will be two more updates: one Thursday morning, and one Thursday afternoon.
Potential Cardinals-Bears Trade Polls
What do you guys think? Should the four teams pull the trigger on these trades? And who wins the deals?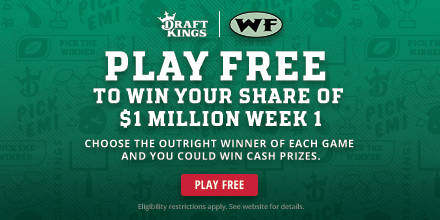 Comment...
2019 NFL Mock Draft
- Sept. 13
Fantasy Football Rankings
- Sept. 5
2019 NBA Mock Draft
- Aug. 13
2020 NFL Mock Draft
- Aug. 1
NFL Power Rankings
- June 3
NFL Picks
- Feb. 4