This new section highlights which players have improved or worsened their 2018 NFL Draft stock as the draft approaches.
By Charlie Campbell.
Send Charlie an e-mail here:
draftcampbell@gmail.com
Follow Charlie on Twitter
@draftcampbell
for updates.
2018 NFL Draft Stock Up

Garrett Dooley, LB, Wisconsin
Dooley is having a strong senior season for the Badgers and was a tough defender in the Big Ten. He is a tough edge rusher, having totaled 7.5 sacks on the season. The senior has also chipped in 40 tackles with 12 tackles for a loss, one forced fumble and one pass batted. As a junior, Dooley recorded 3.5 sacks. The 6-foot-3, 246-pounder has versatile size for the NFL to be a Mike - middle - or Sam - strongside - linebacker in a 4-3 while also being able to contribute on the inside or outside of a 3-4 defense. Dooley could help himself with a strong Senior Bowl performance.

Nick DeLuca, LB, North Dakota State
The 6-foot-3, 245-pound DeLuca has put together a strong year, earning an invitation to the Senior Bowl. He has 61 tackles with nine tackles for a loss, 5.5 sacks, two passes batted, three forced fumbles and an interception on the season. DeLuca turned in a big 2015 season with 135 tackles, six passes broken up, three sacks, two forced fumbles and two interceptions. If DeLuca shows pass-coverage skills in Mobile, that could really help his draft stock.

Davontae Harris, CB, Illinois State
Harris (6-0, 190) impressed scouting sources this season and will play at the East-West Shrine in January. The 6-foot, 205-pounder has good size and some movement skills. In 2017, Harris totaled 57 tackles with two interceptions, 14 passes broken up, two sacks and 4.5 tackles for a loss. Harris could rise with a strong week in St. Petersburg.

Chandon Sullivan, CB, Georgia State
The 5-foot-11, 195-pound Sullivan earned a Senior Bowl invitation after impressing in the Sun Belt this season. He recorded 42 tackles with five passes broken up and one interception on the year. Sullivan totaled six interceptions and 13 passes broken up over his previous three seasons.

Michael Joseph, CB, Dubuque
Joseph is the rare Divison III player who has earned an invitation to the Senior Bowl. It will be an interesting challenge to see how Joseph performs while making a huge jump in competition. The 6-foot-1, 180-pounder has good height, but could use more weight for the NFL. The senior totaled 56 tackles with eight interceptions and eight passes broken up in 2017. He had four picks as a junior and three as a sophomore.

Austin Corbett, C, Nevada
The 6-foot-4, 305-pound Corbett was a versatile blocker for Nevada since he became a freshman starter. As a redshirt freshman and sophomore, Corbett was Nevada's starter at left tackle. He moved to right tackle for his junior year, but was back at left tackle as a senior. He received a Senior Bowl invitation and is listed at center for practicing in Mobile.

Skyler Phillips, G, Idaho State
Phillips (6-2, 322) has good weight to his frame while being a bit shorter and lacking ideal length for the NFL. However, he impressed evaluators enough to earn an invitation to the Senior Bowl. Holding up in the one-on-ones and showing the ability to handle speed rushers will be important for Phillips in Mobile. He played in four games during 2016 because of injury.

Alex Cappa, OT, Humboldt State
Coming from a Division II school, Cappa (6-7, 305) did well enough to earn an invitation to the Senior Bowl. He has the size to play tackle in the NFL, and it will be interesting to see how he does against better competition. The defenders in Mobile will provide a gauge on if he has the quickness to handle speed rushers and the strength to take on power. Given the weak tackle class, Cappa has a good opportunity to rise.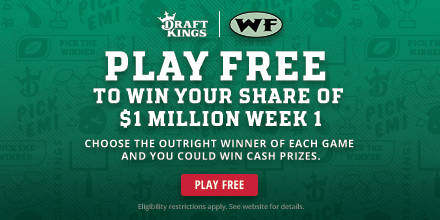 2018 NFL Draft Stock Down

Jamarco Jones, OT, Ohio State
In speaking with sources at a few teams, Jones is a love/hate prospect. Some scouts felt he could be a solid player with the potential to play at guard or tackle. Other evaluators don't like Jones at all and have him as a late-rounder. They don't see Jones has a future starter in the NFL and are very down on his NFL potential. He definitely needs to help himself at an all-star game and Combine.

Matthew Thomas, LB, Florida State
Thomas is a fast and athletic linebacker who has a good skill set, but teams evaluators have said they are grading Thomas on the third day of the draft because of a lack of instincts and awareness. In 2017, Thomas has 85 tackles with two passes batted, two sacks, and an interception. The 6-foot-4, 227-pounder has a good athletic skill set and probably could help himself in pre-draft workouts, but his senior year tape hasn't impressed evaluators.
Comment...
NFL Picks
- Oct. 15
2020 NFL Mock Draft
- Oct. 13
2019 NFL Mock Draft
- Oct. 11
Fantasy Football Rankings
- Sept. 5
2019 NBA Mock Draft
- Aug. 13
NFL Power Rankings
- June 3