This new section highlights which players have improved or worsened their 2018 NFL Draft stock as the draft approaches.
By Charlie Campbell.
Send Charlie an e-mail here:
draftcampbell@gmail.com
Follow Charlie on Twitter
@draftcampbell
for updates.
2018 NFL Draft Stock Up

DeShon Elliott, S, Texas
Elliott is enjoying a breakout junior season as he has been one of the nation's leaders in interceptions during 2017. Against Baylor last Saturday, Elliott continued his strong play with a 43-yard pick-six. It was his sixth interception of the season to go with his 40 tackles and three passes broken up.
The 6-foot-2, 210-pounder has NFL size with good instincts. He fits as a free safety for the pro game, and sources have told me that they've given him a second-day grade. They say that Elliott lacks elite athletic ability and the speed to be a first-round pick, but he makes plays in coverage and is a willing participant against the run. It will be hard for Elliott to duplicate this production if he returns for his senior year, so it probably is in his interest to enter the 2018 NFL Draft after this season.

J.C. Jackson, CB, Maryland
While he comes with serious off-the-field concerns, sources have raved about the talent and skill set of Jackson. The 6-foot-1, 193-pounder has excellent athleticism to go along with speed and good size. This season, he has 32 tackles with three passes broken up and three interceptions. He totaled 40 tackles with six breakups and a pick in 2016.
Jackson was kicked out of the Florida Gators program in 2015 following an armed robbery - for which he was ultimately acquitted. There was also another incident in late 2014 during which Jackson was shot at - with a bullet grazing his eye lid - and a companion of his getting shot in the face. The off-the-field issues are going to be vetted heavily, but Jackson has the physical talent to be an early-round pick for the NFL.

Sam Hubbard, DE, Ohio State
Hubbard has a first-round skill set, but he hasn't turned those skills into big production for the Buckeyes. Against Penn State though, Hubbard put together an impressive performance that showed off his excellent combination of size, speed and agility. Early on, he used his speed to make a tackle in the flat, closing quickly on a receiver. Hubbard later chased down quarterback Trace McSorley for a sack that was lost to an accidental penalty. Hubbard also made a big tackle for a loss on Saquon Barkley in the fourth quarter to help set up the Ohio State offense with good field position. Throughout the game, Hubbard beating Penn State's right tackle with speed around the corner. He totaled four tackles with 1.5 for a loss on the evening. This tape will help him to grade out as a first-round pick.
Hubbard is fast to fire out his stance with strength to shed blocks and looks like a good fit as a base end in a 4-3 defense. He has 23 tackles with 6.5 tackles for a loss, two sacks and one forced fumble in 2017.

Roc Thomas, RB, Jacksonville State
Team sources told me that Thomas has impressed him this fall. The senior is averaging 6.0 yards per carry from his 696 rushing yards and seven touchdowns. He also has 13 receptions for 229 yards. As a junior, he averaged 6.2 yards per carry for 782 yards and seven touchdowns, plus had 16 receptions for 173 yards and a touchdown. Thomas started out his collegiate career at Auburn before transferring to Jacksonville State.

Sony Michel, RB, Georgia
Michel showed explosive speed with the ability to rip off long touchdowns as he ran all over Florida on Saturday. In the first quarter, Michel took a run up the middle and exploded down the field for a 74-yard touchdown. Midway through the third quarter, he took a run off the left side and exploded down the field for a 45-yard touchdown. That ended up being Michel's final carry, but he took his six carries for 137 yards and two touchdowns.
Michel has starting potential for the NFL with speed, strength and versatility. Sources have told me that Michel has been getting second-day grades. The tape against Florida will help his chances of being a second-rounder rather than going in Round 3.

Nic Shimonek, QB, Texas Tech
The 6-foot-3, 225-pound Shimonek is the Red Raiders' replacement for Pat Mahomes, and Shimonek has been impressive in 2017. Some scouting sources feel that Shimonek has real arm talent and has turned himself into a NFL prospect. Taking on Oklahoma, one of the better defenses on his schedule, Shimonek was 22-of-36 for 322 yards with four touchdowns and one interception. This season, he has completed 70 percent of his passes for 2,663 yards with 22 touchdowns and six interceptions. With his arm talent, the senior could rise during the leadup to the 2018 NFL Draft, especially if he turns heads at an all-star game.

Darius Leonard, LB, South Carolina State
Leonard is a small-school player who has impressed evaluators this season. They feel that Leonard is a mid-round talent who could sneak into the second day of the 2018 NFL Draft. The 6-foot-3, 235-pounder has very good size for the NFL with the quickness to play at the pro level.
In 2017, Leonard has 95 tackles with seven tackles for a loss, 3.5 sacks, one pass batted, one forced fumble and two interceptions. He had an excellent junior season with 124 tackles, 14.5 tackles for a loss, 3.5 sacks, three passes broken up, four forced fumbles and two interceptions. Sources said that Leonard played a great game against Clemson in 2016 as well. The senior is sleeper who teams have been impressed with in 2017.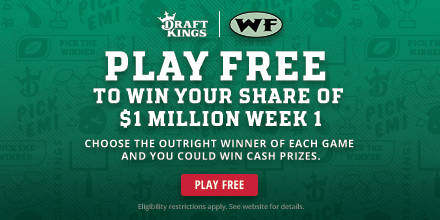 2018 NFL Draft Stock Down

Mason Rudolph, QB, Oklahoma State
In scouting circles, Rudolph is very much a love/hate prospect, but of late, I've heard more teams putting lower grades on him and sources expressing more doubt. I've heard grades as low as the fifth and sixth round on Rudolph in recent weeks. I'm of the opinion that Rudolph is a third-day prospect for the 2018 NFL Draft and would grade him as a fourth- to fifth-rounder.
Rudolph has some serious limitations for the NFL. He is not very athletic and isn't a running threat, plus his arm strength is just average. Rudolph also possesses shaky accuracy and needs improvement, while his anticipation is terrible. Routinely, Rudolph doesn't pull the trigger on a throw until his receiver has long since gotten wide open rather anticipating the play to get the ball out faster. The length of time Rudolph holds the ball in the pocket is going to be a problem in the NFL, but in the Big XII, he can get away with it. Rudolph is also inconsistent with his field vision as he can work beyond his first read, but other times he stares down targets. His recent games against West Virginia and Texas provided other examples of him struggling to throw into tight windows. Rudolph could end up going a lot lower than the media hype suggests.

John Kelly, RB, Tennessee
Kelly has been one of the lone bright spots for Tennessee this season and has turned himself into a NFL prospect with his strong performance over the first half of the year. Kelly has run hard while averaging 4.9 yards per carry for 615 yards with six touchdowns. He also has 26 receptions for 255 yards.
Kelly dealt his draft grade a blow, however, with an arrest for marijuana possession. That caused him to be suspended against Kentucky, with the Volunteers losing a close game that Kelly could have made a difference in. Kelly is going to have answer a lot of questions and deal with drug concerns in the leadup to his 2018 NFL Draft.

Will Grier, QB, West Virginia
Grier has created some positive buzz lately from displaying a strong and accurate arm. Against Oklahoma State however, Grier showed that he is still a work in progress as he made a lot of bad decisions and poor passes. Grier threw four interceptions against the Cowboys while completing 20-of-42 passes.
Grier had a bad start as he drifted in the pocket and made an inaccurate throw leading to an interception. Early in the third quarter, Grier was pressured on a blitz and overthrew his receiver downfield. That led to another interception, but the West Virginia receiver didn't look back and make a play for the ball, so that didn't help Grier out. Later in the third quarter, Grier threw an inaccurate pass to a receiver running a go route down the seam, and the ball was easily picked off. While under pressure in the fourth quarter, Grier tossed a ball up for grabs in the middle of the field into double coverage. The pass turned into Grier's fourth interception of the game.
With his steroid suspension in 2015 and sitting out 2016 after transferring from Florida, Grier is still only in his first full year as a starter. He should return to West Virginia to improve and gain more experience before turning pro.
Comment...
NFL Picks
- Oct. 15
2020 NFL Mock Draft
- Oct. 13
2019 NFL Mock Draft
- Oct. 11
Fantasy Football Rankings
- Sept. 5
2019 NBA Mock Draft
- Aug. 13
NFL Power Rankings
- June 3