This section breaks down many college football games each week and highlights how
2018 NFL Draft Prospects
have performed. Or look at the
2018 NFL Draft Stock
page.
By Charlie Campbell.
Send Charlie an e-mail here:
draftcampbell@gmail.com
Follow Charlie on Twitter
@draftcampbell
for updates.


Ohio State 27, Wisconsin 21
Ohio State cornerback Denzel Ward is a potential first-round pick in the 2018 NFL Draft, and he put on a clinic against Wisconsin. In the season opener, Ward had issues defending big Indiana wide receiver Simmie Cobbs. Ward did a good job of preventing separation, but he had problems breaking up receptions over him. Since that game, Ward played well throughout the year and was very good at covering up receivers to keep them from getting open.

Early on versus Wisconsin, Ward made an excellent play against a big target. Ward was in blanket coverage on a pass to Badgers receiving tight end Troy Fumagalli. The ball was underthrown and up for grabs, and Ward made a leaping interception in front of the big tight end. Ward later had tight coverage downfield and made a tough play to knock a pass away to prevent a completion inside the 5-yard line. The next third down, Ward had tight coverage on a crossing route to slap away another completion.

This tape will help Ward, as he also showed the ability to play coverage against tight ends. Ward looks like a future NFL starter, and he could have No. 1 corner potential. While he is shorter than ideal, Ward has excellent feet, speed and athleticism to run the route and prevent separation. He times his reaches well and shows nice instincts to play the eyes and hands of receivers. Ward looks like a future first-round pick next April.


Wisconsin tight end Troy Fumagalli could be a second-day pick in the 2018 NFL Draft, and he has starting ability for the NFL. In the second quarter, Fumagalli ran a nice route to get a gain of about 10 yards before linebacker Jerome Baker dragged him down. Fumagalli then got wide open in the middle of the field for a big play downfield, but the pass was off the mark and Fumagalli couldn't control a diving reception. An accurate pass could have been a long completion for Wisconsin.

In the fourth quarter, Fumagalli made a nice reception on a two-point conversion to get Wisconsin within three points. Fumagalli followed that up with a huge catch for a third-down conversion to get Wisconsin near midfield. Fumgalli totaled five receptions for 45 yards.

Fumagalli could be a three-down starter as a pro. He is a quality blocker who gives a good effort in the ground game. As a receiver, he isn't an elite athlete, but he has some quickness and athleticism. He could be a three-down starter quickly in his NFL career and a quality second-day pick.











There was the potential for a draft matchup in the trenches with Wisconsin left tackle Michael Deiter seeing some future NFL defensive ends in Sam Hubbard, Tyquan Lewis and Nick Bosa. This game illustrated that Deiter should return to Madison next season. Deiter was not getting a push in the ground game and was reaching after pass rushers too often. He seemed to be surprised at the speed of a Ohio State's defensive line. Bosa in particular had success going against Wisconsin.

In the third quarter, Bosa got the better of Deiter to get a sack of the Wisconsin quarterback. Bosa used strength to knock Deiter's hands off of him and then ran around him with speed. Deiter was lucky he didn't get called for a hold on the next possession, as he tackled Bosa on a rush to the inside. Deiter wasn't as lucky in the fourth quarter, as he tackled a defensive end and this time was whistled for a critical holding penalty.

Deiter has good size with some athleticism, but this game made him look more like a guard for the NFL. He is going to need to work on his feet and technique to handle NFL speed rushers. Deiter could stand to play with better leverage in the ground game to get more out of his size and weight. If Deiter were to enter the 2018 NFL Draft, he looks more like a day-two pick rather than a first-rounder.


Ohio State wide receiver Parris Campbell has serious speed to go with some size, but he has suffered from a lack of opportunities. Quarterback J.T. Barrett has limitations as a passer and the Buckeyes have been unable to consistently give Campbell targets through the air. However, Campbell has big-time ability and that flashes from time to time like it did against Wisconsin. At the end of the first quarter, Campbell caught a swing pass and he exploded down down the field for a 57-yard touchdown. That was his only reception in the game.

Campbell should return to Ohio State next year, as the Buckeyes could have a competent passing quarterback with Barrett being done in Columbus. If Campbell has a big season in 2018, he'll have first-round potential for the 2019 NFL Draft.








Clemson 38, Miami 3
Clemson defensive tackle Christian Wilkins showed why he is a future first-round pick in the ACC Championship game. In the first quarter, Wilkins used power to shed the block from the right guard and then chased down the quarterback for a sack. Wilkins then fired between blockers to get a tackle for a loss on a stretch run that was attempted to cut up the middle. Late in the second quarter, Wilkins made a super play to knock down a third-down pass and force a punt. The receiver was open for a big play and Wilkins' superb instincts came up huge for his defense on that play. Wilkins repeated that play in the third frame, knocking down a pass.

The Tigers' defense dominated the Miami offense, and Wilkins was the star of their great defensive effort. Wilkins showed excellent instincts and awareness to adjust to plays while getting himself in position to make stops. Wilkins put on display his excellent combination of size, speed and athleticism. Interior pass rushers are hard to find, and this tape will help him to be a top-25 pick next April.


Clemson left tackle Mitch Hyatt has some fans in the media, but NFL sources have told me they gave Hyatt mid-round grades and could end up dropping him in the middle of the late rounds. The Tigers blew out Miami, but Hyatt did not look good against the Hurricane edge rushers. On one of the first snaps of the game, sophomore defensive end Joe Jackson blew right by Hyatt to get a tackle for a loss, and that set the tone for the night.

Hyatt was consistently getting beat by speed rushers working upfield as he allowed a number of pressures on his quarterback. The play of Clemson quarterback Kelly Bryant, their running backs, and receivers made up for Hyatt's struggles. Hyatt should definitely return to Clemson next season and improve. He needs to get stronger while getting better in pass-protection technique before turning pro.


Miami edge rusher Chad Thomas is an interesting player for the NFL. There are plays where Thomas looks outstanding, and then other times, he looks completely lost. For example, in the early going, Thomas had some nice pass rushes using speed to get upfield. In the third quarter, Thomas made a bad read on a zone read run up the middle to allow an 11-yard touchdown. He was unimpressive against the run throughout the night.

For the NFL, Thomas has an early-round skill set with size and speed. He would fit best in a 4-3 defense, but he is a project, as he must get more consistent to be a three-down starter. Because of the inconsistency, Thomas looks like a boom-or-bust day-two pick.




Georgia 28, Auburn 7
Georgia linebacker Roquan Smith was surprisingly quiet in the first meeting between these two teams, but Smith had a huge presence and was the most impressive draft prospect in the SEC Championship. Auburn running back Kerryon Johnson had been on a hot streak entering this game, but Smith was phenomenal at limiting plays from the Tigers and keeping his defense in good down-and-distance situations.

In the first quarter, Smith beat Johnson to the edge on a goal line play to get a touchdown-saving tackle with a loss of one. Smith then had a clutch third-down sack on a blitz up the middle. In the third quarter, Smith was all over the field for the Tigers. He made a tackle downfield to end a long gain for the Tigers, he hit a back hard near the line of scrimmage to prevent a gain, he pressured Jarrett Stidham on a blitz, and he made a tackle for a loss. On the first play of the fourth quarter, Smith scooped up a Johnson fumble for a huge turnover for Georgia. That turnover resulted in a huge touchdown for Georgia.

This game will definitely help Smith's draft stock. Months ago, sources told me they thought he had first-round potential. They thought he was a better version of the Falcons' Deion Jones and was similar to Tampa Bay's Lavonte David. Smith is on his way to being a top-25 pick next April.


Johnson has been incredible lately for Auburn, but his shoulder injury seemed to be really bothering him. He was unable to run with the same power or use a stiff arm to fight off tacklers. To make matters worse, his fourth-quarter fumble was a huge play in the game. Johnson totaled 44 yards on 13 carries. This tape won't help Johnson's draft grade, but he has done a lot to put himself on the map over the back half of the season. If Johnson enters the 2018 NFL Draft, he could be a second-day pick.


Georgia linebackers Davin Bellamy and Lorenzo Carter won't go as high as Smith, but they both had huge plays to help the Bulldogs win the SEC Championship. Bellamy had a critical sack fumble in the first half to end a promising drive for Auburn. Carter forced the fumble from Johnson to open the fourth quarter which was a devastating play for the Tigers. Carter could go on the second day of the draft, while Bellamy has been projected to day three by teams. This tape will help both of them.






Auburn quarterback Jarrett Stidham has been playing really well in the back half of the season, but Georgia did much better in their rematch against the Tigers. Stidham made some good plays throwing on the run and using his feet to extend plays. In the first quarter, Stidham threw a beautiful pass over two defenders to move the chains. It was a great pass with excellent trajectory. Stidham then threw a bomb up for grabs and it was intercepted, but luckily for Stidham, a face mask penalty took the turnover away. He held the ball too long on Bellamy's strip sack, and Stidham had some issues with accuracy in the red zone.

Stidham completed 16-of-32 passes for 145 yards with a touchdown and zero interceptions. Stidham started well, but he looked like the early-season version of himself who had accuracy issues and seemed to get rattled by the defense. This tape gives further support that Stidham should return to school and improve before going to the NFL.


Georgia running back Nick Chubb helped pick up the slack as fellow back Sony Michel went out midway through the game with an injury. In the second quarter, Michel took a pass in the flat and darted down the field for 32 yards. That set up Georgia to take a lead with a field goal, but Michel was restricted to seven carries he turned into 45 yards with two receptions for 38 yards.

Chubb ran hard between the tackles and got his game started with 15 yards on a toss sweep. In the third quarter, Chubb exploded up the middle to get a 20-yard run, weaving through the Auburn defense. Chubb totaled 77 yards on 13 carries. This tape will help him to be an early-round pick. Michel will probably go on Day 2, but there are a lot of scouts that really like him.


Auburn cornerback Carlton Davis has first-round potential with an excellent skill set and a lot of experience as a 3-year starter. Davis didn't play his best in the early going against Georgia. In the first quarter, Davis was beaten on an out route to give up a third-down conversion. After an impressive violent tackle in the flat, he gave up another first down on an out route in the second quarter. Davis then made a touchdown-saving tackle with hard shot downfield. However, things got bad for Auburn and Davis, as an undisclosed injury knocked him out of the second half. Perhaps it was a result of some of those hard tackles he made. A serious injury could have a big impact on Davis' draft stock, so his status is worth monitoring in the days to come.




Central Florida 62, Memphis 55
There was some NFL talent going head-to-head with Central Florida cornerback Mike Hughes taking on Memphis wide receiver Anthony Miller and quarterback Riley Ferguson. Sources have told me that Hughes has been getting second-round grades from some teams and Miller also has day-two potential. Thus, both players are prospects in demand for the 2018 NFL Draft.

Miller was held to three catches in their previous meeting, and Memphis was going to need more from him to keep up with a high-scoring Central Flroida team. For a lot of the first half, Miller was held in check before he got going shortly before intermission. Late in the second quarter, Miller got open on a slant-and-go down the sideline for a 68-yard touchdown. He raced away from the defenders to get separation and get wide open. Hughes wasn't in coverage on the play. Hughes later was closely blanketing Miller, but Hughes didn't get his head turned around and Miller made a leaping 10-yard touchdown catch over Hughes. In overtime, Miller was left wide open in busted coverage for a short touchdown.

Miller totaled 14 receptions for 195 yards and three touchdowns. Miller could contribute quickly as a slot receiver in the NFL. He has good hands and runs impressive routes with quickness to get separation. Miller may not have the size to line up outside very much as a pro, but he could be a weapon as third receiver working out of the slot. This tape will help Miller to be a second-day pick.

Unfortunately, that was the case during this American Conference Championship Game with Hughes not in coverage on Miller very much. With other defensive backs struggling, Memphis targeted other Central Florida cornerbacks with a lot of success. In the third quarter, Hughes gave up a reception of 22. He was in tight coverage, but a big target shielded him from the ball on a slant and fought off Hughes for a few more yards before the corner could get him to the ground. Hughes later was beaten for Miller's aforementioned touchdown. Still, this tape won't have a real impact on Hughes' draft grade.


Ferguson threw the ball well against Central Florida, ripping up their secondary. Late in the first quarter, Ferguson got moving by hitting his tight end down the seam for a gain of 63 yards. Ferguson laced a 13-yard touchdown past a defender with a well-placed pass down the middle to end the drive. Ferguson then found Miller wide open down the sideline for a 68-yard touchdown. Just before the half, Ferguson worked the seam again for a gain of 45 yards. Miller got open in the end zone on the next play, but Ferguson missed him with an overthrow. Aside from that pass, Ferguson was very accurate and precise throughout the first half.

That was the case throughout the second half as well, as Ferguson led Memphis with a comeback to tie the game. However, in the second overtime, Ferguson made a bad pass off his back foot. The ball floated well short of his target for an interception that clinched the win for Central Florida. Still, this loss was on the Memphis defense and not Ferguson. He completed 30-of-42 passes for 471 yards with four touchdowns and an interception.

Ferguson could get mid-round consideration in the 2018 NFL Draft. He doesn't have an elite skill set and doesn't have a cannon for an arm, but he could have backup potential. Ferguson passes the ball accurately and is able to throw touch passes downfield. He executes his offense well and generally makes good decisions. Ferguson could be a mid-round backup candidate similar to Nathan J. Peterman in the 2017 NFL Draft.




Oklahoma 41, TCU 17
Oklahoma quarterback Baker Mayfield continued his torrid season, beating up on more weak Big 12 competition. Mayfield has dominated the conference, but he hasn't played a challenging schedule by any means. One of the big problems for Mayfield in transitioning for the NFL is going to be the huge leap of talent that he is playing against. Hopefully, Mayfield will play some defenses with NFL talent like Clemson, Georgia, or Alabama in the college football playoff. TCU posed no challenge for Mayfield in the Big 12 Championship.

Mayfield moved the ball well from the start of the game. Midway through the first half, Mayfield had an impressive play to scramble forward and then loft in a pass to his fullback who uncovered late. Mayfield then started a play under center and executed a play-action to find tight end Mark Andrews break wide open in the back of the center on a post route for a short touchdown. Mayfield dropped back on the next drive and didn't find an open receiver, so he wisely took off on a run and raced 54 yards down the field. That set up an Oklahoma field goal. Mayfield then led another drive that ended with a play-action short touchdown toss to Andrews.

Mayfield found a receiver slip open underneath in the short middle on the first minute of the third quarter. Mayfield led him downfield on a short completion, and the receiver took off for a 55-yard touchdown. Mayfield then lofted in a 52-yard touchdown with an accurate, well-placed pass to a receiver running vertically down the middle of the field. Mayfield completed 15-of-23 passes for 243 yards with four touchdowns. He also ran for 65 yards.

For the NFL, Mayfield is a gritty player who has an "it" factor to his play. He has a enough arm strength for the NFL and can throw the ball accurately while working through his progressions. Mayfield also has mobility and can extend plays with his feet or hurt defenses on the ground. He is undersized for the NFL with just average arm strength, so he doesn't have a mismatch skill set. He can have issues reading defenses. One big area for improvement for Mayfield is his footwork, as he gets happy feet in the pocket. One college scouting director told me that Mayfield's feet are terrible. A few sources have said that Mayfield is a stronger-armed version of Jeff Garcia. While Mayfield has gotten some second-day grades, it isn't out of the question that he rises, given the amount of teams that need franchise quarterbacks.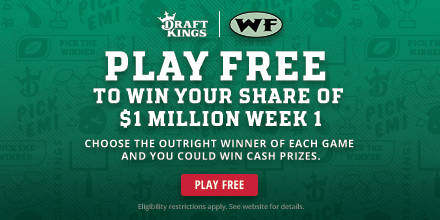 Oklahoma tight end Mark Andrews could be a second-day pick in the 2018 NFL Draft. Andrews is a good receiving weapon who has quickness, size and athleticism. Andrews showed some nice route-running against TCU, getting open on out routes and crosses, and working down the seam. Andrews totaled seven receptions for 58 yards with two touchdowns. With his size and athletic ability, Andrews is a nice red-zone weapon for the NFL, as he showed that with this multi-touchdown performance. If Andrews enters the 2018 NFL Draft, he could go in the second round and shouldn't get out of the third frame.


TCU running back Kyle Hicks is a prospect who has impressed some NFL evaluators this season. He did well against the Sooners' defense, although the game got off to a rough start. On his first carry of the game, Hicks ran a stretch run and a hole didn't open up. He didn't have both hands on the ball, which got smacked out of his hands for a fumble that was returned for a touchdown.

However, Hicks had a nice drive right before halftime, moving the chains on some receptions and using quickness to rip up yards. Hicks showed his speed in the third quarter, as he took a screen pass down the sideline for a 56-yard gain. A large chunk of it came back on a holding penalty, but it was a nice play from Hicks, who totaled 32 yards on eight carries with five receptions for 58 yards.

Hicks could be a nice mid-round pick whho contributes as a situational back. He showed good speed to get upfield and break into the second level. Hicks runs with good knee bend and pad level, while showing nice vision and balance. With Hicks' pass-catching skills, he could be a receiving back who contributes in the passing game. Hicks may not be a three-down starter, but he could be a player who executes his role well.




USC 31, Stanford 28
USC quarterback Sam Darnold could have been playing in his penultimate game in college football if he decides to enter the 2018 NFL Draft. Sources have said that Darnold could easily return to USC next year, and he has an inclination to do so. However, he also is getting a lot of pressure to enter the draft, so his decision is up in the air. Overall, this performance against Stanford would help Darnold's draft grade, as played well to manage the game and make some big throws to help the Trojans win the Pac-12 Championship.

In the first quarter, Darnold was flushed out of the pocket, and he lofted in a beautiful touch pass to his tight end to lead him down the sideline for a 48-yard gain. Darnold capped off the drive by throwing a 7-yard touchdown to a wide-open Michael Pittman in the back of the end zone. Darnold later threw a pretty 40-yard pass to Pittman. To end that drive, Darnold had a 20-yard touchdown on a short pass to the flat that his receiver turned into a nice run after the catch for the score.

Darnold threw a pass late deep down the field in the third quarter. His receiver had a step running a deep post route, but Darnold should have passed it sooner or deeper, as the pass was underthrown. Stanford cornerback Quenton Meeks dropped what should have been a Cardinal interception. Darnold came back to throw a 49-yard reception that was well placed to fall into his receiver at the 1-yard line. Throwing out of his own end zone in the fourth quarter, Darnold hit a pass for over 50 yards finding his slot receiver open after working off his first read. It was a huge play in the game that helped the Trojans get the game-winning score.

Darnold completed 17-of-24 passes for 325 yards with two touchdowns. This was an impressive performance, as he threw the ball accurately and on time for the most part. Darnold showed some good anticipation and field vision to work off his first read. He really did well lofting in touch passes downfield, throwing a very catchable ball with good precision. This tape will definitely help Darnold when he enters the draft.

If Darnold returns college football, his decision-making and ball security are the biggest areas for him to improve. He could benefit from another year in school, but he is a talented signal-caller with the ability to be a good starter in the NFL. If if Darnold enters the draft, he will be a first-round pick and a likely top-10 selection.


While Darnold gets a lot of attention, USC running back Ronald Jones has been the steady engine for the Trojans' offense this season. That continued against Stanford, as Jones had an impressive showing while taking on a quality defensive front seven. Jones ran well showing good decisiveness, balance, quickness to hit the hole, and elusiveness in the open field to dodge tacklers while weaving is way downfield. He totaled 140 yards on 30 carries with two touchdowns. If Jones enters the 2018 NFL Draft, he could be a second-day pick.


After a breakout season, Stanford running back Bryce Love is potential first-round pick in the 2018 NFL Draft. Love, however, has been slowed down of late, and he played this game with a high-ankle sprain. Throughout the night, Love was limping around the field in between plays and clearly was in a lot of pain. Many players would have sat out with this kind of injury, but Love did what he could to try to help his team.

Love followed his blocking well in the second quarter on a 9-yard touchdown run. Love then made an excellent jump cut on a run up the middle before veering to the outside to escape downfield for a 52-yard run. As the hits mounted, Love was hobbling around more, but he showed serious toughness to keep playing. In the fourth quarter Love had a fumble, as he was stripped of the ball while being taken to the ground. Love totaled 125 yards on 22 carries with a touchdown. While he wasn't electric like he was earlier in the year, this tape will help Love, as he played hurt and displayed some serious toughness. All good NFL running backs have to play at less than 100 percent, and while Love is undersized, he illustrated some durability that will impress some evaluators.


San Francisco 49ers safety Eric Reid was a first-round pick out of LSU, and sources have said that his younger brother, Stanford safety Justin Reid, also has Thursday night potential. Reid is a polished safety who can execute free or strong responsibilities. Stanford also plays Reid as a nickel corner, but this game suggested that he doesn't have that ability for the NFL, as USC really picked on Reid when he was in man coverage on slot receivers.

Reid was running with Deontay Burnett downfield in the second quarter, but there was too much contact downfield to get Reid hit with a pass-interference penalty. Reid was then in man coverage in the slot and ended up getting beaten for a 40-yard reception to Pittman. A jab step and corner post caused separation for Reid to give up the play downfield. He surrendered a 49-yard reception in man coverage out of the slot in the third quarter, but Reid was in the right spot to recover a fumble for his defense. In fourth quarter, Reid was in man coverage on Pittman and stumbled. He pulled at the receiver, but Pittman broke free to get a 54-yard gain. To end that drive, Jones fought through a tackle attempt by Reid over five yards to get into the end zone.

While Reid had problems in coverage, it speaks well of his athletic ability that Stanford even uses him like that. Most safeties can't even get consideration to play nickel corner. His performance against USC will hurt Reid's draft grade, but he still had nine tackles with the fumble recovery. This tape suggests Reid is more of a second-day pick rather than a first-rounder.


Stanford defensive tackle Harrison Phillips has had a good season for the Cardinal, and he played well versus the Trojans. Phillips made a lot of run tackles, as he was tough to move at the point of attack. He stayed low, played with very good leverage, held his ground and shed blocks. He also got pressure on the quarterback on a few plays including a sack that he shared with some teammates. Phillips totaled 13 tackles with half a sack. Team sources have said they see Phillips as a nose tackle for the NFL, similar but maybe better than former Stanford nose tackle David Parry. They think Phillips could be a mid-round pick next April.








Comment...









NFL Picks - Oct. 19


2019 NFL Mock Draft - Oct. 18


2020 NFL Mock Draft - Oct. 13


Fantasy Football Rankings - Sept. 5


2019 NBA Mock Draft - Aug. 13


NFL Power Rankings - June 3