This section breaks down many college football games each week and highlights how
2018 NFL Draft Prospects
have performed. Or look at the
2018 NFL Draft Stock
page.
By Charlie Campbell.
Send Charlie an e-mail here:
draftcampbell@gmail.com
Follow Charlie on Twitter
@draftcampbell
for updates.


Washington 41, Washington State 14
Some team sources are extremely high on Washington defensive tackle Vita Vea and think he is one of the elite prospects for the 2018 NFL Draft, drawing comparisons to Haloti Ngata. Against a quality Washington State offensive line, Vea put on display, as he had his way with the Cougars front.

Early in the first quarter, Vea collapsed the pocket and almost sacked Washington State quarterback Luke Falk, but set up Falk to be taken down by a teammate. Vea also drew a holding call on the play. He was stuffing runs and constantly beating blocks with explosiveness to fire by blockers and then using power to bullrush through them. In the second quarter, Vea pushed through a double team to hit Falk as he threw for a near sack-fumble. Vea then pushed through the right guard to flush Falk out of the pocket, and that helped produce a turnover for the Huskies defense. He showed excellent hustle chasing plays downfield, including getting in on a tackle of a receiver in the fourth quarter. He also almost had a diving interception.

Vea dominated the Washington State offensive line, and this performance will help him to be a first-round pick next April. Nose tackles have a hard time going in the first round, but Vea is a rare prospect who could go on Thursday night. Vea is an excellent run stuffer, but also has some pass rushing skills. Another asset that Vea brings is flexibility to be a 3-4 nose tackle or five-technique defensive end. Vea could be a difference maker at the point of attack quickly in his NFL career.


Falk has second-day potential in the 2018 NFL Draft, and he was seeing a salty Huskies defense. Falk had a very slow start to the game with some painful plays of poor ball security in the first half.

Falk forced a pass late in the opening quarter after staring down the wide receiver. He threw into triple coverage, missing over the top where a safety easily picked off the pass. Early in the second quarter, Falk was trying to scramble and run for a first down when he was stripped of the ball while being tackled with Washington recovering the loose ball. On the final seconds of the half Falk was pressured and threw a desperation pass in the middle of the field into a crowd of defenders and one receiver. The pass was tipped and picked to end the half in ugly fashion for Washington State.

The turnover parade continued into the third quarter as a safety watched Falk's eyes and undercut a throw down the seam for an easy interception. Falk didn't get the Cougars a touchdown drive until the fourth quarter when they were already down 34-0. In garbage time, Falk threw a pretty touchdown pass. He completed 36-of-54 passes for 366 yards with one touchdown, three interceptions and a fumble.

This tape will definitely hurt Falk's draft grade. He showed some poor field vision, staring down some receivers. He didn't manipulate coverage with his eyes and made some terrible decisions with throws into crowds of defenders. There also were a few passes that fluttered while trying to be pushed downfield, and that illustrated that Falk doesn't have a dynamic arm for the pros. This game made Falk look more like a game-manager backup and mid-round pick.


Washington running back Myles Gaskin had his way with the Washington State defense. On the first drive of the game, Gaskin ran the ball all over the Cougars, charging down the field and then finishing the possession with a touchdown.

That set the tone, and he continued to run all over Washington State all night. Gaskin was bursting through gaping holes while using his quickness to get downfield. He showed nice vision and cutting ability to weave his way around tacklers. Gaskin totaled 192 yards on 25 carries with four touchdowns.

For the NFL, Gaskin would fit best as a rotational back, as he is undersized for the pro game. Gaskin does have good quickness and receiving ability, so he could be a nice contributor in the passing attack.













Stanford 38, Notre Dame 20
Stanford running back Bryce Love has been one of the best players in college football this season, as the speedy back has been lethal for the Cardinal. Notre Dame sold out to stop Love, and they did a good job of containing the play-making back.

It wasn't until the third quarter that Love saw a lane to break free for a chunk play as he darted downfield on a 31-yard gain. In the fourth quarter, Love showed some tough running between the tackles to keep his legs churning and pushing forward after getting hit. Love totaled 125 yards on 20 carries. This game wasn't his typical massive performance, but Love already has received first-round grades, and he should be a Thursday night pick if he enters the 2018 NFL Draft.


The heart of Notre Dame's team this year has been their tremendous offensive line that has been the engine of a devastating rushing attack. The left side of the offensive line is on track to go high in the 2018 NFL Draft. Sources from across the league feel that Notre Dame guard Quenton Nelson is among the elite five or six prospects for the draft at any position, while left tackle Mike McGlinchey is the top tackle prospect for the 2018 NFL Draft. Both players performed well in the penultimate game of their collegiate careers.

Nelson was rock solid. He moved defenders in the ground game and opened holes for his back. In pass protection, Nelson was superb, keeping all Stanford defenders out of the backfield. He also showed nice awareness to help his teammates on a few plays. This is was just another impressive tape in a season of domination. Nelson is worthy of a top-10 pick and could be the best guard prospect to enter the NFL this century. Some team sources have told me they graded Nelson higher than Logan Mankins and Brandon Scherff, who were the previously highest-graded guards in the draft.

McGlinchey wasn't as good as Nelson was against Stanford, but he had a solid game. He provided a lot of time in pass protection, but on a couple of plays, his defender eventually ran free to pressure Wimbush, including one that was a coverage sack. Any quality NFL quarterback would have had the ball out on those plays. McGlinchey had a false start in the third quarter. He had problems with false starts last year, but he has done much better with that this year. McGlinchey allowed a sack, as he lost his footing on a play and did the splits to let his defender get free. He was limping around after the play, but stayed in the game. This performance was not dominant, but McGlinchey is safe as the top tackle prospect and first-round pick in a weak class of first-round offensive tackles.


Notre Dame junior wide receiver Equanimeous St. Brown has a big-time skill set, but it has been hard to see this season as Fighting Irish quarterback Brandon Wimbush has really struggled to pass the ball. While taking on a quality Stanford defense, St. Brown flashed his special talent in his final regular-season game.

St. Brown caught three passes for 24 yards in the opening half. At the start of the third quarter, St. Brown snatched a short crossing route and turned the corner to run down the sideline. He exploded down the field for a 75-yard touchdown. It was an impressive display of speed for the big wideout. Shortly later, he drew a pass interference penalty downfield. St. Brown totaled 111 yards and a touchdown on five receptions.

For the NFL, St. Brown could have No. 1 receiver potential. He has mismatch height at 6-foot-4 or 6-foot-5. With big receivers, the question is if they have enough speed, and St. Brown can run. While he isn't a burner of Julio Jones or A.J. Green's caliber, he does have good quickness that is similar to other big wideouts who are No. 1s in the NFL. St. Brown might end up going on the second day of the draft, but he could end up being a steal if he lands with the right team.


Scouts have told me that they like Stanford tight end Dalton Schultz and see him as a do-it-all Y tight end, similar to Jason Witten. They say that Schultz is a good route-runner and a very good blocker, and he's also excellent at catching the ball. Schultz put his well-rounded skills on display against the Irish. He got a push and opened holes at the point of attack. He also made an athletic 12-yard touchdown reception in the fourth quarter. Schultz ran a nice route, crossing the field to get open before making a good hands catch while falling on his back. Schultz could be a nice value pick on the second day of the draft.




Auburn 26, Alabama 14
The highest-rated prospect in this game was Alabama safety Minkah Fitzpatrick, and he was seeing a tough test on the ground or through the air with Auburn's spread offense. Fitzpatrick has been dealing with a hamstring injury and missed last week's game against a cupcake. Early on, he made his presence felt, making a tackle in the flat on a wide receiver screen. He followed that up by starting a tackle for a loss by firing into the backfield off the edge.

Early in the second quarter, Fitzpatrick went through Kerryon Johnson on a blitz to get a hit on Jarrett Stidham as he threw to force a third-down incompletion. Fitzpatrick then was a little slow to react to his receiver running a crossing route, and that let him get separation for a 23-yard gain. In the fourth quarter, Fitzpatrick made a great tackle behind the line of scrimmage on a third-down zone-read run. Fitzpatrick spun off the block to make the stop and force a punt.

Fitzpatrick is a do-it-all safety who can be the deep center-fielder. He cover receivers in man, tackle running backs, and use rare instincts that put him in position to make splash plays. Fitzpatrick is one of the top defenders for the 2018 NFL Draft and worthy of going in the top five picks.


Alabama nose tackle Da'Ron Payne was seeing a good offensive line against the Tigers, and Payne was impressive. In the first quarter, Payne beat the left guard to get a pressure of Stidham to flush him out of the pocket. On the next play, Payne recovered a fumbled shotgun snap deep in Alabama territory to take away a scoring opportunity. Payne then had a tremendous run stuff after shedding a double team to close the hole and stuff the back for no gain. This tape is going to help Payne as he is a tough defender who can contribute to the pass rush when he gets an opportunity.


There was the potential for first-round picks going head-to-head with Alabama wide receiver Calvin Ridley and Auburn cornerback Carlton Davis. Unfortunately, they didn't battle each other very much. Plus, Ridley didn't get a lot of targets thrown his direction as Crimson Tide quarterback Jalen Hurts' passing limitations were evident.

In the first quarter, Ridley got some slight separation running a deep post, and while the ball sailed too far, Ridley drew a pass interference penalty. Ridley later had Davis beaten downfield, and Davis interfered with Ridley to prevent a touchdown. Davis had a hand full of Ridley's jersey and dragged him to the ground. In the fourth quarter, Davis flew up from zone to make a tremendous open field tackle to prevent a first down.

Ridley totaled three receptions for 38 yards. Auburn took Ridley out of the game with double coverage, and Hurts' issues passing the ball kept Alabama from utilizing its star receiver. This tape shouldn't have an impact on the draft grade for either Ridley or Davis.


Auburn quarterback Jarrett Stidham has improved tremendously as this season has progressed. After an ugly debut against Clemson, Stidham has gradually gotten better, including a good performance against the Georgia defense. He was even more impressive against Alabama. Stidham showed good poise and accuracy as a passer. He made wise decisions to avoid interceptions, throwing passes away when under pressure with nothing open. He used mobility to escape sacks and extend plays. Stidham also had a critical 16-yard touchdown run in the second half.

Stidham completed 21-of-28 passes for 237 yards. He ran for 51 yards on 12 carries with a touchdown. If Stidham entered the 2018 NFL Draft, he could get second-day consideration. I think he should return to Auburn next year to improve for the NFL to take a shot at being a first-round pick for a league always in desperate need of franchise quarterbacks. He definitely has pro potential if he continues to improve as a pocket passer. I have Stidham going to the Saints in the opening round of my 2019 mock.


Two prospects who helped themselves in this game were Auburn running back Kerryon Johnson and guard Braden Smith. Smith was effective, opening holes at the point of attack and getting movement in the ground game. Sources have told me that they see Smith as a second-day guard for the NFL in next year's draft.

This tape will definitely help Johnson's stock, as he showed real quickness with good cutting ability, vision and decisive downhill running while taking on a defense loaded with NFL talent. He also played banged up, illustrating his toughness to withstand a heavy workload and some hard hits. Johnson totaled 104 yards on 30 carries and a touchdown. This season, Johnson has been the workhorse for Auburn, and the team engine for their second-half surge. Johnson has second-day potential if he enters the 2018 NFL Draft.


Louisville 44, Kentucky 17
This could be the penultimate game of college football for Louisville quarterback Lamar Jackson, unless he pulls a Christian McCaffrey and decides to skip the bowl game to prepare for the draft. Jackson could decide to return to Louisville next year, but the consensus belief in the scouting community is that Jackson will enter the draft. If this was his final or penultimate college game, it was an impressive performance that illustrated Jackson's special skill set.

In the first half, Jackson ripped up the Kentucky defense with his arm and legs. He started with an overthrow, but then was money. He showed impressive field vision to find open receivers and distribute the ball to the correct targets.

At the end of second quarter, Jackson lofted in a beautiful 29-yard touchdown on a fade route along the sideline. It was a perfect throw with excellent accuracy, timing and ball placement. Jackson showed tremendous vision on the play to hold the safety in the middle of the field, staring right at him before looking to his left to find the open wideout. By not looking at his receiver instantly, that prevented safety help from coming over the top. Jackson's great play pushed Louisville to 31 points in the first half, and they were able to cruise over the final two quarters. Jackson added 34-yard run and a pretty scoring pass on a fade route in the fourth quarter.

Jackson completed 15-of-21 passes for 216 yards with two touchdowns. A few those incompletions were well-thrown balls that were dropped by his below-average receivers. He also ran for 156 yards on 18 carries. If Jackson is going to enter the draft, he should skip his bowl game like McCaffrey did last year to protect himself from injury.

There clearly is room for improvement for Jackson as a passer for the NFL. The main issue is accuracy. Jackson can miss too high or make overthrows, and his footwork fundamentals can get out of whack, leading to inconsistent accuracy. He can make some perfect throws with excellent ball placement and then miss wildly on his next pass. More than anything, Jackson needs work on his accuracy for the NFL. Gaining weight to get thicker in his frame is another important task for him.

That being said, there is no doubt that Jackson has a starting skill set for the NFL and that could be seen in this game. He has elite arm strength with a powerful gun that can make devastating throws. Jackson's arm is so strong he can make throws off platform that other quarterback have to have their feet set to make. With just a flip of the wrist, the ball explodes out of Jackson's hands, and he can beat good coverage with perfect throws that very few quarterbacks can make. When Jackson's in the NFL next year, his arm will be one of the strongest in the league in the same ballpark as Matthew Stafford or Joe Flacco.

On top of elite arm strength, Jackson is a great athlete with incredible mobility, speed and moves to rip up defenses with his feet. From a skill-set perspective, Jackson is very similar to Michael Vick. With his physical talent, I think Jackson will rise throughout the lead up to the draft and end up being a high first-round pick. In the NFL, he could have success if the offense is built around him and his skill set, similar to what the Texans did with Deshaun Watson earlier this season.


Kentucky linebacker Josh Allen is a dangerous edge rusher who has impressed evaluators this season. Last week, Allen had a rough game against Georgia, as the Bulldogs' rushing offense had their way with Allen. A bounce-back game didn't happen for Allen, as he was extremely quiet. In fact, he wasn't on the field at times in the middle portion of the game. Perhaps that was because of Louisville's offense running a lot of plays, and in the third quarter, Allen went off the field with the trainers. Allen needs to get stronger to tackle and get off blocks. In the NFL, he might fit best as a hybrid inside and outside linebacker in a 3-4 defense.




Ohio State 31, Michigan 20
There was the potential for a good draft matchup in the trenches with Michigan defensive tackle Maurice Hurst taking on Ohio State center Billy Price. Both players are early-round talents, but unfortunately, Hurst didn't line up over Price.

Both players had some lowlights in the first half. Early in the second quarter, Hurst came free on a stunt around the right tackle, but he was juked in the backfield by J.T. Barrett. The Buckeye quarterback took off on a 21-yard touchdown run. In the ground game, Ohio State was controlling Hurst and keeping him from having an impact. Early on, Price had a false start and then had a bad snap that was fired too fast and was over the right shoulder of Barrett for a fumble that the quarterback dived on. Overall, however, Price was winning his blocks and Hurst wasn't having an impact.

Price could end up being a late first-round pick in the 2018 NFL Draft. Scouting sources say they have Price graded higher than Laken Tomlinson or Josh Garnett, and they were recent first-rounders that went in the 20s. This tape won't change any perceptions of Price.

Hurst, meanwhile, has excellent speed at the point of attack, but he is undersized for the NFL. He struggles to get off blocks and hold his ground against downhill runs. Ohio State illustrated that and those problems will be compounded in the NFL against bigger offensive linemen. Hurst looks like a second-day talent for the 2018 draft.


Ohio State's Denzel Ward is one of the top cornerback prospects with cover skills to run with receivers and prevent separation. Ward illustrated that against Michigan, as the Wolverines had no success throwing at Ward. In the second quarter, Ward ran stride-for-stride with a receiver deep downfield to force a third-down incompletion. Michigan attacked other cornerbacks regularly. In the 2018 NFL Draft, Ward looks like a first-rounder.


Ohio State defensive end Sam Hubbard has a first-round skill set, but has been inconsistent with his play. Hubbard flashed his impressive talent in this game, however. In the second quarter, Hubbard had a sack, as the quarterback rolled away to the right side. When he stopped and worked back to the left, Hubbard was closing quickly and took him down for a sack. Hubbard later used speed to fire by the right tackle and strip-sacked the quarterback. On the final play of the game, Hubbard joined a teammate to share a coverage sack.

Hubbard has an excellent combination of size, speed and athleticism for the NFL. He needs to be more consistent, as he has never produced up to his skill set. Prior to the draft, Hubbard should definitely work out well, and that will help his grade. He is likely to be a first- or second-round pick next April.




Florida State 38, Florida 22
As usual, there was a lot of NFL talent on the field with Florida State and Florida having their annual battle. The top prospect on the field was Florida State safety Derwin James. With a great skill set and versatility, James is considered one of the elite prospects for the 2018 NFL Draft. He was active, but didn't dominate against Florida.

Early in the first quarter, James read a bootleg and pressured Feleipe Franks into a fourth-down incompletion. James later missed a tackle on Lamichael Perine in the backfield, and that let Perine get loose for a gain of over 10. On the next play, a pass went right through James' hands in the end zone for a missed interception. However, he followed that up with a touchdown-saving tackle inside the 5-yard line, flying over to the sideline. James had a few good tackles in run support.

For the NFL, James is a fast and physical defender who can help a defense in a variety of ways. He can be a strong safety as the eighth man in the box while also serving as a dime linebacker in obvious passing situations. James is a hard hitter and enforcer in the middle of the field. James can contribute in zone coverage and also can play man coverage on tight ends. He has some limitations and doesn't look like a good fit as a deep free safety center-fielder. James also isn't the kind of safety that walk down to be a nickel corner on slot receivers. In the 2018 NFL Draft, James is one of the elite athletes and will probably be a top-10 pick.


Gators defensive lineman Taven Bryan has emerged as a pro prospect this year. He dominated against Texas A&M and played well against LSU, while being quiet and inconsistent in other games. In what could have been his final collegiate contest, Bryan had a mixed outing versus Florida State.

In the first half, Bryan showed poor awareness after flying into the backfield to not adjust to a run that led to a Florida State touchdown. Bryan later was firing into the backfield on a few plays, including bolting to the sideline to take down a back for a short gain. He came close to a sack, hitting Blackmon as he threw, but the officials made a terrible rough-the-passer call on Bryan. Commentator Anthony Becht astutely ripped the call, but Bryan helped Florida State with an offsides. On the first play of the fourth quarter, Bryan pushed through the left guard to get a tackle for a loss, using brute strength.

I've heard from team sources that Bryan is likely to declare for the 2018 NFL Draft. Bryan is a great athlete who is big, strong, fast and agile. However, he had a late start in football, growing up Wyoming, and that shows up in him not having good instincts. He is inconsistent, while lacking feel and pass-rushing moves. Considering his late start in football, he would be better off in his long-term football career to return to school and gain playing experience before going to the NFL and taking on pro offensive linemen. Some team sources have told me they are grading Bryan as a second-rounder but think he could end up being a first-round choice because of his great skill set that is expected to shine at the combine and pre-draft workouts. If Bryan returns to Florida and improves in 2018, he could end up being a sure-fire first-rounder and maybe a high first-round pick in 2019.


Florida cornerback Duke Dawson is a potential mid-round pick and starting slot corner in the NFL. Dawson has some coverage and ball skills, but size limitations. Those issues showed up early against Florida State. In the first quarter, giant Seminoles wide receiver Auden Tate juggled a reception with cornerback Marco Wilson trying to breakup the pass. Dawson was Johnny on the spot to grab the juggling the ball for an interception deep in Florida State territory.

On the next possession, Tate used his size with about six- or seven-inch advantage to make a back shoulder catch over Dawson. Tate then beat Dawson with a slant to the back of the end zone to get separation for a 3-yard touchdown catch. It was a disappointing play for Dawson to allow that separation to a player that doesn't have a speed advantage. However, it illustrated that Dawson is stiff.

Dawson is a slot corner for the NFL. He is good when plays are in front of him. He has instincts and a good concept of route combinations. Dawson transitions well with above-average speed to carry verticals. However, Dawson is tight and struggles to open his hips. Sources have told me they are grading Dawson as third- or fourth-rounder.


Florida State defensive tackle Derrick Nnadi could be a second-day pick in the 2018 NFL Draft. He played well against Florida, filling his gap and stuffing some runs at the point of attack. In the third quarter, Nnadi had a coverage sack after working off the right guard to take down Franks when he stepped up in the pocket. That happened again in the fourth quarter, with Nnadi getting a push to record another coverage sack, as Franks held the ball too long. Scouts have told me that they like Nnadi as one-gap nose tackle for a 4-3 defense. He has good quickness and power for that role in the NFL.




Virginia Tech 10, Virginia 0
Lately, sources from a few teams have spoken positively of Virginia quarterback Kurt Benkert. Scouts feel that Benkert has tools, and he played well to close out the regular 2017 season prior to getting overmatched by Virginia Tech. Benkert didn't play poorly, as the Hokies' defense deserves the credit for putting him under steady pressure with tight coverage on his receivers.

In the first quarter, Benkert showed his arm strength, throwing a deep out to the far side of the field for a first-down completion. On a third down, he had a nice completion rolling to his right to find a tight end for first down yardage. However, Benkert also was inaccurate on a few throws that were short or long and couldn't get into a rhythm. He was only 11-of-23 for 76 yards at halftime.

Benkert made a nice throw on the run down the seam to hit a receiver on the run for a 28-yard gain in the third quarter. He later threw a pass deep down the field, and his receiver made a phenomenal catch between a few defenders for a 49-yard gain. Benkert completed 17-of-34 for 186 yards with zero touchdowns and zero interceptions. Virginia Tech's defense played an excellent game, and Benkert deserves some credit for avoiding turnovers with good ball security while being overmatched.

The 6-foot-4, 215-pound Benkert has enough size and above average arm strength. While he isn't a great athlete, he has mobility and can extend plays with his feet. Benkert has very impressive deep ball accuracy with the ability to make some phenomenal throws off platform. Benkert will work through progressions but needs to get faster at that and improve his field vision for the NFL. Benkert needs to improve on his feet, but a good NFL coach could fix that. Obviously working under center and transitioning to a pro system will be a work in progress. In speaking with some sources they think Benkert could be this year's Nate Peterman as a mid-rounder that could be good backup and possibly more, but they want to study Benkert more and see how he performs in the pre-draft process.


Virginia Tech linebacker Tremaine Edmunds is an early-round prospect for the 2018 or 2019 NFL Draft. Edmunds was key component of the Hokies' tough defense that was keeping the Virginia offense from putting points on the board. Early in the first quarter, Edmunds fired into the backfield to get a tackle for a loss. Edmunds got in on a number of other tackles in run support. He also chased down Benkert on some scrambles.

Edmunds will need some work on his pass coverage for the NFL. However, he has excellent size, length, and strength for tackling. Not many pure inside linebackers are being drafted in the first round, so if Edmunds enters the 2018 NFL Draft, the second day could be his most likely destination.


Some in the media have projected Virginia safety Quin Blanding to be a first-round pick. In speaking with some area scouts that graded Blanding, they had him much lower because of issues in pass coverage. Blanding is a good tackler and a quality run defender, but the NFL is a passing-driven league, so having problems in coverage is alarming to teams. Those issues were given more proof against Virginia Tech.

In the third quarter, Blanding and a teammate were beaten for an 8-yard touchdown. Both players had their eye vision let them down on the play, as they were so eager to make a tackle in run defense they didn't look at the tight end that ran past them to get wide open in the middle of the end zone for a score. Even if Blanding didn't blow his assignment, he showed a lack of instincts and awareness on the play.

As usual, Blanding made some good tackles in run support. He is definitely most natural and at his best serving as the eighth man in the box to make tackles. In the 2018 NFL Draft, Blanding could be a mid-rounder who starts out as a backup an special teams contributor. Perhaps with NFL coaching, he will develop enough pass-coverage skills to be a starter.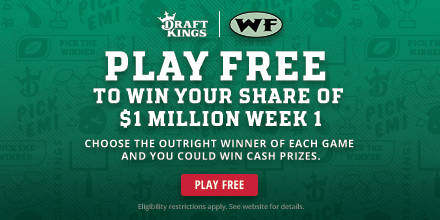 Central Florida 49, South Florida 42
Sources have told me that some teams have given Central Florida cornerback Mike Hughes a second-round grade for the 2018 NFL Draft, and this tape against USF is going to help validate him being a top-64 selection if he enters the 2018 NFL Draft.

In the first quarter, Hughes showed his speed as he chased down a receiver downfield to make a touchdown-saving tackle. Hughes was in zone coverage and sprinted down the field to catch the wideout from behind. A few plays later, Hughes had blanket coverage on a pass downfield and easily slapped the ball away for an incompletion.

Hughes was challenged downfield late in the second quarter, and he had close coverage on a post route. He made a very nice play to wait until the last second to get his hand in to break the completion up while diving with the receiver. It was perfect technique to prevent the completion and time his contact to avoid a penalty. A few plays later, a pass was slightly overthrown, and Hughes stretched out to make a superb interception. Hughes made a nice hands catch to reach out and control the Quinton Flowers pass. Hughes was then targeted in the end zone and he had blanket coverage with the ball sailing incomplete.

With just about 90 seconds remaining in the game, and the score tied at 42, Hughes took a kick return up the middle and weaved through a few tacklers before exploding down the field for the game-winning touchdown.

This tape will help Hughes' draft grade. He had blanket coverage all night, showing good quickness and agility to run with receivers while preventing separation. As he illustrated against the Bulls, Hughes is dangerous as a punt and kick returner as well, although he probably will be too valuable on defense to be used much as a returner in the NFL. Still, he brings that added value and could be a returner if he doesn't immediately break in as a top-three corner on the depth chart. Hughes had a great game against a quality opponent. This tape will definitely help Hughes draft grade.


South Florida defensive tackle Bruce Hector and defensive end Mike Love could be day-three prospects. Hector is a love-hate prospect in speaking with some scouts. Some felt he could be a riser and even a mid-rounder, while other scouts didn't like Hector at all and gave him a free-agent grade. The 6-foot-2, 295-pound Hector did not impress against Central Florida, but the play-calling kept him from doing what he does best, and that is going after the quarterback.

Throughout the game, the South Florida defensive linemen were playing a lot of containment, as the read-option system with a mobile quarterback kept the Bulls from pinning their ears back and going after the signal-caller. Hector had issues getting off blocks against Central Florida. He struggles with length and doesn't have a strong base for the NFL. Love made more plays including some nice pressures and a few plays in run defense.

Hector looks more like an undrafted player in this analyst's opinion. The 6-foot-4, 252-pound Love has more length off the edge with some quickness. He could be a late-round pick.








Missouri 48, Arkansas 45
Missouri defensive end Marcell Frazier is a prospect for the NFL who finished this season playing well. He put a cap on it with an excellent performance against Arkansas.

In the early going, Frazier swam over the right tackle to make a tackle for no gain. Frazier then notched his seventh sack of the season. He ran a stunt from right side and charged down the pocket to rip Austin Allen to the turf. Shortly later, Frazier reacted well to make a leaping pass breakup that almost floated into a pick-six. Frazier fought off the right tackle on the next play to get a pressure that forced a third-down incompletion. He added some other tipped passes. In the second half, Frazier set the edge to snuff out an end around for a loss of four yards.

Frazier is a nice edge-rushing prospect for the NFL. He has active hands and speed to close, and he shows some instincts with awareness. He doesn't look like he has a first-round skill set like Charles Harris, but Frazier could be a nice value as a second-day or mid-round pick.


Missouri junior quarterback Drew Lock has had a tremendous season while going under the radar nationally in large part because the Tigers had a five-game losing streak early in the season. However, Lock has been lighting up the scoreboard this year at a prolific rate. Lock continued his torrid production in this game, as he set the single-season SEC passing touchdown record to pass the mark previously set by Kentucky quarterback Andre Woodson.

The game didn't start well for Lock, however. Early in the first quarter, Lock forced a pass into double coverage. It was a slight overthrow and went right to the deep safety for an interception. He later made a bad decision holding onto the ball too long while missing a wide-open tight end downfield, and then taking an intentional-grounding penalty.

In the second quarter, Lock threw a well-placed pass for a 55-yard touchdown as he led his receiver into the end zone after he broke free running down the sideline. They repeated the same play for a 56-yard touchdown as Lock threw his 40th touchdown of the season. Then he found his tight end for a short touchdown strike, and that was the record-setter at 41.

Lock had an interception dropped in the third quarter, as he overthrew a receiver on a short pass. He fired a well-placed back shoulder throw for a 24-yard touchdown midway through the fourth quarter. It was a great catch, and Lock put the ball where only his receiver could make the play. He finished completing 25-of-42 passes for 448 yards with five touchdowns and two interceptions against Arkansas.

For the NFL, Lock is a gunslinger-style quarterback. He has a big arm with the ability to throw any pass but he needs to improve his accuracy, field vision, and the speed at which he works through progressions. He can be prone to overthrows while putting too much heat on some passes. He has good size and can fit the pass into tight windows. He throws the ball well downfield and shows some timing and anticipation. Lock does have the propensity to force throws to covered wideouts as he can trust his arm too much to beat tight coverage. That led to his first-quarter interception. Lock could stand to make improvements before going to the NFL, and upgrading his play as a senior might be his best route towards having a good pro career and going higher in the draft.


Arkansas center Frank Ragnow was not playing in this contest. He had a season-ending ankle injury suffered in late October. Ragnow was invited to play in the Senior Bowl this year, and it will be interesting to see if Ragnow is able to make it back to compete in Mobile.








Ole Miss 31, Mississippi State 28
Months ago, sources told me that Mississippi State quarterback Nick Fitzgerald was extremely likely to return to school next year. The 2017 Egg Bowl could have clinched that, as Fitzgerald's season ended in the first six minutes of game time.

On the first drive of the game, Fitzgerald threw a pass short of his receiver downfield along the sideline and had the ball float right to a defensive back. It got even worse for Fitzgerald right after that, as he went down with a gruesome leg injury. His right leg was hit on a zone-read run, and it looked like it bent the wrong direction. Fitzgerald was in a lot of pain and carted off the field with what looked like a very serious ankle injury.

Fitzgerald finished this game completing 1-of-5 passes for 12 yards and an interception. He had three rushes for 16 yards. Fitzgerald could use more growth as a pocket passer before going to the NFL, and this injury could easily limit what Fitzgerald can do this offseason. Returning to Mississippi State next year is a wise decision, as Fitzgerald needs more development.


This was the final collegiate game for Ole Miss defensive end Marquis Haynes. Regardless of the outcome of this game, the Rebels have a self-imposed bowl ban this season, so Haynes was playing in his last collegiate contest. Haynes had a solid performance putting pressure on the quarterback. Late in the first quarter, Haynes had a tackle for a loss on a zone-read run when he came unlocked and took down the quarterback before he could even start upfield.

For the NFL, Haynes is the size of a linebacker, but he is an edge rusher. Haynes is a natural pass-rusher with speed, agility, and some functional strength. He doesn't look like he has the flexibility to play linebacker in the NFL, and sources have told me that Haynes has some learning issues. Thus, he is a true DPR (designated pass-rusher) role player. Haynes could provide a big bang for his buck in that role, and it wouldn't surprise me if he racks up some sacks as a pro in the role of a situational pass-rusher. Because of the size and role limitations, he probably will be a day-three pick, but he could be a sleeper who provides a nice value as a DPR.


Mississippi State left tackle Martinas Rankin has been a good player for the Bulldogs in his collegiate career. He is an athletic blocker who is quick to the second level and is dependable in pass protection. Rankin is best using his mobility and athleticism in the ground game, as he doesn't pack a punch at the point of attack. He doesn't have heavy hands and doesn't get movement by knocking defenders off the ball. While Rankin has some athletic ability, he had an ugly performance against Ole Miss that illustrates why he isn't early-rounder for the 2018 NFL Draft.

Rankin's lack of strength is illustrated in him struggling to sustain blocks in pass protection. That could be seen against Ole Miss. In the third quarter, a freshman defensive end was able to shed Rankin and charge to the inside to get a sack. Later in the fourth quarter, Rankin was beaten for another sack as defensive end Breeland Speaks used a swim move to push Rankin to the side and then charged to the inside to get a sack. Rankin then reacted late to a blitz off the edge and had to hold to prevent a sack. That penalty was called correctly by the officials.

Rankin has nice size, length and athletic ability, but he must get stronger for the NFL. He can get pushed around and knocked down too much. Thus, Rankin is a second-day talent, but he could end up being a good pro after he works on getting stronger in a professional strength program. NFL team sources tell me that Rankin is a great kid and a hard worker, so it definitely is feasible that he will fix the strength issue through his work ethic. This tape will hurt Rankin's draft grade. He looks like a third- or fourth-round pick for the 2018 NFL Draft.








Comment...









2019 NFL Mock Draft - Sept. 13


Fantasy Football Rankings - Sept. 5


2019 NBA Mock Draft - Aug. 13


2020 NFL Mock Draft - Aug. 1


NFL Power Rankings - June 3


NFL Picks - Feb. 4