This section breaks down many college football games each week and highlights how
2018 NFL Draft Prospects
have performed. Or look at the
2018 NFL Draft Stock
page.
By Charlie Campbell.
Send Charlie an e-mail here:
draftcampbell@gmail.com
Follow Charlie on Twitter
@draftcampbell
for updates.


Alabama 66, Ole Miss 3
Alabama safety Minkah Fitzpatrick is one of the top talents for the 2018 NFL Draft, and he illustrated why against Ole Miss. Fitzpatrick was all over the field. In the first quarter, Fitzpatrick had a good tackle in run support. He made a number of open-field tackles on receivers and backs to clean up plays for his defense throughout the first half. In the second quarter, Fitzpatrick had a sack on a third down to get his defense off the field. Not long after that, Fitzpatrick was off the field as Alabama put the backups in.

This tape illustrates how diverse a player Fitzpatrick is. He played cornerback over the slot with tight coverage, he roamed the deep part of the field, made tackles in the box, and blitzed extremely well. Fitzpatrick has a good skill set, but even better instincts. He is a prototype free safety for the NFL and is proving to be worthy of top-10 consideration.


There was the potential for a draft matchup in this game with Ole Miss cornerback Ken Webster going against Alabama wide out Calvin Ridley. Unfortunately, they didn't battle each other, as Ridley took advantage of other cornerbacks. Early in the game, Ridley had a tough catch bounce off his hands for a third-down incompletion. He came back to make a 22-yard gain while totaling 60 yards on four receptions.

Ridley has first-round talent, but he isn't generating big production this season, as Alabama quarterback Jalen Hurts is a running quarterback who isn't much of a passer. That could end up hurting Ridley and limiting how high he gets consideration.

Webster, meanwhile, played well even though his team got blown out. Webster was sound in coverage preventing separation. However, he wasn't really tested, as Alabama kept the ball on the ground predominantly. In the third quarter, Webster caught Alabama running back Damien Harris from behind to make a touchdown-saving tackle on a 46-yard run. Sources have told me they think Webster has early-round potential so he will be worth watching in weeks to come.


Other Alabama defensive draft prospects were impressive as well. Nose tackle Da'Ron Payne is a favorite in the scouting community. Early in the first quarter, Payne swallowed up a run at the point of attack to limit it to a short gain. As long as he was on the field, Payne was tough to move and showed his rare athletic ability for a heavy nose tackle.

Safety Ronnie Harrison was active, flying around the field and made a number of good tackles in run support. In the second quarter, Harrison came on a delayed blitz to get a sack of Shea Patterson. Harrison then had a good open-field tackle to get his defense off the field. Both Payne and Harrison illustrated their first-round skill sets against Ole Miss.


Alabama cornerback Anthony Averett has gotten a lot of media hype, but in speaking with five different teams in the past week, they are grading Averett as a day-two prospect. One team source said they thought he might go in the first round. Averett had a mixed showing against Ole Miss.

In the second quarter, Averett missed a tackle in space and that let his receiver take off down the field for another 20 yards before Fitzpatrick cleaned the play up. DeMarkus Lodge got separation from Averett a play later, running downfield for a gain of 35 yards. Averett then broke up a short pass on a crossing route.

Averett is a smart player within the Alabama scheme. Clearly, the coaches trust him. However, he give up too many receptions, as he can struggle to play the ball. He allows separation at times, and he also is a small-framed cornerback who weighs in the 180s, and that hurts him in defending bigger receivers. While Averett has gotten hype, his play indicates that going on the second day of the draft is warranted.













Clemson 31, Virginia Tech 17
Clemson quarterback Kelly Bryant started out the season in impressive fashion. Last week, he was underwhelming as a passer against Boston College, so it was interesting to see if Bryant could do better against a quality Virginia Tech secondary.

In the first quarter, Bryant found running back Tavien Feaster wide open in the flat, as Virginia Tech forgot to cover him. Linebacker Tremaine Edmunds blew the assignment, as his eyes got caught up on watching Bryant in the backfield and that left Feaster uncovered in the flat. He raced 60 yards down the field for a touchdown.

Bryant had another touchdown there for the taking in the second quarter, as wideout Deon Cain got wide opening running into the end zone, but Bryant overthrew him incomplete. A few plays later, Cain had some separation on an out route from Virginia Tech cornerback Adonis Alexander, but Bryant threw too high again to miss the third-down conversion.

Bryant finally connected with Cain on a dig route that Cain took off downfield for a 35-yard gain. On the same drive, Cain ran an out route against Alexander to get separation. He turned to the middle of the field and raced to the 1-yard line before Alexander got him to the ground.

Bryant finished completing 12-of-21 passes for 186 yards with a touchdown. He ran for 94 yards on 19 carries. Bryant showed that he is still a work in progress as a pocket passer. He struggled with accuracy, consistently throwing too high and overshooting receivers. His ball placement often didn't give his receivers an opportunity to make a play on the ball. This tape will illustrate that Bryant should return to college next year and work on his fundamentals to improve accuracy before going to the NFL.


Clemson defensive end Austin Bryant is on his way to being a first-round pick in the 2018 NFL Draft, and that was given further evidence with his performance against Virginia Tech. On the first third down of the game, Bryant flew to the perimeter to snuff out a screen for no gain. Bryant was lined up like a cornerback away from the box in the third quarter. He beat the block from a tight end off the snap to get a tackle for a loss on a fourth-down try. Midway through the fourth quarter, Bryant made a phenomenal read to see a screen being set up. He skied high in the air to make an amazing catch for an interception. It was great display of athleticism from the Clemson end. Bryant could end up being one to the top-ranked edge defenders for the 2018 NFL Draft.


Virginia Tech cornerback Adonis Alexander made his return to the field after being suspended the past couple of weeks. In the second quarter, Alexander was tested downfield, but he was running with the receiver to prevent separation. In the third quarter, Alexander came on a corner blitz and started a sack of Bryant to get his defense off the field.

Overall, Alexander showed the same strengths and weaknesses that he had in the season opener against West Virginia. Alexander is a big corner who is good playing a press man technique. He has really struggled in off-man coverage, as he is not twitchy enough athletically and lacks the explosion to drive on the ball. Alexander is big and physical, and he can tackle. Moving to free safety could be his best fit in the pros.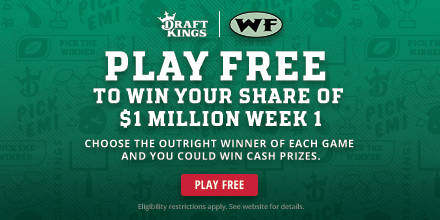 Florida State 26, Wake Forest 19
A week ago, North Carolina State defensive end Bradley Chubb dominated Florida State to lead the Wolfpack to a road upset of the Seminoles. Chubb utterly killed the Seminole offensive line, so it would be interesting to see how Wake Forest defensive end Duke Ejiofor would play against the same line. Chubb looks like a future first-round pick, while Ejiofor is probably more of a second-day talent for the 2018 NFL Draft. Similarly to Chubb, Ejiofor helped himself with an impressive performance against a weak Florida State offensive line.

On his first play from scrimmage, Ejiofor worked down the line to help stuff a run for no gain. Ejiofor then used a swim move to the inside of Brock Ruble to get a tackle for a loss on a third down and force a field goal. That repeated itself on the next possession, as Ejiofor fired to the inside of Ruble to get another tackle for a loss.

Early in the fourth quarter, Ejiofor used speed to get upfield but lost his footing with the right tackle pushing him into the turf. Ejiofor didn't quit on the play, as he got up and chased down quarterback James Blackmon for a sack while also forcing a fumble. Ejiofor was a critical contributor as Wake Forest notched 18 tackles for a loss against the Seminoles.

This tape is going to help Ejiofor, as he showed good speed at the point of attack with strength to fight off blocks. If Ejiofor finishes this season as he has played thus far while also doing well at the Senior Bowl, he looks safe as a second-day pick in the 2018 NFL Draft.


Top draft prospect in this game was Florida State safety Derwin James, and he was very active against Wake Forest. On the opening kickoff, James returned the ball 101 yards for a touchdown, but a block in the back brought the kick return back. Midway through the first quarter, James missed a tackle in the flat and that let the Wake Forest receiver break free for more yards to set up a first-and-goal. James came back to get in on a tackle for a loss on a third-and-2.

Late in the second quarter, James dished out a bone-rattling hit on Wake Forest tight end Cam Serigne downfield. It was a gain of about 20 yards with James lowering his shoulder into Serigne. He was called for a targeting that was surprisingly overturned. James led with his shoulder and that saved him from another one of college football's misguided ejections. On the final play of the game, James broke up a pass in the end zone to save the victory for Florida State. This tape will help James to grade out as a high first-rounder.


Florida State cornerback Tarvarus McFadden was impressive against Wake Forest with some clutch plays to help his team. In the first quarter, McFadden showed intelligence to stay at home on his side of the field to slap away a half back option pass back to the quarterback on the other side of the field. If McFadden didn't stay home, it would have been an easy touchdown for Wake Forest. In the fourth quarter, McFadden had a critical breakup on a back shoulder throw to get his defense off the field on a third-and-14 situation. McFadden then got away with a holding. This tape should help McFadden's draft grade.


Florida State defensive tackle Derrick Nnadi had an impressive performance. Early in the first quarter, Nnadi jumped offsides, but on the next two plays, he fired into the backfield to get in on tackles for a loss. Throughout the first half, Nnadi was having his way with the Wake Forest offensive line causing a lot of disruption at the point of attack.

In the fourth quarter, Nnadi burst through the line on a stretch run to smoother a back in the backfield while also jarring a fumble loose. The ball was free inside the Wake Forest 10-yard line but Florida State was unable to fall on the ball. The next play, Nnadi made another run stuff. That series was huge, as it put the Seminoles in excellent field position on their next possession which was turned into the game-winning touchdown. This was an impressive tape from Nnadi that will help his draft grade.








Georgia 41, Tennessee 0
One of the players who is drawing rave reviews in the scouting community is Georgia linebacker Roquan Smith. Some scouts think that Smith could be a first-rounder and think he is at worst a day-two pick. Smith didn't have a prolific game against Tennessee, but he still made his presence felt.

On the fist play of the game, Smith fired through the A-gap to get a pressure on the quarterback that helped result in a poor throw that was intercepted by Georgia. Throughout the early going, Smith was around the ball and getting in on tackles. He also was impressive in pass coverage. He blanketed Tennessee tight end Ethan Wolf and kept him from gaining separation down the seam. Smith and the Georgia defense kept Wolf without a catch until late in the fourth quarter in garbage time. That should really help his draft stock with evaluators. Smith is fast, athletic, and fluid to play some man coverage while also excelling in zone. The way Smith is playing in 2017, he looks like a late first-round or early second-round pick.


Georgia has other good defensive talents for the NFL, but unfortunately, two of those players didn't last long in Knoxville. Defensive tackle Trenton Thompson is a first-round talent who has lacked consistency. Midway through the first half, Thompson limped off the field and then went into the locker room with a knee injury. Outside linebacker Lorenzo Carter is a potential second-day pick, and early in the game, Carter left with an injury.


This game had a collection of future NFL ball-carriers with Tennessee running back John Kelly on one side with the Georgia duo of Nick Chubb and Sony Michel on the other. Unfortunately, not one of those big backs had a big game. Georgia splits up the carries so much between a huge stable of backs, while the Bulldog defense dominated the Tennessee offense so resoundingly that Kelly never had the chance to really get into a groove.

In the first half, Georgia shut down Kelly. In the third quarter, Kelly finally got loose, catching a pass down the seam, and he broke some tackles about 25 yards downfield. About 15 yards later, Georgia safety Dominick Sanders ripped the ball away from Kelly, and the Bulldogs recovered it to negate a 44-yard gain from Kelly. Georgia held Kelly to 44 yards on 16 carries with four receptions for 47 receiving yards. This tape is going to hurt his draft grade, as he struggled against heavy fronts and had a fumble.

In the early going, Tennessee was keeping Chubb in check. Chubb had back-to-back runs for about 30 yards to get to midfield in the second quarter. In the middle portion of the game, Chubb was running well, showing his quickness, strength and vision. Chubb rolled up 109 yards on 16 carries before Georgia emptied the bench in the second half. This tape will help Chubb's draft grade.

Michel had 64 yards on 11 carries with a score. In the third quarter, Michel took a run up the middle and went through a few arm tackles for a 21-yard touchdown. If Michel was at a different school, he would be a three-down starter who would have big production. As it is, I know a lot of scouts who really like him and feel he can do everything for the NFL as a runner, receiver, and blocker. Michel is getting projected to the second day of the draft as well.




Wisconsin 33, Northwestern 24
Northwestern quarterback Clayton Thorson has a lot of positive buzz in the scouting community. Even though the Wildcats lost in Madison, Thorson was impressive. He showed a live arm firing bullets into tight windows to beat good coverage. He ran well as a scrambler and rusher, while taking a beating as the Badgers defense line dominated the Northwestern blocking. Thorson was tough and fought hard from start to finish.

Thorson was moving the ball pretty well in the first half. On a fourth-and-9 attempt at the Wisconsin 33, Thorson was pressured to threw off his back foot. The ball was picked off at the 16-yard line, and it was a mistake by the defensive back to catch the ball because it cost the Badgers some field position, so that interception ended up being like a punt for Northwestern. It probably would have been a reception, but Wisconsin got away with a terrible pass interference on the play.

Throughout the first half, Thorson was showing some accurate passes with good zip on the ball to move the chains. He wasn't getting a lot of openings downfield, but Thorson was making precision passes in the short part of the field to move the chains. One completion of about 15 yards was a frozen rope to beat tight coverage of two defenders to his tight end to get the ball to the goal line. On next play, Thorson sold a play fake before tossing a short touchdown pass to the flat.

After a good start, the Wisconsin defense started dominating Northwestern at the point of attack. They were constantly harassing Thorson with a flurry of sacks in the third quarter. Early in the fourth, Thorson was rocked by two defenders as he threw. That led to a defensive back in zone being able to jump a pass that didn't have as much gas on it for an interception. The pick was returned for a touchdown and that basically put the game out of reach for Northwestern at 31-10.

Thorson didn't quit though, and he led a comeback attempt for the Wildcats. Thorson came back to throw some good passes downfield that fell incomplete from pass interference and poor plays by his receivers. He led a touchdown drive in the fourth quarter, throwing some excellent passes through the Badgers defense. Thorson then made it a one-score game, ripping the ball to his receivers to let them run after the catch and then firing a short touchdown pass. Late in the fourth quarter, Thorson made a bad mistake, rolling away from pressure, and a defensive back chased him down. Thorson should have thrown the ball away, but he tried to break the tackle and fell down for a safety. Thorson completed 29-of-45 for 219 yards with three touchdowns and two interceptions.

Aside from playing at a school not known for producing NFL quarterbacks, a terrible supporting cast is the main issue that really holds Thorson back from becoming a highly touted NFL prospect by the uninformed national media. The Wildcats' offensive line stinks. They struggle immensely against quality opponents. Northwestern's wide receivers lack talent. They have zero explosiveness or speed to get open downfield. They also consistently drop well-thrown passes from Thorson.

Thorson is an NFL quarterback, and I honestly believe that if he was at Alabama, Ohio State, Clemson, or even a team just an above average supporting cast, he could be the top quarterback prospect. Thorson has big size and a powerful arm, and he moves well, throws accurately, sees the field, is tough, and has some athleticism. On top of his skill set, Thorson has excellent intangibles as a worker and teammate with high character, and intelligence. Some scouts have told me they see themselves grading Thorson as a second-rounder, but they think he could end up going in the first round of the 2018 or 2019 NFL Draft.


Unfortunately, Wisconsin tight end Troy Fumagalli missed this game with a minor leg injury.








Washington State 30, USC 27
Earlier in the day on Friday, a scout who was doing tape study of USC quarterback Sam Darnold texted me that he thought Darnold was a good prospect and should end up being a quality starter in the NFL, but he thought Darnold was being overhyped as a can't-miss elite quarterback prospect. They felt that Darnold was not better on tape this season than Mitchell Trubisky or Deshaun Watson was last year. That view of Darnold is only going to be reinforced as he had an underwhelming game against Washington State. Darnold was 15-of-29 for 164 yards with no touchdowns and an interception. He did have two touchdowns rushing, but it wasn't enough, as the Cougars pulled off a home upset over the highly ranked USC Trojans.

Interceptions and decision-making have been a problem for Darnold this season. That reared up again early in the second quarter when Darnold starred down a receiver running an out route, and the cornerback jumped the pass to make an interception in USC territory. Just a few minutes later, Darnold had a poorly located back-shoulder pass go to the inside, but Darnold got extremely lucky as the cornerback dropped an easy interception in the end zone.

In the fourth quarter, Darnold made a money throw while under pressure to extend a drive. That set up Darnold to have his second short rushing touchdown. Darnold got the ball down by three late in the fourth quarter with less than two minutes to get a game-tying field goal or win with a touchdown. With ninety seconds remaining, Darnold reacted slowly to a blitzer coming right down the middle of the pocket. He didn't secure the ball close to his body as he was being tackled and fumbled the ball away to the Cougars to clinch the upset for Washington State.

While the performance was underwhelming, Darnold did show some things that will help him with evaluators. In the first quarter, Darnold displayed some athleticism to dodge a sack in the backfield and then scramble forward to get a clutch first down for a first-and-goal. He saw an opening on the next play and ran the ball into the end zone for the score. In the second half, Darnold moved the ball with his legs to set up some favorable down-and-distance situations. Darnold isn't a true running threat for the NFL, but he can move around to buy time with the mobility to pick up some clutch first downs and yards with his feet.

Overall, this game illustrates the point of some scouts that Darnold isn't instant grits for the NFL. He is going to need some development. He is a good athlete, with accuracy as a passer, an ability to see the field, and functional mobility. However, Darnold needs to improve his decision-making, eye movement, and confidence. Darnold has admitted that confidence has been an issue for him this season. Darnold looks like a future first-round pick, but he may not be a genuine high first-round quarterback prospect like Andrew Luck or Jameis Winston.


Washington State quarterback Luke Falk is a pro prospect who has second-day potential for the 2018 NFL Draft. Falk illustrated why he has starting potential for the NFL by leading his team to a win against a more talented opponent. Falk showed good poise and decision-making.

Falk completed 34-of-51 passes for 340 yards with two touchdowns and one interception. He should have had more production, but his receivers had butterfingers. In the first 17 minutes of the game, they had four dropped passes of well-thrown balls by Falk downfield. One was a great play by Falk as he bought time to roll out away from the rush, throwing a dime about 35 yards into corner of the end zone where his wideout dropped the touchdown. That left points on the field with the Cougars settling for a field goal. Washington State ended up with at least six dropped passes in the game on good throws by Falk.

Despite his receivers letting him down consistently, Falk made a lot of impressive throws. At the end of the first quarter, Falk laid out a deep ball to a wide-open receiver Renard Bell for a 59-yard gain. Falk later showed some toughness and courage; he had a free blitzer sprinting free down the pocket to deliver him a shot. Falk hung tough to throw a perfect pass downfield for a 25-yard gain. In the fourth quarter, Falk had a well-located pass on an out route to convert a fourth down. That set up Washington State to take the lead on the next play, as Falk threw a shovel pass that the back took for a 23-yard touchdown. Falk contributed to the winning field goal drive late in the fourth quarter.

In a lot of ways, Falk is similar to Cal quarterback Davis Webb last year. They both are pocket passers with quality arms who can make all the throws. Falk has better field vision than Webb did, but both have developmental issues for a NFL offense. Falk will have to learn working under center, calling plays in a huddle, not having predetermined throws, and playing without the bubble screen or instant throws off the snap of his college spread offense. Falk reads the defense pretty well and made good decisions with the ball. This tape will help Falk to grade out as a second-day prospect.


USC running back Ronald Jones is enjoying an excellent 2017 season and looks vastly improved over how he ran in 2016. Jones is a more decisive and tough runner this season. He had 128 yards on 14 carries with a touchdown. Jones showed his speed with an 86-yard touchdown run. He took the carry off the right side and exploded down the field, running away from all tacklers. That was a serious display of speed, as Washington State has an undersized but a quick defense that covers a lot of ground. The 6-foot, 200-pounder Jones is undersized for the NFL, but he is helping his draft grade with how he has played as a junior.


USC outside linebacker Uchenna Nwosu has been having a solid senior season with a lot of clutch plays for the Trojans. That continued against Washington State as Nwosu helped to make up for USC being without top edge rusher Porter Gustin. In the second quarter, Nwosu made an amazing play to set up his team for points. With Washington State pinned inside its own 5-yard line, Nwosu read the play well seeing it was going to be a quick pass. Going against the right tackle, Nwosu paused and leapt in the air to batt the pass. He was able to control the ball for an interception after it bounced off the right tackle. That ended up gifting his team three points.

Aside from that play, Nwosu had some solid run tackles and combined with a teammate to get a sack of Falk. Nwosu had six tackles, half of a sack, and an interception. Nwosu is a solid player who looks like a potential second-day talent as a 3-4 outside linebacker.










Comment...











NFL Picks - Sept. 22


2019 NFL Mock Draft - Sept. 20


Fantasy Football Rankings - Sept. 5


2019 NBA Mock Draft - Aug. 13


2020 NFL Mock Draft - Aug. 1


NFL Power Rankings - June 3