Want to get to know the draft prospects for the 2018 NFL Draft? This weekly column breaks down the best matchups to watch on Saturday and what players to watch.
By Charlie Campbell.
Send Charlie an e-mail here:
draftcampbell@gmail.com
Follow Charlie on Twitter
@draftcampbell
for updates.



Texas vs. West Virginia; Saturday, Nov. 18, 12:00 PM ESPN
One of college football's breakout players this season has been Texas safety DeShon Elliott. He has been among the nation's leaders in interceptions and will get the opportunity for more picks against West Virginia's passing offense. West Virginia quarterback Will Grier has played well this season, but he should return to school to improve and gain more experience before going pro. Mountaineers wide receiver David Sills is a big target who will challenge Elliott downfield. Texas linebacker Malik Jefferson is having his best season, and he should be an early-round pick in the 2018 NFL Draft.


Kentucky vs. Georgia; Saturday, Nov. 18, 3:30 PM CBS
There is some good NFL talent going head-to-head in this game. Georgia running backs Nick Chubb and Sony Michel are early-round talents who have been excellent this season. Kentucky has some NFL talent on its defense, including pass-rushing linebacker Josh Allen. Allen also is a quality run defender who will be challenged by those two backs. Sources from multiple teams have told me they think Josh Allen could go late in the first round of the 2018 NFL Draft.
Georgia has a loaded defense with early-round talents in linebacker Roquan Smith, linebacker Lorenzo Carter and defensive tackle Trenton Thompson. Smith could be a first-rounder come April, while Carter and Thompson could be day two picks in the 2018 NFL Draft.
Kentucky cornerback Derrick Baity is a pro prospect, but Georgia rarely passes the ball, so this won't be a great game to evaluate Baity.



Texas A&M vs. Ole Miss; Saturday, Nov. 18, 7:00 PM ESPN2
This contest has an excellent draft matchup with Rebels cornerback Ken Webster going against Aggies wide receiver Christian Kirk. Webster is one of the top cornerbacks for the 2018 NFL Draft, while Kirk is an early-round receiver in his own right. Kirk's deep speed will be a challenge for Webster. Other prospects to watch are Texas A&M safety Armani Watts and Ole Miss edge rusher Marquis Haynes. Both of them have limitations that could make them mid-rounders.



N.C. State vs. Wake Forest; Saturday, Nov. 18, 7:30 PM ESPNU
This game has good defensive line talent for the NFL led by N.C. State defensive end Bradley Chubb. Chubb is a future top-10 pick who has dominated this year. He should have his way with the Wake Forest offensive line.
Wake Forest defensive end Duke Ejiofor also has played well this season. Like Chubb, he is a thick defensive end who also has some speed and athleticism. Ejiofor's skill set and play just aren't at Chubb's level. Not only is Chubb more physically gifted, but he plays with a non-stop motor while Ejiofor is inconsistent. Still, Ejiofor has pass-rushing talent and could be a second-round pick in the 2018 NFL Draft.
Another good prospect to watch is N.C. State tight end/H-back Jaylen Samuels. For the NFL, he is a receiving running back in the mold of Brian Westbrook. Samuels should be an early-rounder next April. Wolfpack defensive tackles Justin Jones and B.J. Hill are NFL prospects as well.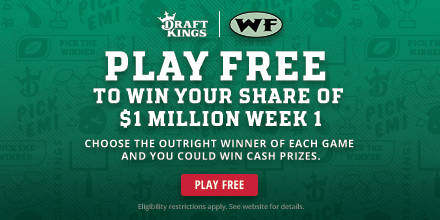 UCLA vs. USC; Saturday, Nov. 18, 8:00 PM FOX
This will probably be the last time these quarterbacks go head to head during their collegiate careers and the next time they play against each other they will be starting quarterbacks for NFL teams. I've heard from scouts that USC quarterback Sam Darnold may return to college for 2018, but UCLA quarterback Josh Rosen is expected to enter the 2018 NFL Draft. Both Darnold and Rosen will be high first-rounders if they enter the 2018 NFL Draft.
Other prospects to watch from USC in this game include running back Ronald Jones II, wide receiver Deontay Burnett, edge rusher Uchenna Nwosu and cornerback Iman Marshall. For UCLA, other draft prospects are center Scott Quessenberry and safety Jaleel Wadood.
Comment...
NFL Picks
- Oct. 15
2020 NFL Mock Draft
- Oct. 13
2019 NFL Mock Draft
- Oct. 11
Fantasy Football Rankings
- Sept. 5
2019 NBA Mock Draft
- Aug. 13
NFL Power Rankings
- June 3