This new section highlights which players have improved or worsened their 2017 NFL Draft stock as the draft approaches.
By Charlie Campbell.
Send Charlie an e-mail here:
draftcampbell@gmail.com
Follow Charlie on Twitter
@draftcampbell
for updates.
2017 NFL Draft Stock Up

David Njoku, TE, Miami
Over the past few days, I surveyed teams from around the league to get their opinion on if Njoku will go in the first round of the 2017 NFL Draft . The feedback was split 50-50; half said "yes," and the other half said they think he could slip into Round 2. Still, everyone agrees that Njoku is a freak athlete and a first-round talent. He could easily be a star of the combine with his crazy skill set. Tight end O.J. Howard currently looks like a top-20 pick, which helps Njoku's chances of going in the 20s. I think after the combine, Njoku could force himself into the first round.

Obi Melifonwu, S, Connecticut
It is hard for a prospect to make this list two weeks in a row, but I had to include Melifonwu after bumping him into the first round of my mock draft. Melifonwu was one of the most impressive prospects at the Senior Bowl, displaying a serious skill set for the NFL. The size/speed freak was all over the field while dishing out some serious hits.
Melifonwu is a big safety who can be the eighth man in the box, but he showed impressive range in the team scrimmage. The Chicago Bears' staff had Meilfonwu being the lone deep safety on a lot of plays in Mobile, and he covered a lot of ground. Even though Melifonwu is big, he is not stiff as an athlete, showing some ability to open up his hips and run. Following his week in Mobile, there has been a lot of buzz about Melifonwu having late first-round potential.

Jamal Adams, S, LSU
Adams is a beneficiary of Malik Hooker's injury. Teams that are picking high in the first round could be inclined to go with Adams because he is healthy. Adams is grading out high as well, so he is worthy of a high first-rounder. Hooker being out 4-6 months gives Adams the opportunity to impress in workouts, and success there could further help Adams in the months to come. Adams has a shot of going as a top-five pick in the 2017 NFL Draft.

Dalvin Tomlinson, DT, Alabama
Some team sources said that Tomlinson had one of the best Senior Bowl interviews they ever had with a prospect. Tomlinson wowed teams in Mobile with his knowledge of technique and his intelligence. On the field, Tomlinson had a good week with his ability to be stout at the point of attack. With his solid showing in Mobile alongsie the impressive interviews, Tomlinson could end up sneaking into the second day of the 2017 NFL Draft and should go in the mid-rounds.

Dan Feeney, G, Indiana
Feeney had a solid week at the Senior Bowl, where he showed that he is a stout guard at the point of attack. After a rough senior year hampered by a concussion and position change, a good week at Mobile was needed, and Feeney came through. He is strong to open holes in the ground game, but will need some development to block speedy defensive tackles. In an underwhelming offensive line draft, Feeney could end up going in the second round as he looks like a plug-and-play guard.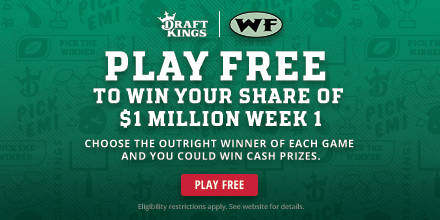 Marshon Lattimore, CB, Ohio State
In speaking with sources, some teams have Lattimore as the second-rated cornerback in the 2017 NFL Draft. Lattimore had a strong 2016 season as a cover corner with the physical talent to be a No. 1 corner in the NFL. He totaled 41 tackles with four interceptions and nine passes broken up on the year. The 6-foot, 192-pounder had good size to go with athletic ability. By the way multiple team sources have talked about him, Lattimore should go as a top-20 pick next April.

Christian McCaffrey, RB, Stanford
McCaffrey is a player who has a lot of fans in the scouting community. In speaking with teams, they also expect McCaffrey to work out really well at the combine. They say that he is a dedicated weight-room patron and works really hard in training. On top of that, teams say that McCaffrey has great football character and they think he will shine in the interviews. As a result, there are some teams picking late in the top 20 that could target McCaffrey. Both Tampa Bay and Denver have taken a liking to him.
2017 NFL Draft Stock Down

Malik Hooker, S, Ohio State
Hooker's stock is down slightly through no fault of his own. WalterFootball.com was first to report that Hooker would have labrum and hernia surgery that would cause him to be out 4-6 months. That will force Hooker to not participate in the field drills at the combine and make his combine medical recheck very important. The injury shouldn't cause Hooker to slide too far, but it could cause teams to take LSU safety Jamal Adams ahead of him because there isn't the injury concern with Adams. Hooker is a lock as top-25 pick in the 2017 NFL Draft, but he may not be one of the first five prospects selected after these surgeries.

Chris Wormley, DE, Michigan
Late in the 2016 season, one team source said that Wormley could end up going higher than many expect because of his size, strength, length, and versatility up front. After the Senior Bowl, however, sources from multiple teams said they felt that Wormley would probably go in the second round of the 2017 NFL Draft. They think Wormley might go late in Round 1, but that it is more he likely will go on Day 2.
Wormley is a solid player in all regards, but doesn't have the production or freak athleticism of most first-round picks. Thus, I bumped Wormley to the second round of my mock draft, and I think that is where he is likely to go in April.

Malik McDowell, DE, Michigan State
McDowell is another player who I dropped from the first round of my mock draft. All team evaluators agree that he is a first-round talent with a great skill set. The reason he could slide is concerns about his work ethic and motor. Sources say that McDowell was a front-runner who impressed early in the 2016, but was unimpressive in his final tapes before an injury ended his season early. McDowell could easily slide because of these concerns and falling to Round 2 is possible even though he is a definite first-round talent.
Comment...
NFL Picks
- Sept. 24
2019 NFL Mock Draft
- Sept. 20
Fantasy Football Rankings
- Sept. 5
2019 NBA Mock Draft
- Aug. 13
2020 NFL Mock Draft
- Aug. 1
NFL Power Rankings
- June 3