This new section highlights which players have improved or worsened their 2017 NFL Draft stock as the draft approaches.
By Charlie Campbell.
Send Charlie an e-mail here:
draftcampbell@gmail.com
Follow Charlie on Twitter
@draftcampbell
for updates.
2017 NFL Draft Stock Up

Leonard Fournette, RB, LSU
Fournette was in the midst of a disappointing junior season that saw an ankle injury cost him to miss multiple games, including the last two contests. Versus Ole Miss though, Fournette showed why he is a freak talent as he dominated the Rebels while being less than 100 percent. He had touchdown runs of 59, 76 and 78 yards on his way to 284 yards and three touchdowns on 16 carries. This amazing performance from Fournette set an LSU single-game record. Fournette looked faster and more explosive than he has all season. He ran decisively with balance, vision, and power. This tape will help Fournette to remain a high first-round pick despite his banged-up season that is leading to a drop in production.

Davis Webb, QB, California
Against Oregon, Webb completed 42-of-61 passes for 325 yards with five touchdowns and zero interceptions. He lofted in some beautiful passes in the red zone to produce points. Webb was up to the task of carrying his defense and leading his team to a shootout victory.
In 2016, Webb has completed 62 percent of his passes for 2,581 yards with 27 touchdowns and seven interceptions. Webb has a quality arm and can make some well placed passes downfield. He has good size and stands tall in the pocket. Webb shows some field vision to work through his progressions, but he doesn't have mobility for the NFL. In terms of the critical characteristic of accuracy, Webb was impressive in this game, but the Ducks didn't put much pass pressure on him and the Oregon secondary was nothing special. Overall, this was a good tape from Webb that illustrates he is an early round prospect.

Jaleel Johnson, DT, Iowa
This tape should definitely help help Johnson's draft grade. The 6-foot-4, 310-pounder has the skill set to be a difference-maker at the point of attack, and he proved it against Wisconsin. In the third quarter, Johnson had an impressive rush where he bulled through the guard and then used his speed to get to the quarterback. On the very next play, Johnson fired by the guard to get into the backfield and add another sack.
Johnson has a good skill set for the NFL. He needs to get more consistent and increase the tempo of his motor, but he now has 5.5 sacks in 2016. In a number of ways, Johnson is a similar prospect to former teammate Carl Davis, who had first-round potential but slid - to the third round of the 2015 NFL Draft - in large part because of inconsistent effort. Overall though, this tape will really help Johnson's draft stock as an example of his ability to create an interior pass rush.

Bucky Hodges, TE, Virginia Tech
The 2017 NFL Draft could be loaded at tight end, and Hodges will be in the mix of second-day prospects if he declares for the draft. Hodges showed what a weapon he was against Miami last Thursday night. He totaled seven receptions for 66 yards and two touchdowns. Hodges used his size to shield defenders from the ball in the end zone and his quickness to get open. He also was open for a third touchdown, but the pass was overthrown through the back of the end zone.
The 6-foot-7, 245-pound Hodges causes a lot of mismatch problems as he towers over defensive backs and has the ability to shield defenders from the ball. Hodges also is too fast for linebackers to run with in man coverage. The junior has 25 receptions for 323 yards with five touchdowns. He had over 500 yards as both a sophomore and a freshman. Hodges isn't a forceful blocker for the NFL, but he could be a bigger version of a Jordan Reed-like receiving tight end.

Sam Rogers, FB, Virginia Tech
Rogers is a versatile weapon who can make plays with the ball in his hands as well as be a good lead blocker. He showed his play-making skills with a big impact against Miami. Rogers had a huge play with a 52-yard reception where he broke multiple tackles and dodged a defender in the open field. He also added a 20-yard catch and threw a touchdown pass on a halfback option. Rogers did a nice job of lead blocking as well. The Miami tape will help Rogers to get consideration in the fourth or fifth round of the 2017 NFL Draft.

Ethan Cooper, G, Indiana-PA
Sources say Cooper is a third-day sleeper who could be a good value pick in the 2017 NFL Draft. The 6-foot-3, 325-pounder has impressed evaluators from a height, weight and speed perspective. He plays left tackle in college, but for the NFL, he would move inside to guard. Cooper may not even get an invitation for the Senior Bowl because he is a such a sleeper, but he could end up being a diamond in the rough on Day 3 of the 2017 NFL Draft.

Javarius Leamon, OT, South Carolina State
Leamon has impressed scouts this season. Sources say that Leamon is athletic with an above-average ability to anchor against bull rushers. The 6-foot-7, 310-pounder is a little finesse and will need to improve his strength for the NFL, but team evaluators feel he has the potential to grow into starting left tackle. Teams are giving him a draftable grade in the middle rounds of the third day of the 2017 NFL Draft. Leamon is on the Senior Bowl watch-list, and if he earns an invitation to Mobile, his stock could really rise considering this is a weak class of offensive tackles.
Honorable Mentions:
LSU safety Jamal Adams, Wisconsin left tackle Ryan Ramychk, Alabama left tackle Cam Robinson, Alabama defensive end Tim Williams and Alabama defensive tackle Jonathan Allen.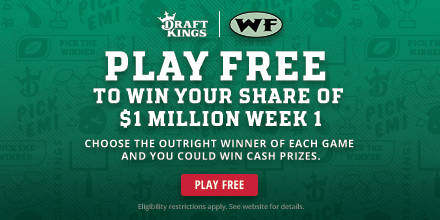 2017 NFL Draft Stock Down

Julie'n Davenport, OT, Bucknell
In August, WalterFootball.com was the first media to report that Davenport was a sleeper prospect for the NFL. Some team sources really love him and believe that he could be a Thursday night prospect if he had gone to a big program. There are still a lot of scouts who really like Davenport, but they say that Davenport could slide on Day 2 of the 2017 NFL Draft because his technique needs a lot of work along with the development of his body. They say that Davenport plays too high and can get pushed around. He struggles with redirecting and can get bull rushed. The teams like Davenport's length and above-average athleticism, but the flaws in Davenport's game could push him lower on Day 2 of the 2017 NFL DDraft.

Jalen Hurd, RB, Tennessee
Hurd could be one of the players who is having a down season in part because of saving themselves for the NFL. This year, Hurd hasn't been running with the same physicality and decisiveness that he did in 2015. The juniot is only averaging 3.8 yards per carry for his 435 yards and two touchdowns. He has had some missed blocks and fumbles as well. Fellow running back Alvin Kamara has been a lot more impressive than Hurd. In a strong running back class, Hurd is in real danger of sliding if he enters the 2017 NFL Draft.

Royce Freeman, RB, Oregon
Freeman had an ugly performance against California despite taking on a bad defense that allowed almost 50 points to Oregon. The Golden Bears' defense is not good, yet Freeman struggled to assert his will on them as he totaled only 10 yards on 15 carries, for an average of 0.7 yards per carry. In the first quarter, Freeman showed poor vision and patience, and as a result, made a bad decision to take a run to the outside for a loss when he had a better lane to go downhill. Oregon was having more success running with Brooks James, but still tried to get Freeman carries. Freeman wasn't having success trying to run to the outside and needed to be getting more North-South. On a first-and-goal from the one-yard line, Freeman had a hole but was slow getting there, which allowed him to be stopped short.
This game will hurt Freeman's draft grade compared to other running back prospects like LSU's Leonard Fournette, Florida State's Dalvin Cook, Georgia's Nick Chubb, Stanford's Christian McCaffrey and Tennessee's Alvin Kamara.
Dishonorable Mentions:
Miami quarterback Brad Kaaya.
Comment...
NFL Picks
- Sept. 20
2019 NFL Mock Draft
- Sept. 20
Fantasy Football Rankings
- Sept. 5
2019 NBA Mock Draft
- Aug. 13
2020 NFL Mock Draft
- Aug. 1
NFL Power Rankings
- June 3