This new section highlights which players have improved or worsened their 2017 NFL Draft stock as the draft approaches.
By Charlie Campbell.
Send Charlie an e-mail here:
draftcampbell@gmail.com
Follow Charlie on Twitter
@draftcampbell
for updates.
2017 NFL Draft Stock Up

Justin Evans, S, Texas A&M
Evans created a real buzz with his Week 1 game against UCLA, and there is talk that he could be a first-round pick. Against the Bruins, Evans collected eight tackles and two interceptions. He followed that up with a nine-tackle game in Week 2. Evans has good size at 6-foot-1, 200 pounds with coverage skills in the pass game and an ability to tackle in the ground game. While Myles Garrett gets all the attention, Evans could be another Aggie defender who is a Thursday night selection.

Kai Nacua, S, BYU
Nacua has had a fabulous start to his senior season. He had a pick in the season opener, and for Week 2, he snagged two interceptions in the first half, including a critical pick in the end zone to rob points from the Utes. In the third-quarter against Utah, Nacua lit up a receiver coming across the middle, causing an incompletion. Nacua led with his shoulder but was still called for targeting and ejected. It was a bad call, and Nacua made a good play. He has eight tackles and three picks thus far.
This isn't an anomaly as Nacua (6-2, 215) showed excellent instincts as a junior. He was ballhawk in 2015 with six interceptions, and surprisingly, he's on pace to surpass that total this season after only two games. If Nacua continues this level of play, his stock is going to really rise for the 2017 NFL Draft.

Teez Tabor, CB, Florida
Florida has become "DB U" in recent years because of the amount of defensive back talent the program has generated for the NFL. This year will be no exception, and that was put on display in dominant fashion against Kentucky. Gators junior cornerback Jalen "Teez" Tabor is one of the top cornerback prospects for the 2017 NFL Draft, and he was excellent against Kentucky. Tabor made a superb interception, was perfect in coverage, and contributed some tackles. He looked like a first-round top-20 player in his 2016 debut. Tabor did not play in the 2016 opener due to a suspension.

Marcus Maye, S, Florida
Like Tabor, Gators senior safety Marcus Maye is a potential first-round pick who played extremely well against Kentucky. Early on, he made a number of good open-field tackles on backs. Maye was the last line of defense before the end zone and made good, hard tackles. A few plays he really brought the lumber as well. He did well as the deep center fielder and also made an interception by getting in proper position. This tape will help Maye's first-round hopes in the 2017 NFL Draft.

Quincy Wilson, CB, Florida
Wilson is Florida's replacement for Vernon Hargreaves III, and showed that he is maintaining an excellent cornerback tandem for the Gators. In the first quarter against Kentucky, Wilson played perfect press-man technique to run with the Wildcats' speed receiver down the sideline. Wilson used the sideline well then made a tremendous interception, tipping the pass to himself. He had good coverage on other plays, and the 6-foot-1, 213-pounder looks like he has a legit skill set as a cover corner.

Ejuan Price, DE/OLB, Pittsburgh
Price had three injury-plagued seasons before breaking out last year with 11.5 sacks, 48 tackles, 19.5 tackles for a loss, one forced fumble and one pass broken up. Against Penn State, Price put a lot of heat on the quarterback with a critical strip-sack that led to a touchdown for Pittsburgh. He had another forced fumble and was putting a ton of pressure on the quarterback. Through two games this season, Price has five tackles with 3.5 for a loss, 2.5 sacks and two forced fumbles. The 6-foot, 255-pounder is a better fit as a 3-4 outside linebacker for the in the NFL. If he continues to be a difference-maker in the pass rush, the senior's stock should rise.

Tyrone Swoopes, QB, Texas
Sources told WalterFootball.com that they like Swoopes' potential to be a tight end in the NFL. One general manager from a playoff team said he thought Swoopes could be a fourth- or fifth-round pick in the 2017 NFL Draft for the position. They really like his size at 6-foot-4, 249 pounds and his athletic ability. They feel he has potential to develop with good hands and that he could be a great fit at the position. In speaking to a college scouting director from another team, they agreed completely and thought that Swoopes is an intriguing third-day developmental tight end.
Honorable Mentions:
Florida linebacker Alex Anzalone, Arkansas tight end Jeremy Sprinkle, Pittsburgh guard Dorian Johnson, Arizona State running back Kalen Ballage, Pittsburgh running back James Conner, SMU wide receiver Courtland Sutton, Oregon running back Royce Freeman, San Diego State running back Donnel Pumphrey, Ohio State cornerback Marshon Lattimore and Nebraska safety Nate Gerry.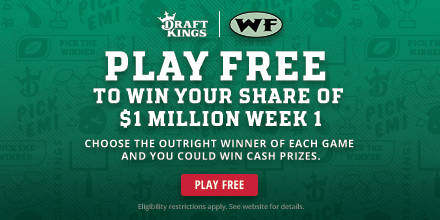 2017 NFL Draft Stock Down

Seth Russell, QB, Baylor
There was some buzz about Russell as a future NFL prospect last year when he was a Heisman candidate prior to getting injured. Against SMU, Russell was very unimpressive and made some terrible decisions that led to turnovers. He stared down receivers and threw to receivers who were in a crowd of defenders. Russell completed 26-of-47 passes for 261 yards with two touchdowns and two interceptions in Week 2. Overall though, he showed that he needs to improve his accuracy, decision-making and pocket passing.

Taysom Hill, QB, BYU
Against BYU, Hill almost led a late fourth-quarter comeback win, but he still put his team in a hole on a number of plays. Hill ended up completing 21-of-39 passes for 176 yards with three interceptions. He also ran for 87 yards on 13 carries with two scores. Two of his interceptions were terrible passes that he should have known better than to throw as a senior quarterback. Overall, this was not a good tape for Hill as he demonstrated ball-security issues and poor ball placement that led to turnovers.

Deshaun Watson, QB, Clemson
Watson didn't impress in Week 1, but that was against Auburn, which has some talent on its defense. However, Watson followed up with an underwhelming performance against Troy in which Clemson won by only six points. Watson was 27-of-52 for 292 yards with three touchdowns and two interceptions. Something has been off with Watson's accuracy as he has completed only 53 percent of his passes this year. There is plenty of time for Watson to get things turned around, but I've spoken with multiple scouts and team sources who believe Notre Dame's DeShone Kizer is a better prospect.
Comment...
NFL Picks
- Sept. 24
2019 NFL Mock Draft
- Sept. 20
Fantasy Football Rankings
- Sept. 5
2019 NBA Mock Draft
- Aug. 13
2020 NFL Mock Draft
- Aug. 1
NFL Power Rankings
- June 3