Monday Morning Draft is back! This is a column that delves into the past weekend's action from an NFL Draft perspective. As the season goes on, the draft picture and slotting will become more clear, but every Sunday will provide a few hints for next April.
By Charlie Campbell.
Send Charlie an e-mail here:
draftcampbell@gmail.com
Follow Charlie on Twitter
@draftcampbell
for updates.
Race for the No. 1 Pick:

Tennessee Titans:
The Titans fell to the Colts to finish 3-13 on the season and clinch the No. 1-overall pick in the 2016 NFL Draft. Despite the rough year, Tennessee has some young talent to build around led by quarterback Marcus Mariota. Now that the Titans have landed the No. 1-overall pick of the 2016 NFL Draft, it would make sense to select Ole Miss left tackle Laremy Tunsil. Tennessee allowed the most sacks in the NFL during 2015 and must keep Mariota healthy to move forward as a franchise.
If the Titans draft Tunsil, they could move Taylor Lewan to right tackle and Jeremiah Poutasi inside to guard. With right guard Chance Warmack, that group could make a huge difference for Mariota. The Titans also need help at cornerback, safety and running back, but there isn't a prospect of Tunsil's caliber at any of those positions. If Tennessee doesn't get a huge package of picks to trade down, Tunsil is a no-brainer decision.

Cleveland Browns:
The Browns lost to the Steelers in Cleveland to conclude another dismal season. Three weeks ago, the Browns snapped a seven-game losing streak by beating the 49ers at home, but Cleveland dropped its final three games. Quarterback Johnny Manziel had a quality performance at times for the Browns. However, quarterback is still an option for Cleveland's first-round pick and moving on from the troubled Manziel is very much a possibility.
The Browns need to improve their pass rush, played 2015 with a beat-up secondary and lack play-makers at wide receiver on offense. Considering Cleveland's recent drafts, one can't disagree with the decision to clean house in the front office. Hiring the right general manager and head coach is just as critical as getting the first-round pick right.
Let's Play Matchmaker:
This section will look at some of the top talent in college football and match those prospects up with teams that have a dire need at the position.

Jacksonville Jaguars: Ronnie Stanley, OT, Notre Dame

The offensive line was a weakness throughout the season for the Jaguars, and they were destroyed by J.J. Watt and Whitney Mercilus to close out the year. Left tackle Luke Joeckel allowed five sacks (two strip-sacks) and needs to be moved to guard next season. Perhaps that would salvage Joeckel, but he's a bust as a franchise left tackle.
Stanley has good athleticism, quickness and length to match up against speed rushers. He has the feet and burst to get depth in his drop to prevent rushers from turning the corner. In the ground game, Stanley would be a better fit for a zone-blocking scheme as he needs to get stronger for the NFL. Stanley doesn't have much of a mean streak or physicality to his game, but he has the skill set to be a good pass protector as a pro.

New York Jets: Connor Cook, QB, Michigan State

The Jets lost their shot at the postseason because Ryan Fitzpatrick laid an egg playing against his former team and New York's former head coach. The Jets saw how far Fitzpatrick can take them, but clearly he isn't a capable of being their long-term starter.
The Jets won't be picking high enough to land Memphis' Paxton Lynch or California's Jared Goff, so they will have to settle for another signal-caller. In 2015, Cook connected on 56 percent passes for 3,131 yards with 24 touchdowns and seven interceptions. He can make a lot of beautiful touch throws along the sideline, but can also struggle with accuracy on some routine throws. However, Cook is a good fit for the Jets' big receivers of Brandon Marshall and Eric Decker. Cook also has the arm to go vertical with Devin Smith. Cook could be the best available signal-caller for New York this offseason.

Tampa Bay Buccaneers: Emmanuel Ogbah, DE, Oklahoma State

Tampa Bay has to improve its pass defense this offseason. The Bucs need to get better at pressuring the quarterback off the edge and covering receivers downfield. In the first round of the 2016 NFL Draft, taking Ogbah would make a lot of sense. He is a sturdy base end for a 4-3 defense and would be a perfect fit in Lovie Smith's version of the Tampa 2.
On Friday, WalterFootball.com first reported that Ogbah plans on skipping his senior year to enter the 2016 NFL Draft. The junior totaled 61 tackles, 17.5 for a loss, three forced fumbles and 13 sacks in 2015. It was the second-straight season where he recorded double-digit sacks. Ogbah is able to beat tackles with strength or speed off the edge. He would make a lot of sense as Tampa Bay's first-round pick in the 2016 NFL Draft.

Miami Dolphins: Carl Nassib, DE, Penn State

Miami's defense had a disappointing 2015 season, but ended the year in impressive fashion by holding the Patriots to only 10 points. Olivier Vernon finished the year well with 10 tackles and a sack. He is entering free agency though, while Cameron Wake is aging and coming off a serious injury. Nassib would be a nice end to team with Ndamukong Suh and Jordan Phillips.
Heading into the National Championship, Nassib leads the nation with 15.5 sacks and probably will finish the year on top. He was on fire in 2015 before an injury cost him virtually the final two games of the regular season. Nassib has a nice combination of strength and closing speed. The senior also recorded 46 tackles with 19.5 tackles for a loss and six forced fumbles.
Even though Nassib's production is a 1-year wonder, former head coach Bill O'Brien and current head coach James Franklin have been profuse in their praise for his work ethic and practice effort.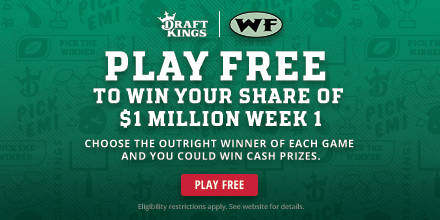 Philadelphia Eagles: Keanu Neal, S, Florida

Philadelphia allowed a journeyman running back in Rashad Jennings to run for 170 yards on 27 carries to close out the season. The Eagles have needed improved play at safety for years, and they could use a physical defender like Neal to pair with Malcolm Jenkins. Neal would give them a run tackler and an enforcer in the middle of the field.
The 6-foot-1, 216-pound Neal is very strong and punishes ball-carriers with bone-rattling hits. He totaled 96 tacklers with an interception, pass broken up and two sacks in 2015. Neal could be a second- or third-round pick if he enters the 2016 NFL Draft. Philadelphia could target a quarterback in the first round and a second-round upgrade at safety.

New York Giants: Jaylon Smith, OLB, Notre Dame

The Giants have needed a play-maker at linebacker for years, and that was exposed on Sunday once again. DeMarco Murray had a 54-yard touchdown run, while Zach Ertz caught nine passes for 152 yards. Ryan Mathews also had 54 yards on seven catches and two touchdowns out of the backfield. New York would land an instant upgrade in Smith.
Smith would be a perfect fit as an inside or outside linebacker for the Giants. He is a good run defender who also is skilled at covering backs or tight ends out in pass coverage. In 2015, Smith totaled 115 tackles, nine for a loss, one sack, four passes broken up and one forced fumble (he was robbed of one by the official scorer). In the Fiesta Bowl against Ohio State, Smith suffered a serious leg injury that could allow the Giants to get him with the ninth pick of the 2016 NFL Draft when he could have gone higher before the injury.

St. Louis Rams: Jared Goff, QB, California

The Rams tried Nick Foles, but still have a hole at the quarterback. They've won some games with Case Keenum, but that is mainly thanks to Todd Gurley and their defense overwhelming the opponent. St. Louis could use an accurate quarterback like Goff to take over next season.
In 2015, Goff completed 64 percent of his passes for 4,719 yards with 43 touchdowns and 13 interceptions. He demonstrated a quality, accurate arm with developed field vision. Goff also has functional mobility to avoid rushers and pick up some yards on the ground. The 6-foot-4, 215-pounder is lanky and could use more weight. He also could have some issues with getting rattled and handling the rush in the NFL, but the Rams won't be in position to land a perfect quarterback prospect. They have to take someone with some flaws and work with them. Goff would be a good choice even if St. Louis has to trade up for him.
Team Draft Reports:
In this section, we take a deeper look at specific teams and where they stand in regards to the 2016 NFL Draft.

Dallas Cowboys:
This was a very frustrating season for the Cowboys as it looked to have been full of potential for a big year if the team hadn't suffered injuries to Tony Romo and Dez Bryant. When Romo went down, Dallas' season was over as the team didn't have the trigger man who could lead his teammates to victories. This will be an interesting offseason for the Cowboys as they need to build for the long-term while trying to win now before Romo retires.
The Cowboys got more out of Darren McFadden than anybody could have expected this year, but he still isn't a long-term starter for them. Dallas needs a feature runner. The team is picking too high in the first round of the 2016 NFL Draft to justify a back like Ezekiel Elliott or Derrick Henry. The Cowboys would be better off going with a second-day pick like Utah's Devontae Booker or UCLA's Paul Perkins. Perhaps the best route would be signing a veteran in free agency.
Dallas also needs to consider drafting its quarterback of the future. Romo is nearing the end of his career, and as he ages, there is no guarantee that he can stay healthy for an entire season. At the top of the second round, the Cowboys could think of Michigan State's Connor Cook or North Dakota State's Carson Wentz if either falls out of Thursday night. Other second-day options could include Penn State's Christian Hackenberg, Ohio State's Cardale Jones or N. C. State's Jacoby Brissett.
Defensively, Dallas could target a defensive end in the first round of the 2016 NFL Draft. Some options to consider would include Ohio State's Joey Bosa, Oregon's DeForest Buckner or Oklahoma State's Emmanuel Ogbah. Greg Hardy may not last in the longer term, and the organization could use a defensive end with size to go with Demarcus Lawrence and Randy Gregory. All three of those prospects are big ends who would fit well in Rod Marinelli's defense. The Cowboys always seem to be in the market for secondary depth and competition. Ditto for linebacker. Those could be mid-round considerations.
This will be an interesting offseason for Dallas. Taking a backup quarterback on the second day wouldn't help Romo or the defense, but if Romo gets hurt again, the signal-caller could make the difference in remaining in the playoff race. The Cowboys definitely have the potential to quickly turn things around and make it back to the postseason a year from now.

Houston Texans:
The Texans were able to scratch their way to the AFC South Championship and have a defense that is capable of making a Super Bowl run. The offense has held Houston back all season, and that will be the focus of an offseason makeover.
On the offensive side of the ball, the Texans need a ton of work. First and foremost, they need a franchise quarterback. Brian Hoyer is a game-manager and would be an excellent backup, but he is not a play-maker and Super Bowl-caliber signal-caller. In the first round of the 2016 NFL Draft, Houston will have to give consideration to Michigan State's Connor Cook and North Dakota State's Carson Wentz. The Texans won't be picking high enough to land Memphis' Paxton Lynch or California's Jared Goff. But Cook and Wentz could be there when they pick and either may be worthy of consideration.
The big question about the first-round pick will be if head coach Bill O'Brien tries to force the team to select Penn State's Christian Hackenberg. O'Brien recruited Hackenberg to Penn State, and the quarterback had a tremendous freshman season for O'Brien. Since then Hackenberg has been underwhelming with poor accuracy, turnovers, taking sacks and some off-the-field questions. Some teams have fourth-round grades on Hackenberg, while others graded him in Round 3. Sources from multiple teams expect him to be selected in the second round however. O'Brien will need to listen to his scouting staff about where it is appropriate to draft Hackenberg and not reach for him because of their personal history. If the Texans take Hackenberg in Round 2, that would allow them to get a play-maker to help him via the first round.
Houston must upgrade the running back position, too. Arian Foster can't be counted on to stay healthy and is a likely cap casualty after the season. The Texans could upgrade their backfield with a young runner like Ohio State's Ezekiel Elliott or Alabama's Derrick Henry. Elliott especially would be a great fit with Houston's first-round pick. Taking either Elliott or Henry and signing a veteran free agent like the Dolphins' Lamar Miller or Redskins' Alfred Morris would be a good plan.
The Texans also badly need a receiving tight end. Either Arkansas' Hunter Henry or Alabama's O.J. Howard would be an immediate upgrade. A speed receiver to go on the other side from DeAndre Hopkins would also help improve the explosiveness of the offense. Nate Washington and Cecil Shorts are just short-term additions, but this draft lacks vertical receivers, so Houston may be forced to go the free agent route again. The offensive line is another area to upgrade. The Texans could use a better center than Ben Jones as he is more of a backup-quality player.
Defensively, the Texans have some minor needs like safety and a long-term nose tackle. However Houston's defense should be stout for years to come with lots of young talent in the form of J.J. Watt, Jadeveon Clowney, Bernardrick McKinney and Kevin Johnson all entering their respective primes. This offseason has to be all about improving the offense to make the defense's job easier.
Comment...
NFL Picks
- Sept. 24
2019 NFL Mock Draft
- Sept. 20
Fantasy Football Rankings
- Sept. 5
2019 NBA Mock Draft
- Aug. 13
2020 NFL Mock Draft
- Aug. 1
NFL Power Rankings
- June 3