Monday Morning Draft is back! This is a column that delves into the past weekend's action from an NFL Draft perspective. As the season goes on, the draft picture and slotting will become more clear, but every Sunday will provide a few hints for next April.
By Charlie Campbell.
Send Charlie an e-mail here:
draftcampbell@gmail.com
Follow Charlie on Twitter
@draftcampbell
for updates.
Race for the No. 1 Pick:

Tennessee Titans:
Tennessee fell to 2-9 team in a three-point loss to the Raiders. Even though the Titans are having a rough year, they have more reason for optimism than teams projecting to pick early after landing a potential franchise quarterback in Marcus Mariota via the 2015 NFL Draft.
Tennessee has a young core of talent on the offensive side of the ball, but if the Titans get the No. 1-overall pick in the 2016 NFL Draft, they could continue to help Mariota's supporting cast with a left tackle like Ole Miss' Laremy Tunsil. Then, they could move Taylor Lewan to the right side.

Cleveland Browns:
Cleveland playa Baltimore on Monday night. The Browns have lost five straight games and clearly lack the talent to compete with quality teams in the NFL. Obviously, Cleveland is at a disadvantage at the quarterback position, but the offensive line and defense haven't played as well as expected. The Browns lack a pass rush, have had a beat up secondary and lack play-makers at wide receiver on offense. Considering Cleveland's recent drafts, one has to wonder if the franchise has the right leadership in place.
Let's Play Matchmaker:
This section will look at some of the top talent in college football and match those prospects up with teams that have a dire need at the position.

Detroit Lions: Vernon Hargreaves, CB, Florida

Darius Slay has played well in 2015, but Detroit's secondary has had problems this season and the team could use a cornerback upgrade over veteran Rashean Mathis. In the NFC North it is a must to have good coverage, so the Lions have to upgrade their other cornerbacks this offseason. Detroit won't be picking high enough to land Laremy Tunsil to be a franchise left tackle, but the organization could get a cornerback like Hargreaves to bolster the defense.
Hargreaves (5-11, 199) has the cover skills to play off man, zone or press man, with the speed and agility to prevent separation. He has recorded 26 tackles with two passes broken up and four interceptions this season. Hargreaves has been a 3-year star with the Gators and was the best at covering Amari Cooper last year. Hargreaves is NFL-ready and looks like a safe first-round pick in the 2016 NFL Draft.

Carolina Panthers: Derrick Henry, RB, Alabama

Carolina has gotten solid contributions from Jonathan Stewart this season, but can't plan on him in the long term. He has been plagued by injury in his career and turns 29 after the season. Picking late in the first round of the 2016 NFL Draft, the Panthers could get real bang for their buck with a physical runner like Henry. He could be a force for the Carolina offense.
Henry has averaged 6.1 yards per carry in 2015 for 1,797 yards with 22 touchdowns. He also has 10 receptions for 97 yards. The 6-foot-3, 241-pounder is a one-cut downhill runner with surprising speed to break off long runs, yet has the power to run over tacklers. Henry also has displayed blocking potential this season. He would be a great fit in Carolina.

Chicago Bears: Yannick Ngakoue, OLB, Maryland

The Bears could use an edge rusher to pair with Pernell McPhee. Willie Young is a good rotational player, but a three-down difference-maker on the edge would be a great addition to Chicago's defense. Ngakoue would be a perfect fit as a 3-4 outside linebacker in Vic Fangio's defense.
Ngakoue was very good in 2015 with 38 tackles, 15 for a loss, 13.5 sacks, one forced fumble and one pass breakup. He also played really well against good left tackles like Michigan State's Jack Conklin and Ohio State's Taylor Decker. Last year, Ngakoue dominated Redskins fifth-overall pick Brandon Scherff. Ngakoue is a sleeper who could be a second-day steal in the 2016 NFL Draft.

San Diego Chargers: Marcus Maye, S, Florida

The Chargers appear poised to move on from Eric Weddle at the end of this season, and their secondary could use a safety upgrade next to him even if he's brought back. San Diego had no answer for Jaguars tight end Julius Thomas on Sunday and struggled with Jacksonville's other receivers. Adding a coverage safety on the second day of the 2016 NFL Draft would make sense.
Maye covers a lot of ground as a deep center-fielder and has flashed the ability play man coverage on tight ends. He also has been effective at picking up wideouts running deep and helping over the top. In 2015, Maye has 64 tackles with six breakups and two interceptions. Fellow safety Keanu Neal has gotten more attention, but Maye could be better suited for the pass-happy NFL. Maye would make a lot of sense for the Chargers on the second day of the 2016 NFL Draft.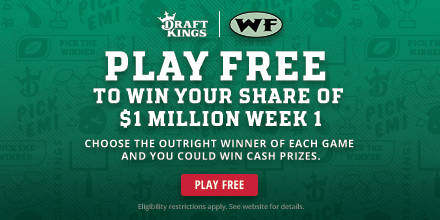 Oakland Raiders: Jalen Ramsey, CB, Florida State

Oakland's secondary has been a weakness all year, and the team needs to find some answers to its problems in pass coverage. On Sunday, the Raiders were lucky that Marcus Mariota didn't lead a comeback win as he spread the ball around and tight end Delanie Walker had a big game. Oakland must upgrade its cornerbacks and safeties this offseason. Charles Woodson is not a long-term answer at safety, and the Raiders' cornerbacks just aren't very good.
Ramsey would be a great fit for Oakland. He could be the safety replacement for Woodson, or if the coaches want to use press man against big receivers, Ramsey would be able to play that. The Raiders could move Ramsey around and use him in a variety of ways, and that would be great fit for him. Taking Ramsey in the middle of the first round would make a lot of sense for Oakland.

Washington Redskins: Kendall Fuller, CB, Virginia Tech

The Redskins had no answer for Odell Beckham Jr. on Sunday and were fortunate that he didn't lead a comeback over them. For years, Washington has needed some upgrades at safety and cornerback, so taking one in the first round of the 2016 NFL Draft would make sense. Fuller could be the Redskins' lead No. 1 corner.
Sources say that Fuller didn't look good in his brief 2015 action as he was playing with an MCL sprain, but going back to his sophomore tape has teams extremely excited. They feel that Fuller was a true lock-down corner, and some teams have given a first-round grade based on his sophomore-year tape. Fuller (6-0, 196) could pull an Antonio Cromarite and basically miss his final season of football and still be a first-round pick.

Cincinnati Bengals: Tyler Boyd, WR, Pittsburgh

Cincinnati's offense got righted against the Rams, but the Bengals' receivers aside from A.J. Green didn't do much against St. Louis. After this season, Cincinnati could lose both Mohamed Sanu and Marvin Jones in free agency, so adding a complement for Boyd would make a lot of sense for the organization's future.
Boyd has been held back to a degree this season by a weak supporting cast, but he still has 85 receptions for 873 yards and six touchdowns. The 6-foot-2, 200-pounder is a dangerous play-maker who would be a good fit in Hue Jackson's offense. Jackson has liked to mix in runs and passes with Sanu, and Boyd has done that for Pittsburgh. Boyd could be a steal on the second day of the 2016 NFL Draft with upside to develop in the NFL.
Team Draft Reports:
In this section, we take a deeper look at specific teams and where they stand in regards to the 2016 NFL Draft.

Philadelphia Eagles:
Legendary Bears owner and coach George Halas never wanted to play the Lions on Thanksgiving day. It didn't matter what the records were; Halas knew that game was always special in Detroit, and the Eagles learned that the hard way. Despite a horrendous start to the season, the Lions are playing better of late, and landing a trip to Detroit on Thanksgiving was rough luck for Philadelphia. The Eagles are having a disappointing season, and it looks like a franchise overhaul is needed.
It appears that Chip Kelly and the Eagles are about done with each other. Regardless of who the coach or general manager is, Philadelphia needs a franchise quarterback. In the first round of the 2016 NFL Draft, the Eagles could hope to land Memphis' Paxton Lynch, Michigan State's Connor Cook or California's Jared Goff. If Kelly were stay, all three would be a scheme fit, but Lynch would fit the best.
Offensively, Philadelphia also needs to get some young talent on the offensive line. Jason Peters is aging and coming off a serious injury. Evan Mathis was let go prior to the season, so interior help is also necessary. The Eagles' line was abused by Detroit, particularly by Ziggy Ansah, last Thursday, so adding blocking help would make sense. Assuming the Eagles do so on Day 2 of the 2016 NFL Draft, they could target guard help in the form of Arkansas' Sebastian Tretola or Stanford's Joshua Garnett. If Philadelphia misses out on a quarterback in the first round, some options to consider would be Notre Dame left tackle Ronnie Stanley or Michigan State's Jack Conklin, who would be a guard or right tackle in the NFL.
Defensively, the Eagles still could use more upgrades to their pass coverage. A No. 1 cornerback is still needed as Calvin Johnson illustrated with his three-touchdown performance. In the first round, the options would be Florida's Vernon Hargreaves III, Florida State's Jalen Ramsey or Virginia Tech's Kendall Fuller. On the second day and in the mid-rounds, Philadelphia could use some competition and depth for the defensive line and safety.
Philadelphia looks poised to have one of the most interesting offseasons of any team in the league as there could be new leadership in place in the front office, the coaching staff and at the quarterback position. Finding the right general manager looks like task No. 1 for Philadelphia. From there, the coach and quarterback are the next decisions that have to be made.

New Orleans Saints:
For a few games there, it looked like the Saints' high-powered offense with future Hall of Fame quarterback Drew Brees was back on track. However that proved to be a flash in the pan as New Orleans has lost three straight and was held without a touchdown by the Texans' red-hot defense. The Saints are in last place in the NFC South with the only old quarterback in the division and a defense that continuously struggles. New Orleans has to rebuild.
There is speculation that both head coach Sean Payton and Brees could be out at the end of the season. Last year, New Orleans drafted Garrett Grayson in the third round, but that wouldn't prohibit the team from taking a quarterback in the first round of the 2016 NFL Draft if a good one is available. However with this quarterback class and where the Saints project to be picking, it is more likely that a better value would be elsewhere. Not to mention it isn't clear if Brees and Payton will definitely be out.
New Orleans could draft the best defensive player available regardless of position, and that couldn't be criticized considering how porous the Saints' defense has been. Alabama nose tackle A'Shawn Robinson would be a nice pick to bolster the middle of their defensive line. Defensive ends Emmanuel Ogbah (Oklahoma State) or DeForest Buckner (Oregon) could form a good tandem with Cam Jordan. A No. 1 cornerback like Florida's Vernon Hargreaves would also make sense for New Orleans. Any position aside from inside linebacker or safety would make sense for the Saints' first-round pick if they decide to go defense.
Offensively, New Orleans has needs aside from what deciding what to do at quarterback. The team could use a big receiver to replace Marques Colston. The veteran is aging and hasn't been a difference-maker for years. Ben Watson has done an admirable job this season filling in for Jimmy Graham, but Watson is late in his career as well. On the second day of the 2016 NFL Draft, some good receivers to target would be Western Michigan's Corey Davis, TCU's Josh Doctson and Florida's Demarcus Robinson. Some tight ends to consider would be Arkansas' Hunter Henry, Ole Miss' Evan Engram and Alabama's O.J. Howard if any of those juniors enter the 2016 NFL Draft.
The Saints need a lot of talent upgrades before they are able to compete for their division title. New Orleans needs to string together some good drafts and trading for more draft picks would make sense.
Comment...
NFL Picks
- Sept. 24
2019 NFL Mock Draft
- Sept. 20
Fantasy Football Rankings
- Sept. 5
2019 NBA Mock Draft
- Aug. 13
2020 NFL Mock Draft
- Aug. 1
NFL Power Rankings
- June 3