Monday Morning Draft is back! This is a column that delves into the past weekend's action from an NFL Draft perspective. As the season goes on, the draft picture and slotting will become more clear, but every Sunday will provide a few hints for next April.
By Charlie Campbell.
Send Charlie an e-mail here:
draftcampbell@gmail.com
Follow Charlie on Twitter
@draftcampbell
for updates.
Race for the No. 1 Pick:

Jacksonville Jaguars:
The Jaguars fell to 1-5 at the hands of DeAndre Hopkins and the Texans. Jacksonville's defense has been ripped by Houston and Tampa Bay in consecutive weeks. If the Jaguars land the No. 1-overall pick in the 2016 NFL Draft, they will probably chose to build around Blake Bortles rather than replace him. Jacksonville could use a left tackle like Ole Miss' Laremy Tunsil. The Jagaurs could kick Luke Joeckel inside to guard if they take Tunsil. Defensively, Jacksonville could use a defensive lineman like Joey Bosa or a cornerback like Vernon Hargreaves III.

Detroit Lions:
The Lions got their first win of the season - in overtime - against the Bears to improve to 1-5 in 2015. If Detroit ends up picking at the top of the 2016 NFL Draft, the organization will probably be seeking to get more defensive talent or a franchise left tackle rather than taking a quarterback to replace Matthew Stafford. If there is a quarterback the Lions like, they could get a huge package of draft picks for Stafford. However, trading Stafford seems unlikely.

Kansas City Chiefs:
The Chiefs were dropped by the Vikings in a low-scoring affair, and it looks like Kansas City is collapsing. If the Chiefs land a high first-rounder in the 2016 NFL Draft, they should look to replace quarterback Alex Smith. He's a limited signal-caller and isn't good enough to score points without Jamaal Charles. 2013 No. 1-overall pick Eric Fisher is turning into a bust, so you have to question whether the Chiefs have the evaluators in place to make the right call.

Baltimore Ravens:
The Ravens were dropped by the hapless 49ers to 1-5 on the season, and Baltimore has some fatal flaws that are going to keep biting this team all season. Namely, the secondary and unsteady play on offense. If the Ravens continue on this path to a high first-rounder, they would be more apt to build around Joe Flacco than jettison the veteran for a rookie. Baltimore could really use a shutdown cornerback like Florida's Vernon Hargreaves III. The Ravens also could consider an edge rusher like Ohio State's Joey Bosa to help replace their aging veterans of Terrell Suggs and Elvis Dumervil.

Tennessee Titans:
The Titans fell to 1-4 as the Dolphins cruised over them. Tennessee has a lot of young talent and could easily be a second-half-of-the-year team. Prior to the Dolphins, the Titans had lost a lot of close games. Tennessee looks set with Marcus Mariota, so the organization would look to build around him and potentially look for a defensive franchise player.
Let's Play Matchmaker:
This section will look at some of the top talent in college football and match those prospects up with teams that have a dire need at the position.

Detroit Lions: Carl Nassib, DE, Penn State

The Lions won in overtime, but they allowed the Bears' offense to put up a lot of points. Against Chicago's weak offensive line, Detroit managed only one sack. The Lions could use an edge rusher to pair with Ziggy Ansah, but that might not be the need they target in the first round. A rusher like Nassib in the second round could be a good value for Detroit.
Nassib leads the nation with 11.5 sacks and has been on fire in 2015. He has a nice combination of strength and closing speed. He also has 35 tackles with 15.5 tackles for a loss and five forced fumbles. Even though Nassib's production is a 1-year wonder, his college coaches of Bill O'Brien and James Franklin have raved about his character and work ethic.

Houston Texans: Derrick Henry, RB, Alabama

The Texans won in Jacksonville as DeAndre Hopkins dominated the Jaguars. Arian Foster looked better than he has in other games, but is aging and injury-prone. Houston needs a difference-maker with a bellcow back for first and second down. If the Texans can land another back like Henry in the second round, that could reinvigorate their rushing offense.
In 2015, Henry has averaged 5.9 yards per carry for 901 yards with 12 touchdowns. He also has eight receptions for 69 yards. Not only has Henry's running this season been impressive, but his blitz protection will really excite scouts as he has shown good blitz pickup to give his quarterback time to throw. Henry (6-3, 240) is physical runner who can overwhelm a defense.

New Orleans Saints: Josh Doctson, WR, TCU

The Saints got a huge game out of Ben Watson to help them get a much-needed division win over Atlanta. However, New Orleans has seen the quality of its weapons for Drew Brees decline, and Marques Colston seems to be out of gas. The Saints could use a big receiver to replace Colston, and Doctson would be a great choice on the second day of the 2016 NFL Draft.
Doctson has dominated college's version of the arena league - the Big XII. In 2015, he has 60 receptions for 1,067 yards with 12 touchdowns. Doctson has five-straight games of multiple touchdowns. The 6-foot-3, 195-pounder is a tremendous red-zone receiver who also is very good on back-shoulder throws. He would be a natural replacement for Colston.

Minnesota Vikings: Myles Jack, OLB, UCLA

The Vikings won a close game over the Chiefs, and the weapon that hurt Minnesota was tight end Travis Kelce. He hauled in five passes for 88 yards, and the Vikings have to start thinking of a replacement for Chad Greenway. Minnesota taken UCLA linebackers in two consecutive drafts, so going with a Bruin three years in a row is possible considering the inclination towards those defenders.
Jack's junior season ended early due to a knee injury, but the 6-foot-1, 230-pounder is a rare athlete who is tremendous in pass coverage. His skills to cover receivers, tight ends and backs were extremely impressive as a sophomore and freshman. Jack would be perfect to pair with his former teammates Erik Kendricks and Anthony Barr. In Mike Zimmer's defense, Jack could be a real asset in defending against the passing attacks of the NFC North.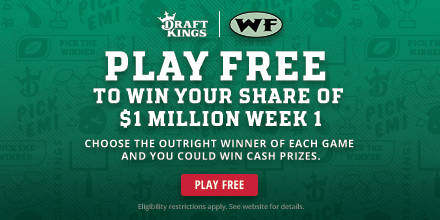 Pittsburgh Steelers: Cam Sutton, CB, Tennessee

The Steelers won another game without Big Ben, but once again their pass coverage struggled. John Brown ripped off 196 yards on 10 receptions versus Pittsburgh, where the pass coverage problems have been going on for years. The Steelers haven't taken a cornerback in the first round in over 20 years, and the quality of their pass coverage exemplifies that.
Sutton could be in play in the first or second round of the 2016 NFL Draft. He is a gritty corner who would fit the organization's defense well. Sutton (5-11, 186) does a nice job of preventing separation and running with receivers. He has been a solid defender for the Volunteers over the past three seasons and could be a late first- or second-day pick if he enters the 2016 NFL Draft.

Miami Dolphins: Jalen Ramsey, CB/S, Florida State

The Dolphins broke their losing streak, but once gain their secondary continued to have some issues. Titans tight end Delanie Walker had a big game with 97 yards on eight receptions. All season, Miami has had weak play out of its corners and safeties, so adding a better a talent like Ramsey would make sense.
Ramsey spent 2014 as a cover free safety and was a tremendous weapon for the Seminoles. He covered tight ends, made clutch tackles on ball-carriers in the open field, and blitzed the quarterback well. This season, Ramsey's playing cornerback, and while he's okay there, he isn't as special as he was at safety. Ramsey could play both in the NFL as a press-man corner and coverage free safety. Taking Ramsey in the first round of the 2016 NFL Draft would make a lot of sense for Miami.

New York Jets: Connor Cook, QB, Michigan State

The Jets won again led by a good defense and a strong running game. If the Jets had a quarterback, they could be poised to compete with any team in the AFC. However starting Ryan Fitzpatrick or Geno Smith in January against true franchise quarterbacks looks like a weakness that will cause an end to the Jets' season. If the organization could land an upgraded version of a game manager like Cook, perhaps Todd Bowles team could be ready for some Super Bowl runs.
Cook (6-4, 218) can make all the throws for the NFL and shows the ability to make some brilliant passes into tight windows. The senior has connected on 57 percent of his passes this season for 1,662 yards for 13 touchdowns and two interceptions, but he is held back by overly conservative play-calling and receivers who drop too many passes. Cook also has some speed and athleticism. As a New York Jet, he could be a nice quarterback for Chan Gailey to work with.
Team Draft Report:
In this section, we take a deeper look at specific teams and where they stand in regards to the 2016 NFL Draft.

Green Bay Packers:
The Packers are 6-0 and look like the best team in the NFC. Perhaps Carolina could give them some problems in the playoffs because the Packers have struggled with mobile quarterbacks, but Green Bay looks well on its way to getting a first-round bye and home-field advantage in the playoffs. Even the best teams in the NFL have areas they can improve, and the Packers are no exception. With the great job done by Green Bay's scouting staff, there aren't many problems to address.
Since winning the Super Bowl in the 2010 season, the common problem that has killed other seasons for the Packers has been their weakness against mobile quarterbacks. Colin Kaepernick and Russell Wilson have ended seasons in Januarys past, and this year that could still be a problem with the likes of Cam Newton on his way to January. Improving the Green Bay's middle linebackers would help the team to defend mobile quarterbacks, and the 2016 NFL Draft looks very strong at this position.
Notre Dame's Jaylon Smith would be perfect, but it seems unlikely he would get to the Packers' pick. Other players who could be great additions would be Arizona's Scooby Wright or UCLA's Myles Jack. In the preseason either one would have seemed like a pipe dream for Green Bay, but injuries have hit both players hard this year, it isn't out of the question that they could fall in the 2016 NFL Draft. That could up being a massive steal for the Packers.
Wright (14.5 sacks in 2014) could be perfect as he would offer some pass rush. Eventually Julius Peppers will be done, and Nic Perry is entering free agency, so another edge rusher is needed. Other good fits for Green Bay to consider in the early rounds are Georgia's Leonard Floyd, Michigan State's Shilique Calhoun, Maryland's Yannick Ngakoue and Virginia Tech's Dadi Nicolas.
On the offensive side of the ball, the Packers could look for a running back to pair with Eddie Lacy. James Starks is entering free agency, and Green Bay has wanted a shifty receiving back. Utah's Devontae Booker or Arizona State's D.J. Foster would be perfect to work with Aaron Rodgers.
Taking offensive line depth on the second day of the 2016 NFL Draft is always worth considering. It seems like the Packers' depth on their offensive front is challenged every year, and you can't have enough protection for Aaron Rodgers. With Rodgers being in his prime, Green Bay could easily win another Super Bowl in the next few years. Especially, if the Packers are able to address these needs.

Arizona Cardinals:
The Cardinals losing to the Steelers was a real surprise. One would think that with Arizona's tough defense going against a backup and third-string quarterback, the Cardinals would come away with a victory. However, a few flaws were exploited by the Steelers, and Arizona has some issues to fix. The Cardinals still look like the best team in the NFC West this season, but how far they can go with these problems remains to be seen.
Currently, Carson Palmer is playing well enough for Arizona to win with him. He isn't one of the elite quarterbacks in the NFL, but he can make enough throws for the Cardinals to compete with anyone. In the future, finding a long-term franchise quarterback will be necessary, but Palmer looks slated to be the starter for at least the 2016 season.
Offensively, the Cardinals picked up Chris Johnson off the street, and it seems that they are not content with their young running backs. Adding a tough runner like Ohio State's Ezekiel Elliott or Alabama's Derrick Henry seems like something Arizona would consider doing. Andre Ellington and David Johnson weren't high draft picks, so they could still serve as good complements.
However, the real areas that Arizona should prioritize are on the defensive side of the ball. The Cardinals lost Antonio Cromartie in free agency, and the cornerbacks across from Patrick Peterson have given up plays this season. Taking a first-round corner like Virginia Tech's Kendall Fuller, Tennessee's Cam Sutton or LSU's Tre'Davious White has to be a consideration for the Cardinals.
Another position, Arizona could consider would be an edge rusher. The Cardinals got one sack against the Steelers on Sunday and that came from Calais Campbell. An edge-rushing linebacker like Arizona's Scooby Wright, Georgia's Leonard Floyd or Michigan State's Shilique Calhoun would make a lot of sense for the Cardinals' first-round pick.
Clearly, Steve Keim and Bruce Arians have done a great job of guiding this franchise since they took over. Arizona is very close to a January run, and these potential additions could help put the Cardinals over the top.
Comment...
Fantasy Football Rankings
- Aug. 21
2019 NBA Mock Draft
- Aug. 13
2020 NFL Mock Draft
- Aug. 1
2019 NFL Mock Draft
- July 31
NFL Power Rankings
- June 3
NFL Picks
- Feb. 4