Monday Morning Draft is back! This is a column that delves into the past weekend's action from an NFL Draft perspective. As the season goes on, the draft picture and slotting will become more clear, but every Sunday will provide a few hints for next April.
By Charlie Campbell.
Send Charlie an e-mail here:
draftcampbell@gmail.com
Follow Charlie on Twitter
@draftcampbell
for updates.
Race for the No. 1 Pick:

Detroit Lions:
The Lions were blown out by the Cardinals and are now 0-5 in 2015. Detroit is the only winless team in the NFL. The Lions don't have the defense to get this season turned around, and the offensive line has been a terrible weakness. That's a recipe for an ugly year. If Detroit ends up picking at the top of the 2016 NFL Draft, the organization will probably be seeking to get more defensive talent or a franchise left tackle rather than taking a quarterback to replace Matthew Stafford. If there is a quarterback the Lions like, they could get a huge package of draft picks for Stafford.
1-4 Teams in the running for the No. 1-overall pick:
New Orleans Saints
Houston Texans
Jacksonville Jaguars
Baltimore Ravens
San Francisco 49ers
Kansas City Chiefs
1-3 Teams in the running for the No. 1-overall pick:
Miami Dolphins
Tennessee Titans
Let's Play Matchmaker:
This section will look at some of the top talent in college football and match those prospects up with teams that have a dire need at the position.

Buffalo Bills: Vadal Alexander, OT/G, LSU

The Bills were fortunate to beat the Titans as Tennessee outplayed Buffalo for the majority of the game. Buffalo's offensive line had a lot of struggles with Jurrell Casey and Derrick Morgan as they combined for three sacks. The Bills could consider looking to get upgrades at guard and right tackle in the offseason.
Alexander plays right tackle for LSU, but would probably be more effective at guard in the NFL. He is a strong run-blocker who opens a lot of holes for Leonard Fournette. Pro speed rushers could give Alexander trouble, but he should be steady as a guard and played well at that spot in 2014. He could be a long-term solution at left or right guard for the Bills.

Tampa Bay Buccaneers: Vernon Hargreaves III, CB, Florida

The Bucs' defense was ripped through the air by the trio of Blake Bortles, Allen Robinson and Allen Hurns. Tampa Bay was able to win thanks to Doug Martin, but on a steady basis, the team has had trouble in pass coverage. Adding a shutdown corner could go a long ways to shoring up the defense.
Hargreaves (5-11, 199) is a cover corner who is superb at preventing separation from wide receivers. He has been banged up this season, but he still has a couple of interceptions with some big plays for the Gators. Hargreaves did a good job against Ole Miss wide receiver Laquon Treadwell, and last year, he did well in his matchup with Amari Cooper. Hargreaves would be an immediate upgrade for Tampa Bay.

Cleveland Browns: Reggie Ragland, LB, Alabama

The Browns won in overtime against Baltimore, but Justin Forsett produced a big game for the Ravens. Karlos Dansby led Cleveland in tackles, but he turns 34 next month, and Cleveland could use a young inside linebacker for the long-term.
Ragland has shown a lot of ability for the NFL this season. He has done well in pass coverage against tight ends Hunter Henry and Evan Engram, while being a tough run-defender and pass-rusher. For the year, Ragland has 42 tackles with a pass breakup and a forced fumble. If the Browns are picking in the teens again, Ragland could be worthy of consideration to be the enforcer in the middle of their defense.

Philadelphia Eagles: Jalen Ramsey, DB, Florida State

The Eagles allowed two 100-yard receivers against the Saints, and Philadelphia's secondary has remained vulnerable this season. A defender like Ramsey could help the Eagles as an instant upgrade at either cornerback or safety.
Ramsey was an impactful defender as a safety in 2014. He totaled 79 stops, 9.5 tackles for a loss, 12 passes broken up, two interceptions and two forced fumbles on the year. This season, Ramsey's playing cornerback and has shown the ability to play in man coverage on the outside. He needs work in coverage and isn't as special there, but he could play both positions as a pro. Philadelphia would have to target Ramsey with its first-round pick.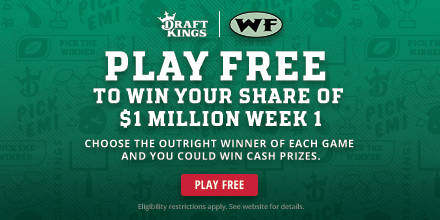 Dallas Cowboys: Jacoby Brissett, QB, N.C. State

The Cowboys have to start thinking about the future at quarterback. Perhaps Tony Romo has another good season or two left in him, but he's on the downside of his career with injuries mounting. Even if Romo returns to form, Dallas needs a better backup quarterback immediately so if Romo gets hurt again, the team's season doesn't go down with him. Taking a signal-caller on the second day of the 2016 NFL Draft would make a lot of sense for Dallas.
Brissett is a big-armed pocket passer who has some functional mobility to him. He doesn't get a lot of help from his teammates, but he has created a nice little buzz in the scouting community. Brissett's completed 69 percent of his passes this season for 1,105 yards with eight touchdowns and an interception.

Arizona Cardinals: Cam Sutton, CB, Tennessee

The Cardinals dominated the Lions on Sunday, but one area that could use some improvement is a cornerback to pair with Patrick Peterson. Arizona's other cornerbacks allowed some separation to Detroit, so adding a corner to pair with Peterson would make a lot of sense, especially since the Cardinals lost Antonio Cromartie last offseason.
Arizona could consider a cornerback like Sutton in the first or second round of the 2016 NFL Draft. He is a gritty corner who would fit the organization's defense well. Sutton (5-11, 186) does a nice job of preventing separation and running with receivers. He has been a solid defender for the Volunteers over the past three seasons and could be a late first- or second-day pick if he enters the 2016 NFL Draft.

Denver Broncos: O.J. Howard, TE, Alabama

The Broncos have missed Julius Thomas this season, and that was evident against Oakland. The Raiders have struggled to defend tight ends all year, yet Denver was incapable of taking advantage of that mismatch. Owen Daniels isn't the player he once was and isn't the long-term answer. Denver could use a true receiving tight end for Gary Kubiak's offense.
Sources have said that Howard reminds them of Julius Thomas. Both of them are fast and athletic. They also aren't the toughest blockers or the best route-runners, but they make up for it with their rare receiving skills. In 2015, Howard has 16 receptions for 200 yards. He's capable of producing more but Lane Kiffin hasn't utilized him well. The Broncos could target Howard on the second day of the 2016 NFL Draft.
Team Draft Report:
In this section, we take a deeper look at specific teams and where they stand in regards to the 2016 NFL Draft.

Detroit Lions:
The Lions are the only team in the NFL to have not won a game this season, and it looks like things are unraveling in Detroit. The Lions have had turnover problems, struggles on the offensive line, and a lack of talent on their defense. Detroit has a number of issues to fix before the team can said to be a true competitor to Green Bay in the NFC North.
Currently, it doesn't sound like the Lions are interested in moving on from starting quarterback Matthew Stafford. If they are picking at the top of the first round in the 2016 NFL Draft, they could consider taking a quarterback like California's Jared Goff and trading Stafford. If Detroit wanted to deal Stafford, the organization could get at least one first-round pick for him and probably would be able to receive a package of picks. There are a lot of quarterback-needy teams that would get in a bidding war for Stafford. If the Lions have the No. 1 pick, doing a deal like that is worth considering.
However, it is more likely that the Stafford will remain and Detroit will be looking to build around him. The best way to help Stafford would be take a franchise left tackle. Taking Ole Miss' Laremy Tunsil or Notre Dame's Ronnie Stanley would allow the Lions to move Riley Reiff to the right side and improve their line at two spots.
If Detroit decides to go with defensive help, that would be understandable because the defense has less talent. There isn't a true replacement for Ndamukong Suh in the 2016 NFL Draft, but the Lions could go with a defensive end like Ohio State's Joey Bosa to give them two tough edge rushers with Ziggy Ansah.
On the second day of the 2016 NFL Draft, Detroit could land an interior defensive line upgrade. Some candidates to consider at the start of Day 2 include Texas' Hassan Ridgeway, Auburn's Montravius Adams, Baylor's Andrew Billings, or Notre Dame's Sheldon Day.
Taking a left tackle in the first round and a defensive lineman to start the second day looks like the best value for Detroit. That is assuming that Stafford is apart of the team in 2016.

Indianapolis Colts:
Indianapolis has managed to get its season put back on track thanks to the relief work by veteran Matt Hasselbeck. Even though the Colts are in firm control of the AFC South, they need to fix some issues in order capitalize on the championship window provided by having an elite quarterback. The team should have won more than one Super Bowl with Peyton Manning, but roster weakness led to a lot of disappointing games in January. The organization has a lot of areas to address next offseason.
Defensively, the Colts have a lot of areas they could address. Indianapolis could use a cornerback to pair with Vontae Davis, a tough inside linebacker to replace D'Qwell Jackson before long, and a pass-rusher to replace Robert Mathis. In the first round of the 2016 NFL Draft, a pass-rusher like Georgia's Leonard Floyd or Michigan State's Shilique Calhoun would be a great fit in the Colts' 3-4 defense. Mathis can't play forever, and Bjoern Werner has been a big disappointment. Indianapolis is going to need a lead pass-rusher to build the defense around for years to come.
Offensively, the Colts' needs are obvious, and they are along the offensive line. Indianapolis must upgrade the interior as center Khaled Holmes has been a disappointing pick. The guards and right tackle have allowed way too many hits on Luck since 2012. Ideally, Anthony Castonzo would be the Colts' right tackle. In the first round of the 2016 NFL Draft, Indianapolis has to consider Michigan State's Jack Conklin or Ohio State's Taylor Decker. Either one would upgrade the team's front.
Late on the first or anywhere on the second day of the 2016 NFL Draft, some prospects for the Colts to consider are LSU's right tackle/guard Vadal Alexander, USC center Max Tuerk, Baylor left tackle Spencer Drango, Texas Tech tackle Le'Raven Clark and Arkansas guard Sebastian Tretola.
The Colts have the luxury of a franchise quarterback entering the prime of his career and talented young wide receivers led by T.Y. Hilton. With a few more defensive upgrades and a stronger offensive line, it wouldn't be surprising if Luck is holding up a Lombardi Trophy before he turns 30.
Comment...
NFL Picks
- Oct. 19
2019 NFL Mock Draft
- Oct. 18
2020 NFL Mock Draft
- Oct. 13
Fantasy Football Rankings
- Sept. 5
2019 NBA Mock Draft
- Aug. 13
NFL Power Rankings
- June 3