Monday Morning Draft is back! This is a column that delves into the past weekend's action from an NFL Draft perspective. As the season goes on, the draft picture and slotting will become more clear, but every Sunday will provide a few hints for next April.
By Charlie Campbell.
Send Charlie an e-mail here:
draftcampbell@gmail.com
Follow Charlie on Twitter
@draftcampbell
for updates.
Crap it for Cook/Cardale:

Detroit Lions:
The Lions play at Seattle tonight and are likely to fall to 0-4. Right now, and probably on Tuesday, they will be the only winless team in the NFL. They don't have the defense to get this season turnaround, and the offensive line has been a terrible weakness. That's a recipe for an ugly year. If Detroit ends up picking at the top of the 2016 NFL Draft, the organization will probably be seeking to get more defensive talent or a franchise left tackle rather than taking a quarterback to replace Matthew Stafford. If there is a quarterback the Lions like, they could get a huge package of draft picks for Stafford.
1-3 Teams in the running for the No. 1-overall pick:
Chicago Bears
Cleveland Browns
Tampa Bay Buccaneers
New Orleans Saints
Miami Dolphins
Houston Texans
Jacksonville Jaguars
Philadelphia Eagles
Baltimore Ravens
Kansas City Chiefs
Let's Play Matchmaker:
This section will look at some of the top talent in college football and match those prospects up with teams that have a dire need at the position.

Baltimore Ravens: Demarcus Robinson, WR, Florida

The Ravens badly need some receiver help. Steve Smith is nearing the end of his great career, and even if Breshard Perriman pans out, the team will need a receiver to pair with him. Baltimore has to give Joe Flacco more talent around him to get open and move the chains.
Robinson (6-1, 204) is a skilled wideout with the ability to get separation from route-running and quickness. He is dangerous after the catch and has fared well against quality defensive backs. This year, Robinson has 28 catches for 251 yards with two scores. He was very good in the Gators' upset win over Ole Miss.

New York Jets: Jaylon Smith, LB, Notre Dame

The Jets got a quality game out of veteran David Harris, but their top three tacklers against the Dolphins came from the secondary. New York could use some young talent in the middle of its defense, and Smith would be a great fit for Todd Bowles. The Jets could easily not be picking high enough to land a quarterback, so a potential 10-year starter like Smith could make sense for New York.
In 2015, Smith has totaled 38 tackles, 4.5 for a loss, one sack, three passes broken up and one forced fumble (he was robbed of one by the official scorer). Smith is a tough run-defender who also has the speed and athleticism to defend the pass. Smith is a tough, instinctive defender who looks like a very safe pick for the NFL.

New York Giants: Duke Williams, WR, Auburn

The Giants pulled off a road win in Buffalo, and the Bills' tough defense did a nice job of neutralizing Odell Beckham Jr. New York has been without Victor Cruz and clearly need another wideout to complement Beckham. A big receiver to do the dirty work in the short to intermediate part of the field would make sense with Beckham stretching defenses vertically.
Sources say that Williams' game is similar to Anquan Boldin. Williams is a big receiver who is tough and able to beat defensive backs with his size. He has 12 receptions for 147 yards and a touchdown this season, but Auburn's quarterback play has held him back during the past two years. Williams would make a lot of sense for the Giants on day two of the 2016 NFL Draft.

Chicago Bears: Joey Bosa, DE, Ohio State

The Bears traded away Jared Allen earlier in the week and could use a long-term edge rusher to pair with Pernell McPhee. In Chicago's upset win over Oakland, the Bears had two sacks, with both coming from defensive tackles. For John Fox and Vic Fangio's defense, Chicago is going to need another edge rusher and a player to build the defense around.
Along with being a good pass-rusher, Bosa is a tough run-defender. He hasn't been as dominant or tenacious this season as he was in 2014, but Bosa has still played well for the Buckeyes. He has the ability to contribute as a defensive end in a 4-3 or move to 3-4 outside linebacker in the NFL.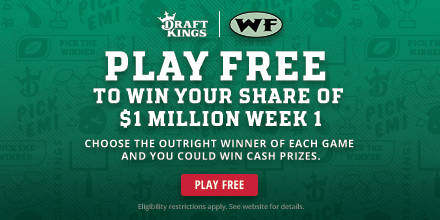 Cincinnati Bengals: Laquon Treadwell, WR, Ole Miss

The Bengals don't have a lot of needs with their loaded roster, but they do have some wide receivers entering free agency in Mohamed Sanu and Marvin Jones. Cincinnati will have a hard time re-signing both, so drafting a replacement could be necessary.
This year, Treadwell has 27 receptions for 374 yards and a touchdown. He is a big receiver who doesn't always get separation from defensive backs, but he has good hands with run-after-the-catch ability. Treadwell would be a good fit in the role of Sanu or Jones in the Bengals' offense. Cincinnati could target Treadwell in the early rounds of the 2016 NFL Draft.

Washington Redskins: Tyler Boyd, WR, Pittsburgh

The Redskins were able to sink the Eagles in a hard-fought win for Washington. The Redskins were led in receiving by Jamison Crowder (7-65) as they continue to miss DeSean Jackson. Pierre Garcon and Andre Roberts don't look like long-term receivers for the Washington, while Jackson is aging. A long-term No. 1 is necessary for the Redskins.
After three games in 2015, Boyd has totaled 26 receptions for 274 yards with a score. He is a play-maker with the speed to get separation and a burst to rip off yards after the catch. Boyd runs good routes, is very physical, has reliable hands, tracks the bell extremely well, makes acrobatic catches and out-fights defensive backs for 50-50 balls.

Green Bay Packers: Reggie Ragland, LB, Alabama

For years, Green Bay has struggled with mobile quarterbacks. The Packers did a better job of defending Colin Kaepernick on Sunday, but they could still use more talent in the middle of their defense to help lock down these type of offensive threats along with multi-dimensional running backs.
Coming from the SEC, Ragland is used to defending read-option attacks and dual-threat signal-callers. He also has shown the ability to cover tight ends in pass coverage and rush off the edge. In 2015, Ragland has 42 tackles with a pass breakup and forced fumble. He has the skills to be a three-down defender and a force in the tackle box.
Team Draft Report:
In this section, we take a deeper look at specific teams and where they stand in regards to the 2016 NFL Draft.

San Francisco 49ers:
The 49ers had a surprising win in Week 1 of the season, but since then, San Francisco has been struggling with a lot of anemic play on the offensive side of the ball. Clearly, the 49ers have a lot of work to do to get back to competing for the postseason again. After the unnecessary loss of Jim Harbaugh, the organization faces a huge decision about the future of Colin Kaepernick.
Currently, it looks like the 49ers should seek an upgrade. Kaepernick benefitted from a powerful offensive line, running game and great scheming from his coaches. With all three of those now absent, Kaepernick isn't good enough on his own to pick up the slack. The 49ers should consider a quarterback like Michigan State's Connor Cook, Ohio State's Cardale Jones, California's Jared Goff, Penn State's Christian Hackenberg or N.C. State's Jacoby Brissett in the early rounds of the 2016 NFL Draft - depending on how those quarterbacks grade out and where the 49ers are picking. Perhaps they could still get a draft pick in a trade for Kaepernick.
Offensively, San Francisco's offensive line was decimated with the loss of Anthony Davis and Mike Iupati. Adding more talent up front makes sense, but where the 49ers will be drafting in the first round, that wouldn't be a good value for their first-round pick. Fixing the offensive line in free agency and on the second day of the 2016 NFL Draft would be better.
The 49ers also could use more help at receiver. Anquan Boldin is aging and they have yet to have any other receiver break out. Getting more receiving talent on the second day of the 2016 NFL Draft makes sense. Some options to consider would be Western Michigan's Corey Davis, LSU's Travin Dural, Auburn's Duke Williams or Clemson's Mike Williams - depending on his health status.
Defensively, the 49ers are competing and still have some good talent. Cornerback help would be nice, but right now, the offense is so anemic, it has to be the focus of San Francisco's resources in early-round picks and free agent dollars.
The bigger question than anything on the roster is if the 49ers have the right people in place in the front office to assemble the roster. In recent years, San Francisco owned Green Bay. Now, the 49ers look like they are an ocean away from being able to beat a team like the Packers. Perhaps San Francisco needs to clean house in the front office.

Atlanta Falcons:
The Falcons dominated the Texans until emptying their bench in garbage time. Atlanta has shown tremendous growth from 2014 under the direction of rookie head coach Dan Quinn. The Falcons are playing more physical football and look more passionate than they have in years. Clearly, Quinn has been effective at changing the culture in Atlanta.
Defensively, the Falcons have a few needs, and one could use the resource of their first-round pick in the 2016 NFL Draft. Atlanta needs another pass-rusher to work on the other side from Vic Beasley. The Falcons have some big, heavy defensive linemen, but the team really needs another edge defender who can hunt the quarterback. Oklahoma State defensive end Emmanuel Ogbah would be a perfect fit in Quinn's scheme to do what Michael Bennett did for Quinn in Seattle. Another option to consider would be Michigan State's Shilique Calhoun. Either Ogbah or Calhoun would make sense for Atlanta's first-round pick.
The Falcons could also use help at safety. They won't be drafting high enough to land Florida State's Jalen Ramsey, the consensus top safety, but they could find some value on the second day of the 2016 NFL Draft. West Virginia's Karl Joseph, Florida State's Nate Andrews or Florida's Keanu Neal would all be worth considering on the second day of the 2016 NFL Draft.
For years, the Falcons have gotten steady play out of Roddy White, but the time is coming where it looks like they could use a better No. 2 receiver to pair with Julio Jones. With tight end Tony Gonzalez still not being adequately replaced, a receiving tight end also is worth considering. Ole Miss' Evan Engram or Alabama's O.J. Howard could fill the tight end void. At receiver on the second day of the 2016 NFL Draft, Western Michigan's Corey Davis, LSU's Travin Dural or Auburn's Duke Williams would all be nice options as replacements for White.
The Falcons have the luxury of a franchise quarterback in the prime of his career and a great wide receiver in Julio Jones. With a few more pieces, it wouldn't be surprising if Atlanta is back in the discussion as one of the top teams in the NFC.
Comment...
NFL Picks
- Oct. 21
2020 NFL Mock Draft
- Oct. 20
2019 NFL Mock Draft
- Oct. 18
Fantasy Football Rankings
- Sept. 5
2019 NBA Mock Draft
- Aug. 13
NFL Power Rankings
- June 3