Monday Morning Draft is back! This is a column that delves into the past weekend's action from an NFL Draft perspective. As the season goes on, the draft picture and slotting will become more clear, but every Sunday will provide a few hints for next April.
By Charlie Campbell.
Send Charlie an e-mail here:
draftcampbell@gmail.com
Follow Charlie on Twitter
@draftcampbell
for updates.
Crap it for Cook/Cardale:

Tampa Bay Buccaneers:
The Bucs picked up where 2014 left off as they were blown out in embarrassing fashion by the Titans. Tampa Bay has major problems on the offensive and defensive line, so the team could easily be in for a long year with repeated struggles at the point of attack.
Cleveland Browns:
The Browns looked like they mailed in the season opener against the Jets. Cleveland is going to have a hard time scoring points this season with the team's struggles at quarterback and wide receiver. The Browns have a serious shot at landing the No.1-overall pick in the 2016 NFL Draft.
Oakland Raiders:
The Raiders were blown out by the Bengals and had quarterback Derek Carr injured. Head coach Jack Del Rio and offensive coordinator Bill Musgrave were bad hires by Mark Davis. Oakland has some young talent with Carr, Khalil Mack and Amari Cooper, but the team still has weaknesses throughout the roster. It could be a long season for the Silver and Black.
Let's Play Matchmaker:
This section will look at some of the top talent in college football and match those prospects up with teams that have a dire need at the position.

New York Jets: Jared Goff, QB, California

The Jets' defense slammed the door on the Browns, and Chris Ivory ran well to pace New York's offense. Ryan Fitzpatrick executed his job as a game-manager, but obviously. he isn't the long-term starter. If the Jets could land a quarterback like Goff, they would have a thrower to work with their improved receiving corps.
Goff has seen two cupcake opponents to start 2015, completing 73 percent of his passes for 630 yards with six touchdowns and two interceptions. In 2014, he connected on 62 percent of his throws for 3,973 yards with 35 touchdowns and seven interceptions. Goff (6-4, 215) runs a college system, but he could be a nice talent for Chan Gailey to work with.

Carolina Panthers: Laquon Treadwell, WR, Ole Miss

The Panthers' receivers were terrible against Jacksonville as Carolina was led by Ted Ginn (2-54) and Jerricho Cotchery (4-45). It isn't surprising that the Panthers are missing Kelvin Benjamin, but they need more talent for Newton on the outside.
If Carolina could land Treadwell, he would be a steal. Some sources believe that Treadwell (6-2, 229) is the real deal with size and quickness. He is a natural receiver who causes a lot of mismatches and is dangerous after the catch. Treadwell notched 48 receptions for 632 yards and five touchdowns in 2014 before an ugly knee injury ended his season early. This year, he has nine receptions for 117 yards.

Green Bay Packers: Jaylon Smith, LB, Notre Dame

The Packers struggled to defend Matt Forte as he ran all over them with 141 yards on 24 carries. Green Bay has had problems at middle linebacker for years, and it appears that those issues are still present in 2015. At some point, the Packers should address middle linebacker with a first-round pick.
Smith has 11 tackles, 3.5 for a loss, and one sack through two games this season. He was very impressive against Virginia last week. Smith is a three-down defender who can play in pass coverage along with shutting down the run. The 6-foot-2, 235-pounder is fast, physical and strong in pursuit. He is just what Green Bay needs to fix the middle of its defense.

Buffalo Bills: Scooby Wright, LB, Arizona

The Bills were led in tackles by Nigel Bradham against the Colts, but Buffalo could use another linebacker to pair with him in the middle of Rex Ryan's defense. Having a linebacker who can also contribute in the pass rush makes sense as Mario Williams is aging with a huge contract. A player like Wright could be perfect for Ryan.
Wright (6-1, 246) took college football by storm in 2014. He was a pass-rushing force for the Wildcats and one of the top defenders in the Pac-12. Wright notched 14 sacks with 163 tackles, 29 tackles for a loss and six forced fumbles on the year. The junior is currently out with a lateral meniscus tear, but he is expected back this year.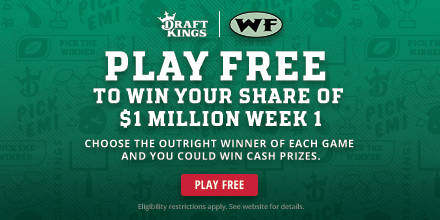 Tennessee Titans: Jalen Ramsey, S/CB, Florida State

The Titans blew out the Bucs, but the one player from Tampa Bay who Tennessee struggled with was tight end Austin Seferian-Jenkins. He caught five passes for 110 yards and two scores. With the Colts' tandem and Julius Thomas now in the division, Tennessee could use a safety who is capable of matching up against receiving tight ends.
NFL sources say that in watching Ramsey in the preseason, they prefer him at safety rather than corner. The Florida State defense was disappointing as a unit in 2014, but some individual players impressed. Ramsey was one of the team's best defenders, making a lot of clutch tackles. He totaled 79 stops, 9.5 tackles for a loss, 12 passes broken up, two interceptions and two forced fumbles on the year. Through two games this season, he has been solid, but not nearly as dominant or special at cornerback.

Kansas City Chiefs: Kendall Fuller, CB, Virginia Tech

The Chiefs saw Marcus Peters nab an interception on his first NFL play, but it was a terrible pass by Brian Hoyer. Peters was later beaten for a score and other completions. Cornerback Jemell Fleming, meanwhile, got away with two terrible pass interferences, including one in the end zone, and was beaten on a number of other plays. Kansas City needs more talent at corner, and Fleming should be replaced.
Fuller could form a nice tandem with Peters. The 6-foot, 196-pound Fuller played at a very high level in 2014, racking up 17 passes broken up and two interceptions, 50 tackles and 4.5 tackles for a loss. He shut down East Carolina's Justin Hardy in their matchup. Pittsburgh's Tyler Boyd was a challenge for Fuller, but Fuller held his own. The junior had mixed outing against Ohio State to open this season, but he could be a big addition to the Chiefs' defense.

New England Patriots: Tre'Davious White, CB, LSU

The Patriots struggled to defend Antonio Brown to open the year, and this could be a season-long issue for New England after losing Darrelle Revis over the offseason. If the Patriots don't generate a pass rush, their secondary looks very vulnerable in coverage. Adding more talent to defend play-making receivers could be a huge need for New England next offseason.
The 5-foot-11, 191-pound White is a cover corner who showed well in his 2014 matchup against Amari Cooper. White had six tackles and two passes broken up against Mississippi State in his 2015 season opener. He could be an instant upgrade for New England's secondary.
Team Draft Report:
In this section, we take a deeper look at specific teams and where they stand in regards to the 2016 NFL Draft.

San Diego Chargers:
The Chargers are at an interesting position as a franchise. They have one of the top quarterbacks in the NFL, but he is aging, and thus his Super Bowl window is limited to the next few seasons. Elsewhere, the Chargers have a young roster with talent, but still some issues that need to be fixed in order to be able to top the elite of the AFC. General manager Tom Telesco has done well since taking over the franchise's drafts, but he has more work to do.
The first issue that Telesco could address next offseason is a pass-rusher. San Diego is still waiting for Melvin Ingram or Jeremiah Attaochu to break out. In the season opener, the Chargers got one sack from Kyle Emanuel, and the pass rush has to be upgraded. Taking an edge rusher like Michigan State's Shilique Calhoun or Georgia's Leonard Floyd could make a lot of sense for the team's first-round pick.
San Diego also might want to consider a safety to pair with Eric Weddle. Weddle is one of the best safeties in the NFL, but he's also 30 years old, so adding more safety talent would make sense. On Sunday, San Diego had problems with Lions running back Ameer Abdullah and tight end Eric Ebron. Having another safety to help Weddle could fix that weakness in the middle.
Offensively, the Chargers have a big offensive line built to pave the way for Melvin Gordon. What they could use another receiver to work with Keenan Allen. Allen was an astute third-round pick by Telesco, but San Diego could use more receiving talent to pair with him. Antonio Gates is aging as well, and Malcolm Floyd probably won't be around much longer. A first-round receiver like Ole Miss' Laquon Treadwell or Pittsburgh's Tyler Boyd could be worth the pick to give Rivers another weapon.
If Telesco can hit a home run in his next draft and free agency, the Chargers could have a team that is ready to make a run deep into the postseason.

Houston Texans:
The Texans were one of the most improved teams in the NFL in 2014 as they won seven more games than they had in 2013. Houston did that with a weakness at quarterback, and that position could easily be a serious liability in 2015. The organization's draft needs are simple: point-scorers on offense. A starting quarterback, a lead running back and a speed receiver are their biggest holes.
Perhaps Ryan Mallett (somewhat unlikely) or Brian Hoyer (extremely unlikely) will prove to be the starter of the future this season, but the Texans could easily be looking for a quarterback upgrade next offseason. Houston probably won't be picking high enough to trade up for Cardale Jones or even Connor Cook. However, if Penn State's Christian Hackenberg continues to struggle, Bill O'Brien could be reunited with his college freshman star. The Texans taking Hackenberg would surprise no one. Sources have said that O'Brien has raved about Hackenberg's pro potential. The belief in the player, their personal history from recruitment, and a great freshman season playing for O'Brien could make Hackenberg the man for the Texans.
If a good quarterback isn't available, a running back could easily be a smart Plan B. Arian Foster is aging, injury prone and has a big contract. Finding a back to pair with him, and eventually replace him, is necessary. Sources say the Texans discussed Todd Gurley for their 2015 first-rounder, but knew he wouldn't get to their pick once he progressed well in rehab. In the 2016 NFL Draft, the two options for Houston's first-rounder are Ohio State's Ezekiel Elliott and Alabama's Derrick Henry. Either one would be a good fit for Bill O'Brien, but Elliott especially.
Houston really liked speed wide receiver Phillip Dorsett in the 2015 NFL Draft. He didn't make it close enough for the Texans to trade up from their second-round pick, but they could use a fast wideout to stretch the field across from DeAndre Hopkins. A receiver prospect like Dorsett hasn't emerged yet for the 2016 NFL Draft, but that kind of player would be a consideration for the Texans.
They also could use a receiving tight end, and the 2016 NFL Draft looks like it could produce some intriguing options. Alabama's O.J. Howard and Ole Miss' Evan Engram aren't forces in the ground game, but they are fast receivers who are very athletic. Either one could be an excellent value on the second day of the 2016 NFL Draft.
Defensively, Houston has one true need and some depth considerations. The team could use a coverage safety who can matchup on tight ends and slot receivers. Florida State's Jalen Ramsey would be perfect, but with the Texans' offense being in need they probably can't afford to take Ramsey in the first round. The other depth issues for Houston to address are outside linebacker and inside linebacker. An inside linebacker to pair with Bernardrick McKinney could be necessary if Brian Cushing is a cap casualty.
The Texans have the defense to be a playoff team, but they need more potency on offense to become one of the elite in the AFC.
Comment...
NFL Picks
- Oct. 19
2019 NFL Mock Draft
- Oct. 18
2020 NFL Mock Draft
- Oct. 13
Fantasy Football Rankings
- Sept. 5
2019 NBA Mock Draft
- Aug. 13
NFL Power Rankings
- June 3